Earlier Reports:
2002:
Sept 22, 2002
Sept 1, 2002
July 30, 2002
June 29, 2002
June 12, 2002
May 23, 2002
2001
Oct 23, 2001
Sept 25, 2001
August 26, 2001
August 7, 2001
July 15, 2001
June 27, 2001
June 11, 2001
May 28, 2001
May 7, 2001
April 14, 2001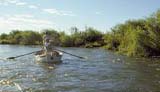 Floating the Green River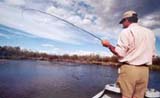 Fishing the New Fork River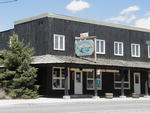 Two Rivers Emporium LLC
211 W Pine
P.O. Box 1218
Pinedale, WY 82941
(307) 367-4131
1-800-329-4353
2rivers@trib.com
www.2rivers.net
Licensed Outfitter
for the State of Wyoming
#WY046RU95-001

Fishing photos by
Dan Abernathy
Tuesday, May 20, 2003
Fishing Report
The ice is finally gone and things are starting to fish around the Pinedale area.
The Green River:
The Green has been fluctuating quite a bit with cold one week and warm the next, the flows are around 500 cfs which is great for fishing. Black Caddis have been hatching here and there and a few Stonefly shucks along the river. Overall the fishing is good, I think a few warm days will change that and the runoff will start hot and heavy.
Flies for the Green:
Black Elk hair Caddis # 12 to 14
Pheasant Tail Nymphs # 12 to 14
Golden Stone Nymphs # 8 to 10
Zuddlers any color # 4
Big Horn Special # 4 to 6
Yuk Bugs any color # 4 to 6
New Fork River:
The New Fork is extremely low but is fishing great, the rainbows are starting to fan out there redds and there are nice browns eating eggs below them! It doesn't look like the river is going to come up in the near future, the Ranchers are trying to get the lake filled so it may be early June before you can float.
Flies for the New Fork:
Glow Bugs
Zuddlers any color # 4
Wooly Buggers any color # 4 to 6
Yuk Bugs any color # 4 to 6
Soda Lake:
The lake is fishing fair; reports from opening day were good to fair. The lake is also five feet low so the oxygen levels are not far from the surface. The trout in the lake will be closer to the surface than normal years until the lake fills.
Flies for Soda:
Chironomids Black or Red # 16
Scuds all colors # 12 to 16
BH Prince # 14 to 18
Platte River Special # 4 to 6
Orange Blossum Special # 4 to 6
Have a great fishing day!

This report will be updated as often as the bugs change, so we change it weekly throughout the summer months.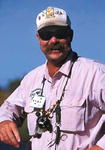 Save some fish for the next angler!
Tight Lines,
John Ross
P.S. If you have a good fish story, or any questions on fly fishing, give us a call at 1-800-329-4353 or e-mail me at 2rivers@trib.com. I always like to hear about the big one that got away!
---
The Hatch Report is provided to Pinedale Online by Two Rivers Emporium LLC in Pinedale, Wyoming. Two Rivers Emporium LLC, an authorized Orvis dealer, is owned and operated by John Ross, a professional guide with over 20 years experience. Two Rivers Emporium floats areas of the Green and New Fork Rivers from Green River Lakes to Flaming Gorge Reservoir in Western Wyoming. They also have private property access that offers good cutthroat and rainbow trout fishing. This report is updated weekly through the fishing season and can be heard on Pinedale's KPIN Radio as well as found on John's web site, www.2rivers.net.
This Hatch Report is sponsored by Pinedale Online! www.pinedaleonline.com