Earlier Reports:
2002:
June 12, 2002
May 23, 2002
2001
Oct 23, 2001
Sept 25, 2001
August 26, 2001
August 7, 2001
July 15, 2001
June 27, 2001
June 11, 2001
May 28, 2001
May 7, 2001
April 14, 2001
Saturday, June 29, 2002
Fishing Report
The Rivers:
The Green is high (1400 cfs) at Warren Bridge, and is fishing good. The Gray Drakes have started along with Golden Stones, Salmon Flies, and P.M.D.'s. What this means is the dry fly fishing once again is great. The big fish are looking up and will take nearly anything buggy on the surface!
The New Fork is fishing almost as good as the Green. The river is still off color a little, but the hatches are on. Streamers are the best for the New Fork. Bright patterns like Tequeelys, Big Horn Specials, and Trick or Treats are the best.
Meadow Lake:
If you have never been, you need to try this one. Meadow Lake is full of Grayling. These fish don't get big (16 inches is a big one), but they have a hell of a lot of fight. The best way to catch a Grayling is with a Zug Bug or Prince Nymph sz. 14. Use a floating line and let your nymph slowly sink. The Grayling will find it. If you see any surface action, try a small stimulator or caddis pattern. Grayling are fun when they eat on the surface.
As for the rest of the area, all the small streams are beginning to calm down from the runoff now. Plenty of Caddis hatches as well as smaller Mayfly's, Parachute Adams and Elk Hair Caddis are all you need for brookies in small streams.
Remember a Trout was meant to be caught more than once.

This report will be updated as often as the bugs change, so we change it weekly throughout the summer months.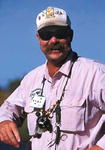 Save some fish for the next angler!
Tight Lines,
John Ross
P.S. If you have a good fish story, or any questions on fly fishing, e-mail me at 2rivers@trib.com. I always like to hear about the big one that got away!
---
The Hatch Report is provided to Pinedale Online by Two Rivers Emporium LLC in Pinedale, Wyoming. Two Rivers Emporium LLC, an authorized Orvis dealer, is owned and operated by John Ross, a professional guide with over 20 years experience. Two Rivers Emporium floats areas of the Green and New Fork Rivers from Green River Lakes to Flaming Gorge Reservoir in Western Wyoming. They also have private property access that offers good cutthroat and rainbow trout fishing. This report is updated weekly through the fishing season and can be heard on Pinedale's KPIN Radio as well as found on John's web site, www.2rivers.net.
This Hatch Report is sponsored by Pinedale Online! www.pinedaleonline.com