Hatch Report
August 26, 2001

Fishing is Good
Sunday, July 15, 2001

Green River
The Green River is holding up good with water flows (200 cfs at Warren Bridge) and is fishing great. Tricos are coming off in the mornings with the spinner fall from 10 am - 12 noon. This hatch should last through mid-September. Mid-day on the river, hoppers have been the flies; beetles and ants are also working well. If the action slows down, fish a Prince or Pheasant Tail dropper and the action will turn back on.
In the high country of the Wind River Mountains, small green Hoppers, Beetles and Ants are great for the streams and inlets and outlets. Calliabaties are hatching on the lakes in the late afternoons and evenings; Parachute Adams will work great for this hatch. Small streamer patterns like Woolly Buggers in an assortment of colors are great in the lakes when the fish are not feeding on the surface. An intermediate sinking tip will work for getting that streamer down to bigger fish.
All of the lower drive to lakes is starting to turn on again. With the cooler nights we are having, the water temperature has dropped and fish are feeding on or near the surface. The farther we get into September, the better they will be.
Remember a Trout was meant to be caught more than once.

This report will be updated as often as the bugs change, so we change it weekly throughout the summer months.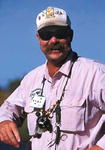 Save some fish for the next angler!
Tight Lines,
John Ross
P.S. If you have a good fish story, or any questions on fly fishing, e-mail me at 2rivers@trib.com. I always like to hear about the big one that got away!