Hatch Report
Tuesday, October 23, 2001
Open Water Season Almost Over
Green River
The Green is flowing at 114 cfs. At Warren Bridge, fishing remains good for browns and rainbows. Trout are taking a variety of streamers like Big Horn Specials, Brown Woolly Buggers and Zuddlers in brown and olive. Most of the Brown's are through with their spawn and are feeding well.
The lakes are turning on in the area with the big Mack's coming into shallow water for their annual spawn. Launching a boat is tough, but you can access the lakes with a small boat or a pontoon. I like fishing Decivers in brown and white or green and white for the Macks.
Our season of open water will be over soon but the ice fishing is just around the corner!

Remember a Trout was meant to be caught more than once.

This report will be updated as often as the bugs change, so we change it weekly throughout the summer months.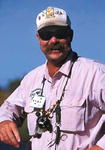 Save some fish for the next angler!
Tight Lines,
John Ross
P.S. If you have a good fish story, or any questions on fly fishing, e-mail me at 2rivers@trib.com. I always like to hear about the big one that got away!