Wednesday, June 12, 2002
Fishing Report
The Rivers:
The Green has started its upper country runoff and is running 900 cfs at Warren Bridge. This flow will increase with warmer weather, but for now the river is perfect and fishing good. Rubber leg streamers like Big Horn Specials and Trick or Treats are working best. Nymphing with stone patterns is also very effective. Salmon flies have started on the Green, but the main hatch won't happen until the end of June. Blue Wings are also coming off on the forest, as well as some caddis.
Soda Lake:
The fishing has been good since opening. June is great for damsels. Dry or wet, trout will feed on these thought the month. From scuds to leaches, chiromomids to damsels, these trout grow fast and are a challenge for any angler.
Meadow Lake:
If you have never been, you need to try this one. Meadow Lake is full of Grayling. These fish don't get big (16 inches is a big one), but they have a hell of a lot of fight. The best way to catch a Grayling is with a Zug Bug or Prince Nymph sz. 14., Use a floating line and let your nymph slowly sink. The Grayling will find it!
Boulder Lake:
The lake is filling and the mack's and rainbows are in the inlet area feeding on small trout and sucker minnows. Early June is a great time to go for mack's with a fly rod; they will take any pattern that resembles a minnow or a small rainbow. Remember the inlet is closed to fishing through June 30th.
Remember a Trout was meant to be caught more than once.

This report will be updated as often as the bugs change, so we change it weekly throughout the summer months.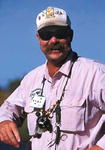 Save some fish for the next angler!
Tight Lines,
John Ross
P.S. If you have a good fish story, or any questions on fly fishing, e-mail me at 2rivers@trib.com. I always like to hear about the big one that got away!