Hatch Report
June 11, 2001

Big Bugs, Big Fish!
Last Sunday I wandered above Warren Bridge to do a little wade fishing and to see if the Salmon Flies were out yet. I knew they were getting close to start hatching, and I was right. There were a few shucks floating down the river.
For those of you who have never heard of or seen a Salmon Fly, they are the biggest of the Stone Flies and generally hatch in fast moving boulder type water like a lot of the water above Warren Bridge and the first few miles of water on the forest. They will get up to three inches long and they have an orange underside on them. When they are in their nymph stage they will hatch under boulders and crawl to the surface or bank to dry there wings and attach themselves to a leaf or branch. They will then return to the surface to breed and lay eggs. Salmon Flies, like all Stone's, struggle on the surface and will actually swim until their eggs are laid. Big trout will see these big bugs struggling on the surface and rush up to feed on these giant meals!
There are a number of flies that will imitate the Salmon Fly. The Sofa pillow is a great pattern as well as any foam body imitation. The bitch creek is the nymph for the Salmon Fly. If you cannot get a fish to come to the surface, try the bitch creek. Sometimes fish will be feeding on the nymphs only, especially when the hatch first starts. Be sure to weight your nymph heavily. All Stones crawl across the rocks to get to shore, so you have to bounce your nymph on bottom.
Our Mayfly hatch has also started on some of the water in the area. The Gray Drakes are hatch on the Forest as well as the Daniel access area. It is early for these Mayflies,, and they are not out in full force yet but it won't be long. The extended body Para drake is a great dry imitation, or a large parachute Adams. The hare's ear is the nymph that will work best if the fish are not feeding on the surface.
On Meadow Lake, the Grayling are spawning. If you have never been to Meadow and caught Grayling, I highly recommend this one. Grayling are small fish with big fight. They have an over-sized dorsal fin that gives them a lot more power in a fight. Most of the time these fish will hit any small nymph. If they get finicky on you, try a beaded prince nymph or a beaded zug bug. These will generally work when nothing else will.
Go out and do some fishing while we have a little water!
Remember a Trout was meant to be caught more than once.

This report will be updated as often as the bugs change, so we change it weekly throughout the summer months.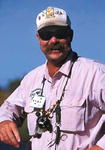 Save some fish for the next angler!
Tight Lines,
John Ross
P.S. If you have a good fish story, or any questions on fly fishing, e-mail me at 2rivers@trib.com. I always like to hear about the big one that got away!