Hatch Report
May 28, 2001

Monday, May 28, 2001

The runoff in the Wind River Range is about over, our snow pack was moderate but with the warmer weather we have been having, it has really took the snow out fast.
The Green River on the forest is clear and fishing well, stonefly nymph patterns seem to be working the best. I like a Soft Hackle Bitch Creek or any rubber leg pattern in sizes 6 to 10. Fishing the faster runs around Whisky Grove campground has produced some very nice browns.
The Green in the Daniel area has good visibility, there is about 2 to 3 foot and the fishing is fair. Bright colored streamers have been the best; rubber legs will turn the big fish. The visibility will come and go with warm weather and rain, I think by Father's Day the river should be stable.
The New Fork River is still off color, from the Boulder bridge down there is only about 1 foot of visibility the river should clear up and start fishing good in the next few weeks. Behind the Airport on the river is about the only good fishing now, stonefly patterns and bright streamers seemed to be the best.
Most of the area lakes are fishing well, Soda is good morning and evening. There has been a great flying ant hatch every evening, lot of big browns feeding on the surface for the ants. Mornings try streamers like Platte River Specials or Orange Blossom Specials, with a small Prince nymph for a trailer.
Meadow Lake has really turned on, the Grayling are spawning and the catching is good. The fish are shallow; fishing with a floating line and a Zug Bug with a small amount of weight on it will work for the Grayling.
Remember to catch and release, trout are meant to be caught more than once.
This report will be updated as often as the bugs change, so we change it weekly throughout the summer months.
Remember you get twice the hook penetration if you fish barbless and fish are a lot easier to release barbless.
Until next time, catch and release.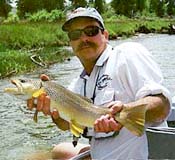 Save some fish for the next angler!
Tight Lines,
John Ross
P.S. If you have a good fish story, or any questions on fly fishing, e-mail me at 2rivers@trib.com. I always like to hear about the big one that got away!