Winter wildlife closures begin Dec. 1 on BTNF (posted 12/2/2022)
Bridger-Teton National Forest
The Bridger-Teton National Forest is stressing the importance of winter wildlife closures and other closure areas. December 1, 2022 all the winter closure areas are in effect except areas in Lower Spread Creek and Coal Mine Draw, west of the Hatchet Road on the Jackson and Blackrock Ranger Districts. Closures for those will begin December 15.

Designated winter wildlife closure areas are essential to the survival of wildlife. When people or their pets enter closed winter range, wildlife is forced to move to new locations. This retreat requires animals, such as deer, elk and moose, to use energy they cannot spare. This leads to a weakened condition, which can have a direct effect on the animals' ability to fend off disease or predators and can lead to reproduction problems.

Some high use recreation trails go through or directly along the edge of these closure areas. It is important to stay on the trails and keep pets leashed to minimize any impacts to our native wildlife. Some high use trails have leash requirements around the trailhead and the beginning of the trail not only to protect wildlife but to decrease the chance of user conflicts as well.

Winter travel maps and MVUMs (Motor Vehicle Use Maps) are available at district offices or online for your mobile device for Android and Apple operating systems. The free app is available for download through Avenza System Inc.: www.avenza.com/pdf-maps. This application along with the PDF maps available on the Bridger-Teton National Forest website under the 'Maps and Publications' tab, will allow you to view your location as you move across a map.

---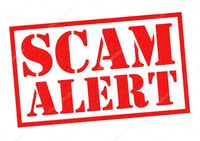 Scam Alert – Jury Duty phone calls (posted 11/29/2022)
Sublette County Sheriff's Office
The Sublette County Sheriff's Office along with Sublette County Circuit Court have been receiving reports of citizens getting calls stating they have a warrant issued for Jury Duty. These calls are false and not real. Jury Duty notices are sent out via mail to citizens when selected for a Jury trial. If you are unsure, always call in directly to verify the legitimacy of these types of calls.
---
Wyoming's Fall K-12 Enrollment Decreased in 2022 (posted 11/29/2022)
Wyoming Department of Education
CHEYENNE - Overall enrollment in Wyoming's schools dropped by 352 students for the 2022-23 school year. In a review of the data, 28 school districts had a dip in enrollment, 19 increased in size, and one district had no change. There are five statewide virtual education programs in Wyoming. Three of those decreased in size (Big Horn #1, Niobrara #1, and Sweetwater #1), most likely because students returned to their brick-and-mortar school after the COVID-19 pandemic in-person learning changes. Sheridan #1 saw an increase of 31 students or a three percent change, while Weston #7 increased by 54%, going from 471 students to 725 due to their virtual program.

• Historical Fall Enrollment 1991-92 to Present

• Districts Ranked by Enrollment Total

• State, District, and School Enrollment Per Grade


This data was gathered from all school districts throughout the state in a snapshot performed on October 1, 2022. The agency does not collect numbers of students enrolled in home or private school environments


---
Price of 1st class stamps to increase to $.63 cents in January (posted 11/26/2022)
Pinedale Online!
Pending approval from the Postal Regulatory Commission, the U.S. Post Office intends to increase the price of first-class stamps by three cents in January 2023. The price will increase from $.60 cents to $.63 cents on January 22. The price to send a domestic postcard will increase to $.48 cents. Prices for international mail and metered mail are also going up. The Postal Service is also seeking price adjustments for Special Services products including Certified Mail, Post Office Box rental fees, money order fees and the cost to purchase insurance when mailing an item. The last increase for first-class postage was in July 2022 when the price of a first-class stamp increased from 58 cents to 60 cents.

The Postal Service generally receives no tax dollars for operating expenses and relies on the sale of postage, products and services to fund its operations. The good news is that Forever stamps you have now are still usable. Any Forever stamps you currently have will still be good next year, no matter how much you purchased them for, so stock up now if you want to get ahead of the upcoming price increase.

Source: U.S. Postal Service Announces New Prices for 2023 U.S. Postal Service, October 7, 2022


---
Christmas Tree permits available (posted 11/26/2022)
Bridger-Teton National Forest
Christmas tree permits are now available for purchase at district offices and online through Recreation.gov through December 31st. Details about where to cut and height restrictions may be found at Recreation.gov by searching "Bridger-Teton National Forest."

Forest Supervisor Chad Hudson had this to say, "Harvesting the family tree off the Bridger-Teton is the perfect way to kick off the holiday season. Just don't forget extra layers and hot chocolate."

To purchase a Christmas Tree permit online, visit Recreation.gov and search for Bridger-Teton National Forest Christmas Tree Permits. It is important to carefully read the overview and need-to-know information prior to purchasing the permit. Visitors will need to set up or login to a Recreation.gov account to complete the transaction. Each permit is $15, plus a $2.50 processing fee. Users can purchase up to five trees per account. The permit must be printed and placed in the windshield of your vehicle as you remove your tree(s) from the Forest.

Many Forest roads are subject to seasonal closures. Free Motor Vehicle Use maps may be available at each District Office, online at www.fs.usda.gov/btnf/ or by downloading the Avenza App.

Additionally, all 4th graders throughout the United States receive a FREE Christmas tree permit, as part of the Every Kid Outdoors Program. If utilizing the online system at recreation.gov, enter the voucher or pass number when prompted. Call your local Forest Service office for more information on the Every Kid Outdoors Program.

---
Yellowstone Park visitation statistics for October 2022 (posted 11/15/2022)
Visitation down 27% from October 2021, up 36% from 2019
National Park Service
Yellowstone National Park hosted 232,117 recreation visits in October 2022. This is a 27% decrease from October 2021 (316,662 recreational visits), and a 36% increase from October 2019 (171,339) which was the last year before COVID.

On June 13, all entrances to Yellowstone National Park closed due to historic flooding. Park visitors were evacuated over the next 24 hours. On June 22, the East, South and West entrances to the park reopened on a limited entry basis. On July 2, entry restrictions on the East, South and West entrances were removed. The North (Gardiner, Montana) and Northeast (Cooke City/Silver Gate, Montana) entrances remained closed to visitor vehicle traffic through September. The Northeast Entrance reopened to regular visitor traffic on Oct. 15 and the North Entrance reopened on Oct. 30. Visitors traveling to the park this winter should stay informed about what's open and closed.
 
So far in 2022, the park has hosted 3,246,686 recreation visits, down 32% from 2021 at the same time.

The list below shows the year-to-date trend for recreation visits over the last several years (through October):  
  
2022: 3,246,686 (The park was closed June 13 through June 21. Three entrances opened June 22.)
2021: 4,789,649
2020: 3,753,531 (The park was closed March 24 through May 17. Two entrances opened May 18 and the remaining three opened on June 1.)
2019: 3,979,154
2018: 4,078,771
2017: 4,084,762

More data on park visitation, including how we calculate these numbers, is available on the NPS Stats website, https://irma.nps.gov/STATS/.  

---
Hunters: Remember to submit your harvest survey (posted 11/14/2022)
Wyoming Game & Fish
The Wyoming Game and Fish Department wants to know how your Wyoming hunt went this year. Many hunters have received or will receive a harvest survey via e-mail or the U.S. Postal Service. The survey gathers harvest information and feedback on the 2022 hunting season. It takes only a few minutes to complete and contributes valuable data for monitoring the state's wildlife populations, setting future quotas, season dates and other regulations.

Because of the large volume of antelope, deer and elk license holders a random sampling of those licensed hunters are surveyed. Not all license holders of those species will receive a request to complete a harvest survey. However, nearly all license holders for moose, bighorn sheep, mountain goat, black bear, mountain lion, gray wolf, wild turkey, furbearer, sandhill crane and light goose conservation order are included in the survey process.

Hunters who receive and complete an antelope, deer or elk harvest survey will be entered in a drawing to win one of several prizes. To be eligible for prizes, hunters who are selected for a survey must submit responses by Jan. 5 for antelope, Jan. 26 for deer and Feb. 2 for elk.

Some hunters may receive a survey before their season ends, but Game and Fish asks hunters to wait until they are finished hunting or their season is over before filling out the survey. Responding online is the best way to submit your response.


---
Wyoming agricultural producers can now apply for conservation funds (posted 11/14/2022)
Wyoming Game & Fish
The State of Wyoming, through a partnership with the U.S. Department of Agriculture, will receive an additional $16 million to support the voluntary conservation of private, working lands and migratory big game populations.

The USDA-Wyoming Big Game Conservation Partnership was established to provide producers with the opportunity to simultaneously manage their land for livestock, wildlife and migration corridors.

"Today's landowners are more than ranchers or farmers, they are key conservation partners," said Brian Nesvik, Game and Fish director. "Offering voluntary funding opportunities to landowners to maintain their valuable spaces for wildlife is a recognition of their role in conservation."

The program will offer producers a variety of funding opportunities they can apply for to meet their unique needs. Producers who are willing can enroll to become part of programs aimed at protecting important habitats and sensitive
landscapes.

The Big Game Conservation Program aligns with the work Game and Fish is doing with other partners across the state. This includes working with landowners to maintain and conserve wildlife habitat through wildlife-friendly fences, wildlife crossings and invasive species control. Last year the department partnered with others to spend $10.5 million on habitat projects across the state.

To apply or learn more producers should contact the Natural Resources Conservation Service at their local USDA Service Center or Jill Randall, Game and Fish big game migration coordinator, at jill.randall@wyo.gov or (307) 367-4353.

---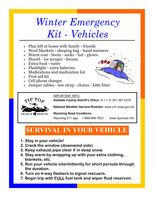 Suggestions for your vehicle Winter Emergency Kit (posted 11/10/2022)
Tip Top Search & Rescue offers these suggestions for winter emergency preparedness for your vehicle:
1. Leave a plan at home with family-friends
2. Have wool blankets, sleeping bag and hand warmers
3. Have a warm coat, boots, socks, hat and gloves
4. Have a shovel, ice scraper, broom
5. Extra food and water
6. Flashlight and extra batteries
7. Medications and medication list
8. First Aid Kit
9. Cell phone charger
10. Jumper cable, tow strap, chains, kitty litter

If stranded:
1. Stay in your vehicle
2. Crack the window on the downwind side
3. Keep exhaust pipe clear if in deep snow
4. Stay warm by wrapping up in extra clothing & blankets
5. Run the vehicle heater intermittently for short periods during the duration
6. Turn on emergency flashers to signal rescuers
7. Begin trip with full fuel tank and windshield wiper reservoir

Emergency Contacts:
9-1-1
Sublette County Sheriff's Office: 307-367-4378
Wyoming Road Conditions: 5-1-1, 1-888-996-7623,
www.wyoroad.info
Weather: www.weather.gov

---
WYDOT warns against scam texts (posted 11/10/2022)
Phishing scam attempt to get personal information
Wyoming Department of Transportation
CHEYENNE, WYOMING — The Wyoming Department of Transportation has been alerted to a potential phishing scam involving driver's licenses.

Scammers are sending text messages that claim they are from the "Department of Homeland Security" and demand driver license validation using a suspicious link. The text even warns that "failure to validate will lead to the suspension of your license."

This is a phishing scam aimed at manipulating people into revealing personal information. WYDOT is not and will not send text messages of this nature and does not seek personal information in this manner. If you receive a text message like this one, avoid opening the link and giving personal information.

If you have questions or concerns about your driver license, reach out to your local Driver Services office directly for accurate information. WYDOT's only Driver Services website is http://www.dot.state.wy.us/driverservices
---
Game and Fish honors seven 2022 Landowners of the Year (posted 11/10/2022)
Mountain Springs Ranch in Sublette County recognized
Wyoming Game & Fish
CHEYENNE, WYOMING - For nearly three decades the Wyoming Game and Fish Department has recognized landowners who have demonstrated outstanding wildlife management and implemented habitat improvement and conservation techniques on their properties with the landowner of the year awards. These stewards open access to research and recreation on thousands of acres across the state. Seven landowners were recognized as the 2022 landowners of the year by Game and Fish.

G-3 Land & Cattle Partnership
Platte County
The Good family has played a big role in the preservation of one of Wyoming's native fish species — the hornyhead chub — which is a Species of Greatest Conservation Need within Wyoming's State Wildlife Action Plan.

For more than a century the hornyhead chub was only present in two rivers in Wyoming — Laramie and North Laramie. The Arapahoe Fire of 2012 eradicated the hornyhead chub from the North Laramie River, and transplants from the Laramie River were needed to reintroduce this species. The Good family allowed Game and Fish to access land and river area for the transport of Horneyhead chub to the North Laramie River, and also the Sweetwater River.

The North Laramie River Hornyhead chub population has returned to its pre-fire abundance and the transplants to the Sweetwater River continue to be monitored.

Ox Yoke Ranch
Crook County
In 1989 the Ox Yoke Ranch near Beulah entered into a lease agreement with the Wyoming Game and Fish Commission to allow unlimited public fishing access on an additional three miles of Sand Creek below the Sand Creek Wildlife Habitat Management Area in exchange for cattle grazing rights during the month of December on the Sand Creek WHMA.

Thanks to the cooperation of the Ox Yoke Ranch and the Reinecke family, the Sand Creek WHMA has developed, grown and increased public recreation use. This area has been a long-time favorite of residents and visitors who seek a quality and accessible recreation experience within minutes of the towns of Beulah, Sundance and Spearfish, South Dakota.

Hopkins Hamilton Ranch
About 5,000 acres in Fremont County
The ranch provides important wildlife habitat that supports deer, pronghorn, sage grouse, sauger and a variety of other species. The first sauger work in the Lander Region occurred in the Little Popo Agie River on the ranch in 2002. This reach of the Little Popo Agie supports one of the highest-elevation populations of sauger across its native range, and access to the ranch has allowed Game and Fish to collect critical information about sauger distribution, abundance and genetics.

Bill (deceased) and Duveene Hamilton purchased the ranch in 1962. Bill's son, Bryan Hamilton, and his wife, Jennifer, manage the ranch. Bryan has been an active member of the Popo Agie Conservation District Board, and has participated in the Heathy River Initiative, which is a collaboration effort by agencies and landowners to improve water-use efficiencies and stream flows in the Popo Agie watershed.

Mountain Springs Ranch
Sublette County
The property, about nine miles northeast of Boulder, was placed under a conservation easement since the Morris family has been the owners. It sits within the designated Sublette Mule Deer Migration Corridor and provides transitional habitat for deer migrating between their winter and summer ranges. The property also provides crucial winter and year-long habitat for moose, and winter habitat for elk. And, the ranch sits within sage grouse core habitat.

During the initial start-up of the Sublette County Invasives Taskforce, the ranch was one of the first to sign-up and allow treatment of invasive cheatgrass. The family allows Game and Fish and other partners to monitor cheatgrass treatment work and follow-up applications at various locations.

The family has worked with Game and Fish and other agencies to convert fences to wildlife-friendly standards. The Ranch is home to Camp GROW — Green River Outreach for Wilderness Foundation — a non-profit organization founded in 2009 to introduce others to wild places.

The ranch borders the Scab Creek elk feedground, and the family has been active in assisting with hunter access, especially for veterans and youth during the late, antlerless elk seasons. The family also has assisted Game and Fish with brucellosis elk trapping efforts at the Scab Creek elk feedground.

Fryberger Ranch
2,600 acres in Sheridan County
Ron and Sue Martin own and operate the ranch that consists of irrigated hay fields, riparian areas and rolling, grass-covered hills that provide habitat for a variety of big game, bird and nongame species.

The property has been enrolled in Game and Fish's Access Yes walk-in area program since 2005 and provides hunters access on 2,445 acres for deer, pronghorn and gamebirds in an area where it is increasingly difficult to find access.

The Martins have been active in the control and elimination of invasive plants on their property, particularly ventenata. The family has partnered with Game and Fish, Sheridan County Weed and Pest and the University of Wyoming Sheridan Research Station to combat invasive grasses in the region. The Martins also have participated in mapping, treating and educational outreach of the ventenata invasion on their property.

The family has supported the ongoing North Bighorns Mule Deer Study since 2020. The study's goals include identifying mule deer movements in the northern Bighorn Mountains, evaluating seasonal range and habitat use, identifying habitat improvements and conservation opportunities and documenting vital rates on individual animals.

Beaver Creek Ranch
Big Horn County
Beaver Creek bisects the property and provides cover and forage to avian, big game and aquatic species.

Owner Deb McCormick and her family enrolled the ranch in a Rocky Mountain Elk Foundation conservation easement. The North Bighorn Mule Deer herd spends half the year on the ranch. McCormick allowed access so research on the head could be conducted.

In 2019 McCormick granted Game and Fish Access to enhance riparian habitat through the removal of conifers from the Beaver Creek floodplain. Since 2020 about 140 acres have been treated.

Kasey A LLC
Lincoln County
The Albins and Burg families have allowed Game and Fish to contact and interact with the public that recreate in this part of southwest Wyoming to protect against aquatic invasive species. Kasey A LLC also has worked with Game and Fish wildlife personnel to help with wildlife regulation compliance, wildlife data and disease investigation.

The families provided and constructed a permanent AIS check station in Kemmerer in 2019 that allowed Game and Fish to provide mandatory watercraft inspections and intercept high-risk watercraft. Fontenelle and Viva Naughton reservoirs benefit from this check station, along with stretches of the Green River that are popular with fly anglers using drift boats. That location also serves as a hunting check station in the fall and winter, which has greatly enhanced the ability of wildlife personnel to collect valuable data, along with monitoring hunter compliance.

The families also have provided cold storage to Game and Fish personnel for wildlife donations that are received. Anne Marie Albins, and her husband, Josh, have been hunter safety instructors since 2016, conducting multiple classes a year.

---
Business Directory
Click here for
Advertising Information