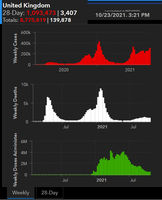 USA data

COVID-19 update for the world (posted 10/25/2021)
Cases and deaths are decreasing
Pinedale Online!
Here is an update of the COVID-19 pandemic as of October 19, 2021 according to the World Health Organization:

"Globally, the numbers of weekly COVID-19 cases and deaths has stabilized this week, with over 2.7 million cases and over 46,000 new deaths, a 4% and 2% decrease respectively, representing similar numbers as those reported last week's. With the exception of the European region, which for the third consecutive week reported an increase in new COVID-19 cases (7% increase as compared with the previous week), all the other regions reported a decline. The largest decrease in new weekly cases was reported from the African Region (18%), followed by the Western Pacific Region (17%). The cumulative number of confirmed cases reported globally is now over 240 million and the cumulative number of deaths is over 4.8 million.

The number of new weekly deaths reported globally also showed a stabilization (2% decrease as compared with the previous week), with similar numbers as those reported last week's in the European region (4% increase), Western Pacific region (1% increase) and the American region (1% decrease). The largest decline in new weekly deaths was reported from the African region showing a 24% decrease as compared to the previous week."

The graphs show the status of COVID-19 cases, deaths and vaccinations for several countries. Data for the graphs came from Johns Hopkins Coronavirus Research Center, https://coronavirus.jhu.edu/map.html.

---
Dec. 31 last chance to print free copy of WY hunter education card (posted 10/25/2021)
Wyoming Game & Fish
Changes are coming for the Wyoming Hunter Education Program. After Dec. 31, the Wyoming Game and Fish Department is moving to a new system for tracking hunter education certifications and classes. Any students who have completed hunter education in Wyoming before Oct. 15, 2021 have until the end of the year to print off a free replacement copy of their hunter education card.

"The changes Game and Fish is making to the hunter education system are to make signing up for classes easier, improve customer service and better serve the state overall," said Katie Simpson, Wyoming's hunter educator coordinator.

In Wyoming, it's a requirement that everyone born after Jan. 1, 1966 pass a hunter education course and carry proof of completion in the field whenever hunting. For many people who take hunter education in Wyoming, proof — by way of an individualized hunter education number — is printed on hunting licenses. However, students who took the course years ago do not have a hunter education number in the licensing system and must carry the card.

"If you don't currently have your Wyoming hunter education number printed on your hunting licenses, call Game and Fish at (307) 777-4600 to make a request to add it," Simpson said.

Anyone who took a course in Wyoming, though, can save and print a free replacement copy on the Game and Fish website here.

"You can print as many copies as you need — one for your wallet, one for your hunting gear, and a few just in case," Simpson said.

Beginning Jan. 1, copies of cards will be $10 and will come in a hard, more resilient style.

Each year, nearly 5,000 kids and adults complete hunter education in Wyoming. The program is supported by up to 360 volunteer instructors statewide.

For questions about hunter education or to find a class nearby, visit https://wgfd.wyo.gov/Education/Hunter-Education.

---
USFS to burn slash piles near Pinedale (posted 10/25/2021)
Bridger-Teton National Forest
PINEDALE, WYOMING - Winter conditions are settling in over the Pinedale Ranger District of the Bridger-Teton National, which means fuels crews will soon begin pile burning operations throughout the district.

Fuels reduction programs, which involve mechanical or hand thinning projects, remove trees to reduce forest density and improve forest health. Hand piles result from crews using chainsaws to thin the forest and then piling the sawn unmarketable limbs, saplings, and brush.

This season's pile burning could begin as soon as October 26, 2021 in Pinedale near the White Pine Ski area, and continue through November, depending on weather and fuels conditions. Piles are only ignited when fuels managers are confident that the project can be undertaken safely and successfully. Snow cover, fuel moisture, precipitation, wind, temperature, and available firefighter staffing are all taken into account before beginning a pile burn.

Piles which are ready for burning are prioritized based on elevation, aspect, access, and proximity to homes. Smoke, flames, and glowing embers are often visible, and are a normal part of pile burning operations. Snow helps contain the piles and firefighters monitor the area during and after the burn. Public and firefighter safety is always the number-one priority in burning operations.

To get the latest updates on when and where burning will occur, follow us on Twitter https://twitter.com/BridgerTetonNF and Facebook https://www.facebook.com/BridgerTetonNF/ . To be added to our e-mail notification list, send an e-mail evan.guzik@usda.gov and ask to be added to the mailing list. For a complete list of locations where burning will occur this season, as well as updated accomplishments and photos, visit the Forest website at https://www.fs.usda.gov/detail/btnf/news-events/?cid=FSEPRD963018

---
Grand Teton Park has already had over 3 million visitors (posted 10/24/2021)
Grand Teton National Park
MOOSE, WYOMING— Grand Teton National Park hosted 3,493,937 recreation visits between January and September 2021, already surpassing the park's busiest full year on record with three months to go in 2021. Previously, 2018 had the record for most recreation visits in a year with 3,491,151 visits. Of the past nine months, six have been record setting for visitation.

Some of the largest increases in recreation visits occurred during the shoulder season, including the months of March, April, and May. Summer visitation (June, July, August) also increased with July 2021 recording the busiest month for recreation visits in Grand Teton's history.

The park has also seen increases in trail use. During the 2021 summer, trail use increased approximately 29%, compared to 2019. Looking back five years ago, since 2017, trail use has increased approximately 49%.

"2021 has been a record setting year for visitation in Grand Teton National Park, but it's more than just the numbers. We are seeing changing patterns and behavior including more people in the backcountry and more visitors in the 'shoulder season.' The park is studying changing visitation to gain a more detailed understanding of existing conditions and learning what issues may threaten a quality visitor experience. We are also learning from other parks, seeing what solutions are being tried and what issues they are solving," said Grand Teton National Park Superintendent Chip Jenkins. "The visitor experience is a resource, just like moose or clean air, and it's something we are actively working to preserve and protect."

Grand Teton park staff continue to analyze data and studies conducted over the summer to better understand changing visitation trends in the park. Studies include visitor-use and experience studies at Colter Bay, Taggart and Lupine Meadows trailheads, which surveyed visitors in these areas to gain a better understanding of visitor demographics, visitor expectations, and more. Additionally, a park-wide visitor mobility study was conducted this summer to identify common visitor travel patterns and flow.
____________________________

Editor's note: For comparison, Yellowstone National Park has hosted over 4.4 million visitors for the same time period. Source

---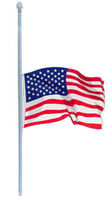 Flag Half Staff Notice – In Honor of Rylee McCollum (posted 10/22/2021)
Statewide in Wyoming on Saturday, October, 23, 2021
Governor Mark Gordon media release
Governor Mark Gordon has ordered both the United States and Wyoming State flags be flown at half staff statewide on Saturday, October 23, 2021 in honor of the service of Marine Corps Lance Cpl. Rylee McCollum. McCollum, a Teton County resident, was killed in the terrorist attack on August 26, 2021, in Kabul, Afghanistan.

A public memorial service for McCollum will take place on Saturday, October 23 at the Jackson Hole Hereford Ranch, accessed off of South Park Loop Road in Jackson. Seating will begin at 1 p.m. for the 2 p.m. service.

---
Sublette County Public Health Full Update: October 22, 202 (posted 10/22/2021)
Vaccine booster doses now available
Sublette County Public Health
COVID Update
The Wyoming Department of Health announced two new deaths of Sublette County residents this week. Sublette County Public Health sends their heartfelt condolences to the family and friends of the deceased. WDH reported 24 new COVID-19 cases in Sublette County in the past week. There are currently 15 active cases in Sublette County, with 1,300 recoveries and 15 deaths, for a total of 1,330 cases since the pandemic began.

Sublette County moved into the Orange or Moderate-High Transmission Zone for community spread this week reflecting those lower cases, most of the state remains in the Red or High Transmission Zone (source

COVID Vaccine Booster Dose Information
The FDA & CDC have approved booster doses for Pfizer, Moderna, & Janssen Vaccines. Please see the graphic below for eligibility requirements. You can also "Mix and Match" vaccine boosters now. This means that we can give a booster dose of a different type of vaccine than your original series. More information here:

If you are eligible and would like a booster dose, please call Sublette County Public Health to schedule your appointment. Bring your vaccine card with you (or proof of vaccination dates) and complete the attached COVID Vaccine Consent Form to bring with you. Call 307-367-2157 to schedule an appointment (drive-ins accepted).

For the most recent updates to vaccine booster information, watch this week's video update! Watch here: https://fb.watch/8OUuWDZR06/

Moderna & Janssen (J&J) Drive Thru Booster Clinics
• Wednesday, Oct. 27 at the Mountain Man Museum from 10 am -Noon and 1:30 - 5 pm.
• Tuesday, Nov. 2 at the Sublette County Fairgrounds 1 to 4:30 pm

Please call Public Health to schedule your appointment at 307-367-2157. Public Health will begin charging your insurance company a $20 administration fee for COVID boosters, there is no charge for those underinsured or uninsured. Please bring your COVID vaccine card and completed vaccine consent form with you to the drive-thru.

Flu & COVID-19 Vaccines
As of Oct. 18, 2021 – 2,975 people have been fully vaccinated in Sublette County, which means that 30.26% of our population has been vaccinated. 72 COVID vaccinations were administered in Sublette County this week.

Public Health continues to offer weekly COVID & flu vaccination clinics. Registration is requested but drive-ups are welcome on these clinic days. To sign-up, please call Public Health at 307-367-2157 to schedule an appointment.

Every Tuesday at the Public Health Office in the Marbleton Senior Center
• 1 to 4 pm for flu and COVID vaccinations.
• Marbleton Office closed on Tuesday, November 2nd for our big drive-thru event at the Fairgrounds.

Every Thursday in October – Drive-Thru at the Mountain Man Museum
• 1 to 4 pm for flu and COVID vaccinations.
• Closed Thursday, November 11th--Veterans Day.
• Closed Thursday, November 25th--Thanksgiving.

Payment due at time of service for flu vaccinations: Cash & checks accepted; We can bill Medicare, BCBS, Cigna & UMR. Costs are $20 for the regular flu vaccine and $55 for the senior flu (high-dose) vaccine.

COVID-19 Testing: Please see our website for information: https://www.sublettewycovid.com/testing

---
Remains of Brian Laundrie found in Florida (posted 10/22/2021)
The Denver Office of the Federal Bureau of Investigation (FBI) posted a media release confirming having found Brian Laundrie.

On October 21, 2021, a comparison of dental records confirmed that the human remains found at the T. Mabry Carlton, Jr. Memorial Reserve and Myakkahatchee Creek Environmental Park in Florida are those of Brian Laundrie.

Laundrie, Petito's boyfriend, was the sole suspect in the strangulation death of 22-year old Gabby Petito whose body was found on the Bridger-Teton National Forest north of Jackson, Wyoming in September.

The couple reportedly embarked on a cross-country journey in June with plans to visit national parks along the way. He returned alone to his parent's home in Florida on September 1st, where the couple had been living. Petito's mother reported her missing on September 11th. Laundrie vanished as the story of Petito's disappearance unfolded and widespread national media attention grew. He had not been seen since September 13th.

---
Wyoming Legislature Special Session update – 10/21/2021 (posted 10/21/2021)
Debating COVID-19 vaccine mandates from federal government, public entities, and businesses
Albert Sommers, House District #20 Representative
10/21/2021
Hello Sublette County, this is Albert Sommers reporting to you on Thursday, October 21, prior to a Legislative Special Session. Yes, as I said might happen in my September 13 press release, the Legislature voted early this week to hold a very narrow topic special session. It will debate how Wyoming should react to COVID-19 vaccine mandates from the federal government, public entities, and businesses. The special session will begin on Tuesday, October 26 at 10 am.

President Biden's September 9 order requires all employers with more than 100 workers to demand their employees either get vaccinated or be tested for COVID-19 once a week. Further, it requires all health facility workers be vaccinated in order for that facility to be eligible to receive federal Medicare and Medicaid payments. Most Wyoming nursing homes, hospitals, and clinics are heavily dependent upon these federal funds, as they serve populations eligible for Medicare and Medicaid.

Republican leadership of the Wyoming Legislature released a press release the day after Biden's order: "We stand in strong support of Governor Gordon's stance against a federal vaccine mandate. Our republican form of government leaves decisions of this gravity to the states. We believe the Biden Administration's federal vaccine requirement is arbitrary and likely unconstitutional. The Governor and the Attorney General are provided the tools through Wyoming Statute 9-14-102 to take legal action to prevent the enforcement of overreaching Federal Occupational Safety and Health Administration regulations such as the proposed vaccine mandate. We are confident they will use that authority to good effect to protect the rights of Wyoming citizens."

As Majority Floor Leader of the Wyoming House of Representatives, I am a member of legislative leadership. We polled the whole legislature to find out if members felt now was the time to convene a special session to address vaccine mandates. The majority of both the House and the Senate voted to support the convening of a short special session to address this topic. I voted in support, because I do not support vaccine mandates for COVID. That decision is best left to the individual.

However, I also struggle with government telling a private business that it cannot require employees to follow health care guidelines, to have a healthy work environment. Legislative leadership has worked on bills for this special session that hopefully help Wyoming thread the needle by protecting the rights of workers, consumers, and private businesses. These will be great debates, because there are no easy answers.

My one concern is that our speed will allow little time for the public to review bills and provide comment. Today (Thursday, October 21, 2021) at 3 pm, an informal meeting of the Legislature's Joint Rules Committee will convene to discuss the rules for the special session. No public comment will be taken, but it may answer some of your questions about how the session will run. The meeting will be recorded.

Details about today's Rules Committee meeting are at https://wyoleg.gov/Calendar/20211001/Meeting
Scroll down the list to October 21, where the meeting is listed. Click on the Details link at far right. Information posted here may change throughout the day and should soon include a Video/Audio link.

At the Wyoming Legislature's YouTube channel, you can watch this and many other recorded meetings whenever you wish: https://www.youtube.com/c/WyomingLegislature

By late Thursday, the legislative website, https://wyoleg.gov/, will have bills posted for the special session.

I can be reached at albert@albertsommers.com with questions or comments.

---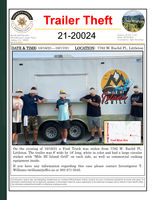 Colorado seeks Wyoming help to locate stolen food truck trailer (posted 10/19/2021)
The Jefferson County Sheriff's Office in Golden, Colorado is investigating the theft of a food trailer that was stolen from a residence late Friday night, October 15th or early Saturday morning, October 16th. Law Enforcement received a tip that the food truck may be in Wyoming (specifically the area of Lusk, WY).

The trailer is white and has a large circular decal logo saying Mile HI Island Grill on both sides. The trailer is 8' wide and 18' long. Inside contents are commercial cooking equipment.

Anyone who sees the food truck or has any information is asked to contact Investigator T. Williams, twilliam@jeffco.us, or call 303-271-5545, or can remain anonymous by calling Metro Denver Crime Stoppers at 720-913-STOP (7867).

---
SCSO seeks public help in locating stolen ATV (posted 10/19/2021)
Sublette County Sheriff's Office
On October 12th, 2021, the Sublette County Sheriff's Office (SCSO) received a report of a white 2019 Polaris 850 SP ATV being stolen from the Jonah Energy Field Office off of Luman Road in the Jonah Gas Field. The four-wheeler was stolen on the night of October 11th. The four-wheeler was described to have a windshield as well as handwarmers.

The Sublette County Sheriff's Office requests anyone with any information regarding the theft or the whereabouts of the four-wheeler, to please contact Detective Travis Lanning at 307-367-4378 or email any tips to scsotipline@subso.com.

A stock photo of the four-wheeler has been included in this release as a reference.

---
Flag Half Staff Notice – In memory of General Colin Powell (posted 10/18/2021)
Half staff through Friday, October 22
Governor Mark Gordon media release
CHEYENNE, WYOMING - Governor Mark Gordon, pursuant to President Joe Biden's Proclamation, has ordered both the U.S. and State of Wyoming flags be flown at half-staff statewide immediately in honor of the life and legacy of General Colin Powell. Flags should remain lowered until sunset on October 22, 2021.

The Presidential Proclamation follows:
DEATH OF GENERAL COLIN POWELL
- - - - - - -
BY THE PRESIDENT OF THE UNITED STATES OF AMERICA
A PROCLAMATION

General Colin Powell was a patriot of unmatched honor and dignity. The son of immigrants, born in New York City, raised in Harlem and the South Bronx, a graduate of the City College of New York, he rose to the highest ranks of the United States military and to advise four Presidents. He believed in the promise of America because he lived it. And he devoted much of his life to making that promise a reality for so many others. He embodied the highest ideals of both warrior and diplomat. He led with his personal commitment to the democratic values that make our country strong. He repeatedly broke racial barriers, blazing a trail for others to follow, and was committed throughout his life to investing in the next generation of leadership. Colin Powell was a good man who I was proud to call my friend, and he will be remembered in history as one of our great Americans.

As a mark of respect for General Powell and his life of service to our Nation, I hereby order, by the authority vested in me as President of the United States by the Constitution and the laws of the United States of America, that the flag of the United States shall be flown at half-staff at the White House and upon all public buildings and grounds, at all military posts and naval stations, and on all naval vessels of the Federal Government in the District of Columbia and throughout the United States and its Territories and possessions until sunset on October 22, 2021. I also direct that the flag shall be flown at half-staff for the same length of time at all United States embassies, legations, consular offices, and other facilities abroad, including all military facilities and naval vessels and stations.

IN WITNESS WHEREOF, I have hereunto set my hand this eighteenth day of October, in the year of our Lord two thousand twenty-one, and of the Independence of the United States of America the two hundred and forty-sixth.

JOSEPH R. BIDEN JR.

---
Tax relief offered to eligible Wyoming businesses (posted 10/15/2021)
To offset potential increases to unemployment insurance taxes due to COVID-19 unemployment claims
Governor Mark Gordon media release
CHEYENNE, WYOMING – Governor Mark Gordon has signed an Executive Order (EO) that will provide significant tax relief to eligible Wyoming businesses. This will come in the form of a tax credit and by offsetting some potential increases to their unemployment insurance (UI) taxes in the future.

Executive Order 2021-08 removes all UI benefit claims between March 13 and Dec. 31, 2020, from the businesses whose accounts were charged for those claims. The EO was authorized by the Legislature in 2020 and it ensures that these employers do not continue to experience significant UI tax rate increases due to the system-wide surge in unemployment claims that occurred due to the COVID-19 pandemic. It will also provide credits to employers who experienced increased unemployment taxes already paid in 2021.

"We recognize that every employer in the state was impacted in some way by the pandemic, and many saw their unemployment insurance rates increase – some substantially – this year," Governor Gordon said. "This Executive Order protects Wyoming businesses that have continually risen to the challenges in this new environment."

To ensure that this tax relief will not impact future tax rates, the Governor will utilize $58 million in federal funds to backfill Wyoming's UI Trust Fund. The Governor previously added $64 million to that trust fund, which has already helped keep rates from going up even further.

"It is important that we ensure that this significant tax relief does not necessitate an increase in UI tax rates at a later date," the Governor said.

Wyoming employers will see a decrease in their unemployment tax rates after October 31. They will also receive notification from the Wyoming Department of Workforce Services of the value of credits that can be applied to future unemployment taxes.

Executive Order 2021-08 may be viewed on the Governor's website.

---
Wyoming preparing legal challenge to Federal vaccine mandates (posted 10/13/2021)
Governor Mark Gordon media release
CHEYENNE, WYOMING – Governor Mark Gordon is taking action to oppose President Biden's COVID-19 vaccine mandates. The Governor and the Attorney General continue to prepare the State's legal challenge to the threat of the Biden Administration's proposed vaccine mandates, when they are finalized. It should be noted that the Biden Administration has yet to issue any specific policies that can be challenged in court.

"Four weeks ago, when the President issued his announcement regarding vaccine mandates, I immediately instructed Attorney General Hill to prepare for legal action to oppose this unconstitutional overreach," Governor Gordon said. "Attorney General Hill has begun that mission and is continuing to strengthen alliances, improve potential arguments, and consider appropriate strategies."

Governor Gordon noted that a joint letter from 24 attorneys general explained that the President's edict is broad, inexact, and utilizes a rarely-used provision in Federal law that allows it to be effective immediately.

"This coalition of Attorneys General is well-prepared to fight the Biden Administration in courts when the time is right, and I am committed to using every tool available to us to oppose federal rules, regulations, and standards whenever they overreach. We are prepared to act promptly once these mandates are finally issued," the Governor said. "Wyoming will not stand idly by to see any erosion of the constitutional rights afforded our citizens and their industries."

As the state prepares for its legal battle with the federal government, Governor Gordon stressed that as a conservative Republican, he continues to stand for smaller government that is closest to the people. Governor Gordon reiterated, "Government must resist the temptation to intrude in private sector interests."

"It is neither conservative nor Republican to replace one form of tyranny with another," he added. "Doing so is antithetical to our American form of government, even if it is for something we like. I will stand firm against unconstrained governmental overreach regardless of where or when it occurs."

---
Hunters: Win great prizes when you submit a CWD sample (posted 10/12/2021)
Wyoming Game & Fish
Hunters are critical to monitoring chronic wasting disease (CWD) in Wyoming, a fatal disease that affects moose, elk and deer in the state. The Wyoming Game and Fish Department is once again asking for hunters to provide lymph node samples from their harvested deer and elk this fall to test for CWD. In return for samples, hunters may be eligible to win thousands of dollars in hunting gear.

"Elk and deer hunters are on the front-line helping Game and Fish to understand the distribution and prevalence of CWD by collecting and submitting samples for testing," said Scott Edberg, deputy chief of wildlife. "This raffle is one way we can show our appreciation for their efforts."

Hunters are eligible to win prizes from two tiers when they submit a usable lymph node sample — that means the correct tissue and is in good-condition to be tested. When hunters submit samples from adult male mule or white-tailed deer or any adult elk at least 2-years old from targeted CWD monitoring hunt areas, they have a chance to win Tier I prizes. Those targeted hunt areas are:

Deer: 1-6, 19, 24, 25, 27-33, 41, 46, 47, 50-53, 61, 66, 74-77, 96, 97, 124, 130, 131, 134, 135, 138-146, 150-156, 163, 165, 169. Deer Hunt Areas 96 and 97 require mandatory lymph nodes submissions for testing.
Elk: 13, 15, 21, 41, 45, 67-71, 75, 77-85, 88-91, 97, 98, 102-105, 108, 127, 130
Hunters could win Tier II prizes when they submit samples for all other areas (non-targeted CWD monitoring areas) of the state, regardless of the hunt area.

Tier I prizes:
Special Edition Nosler Model 48 in .28 Nosler, donated by RMEF, with a Leupold VX-5HD 3-15x44 rifle scope, donated by Rocky Mountain Elk Foundation
Weatherby Vangard High Country in 6.5 Creedmoor, with a Maven RS.1 2.5-15x44 FFP rifle scope, donated by the Wyoming Wild Sheep Foundation, Weatherby and Maven
Maven S.1S 25-50x80 spotting scope, donated by Wyoming Wild Sheep Foundation and Maven
First Lite Catalyst softshell jacket, Obsidian merino wool pants, and Kiln 250 Aerowool hoodie, donated by First Lite

Tier II prizes:
Weatherby Vanguard Weatherguard rifle in .270 Winchester, donated by Wyoming Wild Sheep Foundation & Weatherby
Maven B.1 (8x42 or 10x42) binoculars, donated by Wyoming
Wild Sheep Foundation and Maven
KUIU Valo Camo, Pro 3600 Full Kit Backpack, donated by Muley Fanatics

"We're grateful to our sponsors whose generosity helps Wyoming's disease monitoring efforts on CWD," said Justin Binfet, Game and Fish wildlife coordinator in Casper. "Thank you for supporting this work."

Winners will be drawn randomly by early March 2022. Winning entries in Tier I will be excluded from entry into drawing for Tier II prizes.

Hunters can learn how to take a sample by watching a how-to video on the Game and Fish website and submit it alongside the CWD data sheet. Hunters can also have animals sampled at any game check station this season or by stopping at the Game and Fish Headquarters or regional offices from 8 a.m. to 5 p.m., Monday through Friday.

Results from CWD testing are available online within three weeks. Hunters can expedite results within 10 working days for a $30 fee; contact the Wyoming State Veterinary Lab in Laramie at (307) 766-9925 for more information.

Continued monitoring of CWD over time is important to help Game and Fish understand the potential impacts of this disease in deer and elk herds throughout the state.

Game and Fish has a statewide sampling program to monitor CWD by periodically targeting specific hunt areas on a rotating basis. This long-term effort will help the department determine CWD prevalence throughout the state and formulate management actions to address the impacts of the disease.

Hunters also need to be aware of Wyoming carcass transport and disposal rules to prevent the spread of CWD within Wyoming and other states.

Since 1997, the Game and Fish has been monitoring the distribution and prevalence of CWD to better understand how this disease may affect the health of Wyoming's deer and elk populations. Initial surveillance goals focused on the detection of CWD in new areas of the state along with monitoring the disease. This disease has now been identified in most deer hunt areas across Wyoming and necessitates a shift in focus of the program from detection to monitoring.

More information and resources for hunters on CWD is available on the Game and Fish CWD webpage.

---
Business Directory
Click here for
Advertising Information