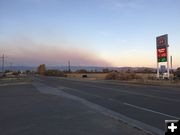 Irish Fire

Smoke from the newly started Irish Fire could be seen in the southern Wind River Range from the Boulder Store on Saturday evening, Sept. 22. Photo courtesy Bob Rule, KPIN 101.1 FM Radio.


Irish Fire starts near Big Sandy
Evacuations for Big Sandy Lodge, Opening, trailhead, and Temple Peak Summer Homes
by Bridger-Teton National Forest
September 22, 2018

September 22, 2018 – A new fire—the Irish Fire—was located on the Pinedale Ranger District of the Bridger-Teton National Forest at approximately 2:30 p.m. Saturday, September 22. It is in remote, rugged terrain approximately 30 miles southeast of Pinedale, a half mile southwest of the Bridger Wilderness boundary, and 3 miles northwest of Big Sandy.

A helicopter was dispatched and reported smoke but no visible flames and estimated the fire to be approximately 5 acres. The helicopter was diverted to assist with evacuations. When air attack flew over the fire around 3:30 p.m., it was estimated to be 30 acres. The pilot reported very active fire behavior: torching, spotting, and spreading quickly in a generally easterly direction.

Forest Service engines poised for initial attack responded with a full-suppression strategy and a priority of protecting the public from the outset. Numerous hunting camps and individuals are in front of the fire, so the Forest's immediate response included contacting Sublette County, which then used Reverse 911 to evacuate the Big Sandy area. Firefighters' priority is public safety and getting people out of the way of this rapidly advancing fire. They are getting assistance from aerial resources to locate, notify, and evacuate people in front of the fire. Interagency resources being used in the initial attack of this fire—some of which were diverted from the nearby Roosevelt Fire—include air tankers, helicopters, engines, and numerous firefighters.

Monitor the Forest's Facebook page (facebook.com/BridgerTetonNF) or contact the Pinedale Ranger District at 307-367-5700 for more information.