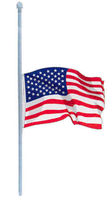 Flag Half Staff notice

Flag Half Staff notice: U.S. Supreme Court Justice Antonin Scalia (posted 2/13/`6)
President Obama has ordered the flag of the United States be flown at half-staff throughout the United States and its Territories and possessions until sunset on the day of interment. He also direct that the flag shall be flown at half-staff for the same period at all United States embassies, legations, consular offices, and other facilities abroad, including all military facilities and naval vessels and stations.

---
Wyoming Water Supply Synopsis: February 2016 (posted 2/12/16)
Reservoirs storages across Wyoming are 110% to 120% above average for February; October 2015 - January 2016 precipitation across Wyoming near 100% of average
Jim Fahey, Wyoming NOAA hydrologist
- Wyoming January precipitation was 92 to 97 percent of average.
- Current water year precipitation is averaging near 100 percent of normal across Wyoming.
- Mountain snowpack across Wyoming remains at 80 to 85 percent of average.
- Below normal snowmelt streamflow volumes are expected across major basins in Wyoming.
- Wyoming reservoir storages are 110 to 120 percent of average for February.

January precipitation totals across Wyoming were 92 to 97 percent of average. Precipitation numbers varied between 152 percent of normal over the Little Snake River Drainage (extreme southern Wyoming) to near 47 percent of normal over the Clarks Fork Yellowstone/Shoshone River Basin (northwestern Wyoming). Current water year (October 2015 - January 2016) precipitation across Wyoming is near 100 percent of average.

Mountain snowpack across Wyoming continues to be 80 to 85 percent of median by early February. Snowpack "water" numbers and/or SWEs were the highest across basins in southern Wyoming—varying between 97 to 107 percent of median. SWEs across basins in north central Wyoming varied between 48 to 65 percent of median.

Below normal (80 to 85 percent) snowmelt streamflow volumes are expected across almost all major basins across Wyoming. Near average streamflow volumes are expected across portions of the Upper Bear and Upper North Platte Watersheds. The Sweetwater, Powder, and Tongue River Basins are forecasted to have much below normal streamflow volumes during the upcoming snowmelt season.

Reservoirs storages across Wyoming are remained above average at 110 to 120 percent for February.

Other hydrological information for Wyoming can be found at the NOAA hydrology website:
http://www.weather.gov/riw/local_hydrology

Monthly Wyoming Hydrologic Summary and Graphics:
(updated monthly around the 15th of every month)
http://www.weather.gov/media/riw/hydro/hydro_report.pdf

Wyoming Drought Information Page:
(updated at least once a month)
http://www.weather.gov/riw/drought

Wyoming Graphical Water Supply Outlook:
(updated by the 15th of every month—January-June)
http://www.weather.gov/images/riw/hydro/watersupply.png

Wyoming Average Precipitation by Basin:
(updated monthly)
http://www.weather.gov/images/riw/hydro/wyomingprecip.png

Wyoming Spring Snowmelt Runoff Flood Potential Graphic:
(updated by the 25th of the month---February-May)
http://www.weather.gov/images/riw/hydro/floodoutlook.png

Current and Forecast Wyoming Streamflows and/or River Stages:
http://water.weather.gov/ahps2/index.php?wfo=RIW
http://water.weather.gov/ahps2/index.php?wfo=CYS
http://waterdata.usgs.gov/wy/nwis/rt

---
Free Chantix prescription available with Quit Tobacco Program (posted 2/12/16)
The Wyoming Department of Health is adding a free three-month prescription to Chantix to Wyoming smokers who want to quit smoking with the help of the Wyoming Quit Tobacco Program. Chantix is a medication used to help people quit smoking. Other options include free nicotine replacement gum, patches or lozenges. The program has helped people cover Chantix costs for several years, but is now offering a free three-month prescription to people who enroll in the program by June 30. People who want to quit smoking have a higher chance for success if their plan includes tools such as medication or nicotine replacement gum or patches, combined with coaching or similar support.

Interested residents may call 1-800-QUIT NOW or visit www.quitwyo.org online for more information or to enroll. In addition to free nicotine replacement therapy and Chantix, phone or online support is available at no cost to Wyoming residents.
---
Supreme Court blocks Obama administration's carbon emissions plan (posted 2/10/16)
On Tuesday (Feb. 9, 2016) the U.S. Supreme Court ruled to block the Obama administration's federal regulations to curb carbon dioxide emissions from power plants. On a 5-4 vote, the court granted a request made by 27 states and various companies and business groups to block the administration's Clean Power Plan. The ruling means the regulations will not be in effect while litigation continues over their legality.

The decision deals a legal blow to President Obama's efforts to introduce stronger government regulations to throttle back the coal, oil and natural gas energy industries in the name of climate change and reducing greenhouse gas emissions. The administration's Clean Power Plan favors renewable energy power sources, wind and solar. The outcome of the court action is of great concern to states like Wyoming where the hydrocarbon energy industry is a huge part of the state economy, tax revenue generation, and jobs.

The appeals court will hear oral arguments on June 2, 2016 to decide whether the regulations are lawful.

Click on the links below for related stories.

Related Links:
Supreme Court blocks Obama carbon emissions plan Yahoo.com
Supreme Court deals blow to Obama climate plan Yahoo.com
Supreme Court blocks Obama climate change rules CNN.com
Supreme Court Blocks Signature Obama Climate Rule USNews.com

---
BLM seeking public comment on the Jonah Year-Round Development Project Environmental Assessment (posted 2/8/16)
15-Day comment period open - Deadline for public comment is Feb. 22, 2016
Bureau of Land Management
The BLM's Pinedale Field Office has released an Environmental Assessment (EA) for the Jonah Year-Round Development Project Area. The EA analyses a proposal from Jonah Energy LLC and LINN Operating, Inc. to conduct year-round development for a 5-year period in the northern portion of the Jonah Infill Development Project Area (JIDPA). Development in the JIDPA was analyzed in an EIS and approved in a Record of Decision (ROD) issued in 2006. The release of the EA also begins a 15-day public comment period that will close on Feb. 22, 2016. The EA is available for review at http://1.usa.gov/1Kv2HEf.

The EA analyzes the development of natural gas well pads, access roads, and pipeline corridors situated approximately 21 miles south of Boulder, Wyoming. Specifically, the development of about 245 natural gas wells by Jonah Energy LLC's and LINN Operating, Inc. in the northern third of the Jonah Field within the JIDPA.

The proposed project requests that BLM approve an exception to existing time limitations on development related to wildlife, the proposal would significantly reduce the development footprint in the area relative to what is authorized under the current JIDPA ROD. While the number of wells (245) would remain the same, the number of well pads would be reduced from 245 to 24 and the total disturbance would drop from 1315 acres to 232 acres. These reductions ensure that the proposed project would not cause Jonah Field development to exceed the well number or disturbance thresholds previously analyzed in the 2006 Jonah Infill Drilling Project Final Environmental Impact Statement.

Written comments will be accepted until Feb. 22, 2016, and should be emailed to blm_wy_jonahyrd@blm.gov. To ensure comments are considered please include "Jonah YRD Project Area Comment" in the subject line.

Public comments are also being accepted by mail delivery to the following address.
BLM Pinedale Field Office
Attn: Brian Roberts
1625 West Pine Street
P.O. Box 768
Pinedale, WY 82941

Comments are most useful when they substantively address specific issues, concerns, ideas or mitigation opportunities.

Before including your address, phone number, e-mail address, or other personal identifying information in your comment, be advised that your entire comment – including your personal identifying information – may be publicly available at any time. While you may ask us in your comment to withhold from public review your personal identifying information, we cannot guarantee that we will be able to do so.

For more information, please contact Brian Roberts at 307-367-5351.

Persons who use a telecommunications device for the deaf (TDD) may call the Federal Information Relay Service (FIRS) at 1-800-877-8339 to contact the individual above during normal business hours. The FIRS is available 24 hours a day, 7 days a week, to leave a message or question with the above individual. You will receive a reply during normal business hours.
---
Wolf howling dialects (posted 2/8/16)
University of Cambridge (UK)
The largest ever study of howling in the 'canid' family of species – which includes wolves, jackals and domestic dogs – has shown that the various species and subspecies have distinguishing repertoires of howling, or "vocal fingerprints": different types of howls are used with varying regularity depending on the canid species.

Researchers used computer algorithms for the first time to analyse howling, distilling over 2,000 different howls into 21 howl types based on pitch and fluctuation, and then matching up patterns of howling.

They found that the frequency with which types of howls are used – from flat to highly modulated – corresponded to the species of canid, whether dog or coyote, as well as to the subspecies of wolf.

For example, the howling repertoire of the timber wolf is heavy with low, flat howls but doesn't feature the high, looping vocal that is the most frequently used in the range of howls deployed by critically-endangered red wolves.

Lead researcher Dr Arik Kershenbaum from the University of Cambridge describes these distinctive howl repertoires as resembling vocal dialects, with each species having its own identifiable use of the various howl types. He says the findings could be used to track and manage wild wolf populations better, and help mitigate conflict with farmers.

The origins of language development in humans are mysterious, as the vocalisations of our closest existing biological relatives such as chimpanzees are relatively simple. Kershenbaum and colleagues believe that studying the sounds of other intelligent species that use vocal communication for cooperative behaviour – such as wolves and dolphins – may provide clues to the earliest evolution of our own use of language.

"Wolves may not be close to us taxonomically, but ecologically their behaviour in a social structure is remarkably close to that of humans. That's why we domesticated dogs – they are very similar to us," said Kershenbaum, from Cambridge's Department of Zoology. "Understanding the communication of existing social species is essential to uncovering the evolutionary trajectories that led to more complex communication in the past, eventually leading to our own linguistic ability" he said.

The research was conducted by a team of scientists from the UK, US, Spain and India, and is published in the journal Behavioural Processes.

The researchers made use of howls recorded from both captive and wild animals, from Australia and India, to Europe and the United States, creating a database of 6,000 howls that was whittled down to 2,000 for the study. This included combing YouTube for domestic dog howls.

These were then fed into machine learning algorithms to classify the howls into discrete types. Studies on howling in the past have had to rely on subjective human comparisons by looking at soundwave patterns, but the new algorithms allowed the howl types to be compared objectively, revealing that the various species have characteristically different repertoires of howl type usage.

While the howling repertoires of most of the 13 species analysed were very distinct, some bore close similarities to each other that may influence interbreeding and, in at least one case, threaten the survival of a species.Red wolves, hunted to the brink of extinction in the mid-20th century, were the focus of a reintroduction programme instigated by the US government, which has recently been halted due to a lack of success.

Part of the problem was red wolves breeding with coyotes, and the resultant hybridisation diluted attempts to maintain this rare wolf species. The researchers found significant overlap between the howling vocabulary of the red wolf and the coyote – with both favouring highly modulated, whining howls such as the one classed by researchers as 'type three'.

"The survival of red wolves in the wild is threatened by interbreeding with coyotes, and we found that the howling behaviour of the two species is very similar. This may be one reason why they are so likely to mate with each other, and perhaps we can take advantage of the subtle differences in howling behaviour we have now discovered to keep the populations apart," said Kershenbaum.

Other conservation uses for the new findings may involve refining the use of playbacks to recreate more accurate howling behaviours that imitate territorial markings, thereby encouraging wolf packs to steer clear of farms and livestock. However, we know very little about the meaning of different howl types and what they are actually communicating, says Kershenbaum, because – as with dolphins, that other highly vocal, smart and social species which he studies – wolves are extremely difficult to study in the wild.

"You don't observe natural wolf behaviour in zoos, only in the wild, and you need to know where the animals are when howling before you can really begin to try and discern meanings. But, as with dolphin pods, physically following a wild wolf pack is virtually impossible," explained Kershenbaum.

"We are currently working on research in Yellowstone National Park in the US using multiple recording devices and triangulation technology to try and pick up howl sounds and location. In this way we might be able to tell whether certain calls relate to distance communication or pack warnings, for example," he said.

For Kershenbaum, wolves and dolphins show remarkable parallels with each other in social behaviour, intelligence and vocal communication – all comparisons that extend to humans.

"As well as being intelligent and cooperative species, wolves and dolphins have remarkably similar vocal characteristics. If you slow a dolphin whistle down about 30 times it sounds just like a wolf howl, something I often do in my lectures," he said.

"The presence of complex referential communication in species that must communicate to survive was probably a crucial step in the evolution of language. I think we can shed a lot of light on early evolution of our own use of language by studying the vocalisation of animals that are socially and behaviourally similar to us, if not necessarily taxonomically closely related."

Related Links:
Behavioral Processes - Full paper available, for a fee.
Wolf Watch - by Cat Urbigkit, Pinedale Online!

---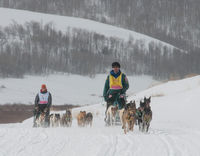 Photo courtesy EUKANUBA Stage Stop Race

Buddy Streeper wins 2016 EUKANUBA Stage Stop (posted 2/7/16)
Sled Dog Race
Saturday, February 6, 2016: Dan Carter, EUKANUBA Stage Stop Race Director and the Pedigree® 8-Dog Classic Race Director, announced the winners of the Uinta County/Bridger Valley Wyoming stage.

Winning the 42 mile eighth stage of the EUKANUBA Stage Stop Race is Buddy Streeper of Ft. Nelson, BC, Canada with an elapsed time of 2:54:04. With that win, Mr. Streeper is the first place winner of this year's Eukanuba Stage Stop Race with an Overall time of 24:34:30. Congratulations, Buddy!

Final Positions for all 13 competitors:
#1 — Buddy Streeper — Overall Time 24:34:30.
#2 — Alex Stegmann — Overall Time 25:05:33.
#3 — JR Anderson — Overall Time 25:20:26.
#4 — Bruce Magnusson — Overall Time 25:31:00.
#5 — Jerry Bath — Overall Time 25:33:10.
#6 — Jeff Conn — Overall Time 26:24:23.
#7 — Gerry Willomitzer — Overall Time 27:11:03.
#8 — Al Borak — Overall Time 27:32:29.
#9 — Dennis Laboda — Overall Time 27:49:36.
#10 — Emilie Entrikin — Overall Time 27:51:16.
#11 — Jerry Scordis — Overall Time 29:14:11.
#12 — Austin Forney — Overall Time 33:27:42.
#13 — Chris Adkins — Overall Time 35:09:51.

Related Links:
www.wyomingstagestop.org

---
Odds 'n Ends news (posted 2/7/16)
Facebook Announces Ban On Private Gun Sales
Outdoorhub.com, 2/1/16
Facebook announced on January 31, 2016 that it will no longer be allowing users to coordinate private gun sales on its website or on the photo-sharing service Instagram, which Facebook owns. The new announcement came after President Barack Obama's new push for greater gun control and longtime pressure from gun control advocates.

Wisconsin Becomes First State to Legalize Blaze Pink
Outdoorhub.com, 2/2/16
Wisconsin passed a new law which would allow state hunters to wear blaze pink in place of the traditional orange garb. They are the first state in the country to legalize fluorescent pink clothing as an alternative in satisfying the visibility requirement. Blaze pink has been available to purchase, but has not been legal for hunting use. Lawmakers proposed the bill in the hopes that the new color option will draw in more women hunters and to tap into a new market to begin promoting pink merchandise, which includes everything from clothing to weapons. Researchers claim that blaze pink is just as visible, if not more visible, to the human eye than blaze orange, and is actually more difficult for deer to see than blaze orange.

Video: Company Trains Eagles to Attack Drones
Outdoorhub.com, 2/4/16
A company in the Netherlands is using specially trained eagles and hawks to intercept aerial drones. The new venture is in response to the government looking for ways to counter the undesirable use of drones. The use of trained raptors has proven to be an efficient alternative to shooting the vehicles down or trying to use sophisticated jamming technologies to disable the craft. Trained birds of prey have been used for centuries by skilled falconers for hunting purposes.

Video: Need a New Way to Travel on Thick Snow? Meet "Droneboarding"
Outdoorhub.com, 2/3/16
Speaking of drones, here's a pretty cool video of someone using a souped-up drone to do "droneboarding."

Smart Gigabit Cities – Why Utah's thriving technology sector also need gigabit speeds
DeseretNews, 2/7/15
One of the great strengths of Utah's economy is in their information technology sector, including Adobe, eBay, Microsoft and Oracle. Utah has an exceedingly large number of fiber-optic Internet connections permitting consumers to upload or download at gigabit speeds, more than exist in Silicon Valley or Boston or New York. Information highways are the building blocks for software in the same way that physical highways are necessary for cars to get from here to there. Both information and concrete highways are strongly correlated with lasting economic development. "Smart Gigabit Cities" allow faster web browsing and help lower the digital distance between communities. In addition to gigabit speeds, communities need ultra-low latency, which permits holographic-like experiences such as symphony musicians playing simultaneously in multiple cities, or remote surgery, and virtual networking. Opening gigabit data connection systems can provide internet infrastructure to boost the entrepreneurial digital start-up culture.

New Montana Ant Species Emerge From 46-Million-Year-Old Rock
Smithsonian Science News, 1/8/16
Researchers have discovered a 46-million year old queen ant species in a fossil found along the middle fork of the Flathead River in Montana. This winged female ant is the only known member of her species. Her discovery is raising eyebrows among scientists who study ants because they believed living ants evolved more recently. This discovery proves that ants have been around much longer than previously believed. Crematogaster aurora is one of 12 new prehistoric ant species discovered in Kishenehn Formation shale in northwestern Montana by Dale Greenwalt, a paleontologist at the Smithsonian's National Museum of Natural History and ant expert J.S. LaPolla of Towson University in Maryland. All 12 represent species new to science, known only from the locality in Montana. All are long extinct yet some represent genera that still exist. It is speculated that higher temperature climate change 46 million years ago led to the diversification, evolution and appearance of many new species of flowering plants. In the early Eocene it was as much as 15 degrees Celsius warmer worldwide than it is today. By comparing Kishenehn ant species and genera with other North American Eocene fossil deposits such as the Green River Deposit along the Green River in Colorado, Wyoming, and Utah (48 million years old) and the Florissant Formation in Colorado (34 million years old) scientists can gradually piece together the abundance and distribution of North American ants during this period.

Cancer drug breakthrough announced
DailyMail.co.uk, 2/7/16
Experts have announced results of tests on a new drug made from tree bark, combined with radiation therapy, to cure some forms of solid tumor cancer. The 'double whammy' has proved 85% effective in laboratory trials on mice. British experts who made the discovery believe this may be a long-term complete cure for many common types of cancer. The optimism is based on results from a laboratory experiment involving human tumors grown in mice. The tests covered all the major forms of cancer which produce solid tumors, including bowel, breast, liver and lung. The drug, called combretastatin, works by destroying the developing blood vessels which tumors generate to supply themselves. Used on its own, however, it leaves a 'rim' of cancerous cells at the edge, allowing the disease to return. Radiation therapy completes the attack on the tumor by ensuring all the leftover cells are killed off. The scientists found that human tumors grown in mice disappeared completely in 85% of cases. The animals were still free of the disease almost a year afterwards. Combretastatin, which is derived from the bark of an African bush willow, leaves normal blood vessels untouched. The study was done by the Royal Free Hospital and University College Medical School in London, and the Gray Laboratory Cancer Research Trust. The results were published in the journal Cancer Research. Experts now hope to start human trials of the combination therapy as the next stage. The dual treatment could be available to patients within five years.

Unearthing B.C.'s mysterious Spanish roots
The Globe and Mail, 2/5/16
Spain has no record of any lost expeditions in Canada, but an old sword and shipwrecks suggest an early presence in the Okanagan, north of Washington state. A growing body of evidence, including a Spanish sword that has been dated to the 16th century, now suggests Spanish explorers thousands of kilometres farther north than they are currently known to have penetrated in inland expeditions. As early as 1542, Spanish ships had sailed as far north as San Diego Bay and by the 1700s they had reached Alaska. Coastal features in British Columbia – Juan de Fuca Strait, Cortes Island – reflect an early Spanish presence. The historical record shows Spanish explorers sailed along the west coast of North America, reaching as far north as Alaska in the 1700s. Overland expeditions crisscrossed what is now the southern United States in a quest for gold that took conquistadors from Florida to California. Ancient rock paintings in the Okanagan include one that appears to show a line of slaves, tied together at the neck, guarded by dogs and mounted men, which was the Spanish method. Native American legends exist of the "Turtle People," said to be a native name used because of the armour early conquistadors wore. Several artifacts have been found over the years that suggest the earlier Spanish presence. The weapons could have been brought into the area by early fur traders, who first arrived in 1811, or even before that, by native traders. One of the early shipwrecks is known about because parts of its cargo, huge blocks of beeswax destined to be turned into candles for Spanish mission churches, have been dug out of the sand near where the wreck is thought to lie.


---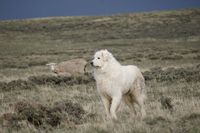 Livestock guardian dog 'Rena' went missing in November 2011 when a good samaritan picked her up thinking she was 'lost', when she was actually out with her sheep herd east of Marbleton. Photo courtesy Cat Urbigkit.

Sweetwater Sheriff's Office issues advisory about working sheep dogs (posted 2/5/16)
Please don't pick them up thinking they are 'lost'
Sweetwater County Sheriff's Office
The Sweetwater County Sheriff's Office (Rock Springs) issued an advisory Thursday concerning working sheep dogs.

Sheriff Mike Lowell said several border collies and Australian shepherd dogs were recently picked up near the Tata Chemicals Plant west of Green River. They were reported by people who were concerned about their well-being in the recent harsh weather.

These particular dogs were not abandoned or dumped, however; they were working sheep dogs that belonged to a sheep camp about 3/4s of a mile away.

Sweetwater County Animal Control Officer Chris Thomas explained the problem. "People pick these dogs up and bring them in with the best of intentions, but once they've been removed from their working environment for any amount of time, they often lose their working skills. Often, too, these sheepherder's dogs are females that may have litters of pups hidden somewhere."

One incident two years ago was a typical example. A Rock Springs woman came upon seven Great Pyrenees puppies in the bottom of a gulch in a remote area south of the city and took them home, fearing that they had been abandoned. (Great Pyrenees are a favorite breed of working sheep dog.)

The pups were reported to the Sheriff's Office and it was determined that the pups' mother was from one of the sheep camps operating in the area. County animal control officers worked with Eddie Lopez, the county range officer, to reunite them with their mother. (The pups are pictured here with ACO Thomas.)

Officials ask that people encountering large dogs in remote areas not pick them up or feed them, but note their location and notify the Sheriff's Office. County animal control officers can then go to the scene, assess the situation, and take appropriate action.
_____________________________________________________

Editor's note: There are also working livestock guardian dogs in Sublette County. In November 2011, Cat Urbigkit experienced the same kind of incident when her now-famous sheep dog, 'Rena' went missing while tending her herd east of Marbleton. Someone had picked her up thinking she was wandering outside lost. Rena tends to sheep herds at the Urbigkit's Paradise Sheep Company, protecting them from predators. Fortunately, Rena was returned home safe and sound several days later. See the links below to read that story.

Related Links:
Livestock and sheep guard dogs aren't 'lost' 2012
Rena is missing (Cat Urbigkit's livestock guardian dog) 2011
---
WYDOT releases travel information app for smart phones (posted 2/5/16)
Wyoming Department of Transportation
A new smart phone app for road and travel information has been released by the Wyoming Department of Transportation (WYDOT).

The Wyoming 511 app provides pre-trip and en route travel information, and can be used to provide location information to friends, family or emergency responders. It is available for most Android and Apple phones.

A map-based feature of the app provides information intended for planning a trip. Users can choose between road conditions and highway cameras. When viewing road conditions, a color-coded system shows pavement conditions and traffic hazards. The highway cameras view provides images from WYDOT's statewide network of Web cameras.

Future releases of the app will add information about road construction and weather sensors.

The app improves safety for travelers who are already on the road with a "hands free, eyes free" function that speaks incidents and condition reports. Users hear road condition information for the route they are traveling on, and traffic incidents within a user-defined radius.

The app also features a "Where Am I?" function that uses GPS technology to identify the user's location by route and mile marker as well as latitude and longitude coordinates. The location information provides accuracy down to one-tenth of a mile.

No personally identifiable information is collected by WYDOT through the use of the app.

It is available for free download from the Apple App Store and the Google Play Store. Search for the Wyoming 511 app, and look for the blue icon with the WYDOT logo on it, or go to https://play.google.com/store/apps/details?id=info.wyoroad.mobile.android or https://itunes.apple.com/us/app/wyoming-511/id1077881610.

---
Business Directory
Click here for
Advertising Information