Kyle Donaldson in the title role as Oliver. Photo by Matt Daniels.

Oliver! Coming to Pinedale Oct. 26-28 (posted 10/21/17)
Tickets are selling fast for the Pinedale Community Theatre's stage production of 'Oliver!' The musical by Lionel Bart is based on the classic novel Oliver Twist by Charles Dickens. The production features a cast of 40 locals, including 12 children. Tickets are $20 for adults, $7 for students, available at Office Outlet or online from www.pinedalefinearts.com.

Click on this link for more pictures from rehearsals: Oliver! Photos by Matt Daniels.

Related Links:
https.www.pinedaletheatre.com Pinedale Community Theatre
Cast for 'Oliver!' announced Sept. 8, 2017

---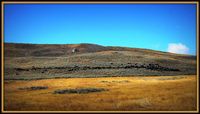 Green River Drift. Photo by Terry Allen.

The Green River Valley Drift 2017 (posted 10/15/17)
Hard Work and Hazards for Man and Beast
Terry Allen
When Grizzly bears attack they go right for the Withers. This is the same general area on a fighting bull's neck that a matador plunges his sword. Rising on his toes, a skilled matador executes with a single powerful downward thrust and the sword finds the heart of the bull. A Grizzly runs down the cow, calf or bull and then rises up on its hind legs and sinks its teeth where the spinal cord and arteries run and holds on trying to bring the animal down. Their jaws have the power to snap six inch thick pine trees.

Somehow just days ago, a Mother cow survived such an attack. She and her calf…who survived unhurt…are recovering at the Sommers Ranch. Jonita Sommers invited me down to her ranch and the graphic photos are included in this story. Grizzlies can feed on carcasses for a long time. That means they feed on dangerous bacteria and the live cattle they prey on which live…may become dangerously infected and eventually die. While Jonita remains positive on the cows chances of survival, she is not certain.

Kent Price told me today the Game and Fish have confirmed 80 cow/calf kills in the Upper Green, but this is not a final number. Kent said the general feeling is that this year's numbers will be as bad as last years. Last year, they lost 11% of their calves.

The cattle drift north into the national forest each spring after their calves are born. There they eat on leased national forest grazing allotments. Camp Riders stay in the forest and watch over the cattle as best they can. They sew up wounded ones, and keep a tally and location of dead ones. They carry heavy caliber hand guns that are good for the close quarter combat with Grizzlies and Wolves that lay in wait among the willow and brush tunnels the cattle like to graze and shelter in. Cattle can also get stuck in mud blogs or break a leg and die.

Those that survive the summer, head south along The Drift toward the Trappers Point Gathering Grounds line as soon as the first hard freeze hits.

You might remember young Libby and Lacey from my Centennial Ranch Branding story this spring. They stay busy at the gathering grounds running down cows and calves that want to break out of the gathered herd and run back north. A spotted faced calf is persistent and keeps them busy today.

I keep my ears open and learn that two ranchers have about 30 to 35 dry cows each. That means the calves didn't survive the summer. I haven't heard what the other seven ranchers think they have lost.

Once everyone gets their cattle back to their home ranch, they sort them out for various purposes. Jonita said she doubts the Grizzly slashed cow got bred, so even if she survives they won't get a calf out of her. She also said the heavy predation on the cattle make it difficult to maintain the genetic strength of her herd. "On a positive note," she said. "Cattle buyers like our cattle because the ones that are left, are strong."

Related Links:
www.greenriverdrift.org Green River Drift

---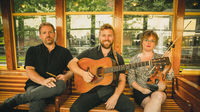 The Jon Stickely Trio

PFAC presents Jon Stickley Trio Oct. 18 (posted 10/15/17)
Pinedale just one stop on 46-date 'Dream Vision' tour
Pinedale Fine Arts Council
The Pinedale Fine Arts Council (PFAC) is proud to present The Jon Stickely Trio performing live on Wednesday, Oct. 18 at 7 p.m. in The Sublette County Library Lovatt Room in Pinedale. Admission is free and wine/apps/desserts will be served!

Based in Ashville, North Carolina, the Jon Stickley Trio has traveled over 50,000 miles, performing at over 100 festivals and venues across the country and shared the stage with the likes of Greensky Bluegrass, The String Cheese Incident and Ween.

The originality and sheer energy of this genre-bending ensemble serves as a welcome wake up call for those who experience it. With roots in gypsy jazz, bluegrass, and hip-hop in an "exhilarating all-acoustic swirl" (Acoustic Guitar Magazine), Jon Stickley Trio combines Jon Stickley's rapid-fire flatpicking guitar with the sultry and wild, yet refined, melodies of Lyndsay Pruett on violin set over the deep groove of Patrick Armitage on drums. The three have fused their collective styles into a repertoire of exciting and innovative original music along with some captivating covers.

The Trio will be performing as part of the 46-date "Dream Vision" tour which sees the band playing major U.S. Festivals like Sisters Folk Fest in Sisters, OR and famous venues like The Knitting Factory in Brooklyn, NY.

FREE ACOUSTIC WORKSHOP WITH THE BAND BEFORE THE SHOW
Bring your acoustic guitar or fiddle/violin at 6 p.m. and join JST's Jon Stickley and Lyndsey Pruett for a special pre-show acoustic workshop open to everyone! Jon and Lyndsey are both music instructors and will be leading this hands-on, informal workshop.

The Jon Stickley Trio Live in Pinedale is jointly presented by The Pinedale Fine Arts Council and the Sublette County Library with support from Sublette BOCES. For more information please visit pinedalefinearts.com and be sure to find us on facebook!

---




Rocky Mountain Power

Don't fall for phone scams targeting utility customers (posted 10/11/17)
Scam Alert
Rocky Mountain Power
Rocky Mountain Power is reminding customers to be aware of phone scams that target utility customers.

Throughout the last few years, customers have reported receiving fraudulent calls from scammers posing as utility representatives. The callers insist that the customer is behind on their bill. They then threaten that, without an immediate payment, service will be disconnected.

Unfortunately some customers have provided the thieves with their credit card information and fallen victim to the scam.

However, customers can protect themselves from these types of schemes by being aware of the following signs that indicate fraudulent calls:

• If the caller says he is with the "Rocky Mountain Power Disconnection Department." No such department exists.
• If the caller asks for your credit card number or advises you to purchase a pre-paid card from a store and to call back with the code. Rocky Mountain Power will not ask for this information. We can facilitate credit card payments through our vendor upon request, but our employees don't handle these payments directly.
• If the caller claims your electric service will be disconnected if you don't make a payment immediately, particularly if you haven't received any prior notice about late payments or a potential disconnection. We don't threaten our customers and work with customers who are behind on their payments to help them get back on track. Generally, notices about past due bills are sent to customers in the mail or delivered to their home, or they receive an automated phone message.

If you receive one of these calls, ask the caller to state your account number and compare it with the number listed on your bill. Rocky Mountain Power customer service employees will always have your account number.

Remember, if you still have concerns about the legitimacy of a call, you can always call back at our published customer service number, 1-888-221-7070. It's a toll free call and customer service reps are available around the clock.

If you receive a suspicious call, take note of the phone number the person is calling from and any information that may help to track down the crooks. Please call and let us know at 1-888-221-7070.

---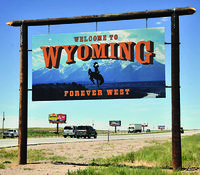 Decommissioned WYDOT sign WYDOT auctioned off five decommissioned tourism signs. The auction netted $33,000 which will be used for future road improvement projects. WYDOT courtesy photo.

Sign auction nets $33,000 for WYDOT road improvement projects (posted 10/11/17)
Wyoming Department of Transportation
Tiffany Gamble loves everything Wyoming. As a collector, she's always on the lookout for items with the famous bucking horse logo that represents her home state.

When she learned the Wyoming Department of Transportation (WYDOT) was auctioning five decommissioned Welcome to Wyoming signs, the Casper woman immediately placed a bid that won her a sign.

WYDOT raised about $33,000 from the auction, which will go back into the department's road improvement fund. For the five winners like Gamble, they not only helped put money back into road improvements, but they now own a piece of WYDOT's history.

Gamble already has plans for her sign. She said she will proudly display it at her Casper-based business, the Hat Six Travel Center.

"I'm not sure exactly where we'll put it, but I'm going to talk to my managers to figure out the best spot," said Gamble, who is the business advisor for the Hat Six Travel Center. "I know I want it to be displayed similarly to how it was on the interstate."

The auction marked the first time WYDOT gave the public the opportunity to bid on decommissioned signs. Previously, the department disposed of the signs by recycling them.

"The public was very excited in obtaining signs WYDOT is no longer using," said Gregg Fredrick, WYDOT's chief engineer. "We felt the auction would provide the best and fairest way possible for the public to own a piece of WYDOT's history. These signs are unique aspect of transportation because they welcomed visitors to our state every day."

The five, 8-by-4-foot aluminum signs came from different parts of the state. The department changes the welcome signs whenever the state issues a new license plate. The state changes its license plates every eight years, and the Welcome to Wyoming signs typically last about the same time. After that, the signs need replacement because of normal wear and tear.

Like Gamble, Rick Mollner has plans for his signs. Mollner, of Appleton, Wisconsin, placed successful bids on two signs.

"I really love everything western, and I consider these western art," Mollner said. "I may put one in my driveway and another in my garage."

WYDOT officials aren't sure when there will be another sign auction. If there is another one, WYDOT will again hold it at http://www.publicsurplus.com/sms/wyoming,wy/browse/home, which is on the state's public surplus website.

Related Links:
WYDOT auctions former Welcome to Wyoming signs WYDOT, July 31, 2017

---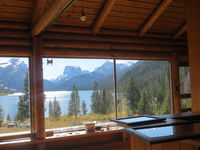 View out of the window of the rock lodge from the GP Bar Guest Ranch, now the site of Green River Lakes campground. The cabin has a view of Green River Lakes and Square Top Mountain. The cabin will soon be available to rent from the Forest Service.

Looking back: The GP Bar Dude Ranch (posted 10/10/17)
Early 1900s, historic photos and posters put up at Green River Lakes rock lodge
Jonita Sommers
On Tuesday, October 3, 2017, several members of the Sublette County Historic Preservation Board--Carmel Kail, Dave Vlcek and Jonita Sommers-- went to the rock lodge at Green River Lakes with Cindy Stein--of the Forest Service-- along with Tom and Pam Curry and Richard Kail to put up some historic photos and posters from the GP Bar Dude Ranch era. They also left a photo album with more pictures of the GP Bar Dude Ranch.

This project all started last spring when the Bridger-Teton Forest solicited public comments on their proposal to offer two new rental cabins: the Green River Lakes Cabin (part of the former GP Bar Dude Ranch) and the Sherman Guard Station.

Carmel Kail, a member of the Sublette County Preservation Board, commented on the desirability of including historical materials in the rental properties so that the public could learn of and appreciate their interesting history.

The Forest responded enthusiastically. One thing led to another and members of the Board and other volunteers began hunting up old news clippings and photos, making copies, ordering reprints, finding suitable picture frames at the Food Basket, and so forth.

There is a plan to have an open house for the opening of the cabin for rent in June 2018.

Click on this link for more pictures: Looking back: The GP Bar Dude Ranch (30 pictures)

---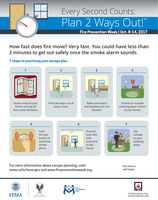 Every Second Counts! Plan 2 Ways Out! Fire Prevention Week Oct. 8-14, 2017

Every Second Counts, Plan 2 Ways Out! (posted 10/10/17)
Fire Prevention Week Oct. 8-14, 2017
Sublette County Unified Fire
You and your family are fast asleep when the smoke alarm sounds: Do you know what to do?

Consider this scenario: It's 2 o'clock in the morning. You and your family are fast asleep when you awaken to the smoke alarm sounding and the smell of smoke. What do you do? If you and your family don't have a plan in place, it could jeopardize your safety, or even prove deadly.

In a typical home fire, you may have as little as one to two minutes to escape safely from the time the smoke alarm sounds. That's why home escape planning is so critical in a fire situation. It ensures that everyone in the household knows how to use that small window of time wisely.

"Developing and practicing a home escape plan is like building muscle memory," said Shad Cooper, Fire Chief for Sublette County Unified Fire. "That pre-planning is what everyone will draw upon to snap into action and escape as quickly as possible in the event of a fire."

This year's Fire Prevention Week theme, "Every Second Counts: Plan 2 Ways Out!" works to better educate the public about the critical importance of developing a home escape plan and practicing it. Sublette County Unified Fire is working in coordination with the National Fire Protection Association (NFPA) to reinforce those potentially life-saving messages.

In support of Fire Prevention Week (October 8-14, 2017), Sublette County Unified Fire encourages all households in Sublette County to develop a home escape plan together and practice it. A home escape plan includes working smoke alarms on every level of the home, in every bedroom, and near all sleeping areas. It also includes two ways out of every room, usually a door and a window, with a clear path to an outside meeting place (like a tree, light pole, or mailbox) that's a safe distance from the home. "Home escape planning is one of the most basic but fundamental elements of home fire safety, and can truly make the difference between life and death in a fire situation," Cooper explained.
Sublette County Unified Fire offers these additional tips and recommendations for developing and practicing a home escape plan:
• Draw a map of your home with all members of your household, marking two exits from each room and a path to the outside from each exit.
• Practice your home fire drill twice a year. Conduct one at night and one during the day with everyone in your home, and practice using different ways out.
• Teach children how to escape on their own in case you can't help them.

Related Links:
National Fire Protection Association
Sublette County Unified Fire

---
US Citizenship Test – Could You Pass? (posted 10/9/17)
The Washington Times has a US Citizenship Test you can take to quiz your knowledge of United States governance and civics. Anyone who wishes to become a U.S. citizen must pass this test, but how many U.S. citizens can? It might be eye-opening and give those who can't answer the questions a nudge to go brush up on their U.S. history and better understand how our government and country works.
US Citizenship Test – Could You Pass?

---
BLM ups oil and gas drilling permit fee on public & Indian lands to $9,790 (posted 10/7/17)
Non-refundable processing fee
Bureau of Land Management
WASHINGTON – As directed by Congress, the Bureau of Land Management will adjust the fee it charges to process oil and gas drilling permits on public and Indian lands for inflation, effective Oct. 1. That adjustment will increase the fee by $180, to $9,790.

The non-refundable processing fee is collected when an oil and gas operator submits a drilling permit, called an Application for Permit to Drill, and is required whether or not a particular permit is subsequently approved. Congress directed the BLM to adjust the APD fee annually for inflation over 10 years as part of the National Defense Authorization Act for fiscal year 2015.

To carry out this statutory requirement, the BLM has issued guidance to its field offices regarding the collection and handling of APD fees in the current fiscal year. The new guidance largely tracks prior guidance with respect to collection and handling policies such as when the fee is required; when the BLM will begin processing the APD; and acceptable forms of payment.
---
BLM cancels 10 million acre Sagebrush Focal Area Withdrawal Proposal (posted 10/6/17)
Bureau of Land Management
WASHINGTON, D.C. – Based on a recent analysis and review of data available that showed that future mining is not a significant threat to sage grouse habitat, the Bureau of Land Management has canceled its Sagebrush Focal Area withdrawal application and the Department's proposed withdrawal of 10 million acres of federal lands from location and entry under the mining law in Greater Sage-grouse habitat in six Western States. The BLM also terminated the associated environmental analysis process. The notice of cancellation can be found on the BLM website here: https://on.doi.gov/2hOpRxn.

The BLM determined the proposal to withdraw 10 million acres was unreasonable in light of the data that showed that mining affected less than .1 percent of sage-grouse-occupied range.

"The proposal to withdraw 10 million acres to prevent 10,000 from potential mineral development was a complete overreach," said Acting BLM Director Mike Nedd. "Secretary Zinke has said from the beginning that by working closely with the states, who are on the front lines and a valued partner in protecting the health of these lands, we can be successful in conserving greater sage grouse habitat without stifling economic development and job growth. And that's what we intend to do—protect important habitat while also being a good neighbor to states and local communities."

The recommendation to withdraw nearly 10 million acres from location and entry under the mining law was one of many land use restrictions proposed for a new management area designated as the Sagebrush Focal Area (SFA). However, that recommendation was unreasonable in light of the data available. In particular, the U.S. Fish and Wildlife Service's 2005 "Not Warranted" decision, the 2010 "Warranted But Precluded" Decision and the 2015 "Not Warranted" decision all showed that mining—including locatable mining—was not a significant threat to sage-grouse.

The lands will continue to be managed in accordance with existing plans, programs, policies and regulations in Idaho, Montana, Nevada, Oregon, Utah and Wyoming. They had been temporarily segregated, or closed to new mining claims for 2 years when the Department originally proposed the lands for withdrawal in 2015, while the agency studied whether locatable mineral exploration and mining projects would adversely affect habitat important to the greater sage grouse. That temporary segregation period expired September 24, 2017.

---
BLM invites public to comment on Sage-grouse conservation plans (posted 10/6/17)
Federal Register to publish notice soon
Bureau of Land Management
WASHINGTON – Given a finding by the U.S. District Court for the District of Nevada that the Bureau of Land Management's designation of Sagebrush Focal Areas in its 2015 greater sage-grouse plan amendment for Nevada was illegal, the Bureau today offered the public an opportunity to comment and share issues for its consideration as it explores potential amendments to greater sage-grouse land use plans, to help improve sage-grouse conservation, and to strengthen communication and collaboration between states and the federal government. The plans, which were adopted in 2014 and 2015, provide guidance and direction about the management of public lands in 10 Western states: California, Colorado, Idaho, Nevada, Oregon, Wyoming, North Dakota, South Dakota, Utah and Montana.

"The BLM is committed to being a good neighbor and cooperating with its partners at all levels of government, including states, as well as tribal leaders, industry and conservation groups, ranchers, and other stakeholders throughout the amendment process," said BLM Acting Director Mike Nedd. "During this process, we are particularly interested in hearing from the many governors whose states put hard work and time into collaborative efforts to develop the existing plans. We welcome their input."

The U.S. District Court for the District of Nevada ruled in March 2017 that the BLM failed to adequately evaluate the designation of Sagebrush Focal Areas in its 2015 greater sage-grouse plan amendment for Nevada. In order to comply with the court's order and to address issues raised by various interested parties, and to consider recommendations in the August 4, 2017 report prepared by the Department of the Interior's Greater Sage-Grouse Review Team in Response to Secretary's Order 3353 (SO 3353), the BLM intends to consider amending these plans.

The BLM will soon publish a Notice of Intent in the Federal Register to announce the beginning of a scoping process to solicit public comments on greater sage-grouse land management issues that could warrant land use plan amendments. The BLM also wants to receive input on whether that planning effort should occur through state-by-state amendment processes, and in particular looks forward to receiving comments from the Governors of each state. The notice has been sent to the Federal Register and is awaiting publication. Publication of the notice initiates a process that could eventually result in some changes, significant changes or no changes at all. The notice can be read on the BLM website: https://on.doi.gov/2fNuFPt.

"The federal agencies and states involved in developing the Report in Response to Secretarial Order 3353 remain committed to an approach that balances durable, long-term conservation of the Greater Sage-Grouse without adversely affecting economic development in local communities across the West," added Nedd."

The Notice of Intent is posted on the BLM website and is awaiting publication. The public can provide comments for 45 days from the date the notice appears in the Federal Register using this webpage: http://bit.ly/GRSGplanning. The BLM will announce any public meetings it plans to hold through local media in each state.

---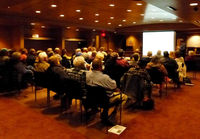 Rural Health Care District Special Meeting

Rural Health Care District board continues to move forward with Critical Access Hospital (posted 10/4/17)
Could be operational by 2020
Dawn Ballou, Pinedale Online!
The Sublette County Rural Health Care District (SCRHCD) held a Special Meeting at the Marbleton Town Hall the evening of Monday, October 2nd. After an executive session, the board held a second Special Meeting open to the public to hear a Final Report by consultants Michael Curtis of the Neenan Company, Charles Ervin & Brian Haapla of Dougherty Mortgage, and Ann King White of BKD. This consultant group was hired by the District and St. John's Medical Center to do a financial analysis and strategic planning of the District's plan to build a hospital separate from the current clinic facilities.

The Report confirmed that a sustainable Critical Access Hospital can be built in Sublette County and provided the basis for that statement as well as recommended service lines, departments, sizing and related criteria for such a hospital.

The SCRHCD board voted to move toward a CAH in Sublette County in January 2016 with the results of the Eide-Bailly report. It was reconfirmed in January 2017 with a Statement of Position approved by the SCRHCD Board. This study was a next step in determining what that hospital will look like.

St. John's Medical Center in Jackson, Wyoming has offered to provide whatever management services and assistant that SCRHCD feels it needs as the District moves toward the CAH.

Prior to this meeting and as part of their study, the consultants facilitated a 3-day strategic planning session on their goal of a Critical Access Hospital (CAH) in Sublette County and invited the public to give input. Between 42-48 people attended the workshops on those days to take a close look at the health care challenges facing the county. The consultants used the results of those sessions, as well as analysis of previous paid consultant studies and reports, to come to conclusions about the needs and desires of the Sublette County community.

Consultant Michael Curtis does health care business development for Neenan, a health care development company out of Colorado. They do design/build and real estate development deliveries of new and renovated hospitals, medical clinics and commercial build-to-suits. His focus is on rural hospitals and physician groups. Dougherty Mortgage is a financial company that specializes in federal agency loan programs and helps health care facilities get the financing they need to operate and expand. Charles Ervin and Brian Haapla work for Dougherty Mortgage specializing in helping rural communities renovate and develop health care facilities for their needs. BKD is a CPA and advisory firm that consults nation-wide and internationally. Ms. White has experience consulting with hospitals, physicians groups, and rural health care clinics on their financial operations.

Michael Curtis of The Neenan Co, said, "Your community can sustain a Critical Access Hospital." The challenge is finding a mechanism where the SCRHCD can be reimbursed for the services they provide. Presently, because they are considered medical clinics and do not have hospital status, the way the laws are written they are not reimbursed by Medicare for many of the services they provide so they are losing money on their operations. The consultants agreed that the current health care district is built on an unsustainable model and they have insufficient revenue from their operations to cover their costs. Curtis said that tax revenues have allowed Sublette County to have health care services beyond what can be supported by their population base with the current model of services. Their analyses concludes these lost revenues could be recouped with a CAH, giving better medical care services for the people of Sublette County.

The goal of the SCRHCD is to have quality medical services within a 30-minute drive time of anywhere in the county, citing the "golden hour" of critical health care situations. In emergency medicine, the golden hour (also known as golden time) refers to a time period lasting for one hour, or less, following traumatic injury being sustained by a casualty or medical emergency, during which there is the highest likelihood that prompt medical treatment will prevent death.

Brian Haapla spoke of creating a "hub and spoke" type of service with a CAH in Pinedale and a satellite clinic in Marbleton/Big Piney. Under a CAH, the Health Care District would be able to bill out all of their service costs at the Marbleton Clinic, which they currently cannot do. Haapla said a the goal of the county health care system would be to try to capture more of the health care services residents are currently going out of county for and to become the health care provider of choice for local residents. Their analysis indicates the local needs of the CAH are for about 8 beds, two to three for acute care patients and three to five beds for swing care patients needing only a few days of temporary care. The new hospital could gain revenue by having after-hours emergency services, x-ray exams, CAT scans, radiology equipment, and additional lab testing in a hospital setting instead of the current clinic setting, Haapla said.

Ann King White said under the current scenario the SCRHCD is not getting payment for a lot of the services they are providing. "You're not getting a lot of money for all the care you are giving." She expected the district could recoup about $4 million in net revenue by becoming a CAH even without any added service lines.

The conclusion of the consultants was that Sublette County and the SCRHCD could sustain a Critical Access Hospital. They estimated the facility needed would be around 35,000 square feet and would cost $450 to $480 per square foot to build, for a total of around $25 to $30 million construction cost. They encouraged to Board to raise as much of the construction money as they can through donations to lower the amount that would be needed for long-term loans. The USDA has a Community Facilities Loan Program that might be a source for funding, although the consultants acknowledged the USDA hasn't done any health care projects yet in Wyoming. They said the county could have a building in place and up and running by 2019 or 2020 if all goes well.

SCRHCD Chairman Laura Clark said that if the hospital was sustainable on its own, they wouldn't be asking for a mill levy increase from taxpayers. "It will be self-sustaining," she said, "if we can get this thing up and get it going."

The board plans on building a new hospital facility rather than renovate the current Pinedale Medical Clinic. It has not been decided what the plan would be for the current Pinedale Clinic building, which is less than 10 years old and is owned by the County. It was built in 2008 and is already apparently outdated according to pending new regulations regarding emergency room standards and would require approximately $500,000 to bring it up to the expected new regulations. It was not clear if the funding obtained to build the CAH includes the $500,000 that will be needed to upgrade the Marbleton Clinic ER to bring it up to standards by June 2019 so it can continue to be used.

As to where might the new hospital be located, several possible sites were shown on a map including in the Bloomfield subdivision west of town, open space between the Wyoming Highway Department and High Country Suites, and lots south of the Sublette County Ice Arena.

After the consultants' presentation, there was a question and answer period from the audience. One person asked how taking away the swing beds would impact the Sublette Center in Pinedale? The response was they felt the CAH would "enhance" their operations. Sublette Center would continue to provide rehab care and the hospital would capture other people who are currently going out-of-county to swing facilities that offer more advanced medical services than what is available at the Sublette Center.

It was asked what is St. John's offering with the CAH? Dr. Paul Beaupre, CEO for St. John's Medical Center in Jackson, said they would assist with the project. "We believe strongly you need a sustainable form of health care here," he said. They can help with staffing, visiting physicians, anesthesia, surgery and radiology. They would bring expertise on how to run a CAH. The current clinics would then become urgent care clinics.

Dr. David Kappenman, Medical Director of the Pinedale Clinic, said St. John's is offering "a la carte" administration. "We can use them as a fee for service. What St. John's is offering is management not governance. To have them step up and help us is huge," he said.

Another question from the audience was "who makes the decision?" The decision and financing is entirely with the Rural Health Care District board, Laura Clark said. Sublette County would not be involved in the financing. Sublette County Commissioners Dr. David Burnett and Mack Rawhouser in attendance indicated the position of the commissioners was that the financing and operations of this project were the responsibility of the SCRHCD board with their health care mill levy tax and other revenue sources, but the commissioners were not opposed to the idea of having a CAH in the county.

The $25-$30 million price tag estimate doesn't cover the whole story of this obligation for the SCRHCD and Sublette County taxpayers. It was pointed out that over the life of the 40-year loan, that when the interest to be paid on a loan is added in, the total cost of the CAH could be $60+ million. (Loan providers stand to make up to $30+ million in interest over the lifetime of the loan.) It was also pointed out that there is no early payment penalty so the interest could be far less if the CAH is financially successful and can pay off the loan early. This doesn't take into consideration additional funds that might be needed in the future for repairs or to upgrade the facilities over four decades to stay in compliance with federal regulations for hospital standards.

Neither the consultants or board members gave an estimate of what might be the cost increases in annual operating expenses of the CAH for the Rural Health Care District compared to the current clinics or for equipment and furnishings. There also were no estimates given of the increases that are projected to be needed for medical and administration personnel to staff expansion for the new CAH, who would be added to the Sublette County government payroll.

The next steps are to put together a CAH team, select and secure a site, secure federal and private loan financing, work with the Wyoming Department of Health, get as much local financial support as possible, do the design and construction, and get the equipment and licensing.

For more information go to www.sublettehealthcare.com

Click on this link for more on this story.

---
Local input sought for State Health Assessment (posted 10/4/17)
Meetings scheduled in Rawlins, Evanston, Rock Springs
Wyoming Department of Health
The Wyoming Department of Health (WDH) is inviting local residents to offer their thoughts, ideas and perspectives on the state's health needs and priorities during upcoming events in Rawlins on October 10, Evanston on October 11 and Rock Springs on October 12.

The department is working to complete a comprehensive state health assessment. "We're gathering data and information from a variety of sources to better understand Wyoming's health needs," said Stephanie Pyle, Public Health Division acting senior administrator with WDH. "Understanding that information will help shape future priorities to best serve our state."

"The voices of our residents and communities are important to developing a well-rounded assessment," Pyle said. "We know residents experience and view health in a number of ways. Sharing those experiences helps us recognize the health-related challenges, resources and priorities that exist in Wyoming."

The October 10 Rawlins event will be held in room B116 at Carbon County Higher Education Center, located at 1650 Harshman. The October 11 Evanston event is set for Ana's on Main Street, located at 927 Main Street. The October 12 Rock Springs event will be at Coal Train Coffee Depot, located at 501 S. Main Street, and will feature Spanish language interpretation services. In each location, interested residents may attend either an informal open house from 2-6 p.m. or a more structured listening session from 6:30-7:30 p.m. Participants can enjoy free coffee during the sessions.

The Wyoming Business Council is facilitating each event, and similar sessions are planned for more Wyoming communities. An online survey is available in both English and Spanish. Please visit sha.wyo.gov/engagement to find the survey and more information about the state health assessment.

Pyle suggests groups who may be especially interested in providing input for the assessment project include:
• Those who experience health challenges
• Those who have ideas for solutions to health challenges
• Local elected and appointed officials
• Community service agencies
• Healthcare providers
• Community coalitions
• Business owners
• Economic development groups
• School officials
• Anyone with interest in the health and well-being of our communities

---
Business Directory
Click here for
Advertising Information