WYDOT's Authorized Travel Program helps motorists get to their destinations (posted 12/18/18)
Local commuters can sign up for permission to travel behind road closures
Wyoming Department of Transportation
The Wyoming Department of Transportation has a program that will allow motorists to travel on certain sections of a closed road if authorities deem conditions are safe.

WYDOT has been accepting applications for its authorized travel program since the fall. Motorists typically apply around the fall to be prepared during the winter months when road closures occur. The WYDOT Authorized Travel program, or WAT, has been in place for eight years.

"The WAT program enables motorists to travel on sections of otherwise closed roads if nearby conditions are safe," said WYDOT Director Bill Panos. "This program is vital to local traffic because it helps those motorists get to their destinations without having to wait for the entire stretch of the closed road to reopen."

The program gives motorists permission to travel if their destinations are between the closure gates and impassable portions of the road.

"WAT is designed primarily for local commuters who travel between home and work, school or for doctor appointments," said Suzie Roseberry, ITS developer.

WAT doesn't give blanket permission for motorists to travel during every road closure. The only time WYDOT will notify a person is if the section they requested is safe to travel and not impacted by any events that closed the road initially.

"We only close roads when it's necessary to ensure the safety of the traveling public," said Vince Garcia, WYDOT's GIS/ITS manager. "Our closure points are limited to where WYDOT has gates to block traffic. That means portions of a closed road may be passable if an area that's impacted by a crash or storm is miles away."

Besides individual motorists, businesses can sign up for WAT. The business program allows a person to manage WAT subscriptions for multiple drivers within their organization.

To apply for the WAT program, motorists can visit the Wyoming Travel Information Service website (http://wyoroad.info) and click on the WAT icon. Motorists will need to submit justification for travel, road sections they need to travel, and driver contact and vehicle information.

After motorists apply, the Wyoming Highway Patrol will review the applications. If approved, drivers will receive an email when they are authorized to travel on sections of closed roads. Motorists will also receive an identification number that will allow them to access an automated phone system to check if they are authorized to travel on sections of closed roads.

Motorists without internet access can call WYDOT's Public Affairs at (307) 777-4375 to request a WAT program application.

---
Wolf News Roundup 12/16/2018 (posted 12/16/18)
Cat Urbigkit, Pinedale Online!
Wyoming Hunt
The hunting season for wolves in the trophy game area of northwestern Wyoming opened Sept. 1. According to the Wyoming Game & Fish Department, 38 wolves have been harvested as of December 14. The agency set a total quota of 58 wolves in the state's 14 hunt areas for wolves. The hunting season remains open until Dec. 31 or until hunt-area quotas are reached. Currently, only one hunt area has reached its quota. There have also been 36 wolves killed in Wyoming's predator zone so far in 2018.

Red Wolves
Michigan Tech researchers report the discovery of high amounts of red wolf ancestry in canids living on Galveston Island in southeast Texas – an area where red wolves have been declared extinct in the wild. Red wolves are native to the southeastern United States, where captive breeding and recovery efforts have focused. The researchers "found that the Galveston Island canids have both red wolf and coyote alleles, likely related to species interbreeding during the 1970s as coyote populations expanded across North America.

"The Galveston Island animals — known as admixed canids — do not share all alleles with contemporary red wolves, but they are genetically closer to red wolves than they are to coyotes.

"This is significant because it means that red wolf genetics persist in the American south nearly 40 years after the species was thought to have become entirely extinct from that region. The population of canids on Galveston Island could represent a reservoir of red wolf genes that could be used to bolster other red wolves."

Focus will now turn to genetic sampling of coyote populations in Louisiana and Texas.

Michigan
The Detroit News reports that some people are questioning why state officials ordered the killing of three wolves on a remote cattle farm in the Upper Peninsula. The wolves had killed 46 head of cattle on the farm in one year, but state officials maintain that the wolves had become habituated and brazen, posing a threat to human safety.

The UP's wolves have federal endangered species status, so that wolves may only be killed if they pose "a demonstrable but non-immediate threat to human safety."

Related Links:
Wyoming hunt - Wyoming Game & Fish Department
Red Wolves - Michigan Tech
Michigan Wolves - The Detroit News
Wolf Watch - By Cat Urbigkit, Pinedale Online!

---
BLM Issues Final EIS for the Riley Ridge to Natrona Pipeline Project (posted 12/15/18)
Bureau of Land Management
ROCK SPRINGS, WYOMING – In support of the Department's goal to promote energy independence and create jobs, the Bureau of Land Management (BLM) Rock Springs Field Office released the Final Environmental Impact Statement (EIS) for the Riley Ridge to Natrona Pipeline Project today (Friday, Dec. 14, 2018).

The proposed project by Denbury Resources could create approximately 490 jobs during the 2-year construction period while generating $1.9 million in state and local taxes. The project would include construction of a pipeline system within two 243-mile long rights-of-way through Fremont, Sublette, Sweetwater, and Natrona counties in Wyoming.

Rights-of-way of varying width would be granted for both construction and operation of the pipelines. These rights-of-way are typically larger during the construction phase and shrink down for the permanent operation phase. The Riley Ridge Sweetening Plant, access roads, power lines, injection wells, and other small facilities are also planned as part of the project and analyzed in the Final EIS.

The BLM prepared the Final EIS to analyze the potential impacts of the Applicant's three right-of-way applications and two proposed injection wells. The Final EIS can be reviewed online at https://go.usa.gov/xPfkk. The Final EIS does not include a final decision, BLM will issue a Record of Decision (ROD) after a 30 day waiting period.

For more information, please contact Mark Mackiewicz at 435-636-3616. Persons who use a telecommunications device for the deaf (TDD) may call the Federal Relay Service (FRS) at 1-800-877-8339 to contact the individual listed below during normal business hours. The FRS is available 24 hours a day, 7 days a week, to leave a message or question with the above individual. You will receive a reply during normal business hours.

---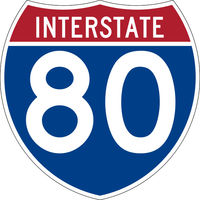 WYDOT to receive $20 million federal grant for I-80 winter safety improvements (posted 12/12/18)
Wyoming Department of Transportation
The Wyoming Department of Transportation will construct passing lanes, add truck parking and make other improvements on Interstate 80 in southeast and south-central Wyoming to make winter travel safer.

WYDOT will receive a $20 million Better Utilizing Investments to Leverage Development (BUILD) grant for an I-80 Winter Freight Improvement Project, which will add improvements along a 45-mile section of road between Laramie and Rawlins.

The project calls for the installation of truck passing lanes on 2 miles eastbound over Halleck Ridge and 3.53 miles westbound between Cooper Cove and Quealy Dome Road.

The project also includes installing Walcott Junction and Quealy Dome truck parking areas, which will each accommodate about 100 trucks. WYDOT will also install communication devices in that area, which will allow the department to provide traveler information messages to drivers and will supplement WYDOT's Connected Vehicle Pilot Program.

WYDOT will use other state and federal funds in addition to the $20 million BUILD grant to complete the project. WYDOT anticipates starting the project as early as spring of 2020.

"Interstate 80 is vital to the state and national economies," said WYDOT Director Bill Panos. "The proposed project will benefit the regional transportation system by promoting more effective truck traffic movement. The project constructs additional lanes in areas where trucks slow down because of steeper grades, allowing cars and trucks to pass and reducing driver fatigue."

If the interstate closes, the additional truck parking will enable truck drivers to park safely while they wait for winter conditions to improve. If the interstate is open but conditions are poor, truck drivers can use the truck parking to wait out the storm.

The additional passing lanes will not only help with traffic flow, but they will also help prevent secondary crashes when the interstate reopens following a road closure.

"When the road reopens, additional crashes often occur because a high volume of waiting trucks and passenger vehicles flood the road, causing traffic congestion on slick roads," Panos said. "By constructing passing lanes where steep grades compound these traffic congestion problems, truck crashes and truck delays should decrease."

WYDOT's freight plan shows that wintertime truck crashes on I-80 are about four times greater than during the summer months.

More than 2,600 traffic accidents, with 1,323 involving trucks, occurred along this 45-mile stretch of road from 2008-2017 at an estimated annual cost of about $52 million.

"Crashes often result in damage to the road," Panos said. "These improvements will not only save lives but will also reduce road damage and ensure traffic continues to flow smoothly in the area."

---
Formal legal opinion issued on gambling devices (posted 12/11/18)
Wyoming Skill Games determined to be illegal gambling devices under Wyoming law
Wyoming Attorney General's Office
Today (Tuesday, Dec. 11, 2018), Attorney General Peter K. Michael issued a formal opinion on the legality of the "Wyoming Skill Games," which are electronic terminals that have become increasingly common in businesses throughout Wyoming.

"At the request of law enforcement officials, I was asked to evaluate whether the electronic games manufactured by Banilla Games are illegal under Wyoming law," said Attorney General Peter K. Michael. "With the cooperation of the device distributors, I have examined how they operate. These machines are illegal gambling devices under Wyoming law. Those who play them are engaged in gambling, which is a crime in Wyoming, and those who provide the games are engaged in professional gambling, which is also a crime in Wyoming."

"Because gambling in Wyoming is a crime, not a civil violation, local law enforcement officials and prosecutors will need to determine the timing of the appropriate next steps if their communities have these machines," said Attorney General Michael.

The Attorney General's opinion does not address the lawfulness of the "historic horse racing" terminals at certain pari-mutuel off-track betting locations in Wyoming. These terminals are permitted under separate Wyoming statutes. Similarly, the Attorney General's opinion does not affect tribal gaming operations conducted on the Wind River Indian Reservation by the Eastern Shoshone and the Northern Arapaho tribes.

A copy of the full opinion can be found at www.ag.wyo.gov.

---
Wyoming delegation applauds federal funding for Roosevelt Fire recovery (posted 12/9/18)
Wyoming Delegation
Washington, D.C. – U.S. Senators Mike Enzi and John Barrasso and Congresswoman Liz Cheney, all R-Wyo., applauded the U.S. Department of Agriculture's approval of Emergency Watershed Protection Program (EWP) funding to help in the Roosevelt Fire recovery effort.

The Roosevelt Fire in Sublette County was initially deemed ineligible for Emergency Watershed Protection Program funding. The Wyoming delegation sent a letter last month urging the U.S. Department of Agriculture to review the request.

"The Roosevelt Fire caused significant damage and losses, and it is critically important that the federal government provide all appropriate forms of assistance, in accordance with relevant rules, laws, and regulations," the Wyoming delegation wrote. "We urge you to review the request for EWP assistance as quickly as possible and provide any assistance appropriate so that plans to mitigate hazards caused by the Roosevelt Fire can be developed and executed as soon as possible."

More than $500,000 will be allocated from the Emergency Watershed Protection Program, which was created to provide aid in order to fix erosion and land destabilization that occurs from natural disaster. According to the U.S. Department of Agriculture, the local communities will have to provide a small percentage of matching funds for the projects undertaken with these funds.

The Natural Resources Conservation Service in Wyoming said that if funding wasn't provided to help recovery efforts, it would likely cost significantly more, at least $2.6 million, to fix additional damage that would occur later.

The Federal Emergency Management Agency (FEMA) had already provided the state with a $425,000 mitigation grant to repair the fire damaged areas.

---
BLM proposes increased flexibility and access in Sage-Grouse plans (posted 12/6/18)
Proposed amendments would align conservation efforts at state and federal levels
Bureau of Land Management
CHEYENNE, WYOMING, Dec. 6, 2018 – In keeping with Secretary of the Interior Ryan Zinke's commitment to work closely with states to enhance conservation, the Bureau of Land Management (BLM) today announced the availability of the Final Environmental Impact Statement (EIS) and proposed plan amendments addressing Greater Sage-Grouse conservation on public land in Wyoming.

The proposed plan amendments aim to better align BLM resource management plans with state plans for conserving sage-grouse populations, strike a regulatory balance and build greater trust among neighboring interests in Western communities. The proposed amendments and final EISs also addresses the issues remanded to the agency by a March 31, 2017, order by the U.S. District Court for the District of Nevada, which determined that the BLM had violated the National Environmental Policy Act when it finalized the 2015 Nevada plan.

"We have appreciated the opportunity to work with Governor Mead's team on a carefully crafted amendment to the 2015 plans," said Deputy Secretary of the Interior David Bernhardt. "We know the successful conservation of the Greater Sage-Grouse requires the shared stewardship vision of the states, private citizens, landowners and federal land management agencies including those within the Department of the Interior."

Bernhardt continued, "With today's action we have leaned forward to address the various states' issues, while appropriately ensuring that we will continue to be focused on meaningfully addressing the threats to the Greater Sage-Grouse and making efforts to improve its habitat."

The BLM developed the changes in collaboration with Wyoming Gov. Matt Mead, state wildlife managers, and other concerned organizations and individuals, largely through the Western Governors Association's Sage-Grouse Task Force.

"Having better alignment between state and federal management for the bird is important to the species and the people of Wyoming," Gov. Mead said. "I thank the Department of the Interior, both locally and nationally, for working with Wyoming throughout this plan amendment process."

The proposed changes refine the previous management plans adopted in 2015. Under the 1976 Federal Land Policy and Management Act (FLPMA), the BLM is required by law to work cooperatively with states on land-use plans and amendments.

"In Wyoming, we have the privilege of working with a variety of concerned stakeholders and communities living close to the land in managing some of the country's largest intact sagebrush ecosystems," said BLM Wyoming State Director Mary Jo Rugwell. "We designed the proposed plan amendment to address the remaining concerns of our agency partners and the public. Our shared goals are the successful conservation of Greater Sage-Grouse habitat and ensuring multiple-use access to every American."

The proposed amendments in Wyoming would adopt the state's Compensatory Mitigation Framework; clarify objectives for sage-grouse habitat where livestock grazing is also authorized; increase flexibility to grant waivers, exceptions or modifications in energy leasing; and remove the Sagebrush Focal Area designation from more than 1.9 million acres of habitat. The amendment process also offered an opportunity for the BLM to align its mitigation requirements under FLPMA with those established under Wyoming law.

The BLM has also published Final EISs for lands it manages in Colorado, Idaho, Oregon, Nevada/northeastern California and Utah.

Publication of the Final EIS and proposed amendments in the December 7, 2018 Federal Register initiates a 30-day protest period, which will run through January 8, 2019. The Wyoming Governor also has 60 days to review the proposed amendments for consistency with state and local laws and regulations. The process will conclude with a Record of Decision (ROD) following resolution of any protests received during the 30-day review period.

Approval of the Final EIS Proposed Plan Amendment would require amendments to 10 current BLM resource management plans: Buffalo, Casper, Cody, Kemmerer, Lander, Newcastle, Pinedale, Rawlins, Green River and Worland.

Anyone who participated in the process for the Wyoming EIS and who has an interest that is or may be adversely affected by the proposed land use plan amendments in the Final EIS will have the opportunity to protest the proposed plan amendments.

The Final EIS is available online at https://goo.gl/22jKE2. Instructions for filing a protest with the Director of the BLM regarding the Proposed RMPA/Final EIS are found online at https://www.blm.gov/programs/planning-and-nepa/public-participation/filing-a-plan-protest. All protests must be in writing and mailed to the appropriate address or submitted electronically through the BLM ePlanning project website. To submit a protest electronically, go to the ePlanning project webpage https://goo.gl/22jKE2 and follow the instructions at the top of the home page.

If submitting a protest in hard copy, it must be mailed to one of the following addresses:
U.S. Postal Service Mail: BLM Director (210), Attention: Protest Coordinator, WO-210, P.O Box 71383, Washington, D.C. 20024-1383

Overnight Delivery: BLM Director (210), Attention: Protest Coordinator, WO-210,
20 M Street SE, Room 2134LM, Washington, D.C. 20003

Protests submitted electronically by any means other than the ePlanning project website will be invalid unless a protest is also submitted in hard copy. Protests submitted by fax will also be invalid unless also submitted either through ePlanning project website protest section or in hard copy.

Before including your address, phone number, email address, or other personally identifiable information in your comment, you should be aware that your entire comment – including your personally identifiable information – may be made publicly available at any time. While you can ask the BLM in your comment to withhold your personally identifiable information from public review, we cannot guarantee that we will be able to do so.

---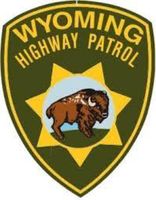 Wyoming Highway Patrol Scam Alert

SCAM ALERT: 'I've been in an accident and need bail money…' (posted 12/4/18)
Scammers spoof Caller ID to make phone call look legitimate
Wyoming Highway Patrol
The Wyoming Highway Patrol has recently been notified of a phone call scam circulating. Scammers are contacting the public stating a relative has been in a motor vehicle crash and arrested for driving while under the influence while stating the relative needs cash for bail and attorney fees. The phone number the callers are calling from are being replicated (spoofed numbers) to look like they are coming from a legitimate law enforcement office in Dubois, Wyoming, other parts of Wyoming, and surrounding states.

The Wyoming Highway Patrol would like to remind the public we have not, and will not request any payment over the phone. We encourage anyone who may have received questionable phone calls soliciting funds to contact your local law enforcement or government agency to verify the information you may have received.

---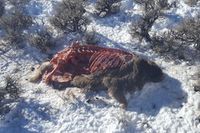 The scavenged carcass of an illegally shot buck mule deer with the head removed south of Pinedale. Photo courtesy Wyoming Game & Fish Department.

G&F seeks information on mule deer poaching near Pinedale (posted 12/4/18)
Wyoming Game & Fish
PINEDALE, WYOMING – The Wyoming Game and Fish Department is seeking any information regarding a buck and doe mule deer that were illegally shot south of Pinedale recently. Both were killed off the Big Sandy Elkhorn Road (Sublette County Road 23-118) a mile south of Buckskin Crossing near the Prospect Mountains in deer hunt area 130. All mule deer hunting in the area closed on October 31. The head of the buck mule deer was removed and meat from both deer was left in the field to waste.

Investigators believe the deer were killed over the Thanksgiving holiday weekend on November 23rd or November 24th. Jordan Kraft, South Pinedale Game Warden, states "this type of action shows a blatant disregard for wildlife and is a theft of the wildlife resource to law abiding citizens."

Anyone with possible information regarding either of these poaching incidents, or who was in the area and may have noted suspicious vehicles or activities, is encouraged to call the Pinedale Game and Fish office at 1-800-452-9107, the STOP POACHING hotline at 1-877-WGFD-TIP (1-877-943-3847) or South Pinedale Game Warden, Jordan Kraft, at 307-367-2470.

Callers may remain anonymous and any information leading to an arrest and conviction may result in a reward of up to $5,000.00. Warden Kraft urges the public to come forward with any relevant information.

---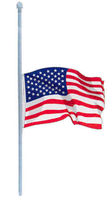 Flag Half Staff Notice

Flag Half Staff Notice – President George H.W. Bush (posted 12/1/18)
Governor Matthew H. Mead media release
Governor Matthew H. Mead, pursuant to President Donald Trump's Proclamation issued today (Saturday, December 1, 2018), has ordered both the U.S. and State of Wyoming flags be flown at half-staff statewide in honor and tribute to the memory of President George H.W. Bush for a period of 30 days from the day of his death. Former President George H.W. Bush died on Friday, November 30, 2018 at age 94.

---
Business Directory
Click here for
Advertising Information