Wyoming COVID-19 update – Oct. 24, 2020 (posted 10/24/2020)
Wyoming Department of Health
With reported cases of COVID-19 recently escalating along with hospitalizations and confirmed coronavirus-related deaths, a Wyoming Department of Health (WDH) official says it is critical time for residents to follow the department's recommendations meant to slow and limit new cases of the virus.

"Our coronavirus cases are growing far too quickly and we are facing a deeply concerning situation across the state," said Dr. Alexia Harrist, state health officer and state epidemiologist with WDH. "It is up to all of us to help prevent Wyoming's problem from getting far worse."

Harrist said we all need to stay home and away from other people when sick unless seeking medical help. "This is important even you are just a little sick. If you have symptoms, don't automatically assume it's nothing. Plenty of people have done that and spread the virus among their families and friends and at their workplaces," she said.

"Keeping at least 6 feet of physical distance between ourselves and others who aren't members of your household whenever possible continues to be important," Harrist continued.

WDH recommends wearing cloth face coverings when people are in public settings or around other people who aren't members of their households and physical distancing is not reasonable or practical. "We know masks can work and help slow the spread of this virus. We are seeing that happen within classrooms, for example," Harrist said.

The department also encourages frequent and thorough hand
washing to help with COVID-19 prevention as well as many other illnesses.

Harris said it is important for people who have possible COVID-19 symptoms to get tested. "Don't avoid testing because you don't want to get bad news. You need to know so you can avoid exposing others to the virus," she explained.

"We also need people to follow our public health orders and to follow the directives and advice from public health representatives," Harrist said. "If they reach out, answer the phone or return the calls. Answer their questions honestly. If you are asked to get tested, get tested. If you are told to isolate or quarantine, do it."

Harrist said it's not too late to improve the situation. "However, we won't be successful if people don't take simple steps to avoid spreading COVID-19 to someone who can't recover easily or recover at all. It could be a family member, a friend or someone you don't know. But doing what you can do to help is the right thing to do."

For more information on COVID-19 in Wyoming, including current data, recommendations and details about free in-home testing, visit this link.

---
Fall pile burning planned (posted 10/23/2020)
Teton Interagency Fire
Teton Interagency Fire personnel will be burning slash piles created from fuel reduction projects, timber sales and other administrative activities throughout the Bridger-Teton National Forest and Grand Teton National Park in the coming weeks. Firefighters will burn these piles under low fire behavior conditions resulting from wet weather and snow accumulation. Smoke may be visible from these piles during the day of the ignition and may linger in the area for a few days following.

Fuel reduction piles are only ignited under certain conditions, including favorable smoke dispersal and weather conditions that limit the chance of fire spread. The areas will be monitored by patrols after burning is completed.

Public and firefighter safety is always the number one priority in all burn operations. Smoke from vegetation piles may be visible while piles are lit and burn down over the course of a few days. Fire management staff tend to the piles to assure complete combustion and consumption of all fuels and to monitor burning conditions for potential fire spread out of the pile area. Some smoke may linger in the pile area and in drainages as temperatures drop during the evening. Signs will be posted along travel routes and roadsides to remind travelers to use headlights for safe travel within areas of concern.

Many of the fuel reduction treatments reside in the Wildland Urban Interface or WUI where park or national forest lands are directly adjacent to communities and infrastructure. The goals for these areas are to increase firefighter and public safety by reducing potential fire intensity and lowering the risk of losing structures to a wildland fire.

Grand Teton National Park
-Along the Pacific Creek Road there are more than 100 piles to be burned after mechanical treatments were completed in 2019.
-There are numerous other areas with isolated pockets of piles from hazard tree removal and routine road and trail maintenance throughout the park.

Bridger-Teton National Forest
Kemmerer and Greys River Ranger Districts
-Numerous large logging slash piles remain at Big Park and Kelley.
-Approximately 50 acres of piles are ready to burn in Lost Creek. This is the final effort of the Star Valley Ranch Project.
Big Piney and Pinedale Ranger Districts
-Approximately 150 acres of piles have cured along the Skyline Fuel Reduction Project. This area will take multiple days of ignitions to complete.
-Other small groupings of piles can be found across the districts from administrative activities.
Jackson and Blackrock Ranger Districts
-Approximately 200 acres of piles have cured along the Phillips Ridge powerline corridor. This is a continuation of the larger Teton to Snake Fuel Reduction Project.
-There are 118 acres of piles in the vicinity of Turpin Meadows Recreation Residence from this year's efforts to increase defensible space on Forest Service land.
-Additional piles will be ignited across the districts including piles around Snow King and Jackson Hole Mountain Resorts.

Due to the specific conditions that need to be in place for pile burning it is hard to predict exactly when work will begin. Smoke and air quality conditions play an integral role in the decision making process for Teton Interagency Fire Managers.

More information on these projects is available at www.tetonfires.com.

---
Eide Bailly Forecasted Financial Statements available for the Critical Access Hospital (posted 10/23/2020)
The Sublette County Rural Health Care District has put up a link to the report by Eide Bailly Forecasted Financial Statements for the Critical Access Hospital in Sublette County. Eide Bailly LLP is a regional certified public accounting (CPA) and business advisory firm. Click on this link to read the full document: Forecasted Financial Statements – Five years ending June 30, 2025, for Sublette County Rural Healthcare District.

The Sublette County Rural Health Care District is seeking government loans to finance the construction of a new critical access hospital (CAH) in Pinedale, Wyoming. In addition, the Sublette County Commissioners have committed to contributing up to $20 million to build a new senior assisted living facility in conjunction with the CAH. The assisted living center is forecast to cost around $18 million.

In the general election on November 3rd, Sublette County residents will be voting on whether or not to approve the proposal for the creation of a new special hospital district in the county and giving the go-ahead or nay voice on getting the loans for construction of the new critical access hospital and combined assisted living facility.

Highlights from the report:
- The Forecast was prepared in connection with the anticipated issuance of a $23,557,000 United States department of Agriculture (USDA) Direct Loan and a $5,889,000 USDA Guaranteed Loan. The Direct Loan is forecasted to carry an interest rate of 2.25% over a 35-year term and the Guaranteed Loan is forecasted to carry an interest rate of 5.50% over a 30-year term.
- The Rural Health Care District receives its funding from local and state sources and must comply with the requirements of these funding entities. If voters pass the proposal for a new special Hospital District on November 3rd, the District will transition from a Health Care District to a Hospital District, and will increase their taxation from operations from 2 mills to 3 mills for the fiscal year ending June 30, 2022. The Sublette Center, currently a non-profit corporation, will become a blended component of the new Hospital District.
- Construction of the new CAH would begin in April 2021 and be completed in October 2022 (approximately 18 months).
- The District forecasts they will have obtained Critical Access Hospital designation by July 1, 2023, making them eligible to be reimbursed for inpatient, outpatient, and clinic services on a cost basis by the Medicare program.
- The District is forecasting hiring 13.5 variable full-time equivalent employees as well as 3 support staff full-time employees. The long-term care center is forecasting hiring an additional 12.5 full-time employees in 2023.
- The new CAH will add 8 inpatient hospital beds. This will allow some patients to stay in the county for overnight medical services rather than being transported to bigger hospitals in the regional area.
- The District expects to capture a portion of market share that is currently going to competitor hospitals in the region. With the new CAH, the Pinedale Clinic volume is projected to increase 1% annually as hospital services expand. No volume changes are expected for the Marbleton Clinic.
- As the District transitions to hospital-based services, bad debt is expected to decrease as a percentage of gross revenues as many of the new services offered are scheduled and will be covered by insurance carriers. It is expected there won't be a significant portion of patient responsibility and bad debt over the forecast period.
- The Sublette County Commissioners have contributed $444,000 annually ($37,000 monthly) to the Sublette Center in support of long-term care needs. This subsidy is expected to end once the new long-term care facility is opened in October, 2022.
- Average salary per full-time employee in 2020 was approximately $28.63 per hour (approximately $59,000/year). With the new hospital, wages are expected to increase approximately 2.0% for variable and non-variable employees and 2% for providers.
- The District expects employee benefit costs will increase by approximately 2.1% annually in 2021 and 2022 as Sublette Center employees transition over to the District's benefit package.
- The report indicates that operating expenses are forecast to exceed operating revenues at more than $5 million/year for 2021 through 2023 before the CAH goes into operation. The District is expected to pay debt loss from their existing cash reserves before the hospital opens.
- The number projections in the report indicate that once the new CAH and nursing home facility come online and the District is able to offer additional services and capture more revenue to pay for their expenses, they will be able to make the payments on the debt to build and operate the new hospital.

---
Get mail-in ballots in mail now (posted 10/22/2020)
Must be received by 7:00PM on Tuesday, November 3rd
If you are voting by mail, remember that they must be received by the County Clerk in your county by 7:00PM on election day, November 3rd. The U.S Postal Service recommends allowing 14 days for ballots to get delivered in time. You can also hand carry your filled-out absentee ballot to the courthouse and deliver to the Clerk's office, or fill it out in-person by voting at the courthouse through Monday, November 2nd. On election day, votes must be cast at the normal polling locations.
---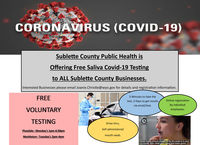 Free COVID-19 testing for businesses

Free COVID-19 saliva testing offered to all Sublette County businesses (posted 10/21/2020)
Sublette County Public Health
Sublette County Public Health is excited to offer free COVID-19 Saliva Testing to ALL Sublette County businesses. We started this testing several months ago for essential workers and are happy to be able to open testing opportunities to all Sublette County Businesses at this time.

This testing is FREE and is completely voluntary. This is a saliva test that is completed by swabbing your own mouth under supervision from a medical professional. Public Health is conducting testing:
Pinedale Office on Mondays 1pm-4:30pm
Marbleton Senior Center on Tuesdays 2pm-4pm.
Results will be emailed/texted to participant.

Interested businesses, complete this online survey at https://forms.gle/dM5qKY7Vc1YvxMdf9. For more information/registration instructions, please contact Joanie Christie at 307-367-2157.

Saliva testing is one tool we can use to identify people with extremely mild symptoms or those who do not have any symptoms (asymptomatic). It is an important step to keep our community and economy open to locals and visitors. By identifying positive cases early, Public Health can quickly conduct contact tracing and determine all close contacts. In doing so, we can continue to stop the spread of COVID-19 by ensuring these people are isolated or quarantined.

This testing is for random monitoring of workers only—this testing is not for individuals that are sick. If you have any symptoms of COVID-19, please call the Sublette County Rural Health Care District to schedule testing or talk to a health care provider.

---
Why is there an ammunition shortage in the US? (posted 10/22/2020)
Firearm sales have soared over recent years in the United States, but ammunition has become increasingly difficult to find. Ammunition manufacturers report a spike in sales and orders for bullets. Despite some people saying, 'if they can't take away your guns, then they'll take away your ammunition,' research seems to indicate the shortage is a supply and demand issue combined with workforce shortages due to COVID-19 supply chain issues. Others suggest the unrest and riots in urban areas, along with calls to "defund the police," have caused many people to be more concerned about personal safety, so they are stockpiling ammunition.

Data from the Federal Bureau of Investigation (FBI), that performs background checks for new firearm purchasers, indicates that by the end of September 28.8 million background checks were initiated through NICS during the first eight months of 2020, which exceeds the total background checks initiated through the system during any previous year. Gun sales have significantly increased during the first half of 2020, according to retailer surveys done by the National Shooting Sports Foundation. Manufacturers indicate they are dealing with ramping up to meet increased demand while implementing measures to keep employees safe in manufacturing plants due to COVID-19 safety precautions.

The shortage is expected by some to last into 2021 before retailers can become fully stocked once again. Click on the links below for more related stories.

Related Links:
Why Is There an Ammunition Shortage in the U.S.? By Emily Czachor, newsweek.com, October 5, 2020
Ammo Shortage May Last Until 2021 By Guy J. Sagi, shootingillustrated.com, August 20, 2020
The Great Ammo Shortage of 2020 accurateshooter.com, October 3, 2020
Ammunition shortage spurred by coronavirus pandemic worsened by fears in social climate, gun pros say By Mariah Medina, KENS5.com, September 25, 2020

---
Governor to give COVID-19 & Election update Oct. 21 (posted 10/21/2020)
Wyoming Governor Mark Gordon will hold a media briefing at 3:00PM on Wednesday, October 21st. He will be joined by State Health Officer Dr. Alexia Harrist for an update on the COVID-19 pandemic and by Secretary of State Ed Buchanan for an election update. The briefing will be streamed live on Wyoming PBS television, the Wyoming PBS' Facebook page and Wyoming PBS YouTube channel. The recording will be available on the Facebook and YouTube channels if you miss the live broadcast.
---
Record September visitation at Grand Teton National Park (posted 10/15/2020)
17% increase compared to September 2019
National Park Service
Grand Teton National Park hosted an estimated 603,789 recreation visits in September 2020, a 17% increase compared to September 2019. Park statistics show that September 2020 saw the highest number of recreation visits on record for the month of September. More data on National Park Service visitor-use statistics is available at irma.nps.gov/STATS/.

The list below shows the September trend for recreation visits over the last several years:
2020: 603,789
2019: 517,265
2018: 558,788
2017: 482,661
2016: 492,451

In general, hiking use in the park increased approximately 54%, camping in concession-operated campgrounds increased 24% and backcountry camping increased 79% in September 2020 compared to September 2019.

Visitors to Grand Teton National Park are reminded to plan ahead and recreate responsibly. The park highly encourages visitors to follow guidance from the Centers for Disease Control and Prevention and local and state authorities, by maintaining social distancing guidelines and wearing a face covering when in buildings and high-visitation areas outside.

Visitor services at Grand Teton National Park and the John D. Rockefeller, Jr. Memorial Parkway are limited this time of year, as most facilities close each winter. Closing dates for seasonally operated facilities can be found at www.nps.gov/grte/planyourvisit/hours.htm. The Craig Thomas Discovery and Visitor Center will remain open through October 31. Signal Mountain Campground is currently the only seasonally operated campground still open in the park. The last night available to camp there will be Saturday, October 17.

Please visit www.nps.gov/grte and the park's Facebook and Twitter accounts for more information. Download the official NPS Grand Teton app for detailed park maps, audio tours, in-depth facility information and more.

---
Governor utilizes CARES funds to provide free COVID-19 testing for Wyoming residents (posted 10/14/2020)
Governor Mark Gordon has made free, at-home COVID-19 testing available to the state's residents.

The saliva test is administered by Vault Health and allows residents to get results at home without needing to visit a healthcare provider. Wyoming has purchased 75,000 tests and could obtain additional tests if needed. The program will supplement currently available testing options that include private healthcare providers, hospitals and some pharmacies.

The Governor is utilizing Coronavirus Aid, Relief, and Economic Security (CARES) Act funds for the testing program. The White House has said that expanded testing will greatly improve Wyoming's ability to track the epidemic, particularly when activities move back indoors.

"This at-home, non-invasive testing option is another tool to help Wyoming slow the spread of this virus," Governor Gordon said. "It's one more way we can help protect our vulnerable populations, keep businesses open, and make sure our hospital beds are available to those who need them."

To take advantage of the free testing, visit https://www.vaulthealth.com/covid and order a collection kit. The $150 testing fee is waived for all kits shipped to a Wyoming address and all shipping is prepaid. The saliva is collected during a supervised, online telehealth visit with a Vault test supervisor, which requires an internet connection. Results are reported within 48 hours of when your sample arrives at the lab. More information about Vault testing is available at a dedicated Wyoming Department of Health web page.

Wyoming businesses and community organizations are also encouraged to take advantage of the program via a registration process for participants. That program is expected to launch shortly.

A surge that began 4 weeks ago has seen active lab-confirmed COVID-19 cases rise to 1,517 as of October 14. Over the past 14 days, Wyoming has averaged approximately 119 new cases per day, and the percent of COVID-19 tests with a positive result is 5 percent.

Wyoming has now recorded 6,914 lab-confirmed positive cases of COVID-19, 1,263 probable cases and 57 deaths. More than 198,000 tests have been completed by the Wyoming Public Health Laboratory and commercial reference laboratories.

As COVID-19 cases rise statewide, the Governor and the Wyoming Department of Health continue to strongly recommend the use of masks in public settings where it is not possible or reasonable to stay physically apart. The WDH also continues to stress the importance of staying home when ill.

Wyoming's Public Health Orders have been extended without changes through the end of the month. The new orders are attached and can be found on Wyoming's COVID-19 website.

---
Fire restrictions end - Fire Danger remains High (posted 10/14/2020)
Forest users reminded to be careful
Bridger-Teton National Forest
Bridger-Teton National Forest Managers have made the decision to rescind the Stage 1 Fire Restriction Order effective at noon on October 13, 2020. Despite the precipitation received over the weekend fire danger remains HIGH across much of the Forest. Forest users are reminded that while fires are now legal, it is still illegal to leave a fire unattended or abandoned. "Even though we are experiencing cooler temperatures and received some moisture over the area, visitors still need to be careful with their fires," said Josh Erickson, Deputy Fire Management Officer of the Bridger-Teton National Forest.

Across the Teton Interagency Dispatch area there have been 250 unattended or abandoned fires found in 2020, sixty-two in areas where the Stage 1 Fire Restrictions prohibited them completely. Additionally, thirty human caused wildfires required a response from area firefighters and aviation resources, most of those were escaped campfires or warming fires totaling 110 acres to date.

As we wait for a "season ending" weather event to bring the 2020 wildfire season to a close, please remember these basic fire prevention messages.

-Never leave a fire unattended
-Select your campfire location carefully, free from overhanging trees, and clear of grass and brush
-Fires should be avoided on windy days.
-When in dispersed camping areas only use pre-existing campfire rings, do not create new rings.
-Never park on tall dry grass.
-Keep your fire small, this will reduce the risk of spots and make it easier to put out.
-Drown, stir, and feel until your fire is cold to the touch before leaving
-Exploding targets are illegal on public lands.

"Thank you to the public and our visitors for using extra precaution during the fire restriction period and please remember that a lower fire danger does not mean no fire danger!" –Andy Norman, Forest Fuels Specialist.

For current fire information check tetonfires.com. To report a wildfire, unattended or abandoned campfire, please call Teton Interagency Dispatch at 307-739-3630.

---
Energy survey released (posted 10/9/2020)
Federal Reserve Bank of Kansas City
The Federal Reserve Bank of Kansas City released the third quarter Energy Survey today (Friday, October 9, 2020). According to Chad Wilkerson, Oklahoma City Branch executive and economist at the Federal Reserve Bank of Kansas City, the survey revealed that Tenth District energy activity stabilized somewhat, but job cuts continued.

"District drilling and business activity rose slightly in Q3 from historic lows earlier this year, but revenues, employment, and capital expenditures continued to decline," said Wilkerson. "Over a quarter of firms surveyed expected global oil demand to return to Pre-COVID levels by Q2 2021, but the majority of contacts don't expect oil demand to rebound fully until 2022 or 2023."

The Kansas City Fed's quarterly Tenth District Energy Survey provides information on current and expected activity among energy firms in the Tenth District. The survey monitors oil and gas-related firms located and/or headquartered in the Tenth District, with results based on total firm activity. Survey results reveal changes in several indicators of energy activity, including drilling, capital spending, and employment. Firms also indicate projections for oil and gas prices. All results are diffusion indexes – the percentage of firms indicating increases minus the percentage of firms indicating decreases. Results from past surveys and release dates for future surveys can be found at https://www.kansascityfed.org/research/indicatorsdata/energy.

The Federal Reserve Bank of Kansas City serves the Tenth Federal Reserve District, encompassing the western third of Missouri; all of Kansas, Colorado, Nebraska, Oklahoma and Wyoming; and the northern half of New Mexico. As part of the nation's central bank, the Bank participates in setting national monetary policy, supervising and regulating numerous commercial banks and bank holding companies, and providing financial services to depository institutions. More information is available online at www.kansascityfed.org.

---
Forest Service announces Draft Record of Decision for Snow King Resort Improvement Project (posted 10/9/2020)
45 day objection period open
Bridger-Teton National Forest
The Jackson Ranger District of the Bridger-Teton National Forest has released a Draft Record of Decision (ROD) and Final Environmental Impact Statement (FEIS) for the Snow King Mountain Resort On-Mountain Improvements Project (dated Friday, Oct. 9, 2020).

In October 2019 the Forest released a summary of the draft alternatives that were developed based on public comment during the scoping period for this project. The three main issues derived from the scoping comments are in interest of preserving the cultural/historic nature of the ski area, wildlife habitat impacts, and recreation demands. The issues identified by the public helped determine the focus of the analysis in the Draft Environmental Impact Statement and subsequently the FEIS which discloses potential effects of four alternatives, including the no action alternative.

The alternative selected in the draft ROD is Alternative 4. This includes a permit boundary adjustment, terrain development, a novice ski-way and summit access road, ski lift, conveyors (surface lifts), gondola, summit restaurant and guest services building, and zip-line along with mountain bike trails. "Ski areas provide an opportunity for the public to connect with their National Forests year-round, and the selected alternative provides enhanced winter and summer opportunities at the Resort", said Forest Supervisor Tricia O'Connor. Concentrating recreational use such as skiing and downhill mountain biking makes them more accessible and affords the Forest the opportunity to meet public demands while avoiding unnecessary sprawl into backcountry areas that provide critical wildlife habitat and undisturbed watersheds. Wider, year-round accessibility to these enhanced opportunities contributes to the quality of life we enjoy and supports local economies.

A portion of Snow King Mountain Resort is eligible for listing on the National Register of Historic Places as a district under the National Historic Preservation Act (NHPA). The Bridger-Teton, Snow King, the State Historic Preservation Office and other historic preservation groups are signing a Memorandum of Agreement (MOA) which commits to measures that mitigate potential changes on the historic landscape.

To view the full draft record of decision visit https://www.fs.usda.gov/project/?project=54201. Today marks the beginning of a 45-day objection period to the draft ROD. Objections will be accepted only from those who have previously submitted specific written comments regarding the proposed project during a designated opportunity for public comment. To file an objection, submit an objection, including any attachments, to: USDA Forest Service, Intermountain Region, ATTN: Objection Reviewing Officer, 324 25th Street, Ogden, UT 84401; or email to: objections-intermtn-regional-office@usda.gov. The objection reviewing officer is not accepting hand-delivered objections currently due to precautions in response to the coronavirus. For additional information, contact Sean McGinness at sean.mcginness@usda.gov.

---



Update as of Oct. 7, 2020. Graphic courtesy Sublette COVID-19 Task Group.

Health system stressed (posted 10/8/2020)
Sublette Red Zone status continues
Sublette COVID-19 Response Group
The number of daily new COVID-19 cases in Sublette County has begun to decline, but this may be temporary. The county continues to experience stress on the local healthcare system, and the Sublette COVID-19 Response Group urges the public to take action now to slow the spread of the coronavirus in the county.

In recent weeks the global pandemic and national emergency has reached deep into Sublette County's communities, including to emergency responders who have either contracted the virus or were quarantined because of close contacts with a positive case. This reach has extended to personnel providing health care, law enforcement, rescue, and firefighting services in Sublette County. This strain has in some cases resulted in a shortage of available staff for the agencies involved.

The Wyoming Department of Health reported on Wednesday, Oct. 7, that Sublette County has had a total of 127 cases, with 24 active, 102 recoveries, and 1 death. Sublette County Public Health reported there were 60 people in isolation or quarantine in the Big Piney, Boulder, Daniel, and Pinedale areas. Isolation keeps someone who is infected with the virus away from others. Quarantine keeps someone who might have been exposed to the virus away from others.

Clinic Testing Update:
Sublette County recorded 51 new cases in the last two weeks of September, and another 10 cases this first week of October. The Sublette County Rural Health Care District medical clinics have been busy testing symptomatic patients, as well as close contacts to known positive cases, with testing available daily at both medical clinics Monday through Friday. A recent change in federal regulations requires that all COVID-19 tests be confirmed by the Wyoming Public Health Laboratory, and all patients are instructed to stay home, monitor your health, and maintain social distancing until the test results are received back from the state lab. Testing for all children 18 and younger who are symptomatic is free of charge. For symptomatic adults with health insurance, your health insurance will be billed for the test. Free testing is also available for symptomatic adults who do not have insurance, and for close contacts of positive cases through a voucher system from Sublette County Public Health.

Contact Tracing:
The Sublette County Public Health (Public Health) office is conducting contact tracing. If you test positive for COVID-19, you can expect a call from a contact tracer within 24 hours of that test result. Governor Mark Gordon has activated the Wyoming National Guard to assist in contact tracing in the face of the recent statewide surge in cases.

Meanwhile, to reduce the number of phone calls to Public Health, general information about the virus and the local situation is available on the dedicated county coronavirus website (sublettewycovid.com). If you can't find what you are looking for, please use the form on the website to submit your question, and the Response Group will get back to you with an answer.

To learn about local services available to assist those impacted by the virus, callers should dial 2-1-1 to speak with a live assistant from 8 a.m. to 6 p.m. daily from Monday through Friday.

The Red Zone
Using the statewide COVID-19 metrics, for the two weeks from Sept. 21 to Oct. 5, Sublette County has been trending in the "red" or "concerning" area in terms of new cases (up 55%), the percent of cases attributed to community spread (up 26%), and the percent of all tests with a new positive result in the previous two weeks (up 46%).

The public should follow the basic health precautions you've heard about for months, including staying home when you are sick, keeping your distance, wearing a face covering, washing your hands, and getting a flu shot.

Hospital Status
Since Sublette County does not have a hospital, patients with severe symptoms must seek treatment outside the county, and hospitals in neighboring communities are already stressed. On Tuesday, there were no available intensive care unit (ICU) beds available at Star Valley Health in Afton, at Sage Health West in Lander, and only one ICU bed available at Evanston Regional Hospital. Billings, Montana hospitals have reached capacity and are now sending patients to smaller facilities throughout the state, as well as transferring Wyoming patients back to Wyoming.

The Wyoming Department of Health (WDH) reported on Oct. 6 that there were 44 people hospitalized in Wyoming with COVID-19, the highest patient count since the pandemic began. The WHD count did not include 9 coronavirus patients at St. John's Health in Jackson, so the actual count is at least 53. It's not just the added number of patients in hospitals that cause an impact on the hospital system though: St. John's reported on Monday that 22 staff members were in isolation or quarantine due to COVID-19.

Teton County Public Health announced yesterday that the county had reached the Red Zone ("High Risk") as well, in four key areas: new cases, community spread, hospital admissions, and contact tracing capability, prompting the local health department to issue a community warning yesterday about stresses on the health system: "This means we have widespread transmission of COVID-19 in our community and stress on our healthcare system. Additionally, we are currently maxing out our contact tracing capabilities."

Eastern Idaho hospitals also report a surge in coronavirus hospitalizations, with 29 COVID-19 patients hospitalized at Eastern Idaho Regional Medical Center on Tuesday, including 6 in ICU, and 26 of the hospital's 35 ICU beds occupied. Utah hospitals are in a similar situation with near-record peaks in hospitalizations, and 67% of ICU beds currently occupied.

It's Personal & Public
In light of the existing strain to the healthcare system, the Sublette COVID-19 Response Group urges the public to renew your commitment to taking action now to curb the spread of this virus in the county, to keep from overwhelming our healthcare system, to protect essential workers, and to keep our schools and economy open. Please take personal responsibility for protecting the public's health and economy.

Related Links:
Sublette COVID-19 Response Group - Official county COVID website
Teton County - Community Warning

---
2020 University of Wyoming Football Schedule (posted 10/3/2020)
Below is the schedule for the eight football games to be played this year for the Mountain West Conference, as well as the final Championship Game. The times and television stations are still to be determined. Stay tuned for further announcements. Updated info can be found on the University of Wyoming website: www.uwyo.edu

Date Opponent (Special Events)
Saturday, Oct. 24 at Nevada*
Saturday, Oct. 31 HAWAI'I*
Saturday, Nov. 7 at Colorado State*
Saturday, Nov. 14 AIR FORCE*
Saturday, Nov. 21 UTAH STATE*
Saturday,Nov. 28 at UNLV*
Saturday,Dec. 5 at New Mexico*
Saturday,Dec. 12 BOISE STATE*
Saturday, Dec. 19 Mountain West Championship Game+

• Game dates are tentative and subject to change. Some games may be moved to other days of the week.
• Game times and television coverage will be announced at future dates by the Mountain West Conference
• BOLD AND CAPS Indicate Home games
* Indicates Mountain West Conference games
+The Mountain West Football Championship Game will be played at the home stadium of a Mountain West Conference school based on the current MW policy in place to determine the host team.

---
Restrictions loosened on restaurants (posted 9/29/2020)
Can now have 8 people at a table
Wyoming Governor Mark Gordon
Governor Mark Gordon has worked with the Wyoming Department of Health to ease restrictions on restaurants in the state while continuing efforts to keep the public safe. This comes in new public health orders.

The changes to Health Order No. 1 no longer require restaurants to space out seating in booths and increases the permitted number of persons at a table from 6 to 8 persons. Larger tables are permitted for members of the same household. This increase in the number of persons per table also applies to indoor and outdoor gatherings listed in Order No. 2. Outdoor seating is still encouraged.

"Even in the face of a rising number of active cases, we recognize that the restaurant industry has faced challenges throughout this pandemic," Governor Gordon said. "Nevertheless, they have really responded to ensure the safety of their customers. These are important steps that will help our restaurants recover and safely welcome more customers throughout the fall and winter."

The updated health orders reflect Wyoming Department of Health (WDH) data that shows that sit-down dining in restaurants has not significantly contributed to the spread of COVID-19 throughout the state. The Governor expressed his desire to take an incremental approach to ensure restaurants can adjust to the coming cool weather months when outdoor dining may not be possible.

The success of procedures implemented by K-12 schools across the state, including social distancing and mask usage, have continued to be effective in preventing widespread outbreaks. As a result, updated guidance issued to school districts will no longer require quarantine of close contacts if both the infected individual and those in contact with them were wearing face masks. This change in guidance is specific to schools at this time.

With COVID-19 cases rising statewide and data showing the effectiveness of mask usage in limiting outbreaks in schools, the Governor and the WDH continue to strongly recommend the use of masks in public settings where it is not possible or reasonable to stay physically apart. The WDH also continues to stress the importance of staying home when ill.

"These are the times when we need all Wyomingites to step up to help us resume the progress we made earlier this summer," the Governor continued. "This current trend is concerning and I hope Wyoming will show her determination."

Wyoming is also in the process of updating its statewide guidance consistent with federal regulations that permit indoor visitation at nursing homes and assisted living facilities. That guidance will be published later this week.

Over the past 14 days, Wyoming has averaged approximately 79 new cases per day, and the percent of COVID-19 tests with a positive result is 5.1 percent.

As of September 29, Wyoming has recorded 4,948 lab-confirmed positive cases of COVID-19, 873 probable cases and 50 deaths. More than 164,000 tests have been completed by the Wyoming Public Health Laboratory and commercial reference laboratories.

The updated health orders take effect October 1. They are attached and can be found on Wyoming's COVID-19 website: https://health.wyo.gov/.

---
Wyoming CARES dollars to assist with child care expenses (posted 9/28/2020)
Program starts Oct. 1
The Department of Family Services (DFS) has been allocated $1.5 million in Wyoming CARES (Coronavirus Aid, Relief, and Economic Security) Act funds to provide relief to families who experienced an increase in child care expenses due to the COVID-19 pandemic.

Beginning October 1, residents who experienced an increase in child care expenses as a result of the COVID-19 child care/school closures will be able to apply for financial relief. Examples of increased child care expenses may include, but are not limited to:
• additional or unanticipated child care expenses for children who would have otherwise been attending school;
• child care holding fees to secure spots at child care facilities during the closures, or;
• additional/alternative care for children while parents/guardians were working, attending school or training.

DFS Senior Administrator Roxanne O'Connor says, "The closures of Wyoming schools and child care facilities highlighted child care as an critical component of economic stability for Wyoming families and businesses. This program is a way to help families afford these invaluable services."The COVID-19 Child Care Relief Program is not based on income eligibility. Applicants must be Wyoming residents and demonstrate an increase in child care expenses between March 13, 2020 through present. The program will be available starting October 1, 2020 and will operate while funding is available or until December 30, 2020, whichever occurs first.

For more information, please visit https://dfs.wyo.gov/wyoming-child-care-relief-program/, https://childcarerelief.wyo.gov/ or call (307)777-5819.

---
Presidential & VP debates scheduled (posted 9/26/2020)
There will be two Presidential debates, one debate for VP candidates, and one Presidential Town Hall in the upcoming weeks before the November 3rd General Election.

Thursday, September 29 – Presidential Debate, Cleveland, Ohio
Wednesday, October 7 – VP Debate, University of Utah, Salt Lake City
Thursday, October 15 – Presidential Town Hall, Miami Florida - This debate has been cancelled
Thursday, October 22 – Presidential Debate, Nashville, Tennessee

The first Presidential Debate between current President Donald Trump and Democratic challenger former VP Joe Biden will be on Tuesday, September 29th. It will begin at 9PM ET and run for 90 minutes without commercial interruption. This debate will be at Case Western Reserve University, Cleveland, Ohio with "Fox News Sunday" anchor Chris Wallace as moderator. Topics will be:
• The Trump and Biden Records
• The Supreme Court
• COVID-19
• The Economy
• Race and Violence in our Cities
• The Integrity of the Election

The sole Vice Presidential debate will be on Wednesday, October 7 between Vice President Mike Pence and Democratic challenger, Senator Kamala Harris. It will take place at the University of Utah in Salt Lake City. The moderator will be Susan Page of USA Today. The debate will be 90 minutes in length, with Harris and Pence tackling nine segments of approximately 10 minutes each.

The second face-off between the two Presidential candidates will be on Thursday, October 15th at the Adrienne Arsht Center for the Performing Arts in Miami, Florida. Steve Scully of C-SPAN will be the moderator. This will be a town-hall style event in which the questions will be posed by citizens from the South Florida area. The candidates will have two minutes to respond to each question and there will be an additional minute for the moderator to facilitate further discussion. The town meeting participants will be uncommitted voters selected under the supervision of Dr. Frank Newport, Senior Scientist, Gallup.

The third and final Presidential debate will take place on Thursday, October 22, at Belmont University in Nashville, Tennessee. Kristen Welker, NBC News White House correspondent and co-anchor of "Today Weekend" will serve as moderator.

Reports say Tuesday, September 26th debate will be shaped by coronavirus precautions. The candidates will forego the traditional pre-debate handshake and also won't do the awkward elbow bump. There will be limited audience members in attendance, all of whom will be tested prior to attending. Neither candidate, nor the moderator will wear masks. In addition, there will be no post-debate spin room for media. News organizations will have to schedule interviews with surrogates of the campaigns. With a coin flip, it has been determined that the first question will go to President Trump.

---
Business Directory
Click here for
Advertising Information