Diesel and gas vehicles to be banned in Britain by 2040 (posted 7/26/17)
Some cities passing legislation to ban by 2025
The New York Times had an article saying Britain will ban the sale of new diesel and gas cars by 2040. The rationale is to battle emissions they claim are harming people's health and causing global climate change and to promote electric vehicles. France is also making similar moves. In October, 2016, the German government voted to ban new gasoline or diesel-powered vehicles from EU roads starting in 2030. Paris, Madrid, Athens and Mexico City banned the most polluting cars and vans by 2025 to tackle air pollution. Click on this link to read the New York Times story: Britain to Ban New Diesel and Gas Cars by 2040 (By Stephen Castle, New York Times, July 26, 2017)

Related Links:
France Plans to End Sales of Gas and Diesel Cars by 2040 By Jack Ewing, nytimes.com, July 6, 2017
Four of world's biggest cities to ban diesel cars from their centres theguardian.com, Dec. 16, 2016

---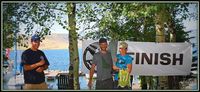 Surly Pika Adventure Race Winners: Addy Broughton and Jason Popilsky, Photo by Terry Allen.

Wind River Mountain Fest 2017 (posted 7/26/17)
and Surly Pika Adventure Race
Terry Allen
Last year's first Wind River Fest celebrated Pinedale's designation as the first Continental Divide Trail Gateway Community in Wyoming. Long known as the Gateway to the Winds, Pinedale sits at the base of the tallest mountain peaks in Wyoming in which are found most of the 1300 lakes in Sublette County.

Expanding on the same theme this year, Fest organizers Josh and Laura Hattan of The Great Outdoor Shop, and dozens of volunteers worked together to both educate people about the Wind River Range, its seven decade exploration by explorer Finis (pronounced: fine us) Mitchell, and to encourage people to go deep into The Winds to experience much of what they have to offer, by way of a sanctioned adventure race.

By chance, Dawn Ballou of Pinedale Online found herself in possession of a treasure trove of Finis Mitchell slides and audio recordings. She got together with well-known local trekker Ric Samulski who dressed up as Finis last year, and they decided there was great benefit to the community in giving a presentation on Finis at The Fest.

Those in attendance at the Pinedale Auditorium were treated to a big screen slide show and the passionate voice of the great trekker. Like the mountain men a hundred years before, Finis ventured into the unknown. We heard about his 74 pound backpacks and the other expedition quality gear he carried. He also carried still and movie cameras, 66 rolls of film and all the food and other gear he needed on his weeks long expeditions away from his family. He climbed all but 20 of the 300 peaks in the range. We saw the pictures of the fish he ate when he ran out of all the food he had packed. We learned about the fall which broke a leg. He lost his camera and crawled out of the mountains for almost two days. The camera has never been found.

A surprise added benefit at the slide show was a presentation by Finis's great grand daughter, Savannah who had put together a presentation for the Western Social Science convention in Reno. We learned of his service as a Wyoming legislator, his life as a railroad employee, as a fishing guide which kept food on the table during the depression, how he had stocked 314 lakes with fish, that he set up a scholarship fund for like-minded young people, and how he left his photographs for all to use. In attendance were also Alvin and Jacob Mitchell and they all agreed to a group photo with Ric who played Finis.

I went back to the park and watched young people navigate the agility course. Young Dace Rhea was there and explained to me why Tip Top Search & Rescue wasn't putting on a water rescue clinic like they did last year. "You could drown," he said. "The water is too high and fast and your feet could get knocked out from under you. Then you might get swept over a waterfall and get stuck up against a log jamb. There might be bears downstream catching salmon...that's probably the most dangerous part, but only if you're still alive."

I spoke with Josh and Laura briefly about what to expect if one ventured into The Winds. "The Winds are not a beginner range," said Laura. "Most people who come here know what they are doing. The two most important things to have on you are rain gear and bear spray."

"Our store is heavily tailored to the back country we have here," Josh said. "We have stocked our store with carefully selected gear for Wind River Range trekking. We strongly recommend that visitors from lower elevations dedicate a couple days to get established logistically and allow their bodies to get used to the high altitude. We recommend bear spray. You probably won't run into a bear, but just having it gives you peace of mind. You'll sleep better and a well rested and confident person will make better decisions and have a better wilderness experience."

I bumped into Julie Belton and she mentioned that her Mom, Melba age 87, had just ridden in the Special Olympics bike competition at the park with four generations of her family.

It was beer time so I headed over to the Wind River Brewing trailer and Shawn gave me a Blond Ale on the house. It was poured in what I thought was a plastic cup. "No, it's made out of corn," he said. "Drink your beer, throw it on the ground and in a week it is totally gone. Bad part is, they leak a lot." I guess I better drink fast...and go listen to some music at the bandstand.

Sunday morning 5:30 wake up call for Surly Pika Adventure Race which starts as high in the Winds as you can drive...and then you go higher on your pedal bike, then run up and down paths, and game trails...if you are lucky, then an hour long paddle across Fremont Lake to the finish at Lakeside Lodge. It is scheduled as an eight hour race.

Darren and Keri Hull used to compete and later organize adventure races in Alaska. When Josh Hattan heard this he asked the Hull's if they thought they could do one here for The Fest and they thought they could. It required months of planning and paperwork to satisfy all the government agencies and lease holders; and then a lot of hill climbing to plan a route thru the rugged terrain. Darren covered the course four times to get it right and sometimes Josh and Keri went along.

Race morning at White Pine I found Erika Tokarz and Katie Rutherford had spread out their vintage 1964 topographical map on the bed of someone's flatbed trailer in the parking lot at White Pine Resort. "We've been riding these trails all summer just for fun," said Erika. "This is our playground."

In the lodge, Pinedale native Sara Percy Taranto and Ann Marie Hunt were intent on their map as Darren and Keri talked rules and safety before the race.

I'd heard there was a highly ranked team entered, so at the Elkhart Park overlook, I stood on a rock and looked thru the crowd and immediately settled on the most likely suspects. They stood out from the crowd. Look, posture, attention, simply how they stood with each other. They were like two fish who moved and thought in unison. They were lean and compact. I introduced myself and confirmed the guess. They are from Idaho and have been competing together since 2011. They are entered in The Adventure Racing World Championships called Cowboy Tough...a 500 mile race to be held in Wyoming this year.

The first leg of the race was riding a bike from Elkhart Park down to the Half Moon Lake overlook. They navigated with only a compass and a map. All along the way they had to register themselves at checkpoints. They ditched their bikes at Half Moon and continued on foot thru convoluted boulder strewn and Aspen and brush-covered valleys and ridges until they arrived near Fremont Lake. A very welcome aid station stocked with watermelon and high sugar foods awaited them. Lance and Sean had been fighting severe leg cramps and took a few moments to stretch as they ate the high energy foods. 100 yards away they donned life vests and portaged their water craft downhill thru the Aspen forest to the lake and then paddled their canoe's or kayaks toward the finish line at Lakeside Lodge.

Sure to put a smile on any person's face is the story of Charlsey who was competing with the youngest competitor in the race...her own 5 month old baby in the womb. She had come directly from spending 2 weeks backpacking in the wilderness and didn't make any fuss about it, but I thought you'd all be as impressed as I was.

As expected, Jason and Abby won the race...about 2-1/2 hours ahead of the number 2 finishers Erika and Katie and number 3 finishers Dean Clause and his 13-year old daughter Darby. I had spoken with Dean and Darby at the top and they had figured out they needed to deduct 11 degrees from the compass headings to allow for magnetic north distortion. Having that information and being able to apply it during the race was key to their racing success. I'm sure The Great Outdoor Shop will post full results soon.

Final thoughts:
Jason and Abby were a thing of beauty to watch. So poised, never seeming to break a sweat. However, they did confess the convoluted Aspen forest in the running section was pretty tricky and they lost time there. I had followed them into the forest for a bit and had heard them discussing how to find their way out of the woods and up to a ridge line.

Erika and Katie said they lost focus in the beginning by thinking they could listen to others on map and compass readings. A couple wrong turns and they decided they could do better thinking on their own and did.

David Rule who we know as an exceptional local runner, said he also didn't focus enough on the map and compass part and lost a lot of time because of it.

Ryan Tollison, like Sean and Lance also suffered leg cramps on the biking leg. He plans on getting that problem fixed by next year's competition.

As we waited on Lakeside Lodge's lawn for the other racers to finish, I asked Jason and Abby about their most important advice for adventure racing. "We eat what sounds good," said Jason. "After years of doing this, we realize savory and sweet is always a good bet. Some people get all sciencey, but Kale chips are hard to stomach during a race. We also train loading our backpacks in the most efficient manner. We train so much we know exactly where every item is so we don't have to waste time going thru pockets. We also select our packs and stock our packs in such a way we rarely have to take them off during a race. That saves a lot of time.

Finally all the other competitors arrived. Many wore shoes that had fallen apart to some degree. They didn't look like gear designed for the event. Some wore calf high socks that were full of thorns, dirt and had threads hanging. There may have been calves that were not cut up and bleeding, but Jason and Abby were the only clean legs I saw. I'm sure these competitors learned a lot and I hope you all don't mind me sharing what I observed and heard.

After the awards ceremony I was sitting on the deck over the lake enjoying a beer with Dave Hohl. Little groups of racers were sitting on the lawn, some leaning against trees. Others were sprawled on big easy chairs enjoying quiet conversations. Some were chowing down on specialty burgers and drinks. It struck me then...I have been in many different kinds of races in my life and it is always a rush to pack your gear and go home...but almost no one was leaving. They didn't want to leave, didn't want the day to end. Special times are like that. Good ideas meeting good people who work hard together to create something meaningful.
It was a beautiful thing to be a part of. Thank you all for being sports and letting me try to make good photographs of your day.

Adventure Racing World Championship in Wyoming this fall: http://www.cowboytoughwy.com/

Wind River Mountain Fest home: http://www.greatoutdoorshop.com/windriverfest/

Your photographer: Terry Allen - txpartisan@gmail.com
You may share the copyrighted low rez images on this site among yourselves for personal use only, and IF you photo credit my name.

For full rez images, and for commercial use, please contact me.

A huge thanks to Dawn Ballou of Pinedale Online for sponsoring this story. If you have a story idea and would like to sponsor me to write and photograph it, please contact Dawn.

Click on this link for more pictures: Wind River Mountain Fest 2017 (46 pictures)

---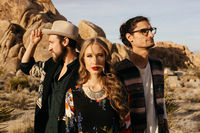 Scriptkiddie

Nashville's Scriptkiddie bring Americana to Boondocks July 28 (posted 7/26/17)
Pinedale Fine Arts Council
The Pinedale Fine Arts Council (PFAC) and Boondocks Pizza will team up again Friday night, July 28, to present up-and-coming Nashville Americana trio Scriptkiddie who will perform on the Boondocks outdoor stage at 7 pm (free).

Touring en route to Kemmerer's annual Oyster Ridge Music Festival, Scriptkiddie is self-described as "a little west of country" and recently released a 3-song EP which features strong songwriting and 3-part harmonies with a Western flare.

Fans of First Aid Kit and Bon Iver will appreciate Scriptkiddie's progressive approach to tradition folk and indie-rock fans will note the band just played Delaware's Firefly Music Festival alongside the likes of Weezer and the Shins.

Boondocks will again be offering drink and food specials all night.

Related Links:
www.pinedalefinearts.com Pinedale Fine Arts Council

---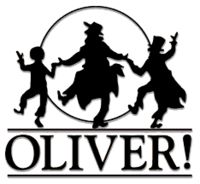 Show dates for Oliver are October 26, 27 and 28 in the Pinedale Auditorium.

Auditions coming up for 'Oliver' (posted 7/26/17)
Auditions in August, Performances in October
Pinedale Community Theatre
Pinedale Community Theatre's (PCT) Managing Director, Valerie Lee is encouraging everyone to get ready for auditions for PCT's upcoming production of "Oliver" by Lionel Bart based on the novel "Oliver Twist" written by Charles Dickens.

The production has a cast of 28 with roles for 12 children.

PCT board members will conduct workshops for aspiring actors, singers and dancers to prepare for auditions. Workshops are scheduled on August 8 from 6 to 8PM at the Pinedale High School (PHS) auditorium for children 6 to 13 and again on August 9, from 6 to 9PM at the PHS auditorium for high school students and adults of all ages. Sessions will cover singing, dancing and acting and all participants are encouraged to take advantage of the opportunity to learn what happens at auditions and how to get ready to participate.

Auditions for Oliver are scheduled August 24, 25 and 26 at the PHS auditorium. Show dates for the production of Oliver are October 26, 27 and 28 in the auditorium.

Scripts and vocal scores are available at the Pinedale Fine Arts Council office in Pinedale.

Call Kari DeWitt at 307-231-3210 or email kari@pinedalefinearts.com for appointments or more information. Additional information is also on PCTs website pinedaletheatre.com.
---
Grizzly moved from Upper Green (posted 7/25/17)
Wyoming Game & Fish Department
The Wyoming Game and Fish Department trapped and relocated an adult male grizzly bear July 21, 2017.

The bear was captured for killing cattle on a U.S. Forest Service grazing allotment north of Pinedale, Wyoming. In cooperation with the U.S. Fish and Wildlife Service and the Shoshone National Forest, the bear was relocated to Fox Creek in the Clarks Fork drainage approximately 50 miles northwest of Cody. The release site is located in currently occupied grizzly bear habitat.

Grizzly bear relocation is a management tool afforded bear management personnel to minimize conflicts between humans and grizzlies. The decision to relocate and the selection of a relocation site is made taking into consideration the age, sex, and type of conflict the bear was involved in. Since grizzly bears are listed as "Threatened" under the Endangered Species Act, consultation with the U.S. Fish and Wildlife Service and the appropriate land management agency is also made to minimize the chance of future conflicts and maximize the survival potential of the relocated grizzlies. Bears are relocated in accordance with federal law and regulation. When selecting a relocation site, the department makes every consideration to minimize potential conflicts with livestock and people.

Bears can create conflicts after they have obtained food rewards. Game and Fish continues to stress the importance of keeping all attractants (food items, horse feeds, bird seed, and others) unavailable to bears. Reducing attractants reduces human-bear conflicts.

---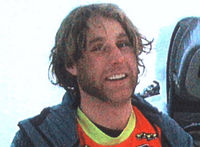 Ben Bradley's murder is still unsolved. His body was found near Boar's Tusk, north of Rock Springs, in 2006. He died of multiple stab wounds to the chest.

Rock Springs home processed for evidence in 11-year-old murder case (posted 7/25/17)
2006 Ben Bradley unsolved murder
Sweetwater County Sheriff's Office
(ROCK SPRINGS, WYOMING - July 19, 2017) Sweetwater County detectives are processing a residence on Bridger Avenue in Rock Springs for evidence in the 2006 Ben Bradley murder case.

A Tabernash, Colorado, resident, Bradley, 28 at the time, was hitchhiking from his home to Jackson, Wyoming, on a snowboarding outing when he disappeared in the Rock Springs area on the night of Friday, June 2, 2006. Pictured here are Bradley and his unique, custom-made Never Summer "split-board" snowboard, which has never been recovered.

Bradley's badly decomposed body was found near the base of Boar's Tusk, about 25 miles north of Rock Springs, by sightseers on October 1, 2006. It was determined at autopsy that the cause of death was multiple stab wounds to the chest area.

Sweetwater County Sheriff's Office spokesman Detective Dick Blust said that processing the Bridger Avenue home is the result of fresh lead information.

"The Bradley case is ongoing," Blust explained. "As an unsolved homicide, it's under constant review, plus we follow up new leads as they come in and take appropriate action."

Authorities ask that anyone with information concerning Bradley or his snowboard contact the Sweetwater County Sheriff's Office at (307) 875-1400.

Click on this link for more pictures: Rock Springs home processed for evidence in 11-year-old murder case
---
Washington wolf conflicts (posted 7/23/17)
Cat Urbigkit, Pinedale Online!
Lynda Mapes of the Seattle Times takes a look at the conflict involving wolves and public lands livestock grazing in northeastern Washington state, putting forth the views of ranchers and wolf activists that have centered on the Profanity Peak wolf pack.

Mapes also reports that after the Smackout pack preyed on livestock four times since September, Washington wildlife officials will now begin killing some wolves in the pack, hoping to change the pack's livestock-killing behavior.

For more information on these stories, check out the links below.

Related Links:
Conflicts - Yakima Herald
Smackout pack - Seattle Times
Wolf Watch - by Cat Urbigkit, Pinedale Online!

---
Free career training for single Moms (posted 7/17/17)
Climb Wyoming
TETON AREA SINGLE MOMS — Are you ready to gain a full-time, year-round, professional career, not just a job? Climb Wyoming's next FREE career training starts soon! Training includes comprehensive office administration skills. Let us match you with a job that fits your interests, strengths and priorities—we continue to provide support as you settle into your new position. We'll connect you and your family to community resources right away so you can achieve success. Commuters welcome! We work with moms in Teton, Sublette and Lincoln counties. We want to hear from you. Reach us at 307-733-4088, find us on Facebook or visit climbready.org.

---
Sublette County Fair offers action-packed fun July 26-29, 2017 (posted 7/17/17)
Sublette County Fair Board
BIG PINEY – There will be something for everyone at the 2017 Sublette County Fair, Wednesday, July 26 through Saturday, July 29 at the Sublette County Fairgrounds in Big Piney.

We are excited to feature the four most popular evening events again this year! On Wednesday, July 26 at 7:00PM mud will be flying and the pigs will be trying to get away from the contestants as the Pig Wrestling takes place. Then, the following evening at 7:00PM, Little Buckaroos will be competing for belt buckles in the Little Buckaroo Rodeo. Come watch the kids try to rope the calves, ride the sheep, broncs, and mini bulls, or see how fast they can run in the stick horse barrel competition! Entries for the Pig Wrestling and Little Buckaroo Rodeo are due on July 19. On Friday, July 28, the teams of horses will get down in the dirt and try to pull a weighted sled at the Horse Pulls at 7:00PM. The fair will wrap-up when Chancey Williams and the Younger Brothers Band opens for Restless Heart. The concert will begin at 7:00PM and tickets are on sale now!

If you are looking to compete, we have plenty of options including:
• Pig Wrestling
• Little Buckaroo Rodeo, sponsored by Jonah Energy
• Recycled Western Art Contest
• Painted Rock Contest
• Chocolate Desert Bake-Off
• Open Class Static Exhibits
• Cowhide Race
• Cornhole Tournament

Acts on the free-stage include:
• Eric Haines, One Man Band
• Kaleb Austin
• Small Town Legend
• Jason Tyler Burton

Other entertainment options include:
• Action Entertainment, Fun Zone and Laser Tag
• Flippin'
• Reptile Adventures
• Lanky the Clown
• BPHS Robotic Demo's
• Sublette County Fair Dance

Or, you can check out the exhibits, vendors, and art show every day from 10:00AM to 7:00PM. Admission to the fair is free, so come relax and have some fun at our great event!

For complete schedules, times, and attractions, please visit www.sublettecountyfair.com, find us on Facebook, or call 307-276-5373.
---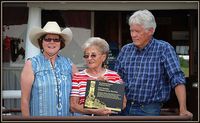 The historic townsite of Cora, Wyoming was recently listed on the National Register of Historic Places. L to R: Historian Ann Noble, former Cora Postmaster Joann Ludwig, Sublette County Historic Preservation Board President Clint Gilchrist.

Cora Townsite Celebration 2017 (posted 7/14/17)
Historic Cora Townsite listed on the National Register of Historic Places
Terry Allen
Past owners, employees, interested residents and visitors and those dedicated to documenting our history got together Friday, July 14, 2017 to celebrate the recent listing of the historic Cora Townsite on the National Register of Historic Places. There was a potluck BBQ, self-guided tours of the buildings, a history talk by historian Ann Noble, and a presentation of the National Register plaque to Joanne Ludwig.

Jonita Sommers agreed to introduce me to historic people and share some of her own remembrances. "We used to stop here when we were driving cattle north on the Drift," she said. "It had a small store back then. There was no bar. The beer was sold in the store. Doug Price would give me a silver dollar. You could buy pop, Vienna sausages and crackers. There was a rack of comic books which I sat and read."

Linda Anderson shared that a couple of cabins from elsewhere in the county were moved in and joined together to form the house. "Dad collected all these wagon wheels from around the county to make the yard fence," she said. "Every Sunday that's what we did. It was our Sunday outing."

I overheard Linda and another woman saying they acted as clothing models at the store when they were little girls.

Laurie Hartwig introduced me to her granddaughter from Iowa and Marley agreed to be the model to show off the wagon wheel fence in as artistic a way as I could manage.

Ann's daughters, Zoe and Laura, were busy taking pictures with Ann's new Nikon camera, so I went over to get their impressions of the work their Mother does in telling the history of our county.

"She gets up at 3am in the morning, types and drinks coffee...a lot of it," they said. "This is pretty much her daily routine. Sometimes we find her asleep on the floor when we wake up."

I guess that answers my question on how Ann manages to get so much done.

I spent some enjoyable time with Tina Nelson and Sam Nelson. Sam agreed to re-enact a character from the past coming out of the fully functional two-holer that still sits on the property. "We used to have a two-holer that sat right on the main street," said Tina. "Memories are a little unsure of who it was...could have been Grand dad Clemons or James Mark Noble, but one of them liked to sit there with the door cracked open so he could see people coming down the road and stop them so he could talk to them.

If anyone was a party to some of those conversations, I'd sure like to hear them, write them down and share them. I bet they were interesting, funny and reflected the times.

Thank you, Dawn Ballou for hiring me to attend this event and take photos and write down impressions.
______________________________

History
A typical Wyoming rural town
By Ann Chambers Noble
Early on, the town of Cora was founded to support the early settlers. Starting in 1898, James Noble had a general store at his Cora ranch about a mile east on the New Fork River that was patronized by area ranchers. The town also supplied area guest ranches that opened about the same time ranching did in the northern parts of Cora Valley and the Upper Green River area. The store was also the location for the Cora Post Office. For a short time, men working at a tie camp in Kendall, located north of Cora approximately 22 miles, also patronized Noble's store. But for the majority of time the camp was open, from 1896 until it shut down in 1904, Kendall had its own post office.

A few of the talented tie hacks working in Kendall stayed in the area and were valuable builders. Eddie Edwards, a tie hack, constructed many of the buildings on the Noble ranch. These buildings are hand-hewn sturdy logs that were transported from the Upper Green River near the tie camp. Two of these structures, the Cora Store and a warehouse, would be moved to a new townsite in 1919. These buildings display exceptional log craftsmanship.

The evolution of transportation had a formidable impact on the development and decline of the Cora townsite throughout the twentieth century. With the introduction of motorized vehicles, the wagon road up the Cora Valley became obsolete. The original road followed the New Fork River, making motorized vehicle travel difficult for most of the spring and irrigation season. Therefore, the State moved the road to higher ground one mile west of the Noble ranch and original townsite.

In 1919, Henry Clodius revived the Town of Cora, which by then had been experiencing an economic decline on the Noble ranch. Recognizing the importance of the new road, Clodius moved two of the structures from Noble's ranch and started a new Cora. The townsite has remained at this location to the present.

Cora would have been a typical Wyoming rural town in the twentieth century. Located along Wyoming Highway 352 starting in 1919, within a short time it housed a store, post office, school, teacherage, and community center, in addition to some residential housing. Cora was sustained by continued ranching community patronage. The town's economy was also assisted by guest ranches operating in the northern part of Cora Valley and the Upper Green River area especially until World War II.

With improved transportation, the school, teacherage and community center closed as residents now easily traveled to Pinedale for school and socializing. In time, the Cora store would also close for the same reason: people traveled farther, easier, and more often. The Cora Post Office, however, is still active and patronized by local residents.

Click on this link for more pictures: Cora Townsite listed on the National Register of Historic Places

Related Links:
Celebrating historic Cora By Joy Ufford, Sublette Examiner
National Register Listings in Sublette County, Wyoming
National Register of Historic Places Administered by the National Park Service

---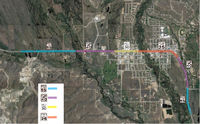 The Wyoming Department of Transportation has posted new speed limits on the outskirts of Pinedale. Graphic courtesy WYDOT.

WYDOT adjusts speeds through Pinedale (posted 7/15/17)
Stephanie Harsha, WYDOT
The Wyoming Department of Transportation (WYDOT) has made some changes to the speed limits on US 191 north and south of Pinedale.

Previously, the speed limits were set at 55 mph at milepost 96.22 to 98.88 (south of Fayette Pole Creek Road), then 40 mph to milepost 99.12 (south of Fremont Lake Road) and then 25 mph through town. Speeds picked up at milepost 99.90 (Lincoln Avenue) to 30 mph to milepost 100.41 and then 45 mph to milepost 101.25 (west of New Fork River).

A speed study was performed to look at what speed drivers are driving at and whether the posted speed limits were safe and feasible.

The study resulted in a few changes to the speed changes in this corridor.

From milepost 98 to 98.55 (Pole Creek Road) the posted speed is now 55 mph.
From milepost 98.55 to 99.13 (Sublette Avenue) the posted speed is now 40 mph.
From milepost 99.13 to 99.90 (through downtown) the posted speed will remain 25 mph.
From milepost 99.90 to 100.41 (north end of town) the posted speed will remain 30 mph.
From milepost 100.41 to 101.24 (heading north out of town) the posted speed is now 40 mph.
From milepost 101.24 to 102.25 (east of the landfill road) the posted speed is now 55 mph.

Speeds north of milepost 102.25 and south of milepost 98 will remain unchanged and as posted.

WYDOT urges motorists to be conscientious of the new posted speeds, obey all traffic signs and speed regulations and take extra precautions at night, being careful not to out-drive your head lights, and scan the roadway from shoulder to shoulder to look for wildlife.

For more information on road construction, closures and weather conditions, please visit http://www.wyoroad.info.
---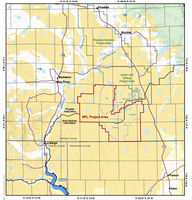 NPL

NPL gas field EIS released (posted 7/7/17)
Cat Urbigkit, Pinedale Online!
On Friday (July 7, 2017) the Bureau of Land Management (BLM) released its draft environmental impact statement for a major natural gas development in Wyoming.

The Draft Environmental Impact Statement (DEIS) for the Normally Pressured Lance (NPL) Natural Gas Development Project identifies a range of alternatives as to how the project can move forward. The document is available for a 45-day public comment period.

The proposed project, which was submitted by Jonah Energy LLC, could unlock 5.25 trillion cubic feet of natural gas, providing a reliable, long-term energy source for the nation and creating more than 700 full-time jobs and stable employment opportunities for southwestern Wyoming, according to the agency. The project could also create $2.2 billion in royalties, half of which would go to the State of Wyoming.

The project encompasses approximately 141,000 acres of public, state, and private lands, with the vast majority — approximately 96 percent—located on public lands.

Situated south and west of the existing Jonah Gas Field in Sublette County, the project proposes up to 3,500 directionally drilled wells over a 10-year period. Most wells would be co-located on a single pad, with no more than 4 well pads being constructed per 640 acres. On average, each well pad would be 18 acres in size. Associated access roads, pipelines, compressor stations and other facilities would be co-located where possible to further minimize surface disturbance.

Jonah Energy anticipates drilling at an average well density of one bottom-hole per 40 acres. Disturbance for each multi-well pad location would range between approximately 5.5 and 19 surface acres, with each multi-well pad supporting up to 64 wells. Ancillary facilities associated with the proposed natural gas wells include standard equipment on well pads (e.g., well heads, solar panels), water disposal wells, existing and new pipelines, powerlines, access roads, and regional gathering facilities (RGFs).

The exact locations of wells and ancillary facilities have not been identified at this time. Placement of final surface locations on BLM-administered land would be contingent on any environmental constraints identified during the Application for Permit to Drill (APD) process and the onsite inspection reviews conducted by the BLM.

The Proposed Action would result in an estimated short-term surface disturbance of up to 6,340 acres within the Project Area (4.5 percent of the Project Area). Up to 1,890 acres (or 1.3 percent of the Project Area) may remain disturbed for the life of the project, consisting of permanent facilities (e.g., RGFs), access roads, and equipment areas needed for ongoing production, servicing, and maintenance activities.

In addition to the proposed alternative, the EIS examines two other alternatives. Alternative A was designed to address sensitive wildlife resources. The maximum number of wells would be the same as the Proposed Action, but the location, timing, and pattern of development would be different than the Proposed Action with the timing of development occurring sequentially in three geographically defined phases. The maximum allowable density of development within identified Development Areas (DAs) would be largely driven by the presence or absence of delineated wildlife habitats in a given DA and the expanse of those habitats, if present.

Alternative B is the BLM's Preferred Alternative. The number of wells would be the same as in Jonah's proposal, but but the DA 1 area would have a reduced density of development, reduced surface disturbance, and more clustering of disturbance locations to reduce impacts to a range of sensitive resources in this area. Sage-Grouse Winter Concentration Areas would have additional resource protection measures including a disturbance threshold, phasing development from east to west, and centralizing above-ground facilities. For Alternative B, buried pipelines would be constructed to transport produced water and condensate from RGFs within Sage-Grouse Winter Concentration Areas and PHMA to RGFs outside of these areas. The development period would be slightly longer than that of the Proposed Action, resulting in slightly fewer new wells drilled per year (on average).

The BLM must receive comments by August 21, 2017. Comments can be emailed to blm_wy_npl_eis@blm.gov or mailed to the following address:
NPL EIS Project Manager
BLM Pinedale Field Office
P.O. Box 768, Pinedale, WY 82941

The BLM will also hold two public meetings on the project on the following dates and locations:

Tuesday July 25, 2017
BLM Pinedale Field Office
1625 West Pine Street
Pinedale, Wyoming 82941

Wednesday July 26, 2017
BLM High Desert District Office
280 Highway 191 North
Rock Springs, Wyoming 82901

All project documents are available for public review at the link below.

Related Links:
NPL DEIS- Bureau of Land Management

---
Business Directory
Click here for
Advertising Information