Governor Gordon re-launches program to stimulate job creation in energy sector (posted 6/9/2021)
Applications accepted from June 15 through June 25th
Governor Mark Gordon media release
Governor Mark Gordon has announced that up to $12 million of remaining CARES Act funds will be used to fund the Energy Rebound Program, which is designed to get more people working in the energy industry. In 2020 the Energy Rebound Program provided badly needed capital for specified oil and gas projects, including drilled but uncompleted ventures, workovers, and reclamation of oil and gas wells through the plugging and abandonment process.

"The Energy Rebound Program successfully provided opportunities for oil and gas industry employees who lost jobs when drilling ceased last year," Governor Gordon said. "This program will continue to provide economic benefits to this important industry, their workforce and the entire state of Wyoming."

As Wyoming's economy continues to improve, the oil and gas industry is lagging behind due to external market factors. Currently there are nine drilling rigs operating in Wyoming, compared to more than 30 in February of 2020. These funds will once again target projects that bring immediate economic benefits, including Wyoming job growth and revenue, along with the environmental benefits of plugging and reclaiming oil and gas wells that are no longer in use, or near the end of their useful life.

"As energy demand continues to increase, private-land production states have seen a quicker rebound, one that has yet to reach Wyoming's federally-owned resources. Given the success of the inaugural Energy Rebound Program – a jobs program at its core – Governor Gordon's decision to initiate a second round makes perfect sense," said Pete Obermueller, President of the Petroleum Association of Wyoming. "In 2020, despite a quick turnaround over the holidays, the men and women of the oil and gas industry stepped up – utilizing more than 100 service companies from 14 Wyoming towns to complete their work, supporting thousands of local jobs, and kickstarting more than $150 million in new production."

Last year, industry had just six weeks to identify and complete projects. This time, the projects will need to be completed by the end of the year. Once again there will be a cap of $500,000 for each approved project. However, this year, the Wyoming Oil and Gas Conservation Commission will be administering the program. Oil and gas operators will need to certify the number of jobs created for Wyoming workers. To qualify as a Wyoming worker, the worker must be a resident of Wyoming at the time of the application.

"We look forward to supporting the Governor's Energy Rebound Program by administering this additional funding. The program has proven to be successful in supporting projects and employment within the oil and gas industry," stated WOGCC Deputy Supervisor Tom Kropatsch. "Our evaluation of the applications and post program reporting to ensure compliance with program rules will be essential in making this version of the Energy Rebound Program as successful as the first."

The WOGCC will accept applications from June 15 through June 25th.

---
BTNF seeks comments on changes to grazing allotments in Upper Green (posted 6/8/2021)
30-day comment period ends June 25, 2021
Bridger-Teton National Forest
The Forest proposes changing sheep grazing allotments to cattle grazing allotments

The Bridger-Teton National Forest is seeking comments on a proposed Elk Ridge Complex Rangeland Supplementation. The complex is comprised of Elk Ridge, Lime Creek, Rock Creek, and Tosi Creek grazing allotments, located in Sublette County, Wyoming, in the Pinedale Ranger District. The district is proposing to change the authorization from formerly permitted sheep operations to cattle operations.

The Proposed Action is to authorize cattle grazing on the Elk Ridge Complex. "These existing allotments would be utilized within the rotational grazing system of adjacent allotments in the Upper Green Area," said Pinedale District Ranger Rob Hoelscher. "This would provide flexibility by allowing currently permitted cattle within the Upper Green Area additional acreage to better address seasonal fluctuations, weather conditions, predators, and impacts from wildfire," he said.

The proposed action for the approximately 31,000 acres includes design criteria for achieving and maintaining compliance with the Bridger-Teton Forest Plan direction, Forest Service grazing management policies, and other applicable laws and regulations such as the Rescission Act of 1995.

Following this comment period, an environmental assessment will be prepared in compliance with the National Environmental Policy Act.

Additional information is available at https://www.fs.usda.gov/project/?project=60020 or by contacting Chad Hayward, steven.hayward@usda.gov.

This 30-day comment period concludes June 25, 2021 and provides the only designated opportunity to comment and to establish standing for eligibility to object. Timely and substantive comments must be received during this designated opportunity and must meet the information requirements of 36 CFR 218 Subparts A and B. The comment period is initiated with the publication of this legal notice in the Casper Star-Tribune (36 CFR 218). Comments must be postmarked or received within 30 calendar days after publication of the legal notice.

Electronic comments should be submitted online through the project webpage at: https://www.fs.usda.gov/project/?project=60020 Click on the "Comment/Object on Project" link located in the right column.

Written comments may also be mailed to:
Rob Hoelscher, District Ranger
PO Box 220
Pinedale, WY 82941.

Comments received in response to this notice, including names of those who comment, will be part of the public record and available for public inspection. Comments submitted anonymously will be accepted and considered; however, anonymous comments will not provide the respondent legal standing to object.

---
Yellowstone visitation shows 50% average increase over 2019 (posted 6/7/2021)
Ranges from 25-145% increase
National Park Service – Yellowstone National Park
Park-wide vehicle entries through the Memorial Day weekend showed a 50% increase over the same weekend in 2019. This year is compared to 2019 because in 2020, during the same time frame, only the Wyoming park entrances were open due to COVID-19.

Visitation statistics (*vehicle entries) per day for May 28-31, 2021, compared to May 24-27, 2019, are listed below.

Park entrance
Vehicle entries Friday, May 28, 2021
Vehicle entries Friday, May 24, 2019
Percent increase 2021 over 2019
_______________________
East 902, 368, 145%
North 1,796, 983, 83%
NE 475, 350, 36%
South 1,731, 920, 88%
West 4,565, 2,652, 72%
Total 9,469, 5,273, 80%

Park entrance
Vehicle entries Saturday, May 29, 2021
Vehicle entries, Saturday, May 25, 2019
Percent increase 2021 over 2019
__________________________
East 1,131, 833, 36%
North 2,170, 1,651, 31%
NE 702, 394, 78%
South 1,958, 1,320, 48%
West 5,424, 3,818, 42%
Total 11,385, 8,016, 42%

Park entrance
Vehicle entries Sunday, May 30, 2021
Vehicle entries, Sunday, May 26, 2019
Percent increase 2021 over 2019
__________________________
East 1,249, 997, 25%
North 2,240, 1,597, 40%
NE 870, 426, 104%
South 2,046, 1,405, 46%
West 5,635, 4,122, 37%
Total 12,040, 8,547, 41%

Park entrance
Vehicle entries Monday, May 31, 2021
Vehicle entries, Monday, May 27, 2019
Percent increase 2021 over 2019
___________________________
East 1,219, 918, 33%
North 2,110, 1,402, 50%
NE 755, 369, 105%
South 1,735, 1,365, 27%
West 4,703, 3,000, 57%
Total 10,522, 7,054, 49%

Summer is Yellowstone's busiest season. Millions of people visit the park in June, July and August. If you plan to travel to Yellowstone this summer, plan ahead, expect crowding and recreate responsibly to protect yourself and the park.

*Vehicle entry data is collected from park entrance stations point of sale system.

For more information visit www.nps.gov/yell

---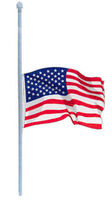 Flag half staff notice

Governor orders flags to half-staff statewide on June 11 (posted 6/7/2021)
To honor Cody firefighter
Governor Mark Gordon media release
Governor Mark Gordon has ordered both the U.S. and Wyoming State Flags be flown at half-staff statewide from sunrise to sunset on Friday, June 11, 2021 in honor and memory of wildland firefighter and Cody resident Tim Hart. A smokejumper from the West Yellowstone Smokejumper base in Montana, Mr. Hart passed away June 2 from injuries sustained while responding to the Eicks Fire in Hildago County, New Mexico.

Governor Gordon has issued the following statement to accompany the announcement:

Jennie and I send our deepest condolences to Tim's family. We acknowledge the commitment of the men and women who fight fires wherever they are needed around the country, and we pray tragedies such as this one never occur. The loss of a firefighter impacts the entire community of firefighters and first responders, as well as the community in which they live. Wyoming grieves the loss of this fine individual and we are grateful for his service to the state and our country.

---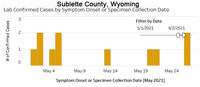 Sublette County COVID-19 data for May 2021. Note that the scale on the left axis only goes up to 3 total cases. Many days show no cases.

Wyoming COVID-19 health orders end May 31, 2021 (posted 6/2/2021)
Beginning June 1, 2021, statewide public health orders are no longer be in effect in Wyoming. At this time there are no travel restrictions in Wyoming for U.S. travelers. Wyoming does not have a statewide mask mandate, but some businesses may require masks. Moving forward, specific protocols for the safe operation of K-12 schools during the pandemic will be determined at the school district level. For Sublette County COVID-19 information, click here: www.sublettewycovid.com. For state-wide COVID-19 info, click here: health.wyo.gov/www..
---
Sublette COVID Briefing: May 27, 2021 (posted 5/29/2021)
Sublette County Public Health
The Wyoming Department of Health (WDH) has reported 4 new COVID-19 cases in Sublette County since May 21, 2021. There are currently five active cases in Sublette County, with 783 recoveries, and 7 deaths, for a total of 795 cases since the pandemic began.

As of May 27, Sublette County Public Health has fully vaccinated 2,299 people. Sublette County has vaccinated 22.5 % of its population.

Sublette County Public Health Nurse's office will begin administering the Pfizer vaccine to any interested individuals, aged 12+ starting the first week of June.

Tuesday, June 1st--
• Big Piney School Clinic (sign up link sent out via Ms. Hoffman)
• Marbleton Public Health Nursing Office 1:30--3:30 PM (registration link below)
Thursday, June 3rd--
• Mountain Man Museum 2:00--4:00 PM (registration link below)

Remember that all COVID vaccines are available for no cost. Sign-up is easy and takes less than 10 minutes.
Sign-up here: https://www.sublettewycovid.com/vaccines

5/27/21 — Moderna Vaccine Doses given in Sublette County
• 1st doses = 2,222
• 2nd doses = 2,076
• Total Doses = 4,298
5/27/21— Janssen Vaccine Doses Given In Sublette County.
Sublette County Public Health has resumed administering the Janssen vaccine.
• Total Doses Given = 223

If you missed this week's video briefing, please take a few minutes to watch at the link below. Robin Carnes shares this week's COVID case counts and vaccine numbers. Jackie Nelson shares the wide variety of services that Public Health offers for mothers, babies and children in Sublette County – everything from new baby nursing support to affordable vaccines to car seats and bike helmets! Watch here: https://fb.watch/5LO1E9iH3e/

We have beautiful new social distancing posters for the summer! Big thanks to Delsa Allen and Arnie Brokling for the use of their images. If you want posters for your business, please come to the Public Health office and pick a few up!

Sign up for your COVID vaccine appointment at https://www.sublettewycovid.com/vaccines

---
Wyoming Public Health COVID-19 Orders change (posted 5/23/2021)
Public Health Order #2 regarding indoor events eliminated; K-12 mask use continues through May 31
Wyoming Department of Health
The Wyoming Department of Health (WDH) is announcing the likely final phase for statewide public health orders related to the COVID-19 pandemic, including the immediate removal of one of the two remaining orders.

Statewide public health order #2, which affected indoor events of more than 500 people, is now eliminated.

Mask use and physical distancing requirements in statewide public health order #1 related to K-12 schools will remain through May 31, while the same requirements for colleges are immediately eliminated. An extension of statewide public health order #1 past May 31 is not expected.

"We are making these changes now because we are confident in the effectiveness of the currently authorized COVID-19 vaccines. We are seeing excellent results among those who have been vaccinated. The vaccines are doing their job very well," said Dr. Alexia Harrist, state health officer and state epidemiologist with WDH.

WDH data shows more than 28 percent of Wyoming residents are fully vaccinated with more people choosing the vaccines every day.

"There is no question we would like to see a much higher coverage percentage," Harrist said. "But adults, including college students, across our state have had ample opportunity to choose vaccination by this point," Harrist said. "The change to the order affecting schools and colleges will reflect recently updated guidance from the Centers for Disease Control and Prevention."

Harrist noted the Pfizer vaccine was recently made available for 12-15 year olds in addition to anyone over 16. Moderna and Johnson and Johnson (Janssen) vaccines are authorized for adults 18 and over. No COVID-19 vaccine is yet authorized for children younger than 12.

"Unfortunately, COVID-19 has not disappeared completely. We continue to see confirmed cases across the state. The vast majority of recent, new cases have involved people who were not yet fully vaccinated," Harrist said.

"I strongly encourage anyone who is eligible but who hasn't yet been vaccinated to do so as soon as possible. These vaccines are free, safe and effective. They offer many benefits, such as the ability to avoid quarantine after exposure to COVID-19, and are the best route we have to outsmart the pandemic," she said.

Harrist expects specific protocols for the safe operation of K-12 schools during the pandemic will be determined at the school district level past June 1. "We are, of course, offering guidance and advice and we encourage schools to work closely with their county health representatives. It will be important to monitor local health situations."

WDH continues to recommend but not require masks in indoor public places for people who aren't fully vaccinated when common-sense physical distancing cannot be maintained among those who don't live in the same household.

"There are specific places where precautions such as mask use are still recommended for everyone, such as healthcare settings including nursing homes and assisted living facilities, correctional facilities and homeless shelters," Harrist said. "Private businesses and organizations may also still choose to require masks and other precautions. We ask individuals to be respectful of requirements in those settings."

Information about getting a COVID-19 vaccine in Wyoming can be found here

The updated remaining order, which goes into effect immediately and remains in place through May 31, can be found online here

---
Take-back program nets 87 moss balls (posted 5/23/2021)
Wyoming Game & Fish
Aquarium owners stepped up this spring to help protect Wyoming's waters from invasive zebra mussels. The hobbyists returned 87 moss balls during the month-long Wyoming Game and Fish Department moss ball take-back program, in addition to following directions to properly dispose of thousands of moss balls throughout the state.

"Many people made the extra effort to turn in their moss balls or dispose of them, and we're appreciative. It's clear how much each Wyomingite values our natural resources by heeding our warnings about the potential impacts to our waterways and infrastructure," said Josh Leonard, Game and Fish aquatic invasive species coordinator. "You made a difference for our state. Thank you."

In March, zebra mussels were found in Wyoming for the first time on moss balls, a popular aquarium plant sold primarily in pet stores. Zebra mussels are a highly-destructive aquatic invasive species (AIS) that Game and Fish has been working to keep out of Wyoming for over a decade.

Since the discovery, Game and Fish, the Wyoming Department of Agriculture and several other state agencies have been working to mitigate the broad potential impacts to the state's water resources and infrastructure. The moss ball take-back program was one of many outreach efforts to raise awareness about the threat of zebra mussels and reward efforts to dispose of the aquarium-tank product. Each time a person returned a moss ball they were entered into a raffle to win $1,300. The winner of the raffle was Deborah C. Scollard of Casper.

The moss ball take-back program was supported by donations from Wyoming Trout Unlimited, the WYldlife Fund, Wyoming Game Wardens Association, Wyoming County Commissioners Association, Greater Yellowstone Coalition, Wyoming Chapter of The Nature Conservancy, Wyoming Wildlife Federation, Muley Fanatic Foundation and the Wyoming Water Association.

While the take-back program has concluded, anyone can still drop off moss balls to any Game and Fish regional office or to dispose of it properly by following directions on the department's website. The plant remains under a quarantine order from the Wyoming Department of Agriculture which bans further importation into the state.

This summer, Game and Fish is encouraging the public to watch for zebra mussels and be vigilant with efforts to keep AIS out of Wyoming. AIS check stations are open throughout Wyoming, and any boaters who come upon one must stop. Full requirements for watercraft users are available on the Game and Fish website.

---
Boat launch and dock improvements announced (posted 5/18/2021)
New Fork Lake, Willow Lake, Half Moon, and Fremont Lake area work
Bridger-Teton National Forest
The Bridger-Teton National Forest is advising visitors of temporary interruptions and suspensions of use of various boat docks while improvements are made. The Wyoming Game and Fish, Pinedale office plans to do the improvements to the boat launch and docks at New Fork Lake on May 18, 2021, Willow Lake on May 19, 2021, and Half Moon and Fremont Lake on May 20, 2021. A concrete slab will be poured at Half Moon Lake on June 1, 2021 and there will be a temporary 1-day closure at Half Moon Lake on June 8, 2021 as the concrete slab is put into place.

Half Moon Lake will get a new 8-foot by 20-foot dock with a 20-foot gangway. The old docks that are taken off the lake will be repurposed as fishing platforms at the Up Ice Pond in Evanston Wyoming.

Half Moon Lake will also get a 12-foot by 10-foot concrete slab poured on top of the already existing slab to improve boat launching activities. "The improvement of this ramp will require closing access to the launch for one day," said Pinedale Wilderness Manager, Jay Sammer. Signage will be in place to notify the public. "Also, the one parking spot down by the ramp at Half Moon Lake will be inaccessible for about 1-week while we get things staged," Sammer said.

The Bridger-Teton National Forest applauds the excellent work that Wyoming Game and Fish is doing to make hunting and fishing access better for all that travel through this amazing county.

For questions or concerns about these improvement projects, contact Jay Sammer, Pinedale District Wilderness and Recreation Program Manager at jason.sammer@usda.gov

---
Governor Gordon details planning process for use of Federal Recovery Plan funds (posted 5/17/2021)
Governor Mark Gordon media release
Governor Mark Gordon has identified the areas on which he will focus to administer federal dollars awarded to the state under the Coronavirus State and Local Fiscal Recovery funds provided by the American Rescue Plan (ARP) Act. Wyoming recently received the first half of the state's allocation.

The Governor plans to strategically utilize the $1 billion in federal funds to address the immediate and long-term impacts of the COVID-19 pandemic. The areas of focus he has identified are:
Health and Social Services
Education and Workforce
Economic Diversity and Economic Development

The Governor and his Cabinet are working to identify both short and long-term priorities within each area of focus. This work not only includes identifying the most significant problems the state is facing due to the pandemic, but also identifying the best opportunities for investment of these funds. A preliminary planning framework will be released in June. The process will include developing proposals for initiatives or new programs for consideration by the Legislature. Unlike previously received federal relief funds, the funds provided to the state by the ARP do not need to be immediately spent. The state has more than three years to spend these funds.The Governor emphasized his determination to use the funds strategically.

"We are going to be laser-focused on addressing Wyoming's short and long-term recovery, and on getting people back to work," Governor Gordon said. "I want to ensure we use these dollars to thrive in the long-term, because this federal spending is increasing debt on our children and the generations to come. We must not squander this opportunity to invest wisely in our state's future."

Counties and municipalities, as well as tribal governments, will also receive separate funding through the Coronavirus State and Local Fiscal Recovery Funds section of the ARP. Furthermore, the ARP provides additional funding to schools and higher education, child care stabilization and assistance, behavioral health clinics, community health centers, and other entities. For example, Wyoming will receive $360 million for education and $9 million for community health centers.

---



Sublette Public Information Sharing Dashboard available (posted 5/13/2021)
Sublette County Sheriff's Office
This week the Sublette County Sheriff's Office, in coordination with Sublette County Emergency Management with assistance from Teton County Emergency Management, have released a public information dashboard. This Sublette County Information Sharing Dashboard was designed to provide a one-stop shop for relative information to those who live in and visit Sublette County. This interactive dashboard currently includes the following tabs and information:

Current Sublette Incidents:
The Current Sublette Incidents tab is a map of Sublette County which will highlight all Emergency situations, weather hazards, public safety incidents and other notices the public should be made aware of.

Sublette County Sheriff, Sublette County Emergency
Management, Tip Top Search and Rescue media:SCSO-SCEMA-Tip Top media board is intended as a one stop shop for press releases and social media feeds from the Sublette County Sheriff's Office, Sublette County Emergency Management and Tip Top Search and Rescue

Sublette County Sheriff Data:
The SCSO Data dashboard shows calls for service, citations and warnings issued, as well as Sublette County Detention Center arrest data.

Crash Data:
The Crash Data dashboard is a new map dashboard to highlight the amount of traffic-related crashes in Sublette County. It shows crashes ranging from vehicle vs. animals to fatality crashes and maps out the crashes so users can see where the majority of incidents are occurring.

Weather:
The Weather Dashboard is an embedded link to the National Weather Service Situational awareness for weather related emergencies.

Snowpack and SNOTEL Data:
Snowpack and SNOTEL Data collection sites for Wyoming are displayed on this dashboard showing current snow water equivalent data.

Search and Rescue Data:
The Search and Rescue Dashboard shows all current and historical search and rescue missions across Wyoming since 2009.

Rivers and Water Flow data:
The Rivers dashboard shows all river flow monitoring stations in Wyoming to monitor for potential flooding.

Fire information, Fire Weather and Current Fire incidents:
The Fire Information dashboard links citizens to the Risk Management Assistance National Dashboard. The dashboard has multiple tabs within showing citizens fire weather, fire incidents, fire library, current smoke conditions and much more.

Wyoming Road Conditions:
The Road Conditions tab links to the WyoRoad.info map showing current Wyoming road conditions and closures.

Wyoming Geological Hazards Dashboard:
With Wyoming having many geothermal and geological features around the state, this tab will link citizens to the Wyoming State Geological Survey dashboard.

This Public information solution will continue to grow with new features and usability to keep the citizens of Sublette County informed with the goal of providing the most current information available on an array of topics. The Current Incidents tab is also available on our website http://www.sublettewyo.com/481/Curent-Incidents.

The full Sublette County Information Dashboard is available here or here

---
Governor Gordon issues Directive banning vaccine passports (posted 5/11/2021)
Governor Mark Gordon media release
Governor Gordon has issued a directive that prevents state agencies, boards and commissions from requiring "vaccine passports" to access state spaces and state services.

The directive instructs state agencies, boards, and commissions to provide full access to state spaces and state services, regardless of a constituent's COVID-19 vaccination status.

"Vaccine passport programs have the potential to politicize a decision that should not be politicized," Governor Gordon said. "They would divide our citizens at a time when unity in fighting the virus is essential, and harm those who are medically unable to receive the vaccine. While I strongly encourage Wyomingites over the age of 16 to get vaccinated against COVID-19, it is a personal choice based upon personal circumstances."

The Governor's directive further urges counties, cities, and towns in Wyoming, as well as encourages private businesses, to provide full access to public spaces and services, regardless of an individual's vaccination status.

Governor Gordon noted that more than 180,000 Wyomingites have received one of the effective COVID-19 vaccines safely. Both the Governor and First Lady have been vaccinated, and he continues to urge residents to choose to receive the vaccine to protect lives and help Wyoming move closer to ending the pandemic.

A copy of the Governor's directive may be found here.

---
Elk calving season begins in Yellowstone National Park (posted 5/7/2021)
You are responsible for your own safety
Yellowstone National Park
Yellowstone National Park put out this advisory for visitors and their staff.
• Elk calving season will begin soon in Yellowstone National Park.
• Cow elk are much more aggressive towards people during the calving season and may charge or kick.
• Stay alert. Look around corners before exiting buildings or walking around blind spots: cow elk may bed their calves near buildings and cars.
• Keep at least 25 yards from elk at all times.
• If an elk charges you, find shelter in your vehicle or behind a tall, sturdy barrier as quickly as possible.
• You are responsible for your own safety.
• Visit Elk for more information.
_________________________

COVID-19 reminder for Yellowstone National Park:
Face masks are still required on NPS-administered lands where physical distancing cannot be maintained and in all NPS buildings and facilities. Park operations vary based on local public health conditions. Before visiting, please check the park website to determine its operating status. Additional details are available at www.nps.gov/coronavirus.

---
9 Wyoming rest areas to reopen for the summer travel season (posted 5/6/2021)
Wyoming Governor Mark Gordon
Governor Mark Gordon has directed the Wyoming Department of Transportation (WYDOT) and Wyoming Office of Tourism (WOT) to partner to temporarily reopen and operate nine previously closed rest areas for at least the duration of the 2021 tourist season.

"With the summer season just around the corner, I'm glad we will be able to reopen these facilities to travelers," Governor Gordon said. "We are glad to have this chance to find a temporary solution."

WYDOT and WOT along with the Governor's office will work together to secure a temporary federal funding source to allow the nine rest areas throughout the state to reopen.

"WYDOT is extremely grateful to Governor Gordon and Director Shober for identifying new federal funds to temporarily reopen our rest areas for the tourist season," said WYDOT Director K. Luke Reiner.

Officials closed the rest areas in June 2020 as a cost-savings measure due to budgetary shortfalls.

The nine rest areas include:
Lusk on US 18
Guernsey on US 26
Greybull on US 16
Moorcroft on I-90
Star Valley on US 89
Sundance on I-25
Upton on US 16
Orin Jct on I-25
Chugwater on I-25

"Each of these nine rest areas are a valuable tourism tool, said Diane Shober, executive director of the Wyoming Office of Tourism. "Certainly, a clean facility is important to the visitor experience, but it is also a powerful marketing platform to distribute travel guides and other trip-planning resources. As travelers are stretching their legs, they are also gathering information on local events, attractions, restaurants, campgrounds and lodging, which all can lead to extended stays and increase visitor spending."

The rest areas should reopen ahead of Memorial Day weekend.

---
Business Directory
Click here for
Advertising Information