Regional News (posted 2/21/17)
UW to Serve as Repository for Ancient Mammal Fossils Found in Natural Trap Cave University of Wyoming, Feb. 20, 2017

'Amazon tax' bill update Buckrail – Jackson Hole news, Feb. 20, 2017

How much snow is too much on your roof? Buckrail – Jackson Hole news, Feb. 17, 2017

---
2nd Annual Sportsman's Expo in Rock Springs May 11-14 (posted 2/20/17)
Businesses and organizations that are involved in sports activities are invited to promote their businesses at the 2nd annual Sportsman's Expo which will be held May 11-14th in Rock Springs at the Sweetwater Events Complex. There will be vendors highlighting fishing, hunting, camping, boating, ATV, UTV, snowmobiling, skiing, wake boarding, golfing, knives, guns, sporting gear equipment, metal art, rustic decor, Dutch oven cooking, baseball, football, dance, wrestling and more.

The promoters are looking for businesses and organizations supporting sportsmen, land, wildlife and youth education, activities and expertise to attend the Expo. There will also be a variety of classes and events that children can participate in along with several other instructional courses. There will be personal protection and/or safety classes that will be available each day during the Expo.

For more information about the Western Wyoming Sportsman's Expo, call Debi at 307-752-5359, visit WyomingHomeShow.com or email wyominghomeshow@msn.com.

---
Scam Alert - Publisher's Clearing House / Lottery / Advance Fee Scam (posted 172/20)
Sweetwater County Sheriff's Office
ROCK SPRINGS, WYOMING On Friday, Feb. 17, the Sweetwater County Sheriff's Office issued an alert concerning the reappearance in Sweetwater County of the "Publisher's Clearing House / Lottery Scam / Advanced Fee Scam."

Sheriff Mike Lowell said Sweetwater County residents are receiving letters purportedly from Publisher's Clearing House informing them they have won $550,000. Enclosed with the letter is a check made out for $7,897.00, or a similar amount.

The letter, which is personally (though crudely) addressed, tells the "winner" that they must contact a "Claims Manager" at a certain telephone number in order to claim their "prize" BEFORE depositing the check.

The letter also emphasizes that, "As required by Federal and State laws, your security code and prize information must be Kept strictly confidential which means, you are precluded from discussing your win with third parties." (In other words, do not call the cops.)

The bogus "Claims Manager," once contacted, informs the intended victim that they must, in advance, pay what he calls a tax or processing fee. The check can then be deposited and the "winner" can look forward to receiving his or her half-million dollar prize.

The check, of course, is worthless, there is no prize, and the victim is out the "tax" or "processing fee."

"The letter, and, especially, the check, look convincing; that's all part of the scam," said Lowell. "The two things to remember are these: You are never going to win anything in a lottery or promotion you did not enter yourself, and NO legitimate lottery, promotion, or giveaway is ever going to ask for cash in advance."

Authorities say many of the these lottery scams are operated by violent gang organizations in Jamaica and target American seniors in particular; it is estimated that U.S. residents are bilked out of around $300 million annually by lottery scams alone.

The Sheriff's Office recommends the Federal Bureau of Investigation's website at www.fbi.gov/scams-safety/fraud as an excellent source of information to help people protect themselves against fraud and scams of all kinds.

---
Be cautious handling baby poultry (posted 2/20/17)
Wyoming Department of Health
Soft and cute doesn't always mean safe from health risks when it comes to baby poultry, according to a Wyoming Department of Health (WDH) representative.

"It's the time of year when many Wyoming residents may be making plans to purchase baby poultry for their farming operations or for backyard flocks," said Tiffany Lupcho, a WDH epidemiologist. "Although these birds appear healthy and clean, they can carry harmful germs."

Salmonella is one bacteria found in animals, including baby poultry, that can cause diarrhea, fever, stomach cramps and other severe symptoms in humans. Young children, the elderly, pregnant women, and those with a weakened immune system are at an increased risk of developing severe symptoms.

Wyoming regularly has cases of Salmonellosis reported in humans from contact with live poultry. Many of these cases are often part of larger, multistate outbreaks involving contact with baby chicks. According to the Centers for Disease Control and Prevention (CDC), over the past several years the number of outbreaks of Salmonella from baby poultry has been increasing.

"Baby birds are soft and cute so many people want to touch, hold, or even snuggle with them," said. "Unfortunately, this behavior can be risky because baby birds can have germs on their body and in their droppings."

Lupcho said germs can also be found in bird cages and coops. "If someone puts their hands in or near their mouth after handling birds or touching a bird environment, they can become infected, leading to illness," she said.

"Pet ownership is extremely rewarding and there are many great benefits from having a backyard flock of chickens or larger operation," Lupcho said. "We want people to be aware of the risks so they can protect themselves and their families."

Recommended steps to reduce health risks associated with live birds include:

- Children younger than 5 years of age, elderly persons or people with weak immune systems shouldn't handle or touch chicks or other live poultry.
- After touching live poultry or anything in the area where they are found, wash hands thoroughly with soap and water. If soap and water aren't available, use hand sanitizer.
- Don't let live poultry inside the house, in bathrooms or in areas where food or drink is prepared, served or stored.
- Don't eat or drink around live poultry, touch them with the mouth or hold closely to the face.
- Clean equipment or materials used in caring for live poultry outside the house, such as cages or feed or water containers.

---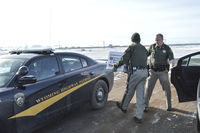 Wyoming Highway Patrol Lt. Tim Romig holds the door for Trooper Dave Redding at the Albany County line as Redding pulls platelets from the back of Romig's patrol car near Cheyenne, Wyoming, Feb. 3. The platelets were needed at the hospital in Rock Springs. Photo courtesy Wyoming Department of Transportation.

Patrol provides life-saving service with 'blood runs' (posted 2/16/17)
Wyoming Highway Patrol
Snow blows across the roadway, creating areas of ice even where the sun shines.

"11 degrees … there's a potential for black ice." He scans the roadway for gravel and dry pavement before pointing out a dry line. "Do you see that gray area? I'm keeping my tires on that line." Wyoming Highway Patrol Lt. Tim Romig is always reassessing the road to determine how he can make his delivery safely, even while traveling more than 110 mph in his Dodge Charger on a day on which the forecast calls for winds between 55 and 75 mph in areas of Southeast Wyoming.

Romig raced west on Interstate 80 on Feb. 3 not to pursue a speeding driver but to deliver platelets.

Troopers call the service a "blood run."

When a hospital in Wyoming runs out of blood or platelets, it puts a call in to the WHP. If the event meets WHP requirements, several troopers are organized to make a relay run from Cheyenne to wherever the blood may be needed. The first available trooper is sent once the call is made.

"It must be an emergency," Romig said. "We run 'lights on.' But it's a life-saving service we provide."

Regardless of the conditions – even if roads are closed because of weather – the troopers answer the call.

"Someone's life hangs in the balance," he said. "The hospital can save someone's life with (the blood)."

Blood runs are needed several times a month. And, sometimes, there may be more than one run in a day.

"Sometimes hospitals run completely out of blood, and they have someone in surgery," Romig said. "Sometimes the need can be because of a bad crash."

Troopers can complete the run faster as a relay. The Feb. 3 run from Cheyenne to Rock Springs would call for four-five troopers, Romig said. Because each trooper knows the region and drives a portion of the section they run twice, they know what the conditions will be. Additionally, he said the troopers are more attentive than if they had to drive two-three hours by themselves.

"We try to do these as quick as we can," he said. But safety is always paramount, he adds. He tries not to surprise drivers. He doesn't want them to change lanes too quickly or anything else that could present a danger. He's careful not to pull too close to vehicles. He wants a clear path but doesn't want them to think they themselves are being pulled over.

"People can't always hear the siren or see the lights until the patrol car is close," Romig said. He calls it outrunning your siren.

"These people don't know how important what we're carrying is," he said.

Romig met Trooper Dave Redding at the Albany County line. The 26-mile trip from United Blood Services in Cheyenne to the county line took around 18 minutes. Romig estimates the average speed of the trip was around 90 mph.
Romig said there are more people than just the troopers who are involved.

"Without the plows and sanders, we wouldn't be able to drive through on these roads," he said. "Without the mechanics we wouldn't have serviceable vehicles. And without dispatch and the (Transportation Management Center), we wouldn't have the information we need to make the trip. All of this ties together and saves someone's life."

All of this effort is made despite that everyone involved will never even know who they helped.

Always vigilant and working to keep the roads safe, Romig spots a vehicle parked on the side of the road on the return trip to Cheyenne and radios in to check to see if another trooper has already made a welfare check on it. After confirming that they have, he drives on, ready for the next life-saving call.

Click on this link for more photos

---
Cache Creek Road temporarily closed due to conditions (posted 2/16/17)
Bridger-Teton National Forest
JACKSON, WYOMING, FEBRUARY 16, 2017 – The Cache Creek road on the Bridger-Teton National Forest, Jackson Ranger District, is temporarily closed to vehicle traffic from the edge of town to the trailhead. People are still welcome to recreate in the drainage but no parking is allowed in front of the road barrier or along Upper Cache Creek Drive. There are small parking areas available at May Park which is approximately 1 mile from the trailhead and at Mike Yokel Park which is a little over a mile from the trailhead. Due to icy, narrow roads, and wildlife in the area, people walking with dogs are advised to leash their dog while on the town roads and leashes are required on the Cache road through the trailhead area.

The Cache Creek road was temporarily closed on Thursday February 9th when conditions significantly deteriorated and the snow base turned to slush. These conditions exceeded the capability of the Forest Service pick-up plow to move the slush and no other equipment was available. Despite the road closure, people attempted to drive up to the trailhead over the weekend and many vehicles became stuck. The subsequent cold temperatures have now created a one-way, frozen lane on the hill leading to the trailhead. The one lane is VERY icy and narrow and does not allow safe passage for both incoming and outgoing vehicle traffic. Forest Service personnel attempted to plow the road on Monday February 13th but found that it could not be accomplished without damaging the small plow or potentially tearing up the road. Thus, the decision was made to keep the road closed until temperatures warm enough to soften the ice and enable widening the road. Similar conditions exist at Nelson Drive. The trailhead is not plowed and people driving should plan to park along Broadway Ave and walk to the trailhead.

Teton County Parks and Recreation Department will continue grooming the Cache Creek trail on Friday. District Ranger Dale Deiter said that he recognizes that the longer walk is inconvenient but hopes that people will still visit the drainage and take advantage of the chance to experience Cache Creek with fewer people around. The area will continue to be patrolled with conditions checked daily. Warmer temperatures are forecasted, increasing the hope that the road can be opened early next week. In the meantime, recreationists may also want to explore the many alternative areas available to ski, walk, bike, or exercise your dog.

Check out the Jackson Hole Nordic Report at www.jhnordic.com for ideas or contact the Bridger-Teton National Forest at 307-739-5500 for suggestions.

---
Yellowstone recruiting for 2017 Youth Conservation Corps program (posted 2/16/17)
Work-based park education program for youth ages 15-18, deadline to apply is March 1, 2017
National Park Service
MAMMOTH HOT SPRINGS, WYOMING - How would you like to help Yellowstone while you work, learn, play, and serve in the world's first national park? Yellowstone National Park is currently recruiting for the 2017 Youth Conservation Corps (YCC) program, a residential work-based education program for young men and women between the ages of 15 and 18. Visit the Youth Conservation Corps (YCC) Program (https://www.nps.gov/yell/learn/management/yccjobs.htm) for application materials.

Completed application materials must be received no later than March 1, 2017.

YCC is designed to develop an appreciation for the nation's natural resources and heritage through unique educational, recreational, and work experiences. Yellowstone recruits youth from all social, economic, ethnic, and racial backgrounds for the program. Corps members work together with National Park Service staff to complete conservation projects such as rehabilitation of trails, campground restoration, and a wide variety of resource management, visitor support services, and maintenance projects.

Participants and staff develop their job and leadership skills while further exploring personal values, gaining self-esteem, expanding their awareness of work ethics, and learning firsthand about environmental and conservation issues. Corps members will also participate in evening and weekend recreational activities and discover the many options for careers in the National Park Service and other land management agencies.

Yellowstone will offer two, month-long YCC sessions, June 11 to July 12, and July 16 to August 16. Sixty youth will be selected from across the country to participate in the program.

No previous wilderness experience is required, but a willingness and ability to work in a physically active outdoor program, getting along well with others, and maintaining a positive attitude are essential for success.

Participants will be required to live on location, and room and board will be provided at a minimal cost. Wages will be set at the federal minimum wage of $7.25 per hour. Applicants must be citizens of the United States and be 15 years of age by June 11, but not over 18 years of age by August 16.

Questions may be directed to YELL_YCC_Office@nps.gov.

The Yellowstone YCC Program is funded by park entrance fees and Yellowstone Forever.
---
U.S. Senate pages wanted for summer 2017 (posted 2/16/17)
Deadline to apply is March 1, 2017
U.S. Senator Mike Enzi
Washington, D.C. – U.S. Senator Mike Enzi, R-Wyoming, is encouraging Wyoming high school students to apply to be a Senate page for the summer sessions in Washington, D.C.

There are a total of 30 page positions in the United States Senate each session and Enzi is fortunate to have the opportunity to sponsor a young adult from Wyoming to serve in one of these positions.

The deadline for summer applications is March 1, 2017.

"The page program allows students to have a front row seat during debates in the U.S. Senate," said Enzi. "The program will provide experiences that participants will carry with them forever."

Page duties consist primarily of delivering correspondence and legislative material at the Capitol. Other duties include preparing the Senate chamber for sessions and carrying bills and amendments to the appropriate people on the Senate floor.

Summer page eligibility is limited to rising high school juniors and seniors this summer who will be 16 or 17 years old on or before the date of the appointment. Applicants must have a minimum grade point average of 3.0.

Pages live in Webster Hall located near the Capitol and receive a stipend to cover the cost of the residence. Breakfast and dinner are provided each day.

The first summer session runs from June 12 to June 30, and the second summer session runs from July 10 to July 28. The application and additional information can be found by going to www.enzi.senate.gov. Further questions can be directed to Dianne Kirkbride in Senator Enzi's Cheyenne office at 307-772-2477 or Dianne_Kirkbride@enzi.senate.gov.

---
Skier fatality in Couloir on South Teton (posted 2/16/17)
Grand Teton National Park
MOOSE, WYOMING - Park rangers recovered the body of a backcountry ski mountaineer at the bottom of a couloir on the south aspect of the South Teton Wednesday, February 15, at approximately 6 p.m. The skier is identified as John "Jack" Fields Jr., age 26, a current resident of Jackson, Wyoming.

Teton Interagency Dispatch Center received a call for assistance at approximately 11a.m. Wednesday with a report of a backcountry skier who fell in the area of the Amore Vida Couloir and was not responding via his radio. The three other members of the party remained above the couloir and made the call for help.

Park rangers requested the Teton County Search and Rescue helicopter and conducted an aerial reconnaissance of the area. The victim was visually located. The three park rangers on board the helicopter were flown to Snowdrift Lake, and skied and hiked to the scene. Upon arrival at approximately 1:45 p.m. Fields was determined to be deceased. It is believed he died from injuries sustained in the fall. His body was removed via a helicopter long-line operation and transported to the Sawmill Ponds Overlook near the north end of the Moose-Wilson Road. The body was turned over to the Teton County Coroner's Office.

Fields was in a party of four that had summited the South Teton and planned to ski down via the Amore Vida Couloir. On the approach to the Amore Vida Couloir, Fields fell and slid out of sight from the other individuals. He fell approximately 1,400 vertical feet in an unnamed couloir between Amore Vida Couloir and the southeast face of the South Teton.

As the body was being recovered, the other three individuals in the party waited at a location approximately 1,300 feet below the summit of the South Teton. They waited for snow conditions to improve before ascending back to the summit of the South Teton and making their descent down Garnet Canyon. The party arrived safely at the Taggart Lake Trailhead at 10:30 p.m.

Park rangers report highly variable conditions in the backcountry at this time. Snow can vary from soft and wet surfaces to rock-hard wind slab or breakable crusts with subtle changes in aspect and elevation.

---
Scam Alert - Swindlers are calling, claiming to be with Sweetwater County government (posted 2/15/17)
Sweetwater County Sheriff's Office
ROCK SPRINGS, WYO. - February 14, 2017 A telephone scam that was in circulation in Sweetwater County several years ago has now resurfaced, though with a new twist.

Sweetwater County Sheriff Mike Lowell said that swindlers are calling people and identifying themselves as either law enforcement officers or officials of a bogus "Sweetwater Civil Processing Unit." The caller, who often has a thick accent, tells his intended victims that someone will be coming by with a warrant or other official paperwork.

The callers are rude - even threatening - and eventually ask for a credit card or debit card number to settle the phony "legal matter." They may also direct that the person purchase a reloadable debit card and forward funds.

In the past, the caller identification systems many people have on their phones showed the caller's number to be from another state, often on the east coast, but in these recent instances the caller's number is falsified to appear that it's coming from a local number listed to the Sweetwater County Sheriff's Office.

"It's all part of the scam, to make it look more convincing," said Lowell. "These con artists are often quite proficient when it comes to technology. They use techniques and systems that make it appear that the calls are local, when in fact they are not."

Officials point out that, first of all, no agency of the criminal justice system is going to call to demand money or payment for fines, missed jury duty, overdue traffic tickets, etc. If you receive a call like this, make a note of the agency or department that the caller claims to be with and also note the number that appears on your caller ID.

Next, hang up, then follow up, using the information you've noted. Check with the organization the caller claimed to be with. And most important of all, NEVER provide such a caller with any personal or financial information.

For more information on this and many other fraud schemes, law enforcement officials recommend the FBI website at http://www.fbi.gov/scams-safety/fraud

---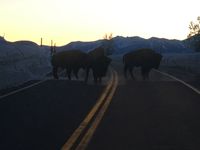 Bison on road north of Jackson. Photo by Larry McCullough.

Bison on roads in Park, motorists warned to be alert and slow down (posted 2/13/17)
National Park Service – Grand Teton National Park
MOOSE, WYOMING - Due to snow accumulations and above normal winter conditions, bison within Grand Teton National Park are moving to find food and recently have been using U.S. Highway 89 as their travel pathway. Grand Teton National Park Superintendent David Vela said, "It is imperative that motorists traveling Highway 89 between Moose and Moran Junction remain alert and slow down due to migrating bison in and along the roadway."

Due to deep and dense snowpack, and to conserve energy, several groups of bison have been traveling roadways in the past week. Vela said park rangers, wildlife biologists and road crew members have been helping the bison navigate safely and to provide plowed areas for them to move about.

A bull bison was killed early Saturday morning north of Deadmans Bar. Due to evidence at the scene, park rangers believe the animal was hit by a semi-truck.

On Saturday, park road crews plowed the Antelope Flats Road to facilitate safe movement of bison. The road remains closed to vehicle travel, other than a one-mile section that is routinely plowed from U.S. Highway 89. Variable message signs have been placed along U.S. Highway 89 alerting drivers to be alert to bison on the road and drive with caution. If motorists meet bison on a roadway, please reduce speed and when safe, pass animals slowly to avoid further stress on the wildlife.

Bison move to lower elevations in the winter to find food, especially when snow depths increase and it becomes difficult to access food. They have large shoulder and neck muscles that allow them to swing their heads from side to side and clear snow to find vegetation. They have thick skin and underfur, long guard hairs and layers of fat that help to keep them warn throughout the winter. They tend to be social animals and form herds, or travel with other bison. On average, a male bison may weigh up to 2,000 pounds, while a female will weigh approximately 1,000 pounds. The Jackson bison herd is estimated at approximately 670 animals that reside throughout the year in the park, Bridger-Teton National Forest, and National Elk Refuge.

Always be on the lookout for wildlife on and near roadways and observe posted speed limits, including a 45 mile-per-hour night time speed limit on U.S. Highway 89. When winter road conditions exist, please drive accordingly. Any collision with wildlife must be reported as soon as possible to Teton Interagency Dispatch Center at 307-739-3301.

Visitors are required to maintain a safe distance when viewing bison, 25 yards at a minimum. The safe viewing distance for bears and wolves is 100 yards, while all other wildlife should be given at least 25 yards of space. Please use a pullout or parking lot to view wildlife, and use binoculars and telephoto lens. It is important to not disturb or create excess depletion of an animal's energy during the winter.
---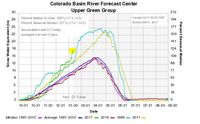 Mountain snowpack across Wyoming is 115-125% of median. Graphic from National Weather Service / National Oceanic and Atmospheric Administration

Upper Green River Basin ahead on snowpack (posted 2/11/17)
Mountain snowpack across Wyoming is 115-125% of median. In January, Wyoming precipitation was 170-180% of average. Above normal snowmelt streamflow volumes are expected across most major basins in Wyoming once things begin to melt, which usually begins about mid-April. Mountain snowpack is usually all gone by about the 1st of July.
____________________________________

Thank you to Bill and Mike Boender for their contribution to this report

---
Business Directory
Click here for
Advertising Information