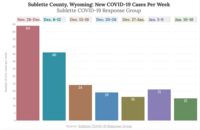 Sublette County COVID-19 cases

Sublette COVID-19 update – January 17, 2021 (posted 1/17/2021)
Sublette COVID-19 Task Group
Sublette County ended the week with 15 new COVID-19 cases, a decline from 21 cases the week prior, and a substantial decrease from the surge the county experienced in November.

Our neighbors to the north have experienced a recent surge in cases. Teton County is averaging about 39 cases per day, and the COVID-19 variant first identified in the United Kingdom has been detected in Teton County. This variant seems to spread more easily and quickly, which may lead to more cases of COVID-19. The CDC reports that there is currently no evidence that this variant causes more severe illness or increased risk of death. However, an increase in the number of cases will put more strain on health care resources, lead to more hospitalizations, and potentially more deaths.

Please continue to follow preventative measures to stop the spread of COVID-19: wear a mask, maintain physical distancing, stay home when sick, and practice good hand hygiene.

Related Links:
www.sublettecovidwy.com Sublette COVID-19 Task Group

---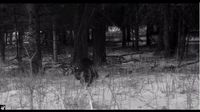 Wolverine

Wolverine spotted in Yellowstone National Park (posted 1/16/2021)
A rare sighting of a wolverine has been reported at Yellowstone National Park. Park officials posted the finding on their Facebook page on January 13th. Biologists were excited to find the elusive mammal when it triggered a remote trail camera on December 4, 2020 in a snow-covered forest outside the Mammoth Hot Springs area.

In the Facebook comments, people report wolverine sightings in Lamar Valley in 2010 and 2019, near Heart Lake in 2020, near the east entrance in about 2012 and 2017, in the Canyon area around 2018, and reports of other sightings in the 1990s.

See this link for the trail cam video.

---
Unemployment Insurance begun (posted 1/16/2021)
Sublette COVID-19 Task Group
The Wyoming Department of Workforce Services has begun issuing payments to Unemployment Insurance (UI) claimants for Federal Pandemic Unemployment Compensation (FPUC). This program provides $300 per week in addition to each claimant's UI benefit. This additional benefit is applied automatically to all UI claims that are receiving at least $1 in benefits. There is no need to file an additional application for this benefit, and the first payment will include back pay for eligible claims back to Dec. 27.
---
UK COVID-19 variant found in Teton County (posted 1/16/2021)
Strain doesn't make people sicker, but is more contagious
Sublette COVID-19 Task Group
The Wyoming Department of Health (WDH)) confirmed the state's first case of the "UK variant," or B.1.1.7 COVID-19 variant, has been identified in a Teton County adult male.

While further investigation is ongoing, early information suggests exposure to the virus variant occurred locally.

Dr. Alexia Harrist, state health officer and state epidemiologist with WDH, said the department is not surprised and expected the variant would be found in Wyoming at some point.

"It is not unusual for variants to emerge with viruses and that's been happening during this pandemic with COVID-19," Harrist said. "However, this strain is more transmissible than previous COVID-19 variants and that is a serious concern."

Harrist noted the UK variant does not appear to cause illnesses to be more serious. "But a variant spreading more easily between people means the number of infections could grow causing more illnesses, hospitalizations and deaths," she said. "That's something no one wants."

"So, it is still very important for Wyoming residents to wear masks, to practice physical distancing and avoid large gatherings and to stay home when they are ill unless seeking medical care," Harrist said.

"We also don't want people to avoid testing if they may have been exposed or are have symptoms that could be COVID-19," Harrist said. In addition to local testing options, WDH offers free at-home COVID-19 testing through a company called Vault Health. These tests are available to Wyoming residents at no cost; insurance is not necessary. Learn more here.

Currently authorized COVID-19 vaccines are believed to be effective against the UK variant strain. Wyoming vaccine distribution information can be found here.

While Wyoming's initial case of the B.1.1.7 COVID-19 variant was discovered at a commercial healthcare lab, the Wyoming Public Health Laboratory (WPHL) is also monitoring samples for this and other COVID-19 variants. WPHL is part of WDH.

---
DHS launches 'Be Your REAL ID Self' Public Awareness Campaign (posted 1/16/2021)
U.S. Department of Homeland Security
The Department of Homeland Security (DHS) has begun a new nationwide public awareness campaign, "Be Your REAL ID Self" to promote awareness of the REAL ID requirements and encourage the public to act before the October 1, 2021 full enforcement deadline.

Just over 8 months remain until the October 1, 2021 REAL ID full enforcement deadline goes into effect at all federally regulated airports, federal facilities, and nuclear power plants.

The Department continues to urge Americans to obtain a REAL ID-compliant card or acceptable alternative, such as a U.S. passport or passport card prior to the October 1, 2021 enforcement deadline.

Passed by Congress in 2005 following a 9/11 Commission recommendation, the REAL ID Act establishes minimum security standards for state-issued driver's licenses and identification cards and prohibits federal agencies, like the Transportation Security Administration, from accepting licenses and identification cards for official purposes from states that do not meet these standards.

Security standards include incorporating anti-counterfeiting document security features into licenses and identification cards, preventing insider fraud in the production of those licenses and cards, ensuring security of production facilities, and requiring presentation and verification of information to ensure a person is who he or she claims to be. It also prohibits federal agencies from accepting non-compliant licenses and identification cards for accessing federal facilities, entering nuclear power plants, and boarding federally regulated commercial aircraft. These standards have significantly improved the reliability and accuracy of state-issued driver's licenses and identification cards across the country.

To avoid confusion regarding the REAL ID Act requirements and enforcement milestones, residents can use the following guidelines to be fully informed and prepared.

Check your state-issued driver's license or identification card for the star. REAL ID-compliant cards have a star marking in the upper left- or right-hand corner. Most acceptable alternatives, such as state-issued Enhanced Driver's Licenses (EDLs), which are available in five states and can be used for entering the U.S. at land and sea border crossings, do not have the star, but are acceptable for official REAL ID purposes. For more information on EDLs, please go to www.dhs.gov/enhanced-drivers-licenses-what-are-they.

Bring identity documents to the airport that are acceptable for flying domestically. Check to see if you have the proper identification to fly at tsa.gov/travel/security-screening/identification. TSA's website has a list of acceptable forms of identification that individuals may use to verify their identity at the screening checkpoint. If you need to obtain a new form of ID, please allow enough processing time before you travel. For example, the current processing times for U.S. passports are approximately 10 weeks for routine service and two to three weeks for expedited service.

Check with the federal agency you plan to visit, in advance, to find out whether identification is required, and if so, what types of identity documents are acceptable. While most Federal agencies will continue to accept legacy and non-compliant marked driver's licenses and identification cards until the October 1, 2021 full enforcement deadline, some – like Department of Defense facilities and posts – may no longer accept them.

Read answers to REAL ID frequently asked questions at www.dhs.gov/real-id-public-faqs.

DHS continues working closely with all states and territories to implement REAL ID Act requirements.

---
Uproar ensues in Wyoming over Liz Cheney vote to impeach President Trump (posted 1/16/2021)
Pinedale Online!
Backlash has been swift in Wyoming towards Congresswoman Liz Cheney after she voted to impeach President Donald Trump after protesters stormed the United States Capitol on Jan. 6. A petition has been posted on the change.org website calling for Cheney to be recalled. The petition reads: "Liz Cheney does not speak for the people of Wyoming we have had enough of these swamp people this petition might not do much but maybe it will tell her we will not sit by and take it anymore."

Wyoming is not one of the states that has a recall option, but supporters are continuing to take signatures as a way to let their voices be heard. As of Saturday morning, January 16th, over 29,000 people had signed the petition.

The recall of local elected government officials in Wyoming is governed by Wyo. Stat. §15-4-110. This statute applies to "cities and charter counties whether or not they have adopted recall provisions. In Wyoming, the right of recall extends to any elected officer of a city or town that is operating under the commission form of government. It does not extend to county officials, officials of special districts, members of school boards, members of the Wyoming State Legislature, representatives from Wyoming to the U.S. Congress or to statewide constitutional officers such as the Governor of Wyoming."

Other options for citizens to express their opinions when they want their voices heard include writing or calling their political representatives, civil discourse and debate with friends, postings on social media, peaceful protests, and making informed choices at the ballot box next election cycle.

Related Links:
Cheney says she will vote to impeach Trump Casper Star-Tribune, trib.com, January 12, 2021
Rep. Cheney crosses party lines, Trump impeached for 2nd time in U.S House buckrail.com, January 13, 2021
Petition Made to Recall Liz Cheney mybighornbasin.com, January 14, 2021
Petition gains nearly 25k signatures asking to 'Recall Liz Cheney' buckrail.com, January 15, 2021
Recall Petition change.org
Laws governing recall in Wyoming ballotpedia.org

---
Sublette COVID-19 update – Jan. 14, 2021 (posted 1/14/2021)
Sublette COVID-19 Task Group
Thursday, Jan. 14, 2021 Update:
The Wyoming Department of Health (WDH) reports 1 new COVID-19 case in Sublette County today. Sublette County has 13 active cases, with 612 recoveries, and 7 deaths, for a total of 632 cases since the pandemic began.

Sublette County Public Health reports there are 34 people in isolation or recommended quarantine in the Big Piney, Boulder, Bondurant, Daniel and Pinedale areas.

From Sublette County Public Health:
Sublette County Public Health has administered 300 doses of the Moderna COVID-19 vaccine to Sublette County residents. Public Health is currently vaccinating the group outlined on line 3 of the attached vaccination prioritization schedule.

50 doses: Rural Health Care District providers, staff, lab, emergency management services, and Public Health staff, Dec. 29-30, 2020.
50 doses: Sublette Center residents and staff, Jan. 5, 2021.
60 doses: fire departments, law enforcement, search & rescue, pharmacy, dental staff, Department of Family Services, Jan. 6-7, 2021.
50 doses: 70+ age group at Sublette County Fairgrounds, Jan. 11, 2021.
90 doses: 70+ age group at Museum of the Mountain Man, Jan. 14, 2021.

• Sublette County is receiving 100 doses of the Moderna vaccine per week. Public Health receives doses weekly, and then calls individuals that have registered to schedule an appointment.
• Administration of second doses will begin the week of January 25.
• 100 doses will be given on January 21, with priority given to those 80+ years of age. Scheduling for these appointments was completed this week.
• There are more than 300 people in the 70+ group who remain on the registration list at this time. Unless Sublette County is allotted an increase in the 100-dose per week allotment, we will be scheduling into late January/February for individuals in this age group.
• Please DO NOT call Public Health to see where you are at on the list. We are overwhelmed with calls right now and we will not be estimating wait times. You will be called to schedule your appointment time.
• Sublette County Public Health will increase vaccine drive-thru clinics appointments as we get more vaccine.
• Vaccination registration remains open for those in the 70+ age group. To read vaccine updates, or to register, go here:
https://www.sublettewycovid.com/vaccines

Related Links:
www.sublettewycovid.com Sublette COVID-19 Task Group

---
Wyoming Legislature update (posted 1/14/2021)
Majority of the Wyoming State Legislature
Thursday, January 14, 2021
House Bill Count: 66
Active House Bills: 66

Senate Bill Count: 63
Active Senate Bills: 63

FAQs:
LSO General Session FAQ Sheet

Media Coverage:
New Forecast Lowers Revenue Shortfall for Wyoming, but Education Funding Still a Challenge KPVI | Camille Erickson, January 13, 2021

An amended financial forecast released by the State on Tuesday presents a better revenue outlook for the Equality State compared to previous estimates calculated during the early days of the COVID-19 pandemic.

Back in May, state experts predicted Wyoming could face a $1.5 billion revenue decline through June 2022 in light of the pandemic and downturn in energy. But dramatic cuts to the state budget, coupled with better-than-expected oil and coal activity over the past several months, led state forecasters to scale back their forecasts for the revenue shortfall. In the latest report, estimates for the fiscal years 2021-22 budget cycles improved by about $132 million, compared to forecasts made in October.

Lawmakers Begin Work with Positive Revenue News Wyoming Public Media | Bob Beck, January 13, 2021

The Wyoming Consensus Revenue Estimating Group (CREG) said the state's revenue picture looks brighter. The latest CREG forecast shows an $82 million improvement from October. The news came as the legislature held an opening day session.

A lot of focus has been on budget cuts, especially to programs in the Wyoming Department of Health. Cheyenne Rep. Jared Olsen said the revenue picture is trending in the right direction.

Wyoming Legislature 2021: Fuel Tax Increase, Per-Mile Fee Eyed to Fund Highway Work Cowboy State Daily | Jim Angell, January 13, 2021

Wyoming's Legislature is looking at two ways to raise money for maintenance and repair of the state's roads, a fuel tax increase of 9 cents per gallon and a proposal to charge vehicles for every mile they drive in the state.

The two bills, both sponsored by legislative committees, have both been pre-filed for consideration by lawmakers when they reconvene on Jan. 27 for an eight-day virtual session.

The majority of state lawmakers who attended the kickoff of the 66th Wyoming Legislature in person Tuesday defied public health orders by not wearing face coverings.

Gov. Mark Gordon and Public Health Officer Dr. Alexia Harrist issued health orders Dec. 7 that require Wyoming residents to wear face coverings in indoor public settings. Gordon signed the mask mandate after months of appealing instead to residents' personal responsibility failed to slow COVID-19 case counts, hospitalizations and deaths. The order, extended on Jan. 9, applies to state government buildings including the Capitol.

Gov. Gordon Tells the Legislature that He's Focused on Energy and the Budget Wyoming Public Media | Bob Beck, January 13, 2021

Wyoming Gov. Mark Gordon said the state is prepared to protect its energy industry against the Biden administration, but he is concerned that regulations could continue to hurt the state's bottom line.

During an opening day address to legislators, Gordon said Wyoming needs to find new ways to even out its revenue picture.

Governor: Wyoming Will Fight Any Biden Regulations on Energy Buckrail | Associated Press, January 13, 2021

Wyoming will push back against any federal regulations brought by the Biden administration that hinder development of fossil fuels and other resources, Gov. Mark Gordon told state lawmakers kicking off their annual session Tuesday.

"There is good reason to be concerned the actions of the next administration will further dampen the economic outlook for energy here in Wyoming," Gordon said in a video address.

Gordon Backs Fossil Fuel, Talks Need to Stabilize Revenue Cody Enterprise (Republished from Wyoming Tribune Eagle) | Tom Coulter, January 13, 2021

In a message delivered Tuesday to state lawmakers as they convened virtually for the start of this year's general session, Gov. Mark Gordon promised to continue his defense of Wyoming's fossil fuel industries while reiterating the state must find a way to stabilize its revenue streams.

The governor typically delivers a State of the State address at the onset of the Legislature's session, but the message delivered Tuesday was not a State of the State address. This Gordon plans to deliver when the Legislature reconvenes sometime later this spring.

School Districts to Undergo Routine Facility Study Sheridan Press | Ashleigh Snoozy, January 13, 2021

Wyoming legislators introduced a bill Tuesday to conduct a study on all public school facilities in the state, determining suitability, capacity and condition. Sheridan County schools facilities are looking good ahead of the potential study.

House Bill 2 was introduced in Tuesday's short, virtual first day of the legislative session and referred to the education committee for review. The bill allows the state construction department to contract with a consultant to assist with the study, allocating $6 million from the strategic investments and projects account to the state construction department.

State Capitols Tighten Security amid Threat of Armed Protests ahead of Inauguration Wyoming Public Media | Greg Allen, January 13, 2021

States are taking steps to tighten security at their capitol buildings following a warning by the FBI to prepare for armed protests in the days leading up to the the presidential inauguration on Jan. 20. Many state capitals have already seen protests by people upset by President Trump's loss in the election.

Legislature Convenes for One Day, Faces Challenges in Adjusted Session Sheridan Press | Kristen Czaban, January 13, 2021

Wyoming's 66th Legislative Session convened Tuesday and recessed several hours later after electing its leadership, referring bills to committees and hearing an address from Gov. Mark Gordon.

The accelerated pace of the day reflected the era in which legislators find themselves operating — a country battling the COVID-19 pandemic, a state facing budget challenges and cities and counties struggling to keep businesses and schools open.

In a one-day session Tuesday marking the start of the 66th Wyoming Legislature's business, lawmakers in both chambers agreed to delay much of the general session as a precaution against the spread of COVID-19, despite a few objections from some far-right members of the body.

Legislature Opts to Adjourn Gillette News Record (Republished from Casper Star-Tribune) | Nick Reynolds, January 13, 2021

The first day of the 66th Wyoming Legislature was anticipated to be quick and simple, focused on assigning bills and swearing in legislative leadership before adjourning for a largely online session until the body reconvenes in person in March.

Wyoming Attorney General Bridget Hill signed onto a letter with dozens of attorneys general from around the United States this week denouncing a violent mob that overtook the U.S. Capitol last week, describing the events as a "direct, physical challenge to the rule of law and our democratic republic itself."

Gov. Mark Gordon has ordered the Wyoming state flag be flown at half staff at the Capitol and in Laramie County from sunrise to sunset on Thursday, Jan. 14, in honor and memory of Donald Lawler. Lawler served in the Wyoming Senate from 1995-98. He passed away Jan. 6.

Flags in Laramie County, at Capitol Building to Fly at Half-StaffKGAB 650 AM | Doug Randall, January 13, 2021

Wyoming Governor Mark Gordon has ordered state flags in Laramie County and at the state Capitol Building to be flown at half staff Thursday in honor of a former legislator.

That's according to a news release from the governor's office, which says Governor Gordon issued the order in honor of Donald Lawler. Lawler represented Laramie County in the Wyoming Senate from 1995-1998. He passed away on Jan.6.

Wyoming Legal Battle Continues over In-Flux Coal Port Wyoming Public Media | Cooper McKim, January 13, 2021

Wyoming alongside Montana will continue its lawsuit against Washington State stemming from a proposed coal port that's on its last legs.

"It's never been about one enterprise or even one commodity. It's the principle of state's rights and access to markets that is at stake," Gov. Mark Gordon stated in a Jan. 12 message to legislators.

The Bureau of Land Management improperly used an "alternative approach" to predicting air pollution from a 5,000-well oilfield, the U.S. Environmental Protection Agency said as it joined a chorus of critics blasting approval of the Delaware-sized development near Douglas.

---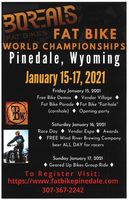 2021 World Fat Bike Championships to be held in Pinedale and Bondurant.

2021 World Fat Bike Championships Jan. 15-17 (posted 1/12/2021)
In Pinedale and Bondurant (note location change)
The 2021 World Fat Bike Championships, sponsored by Borealis Fat Bikes, will be held in Sublette County Friday through Sunday, January 15-17th.

The most important news to get out is that the location has changed for this race. Earlier advertising and newspaper articles had it taking place at the Twin Eagle Ranch/Green River Guest Ranch in the Upper Green. The race location has been changed to the Jackson Fork Ranch in Bondurant. All times on the posted schedules are the same.

The event is usually held in Colorado, but recent COVID-19 health restrictions made it not possible to hold the event there this year. As they scrambled to find a new location and posted their predicament on Facebook, it caught the attention of Sublette County Chamber of Commerce Executive Director Darren Hull. He reached out to the World Fat Bike Championship board and suggested Sublette County as an alternative location for the event.

The races will take place on an eight-mile groomed loop course on the Jackson Fork Ranch in Bondurant on Saturday, January 16th. There will be a pre-ride on Friday morning at 10AM at the Jackson Fork Ranch. Registration is from Noon to 5PM on Friday at the Sublette County Visitor Center/Chamber of Commerce, 19 E Pine Street in Pinedale. There will be a kick-off celebration at 6PM in Pinedale. The kick-off party will start at 6:30PM Friday evening with a Fat Bike Cornhole at Wind River Brewery in Pinedale which goes until 9PM.

Saturday is race day. Check-in at 9AM at the Jackson Fork Ranch in Bondurant. There is a mandatory pre-race meeting at 9:30AM. Spectators are welcome – dress warm! Vendors open at 10AM. The Jackson Fork Ranch has a very unique "Ice Bar" that open for service.

The Fat Bike World Championship Race, 24 miles, runs from 10AM to 4PM. Athletes in different divisions compete in a 24-mile race involving three laps around the course. There is also a sport class race at 16 miles and a beginner category of one 8-mile lap. High school students can enter a 16-mile race division. Costumes are encouraged on the shorter races. Cut-off time is 2:30PM for the Championship race. The Awards Ceremony will be at 4:00PM.

The races are open to the public and food vendors will be available.

On Sunday, there will be a fun group ride in the Wind River Mountains led by Geared Up bike shop in Pinedale from 10AM to 2PM.

For more information, go to www.fatbikepinedale.com or call the Sublette County Chamber of Commerce/Visitor Center at 307-367-2242.

---
Campgrounds in Grand Teton National Park move to advanced online reservation system (posted 1/8/2021)
No longer first-come, first-served
Grand Teton National Park
Visitors to Grand Teton National Park and the John D. Rockefeller, Jr. Memorial Parkway will soon be able to reserve campsites in advance at all concession-operated campgrounds. Reservations will go live on Recreation.gov beginning January 26 for the 2021 operating season. All park campgrounds that were first come, first served are moving to this advance reservation system.

Visitors will now have the ability to plan ahead with confidence and know they will have a place to stay and camp when they arrive, improving the visitor experience, and reducing wait times and associated traffic congestion at park campgrounds. The reservation system will streamline the camping process, allowing park visitors to check the availability of sites in real time and receive immediate confirmation. Campsite reservations are expected to fill quickly, and visitors are strongly encouraged to plan ahead.

Once a campground has launched on Recreation.gov, reservations will no longer be available through the local campground call centers or websites.

Related Links:
Additional Campgrounds in Grand Teton Move to Reservation System National Park Service, January 6, 2021

---
Free COVID-19 antibody testing extended through Feb. 28 (posted 1/8/2021)
For residents of Town of Pinedale
Town of Pinedale
Free COVID-19 antibody testing or Pinedale residents has been extended through February 28th or until test kits have run out. Testing must be scheduled in advance at the Pinedale Medical Clinic. For more information, contact the Town of Pinedale, 307-367-4136.

Related Links:
Town of Pinedale residents offered NO COST COVID-19 Antibody Tests December 17, 2020

---
Registration open for age 70+ for COVID-19 vaccine (posted 1/6/2020)
Sublette County Public Health
Sublette County Public Health is excited to begin administration of COVID-19 vaccine to Wyoming Department of Health's Priority Groups in Phase 1B (https://bit.ly/3bhUXrb).
Due to the limited supply of vaccines allotted to Sublette County and the need to distribute these vaccinations in an orderly fashion, registration will be required for those wishing to receive a vaccination. No vaccinations will be administered without a completed registration and a scheduled appointment!

Registration is now open for individuals age 70+. To sign up for the vaccine waiting list—there are two options:

• Complete the Google Survey at https://bit.ly/2LovKQU• or Call Public Health at 307-367-2157 for assistance with registration.
• Registration will put you on the waiting list. Public Health will call you when vaccine is available to schedule your appointment date & time.

What is happening in Sublette County with COVID-19 Vaccine?
Sublette County Public Health is coordinating vaccine distribution in Sublette County. We have almost completed groups within Phase 1A—health care providers, EMS, Fire Department, Sheriff's Office, Highway Patrol, Sublette Center residents & staff, and Public Health workers. We will quickly move into Phase 1B groups next week. We are currently receiving an allotment of 100 doses of Moderna Vaccine each week and will attempt to schedule appointments to use all of these doses weekly.

What can I expect moving forward?
• Public Health will continue to follow the rules established by the Wyoming Department of Health—Phase 1A & 1B priority guidelines.
• We will schedule appointments with the pre-registered individuals in the current group—you will get a phone call from Public Health.
• Public Health will be planning ahead with future groups to move forward quickly down the list.
• We are coordinating with the County Fairgrounds and the Mountain Man Museum to facilitate drive-thru vaccination clinics on a weekly basis (much like our flu clinics this year).

How will I know when it is my turn to sign up?
• Public Health will rely on our partners to help us put out information via Pinedale Online, local newspapers, weekly video update, Facebook, COVID-19 website, and local radio stations to provide outreach to the larger groups in the community as we move into the next phase.
• We will work individually with targeted priority groups—like the school districts, preschools, etc. to plan ahead for vaccination clinics.
• Stay tuned! There will be a Phase 1C Priority Group List coming from the Wyoming Department of Health's Medical Ethics Committee. That will dictate the next groups in line for vaccination.

Pinedale Public Health Office Hours Changing For the Near Future
• Pinedale Public Health Office—will be closed on most Tuesdays & Thursdays for our staff to be able to provide COVID-19 vaccine clinics around Sublette County.
• Please call for appointments on Mondays, Wednesdays, & Fridays 8—12, 1—5PM for our regular Public Health services in Pinedale. Call 307-367-2157 to schedule your appointment.
• Please call for appointments on Tuesdays 9—4 at our Marbleton Public Health Office (no change in hours for Marbleton Office). Call 307-276-3575 to schedule your appointment.

---
Bars, Restaurants can resume normal late night service, gyms can increase participants (posted 1/2/2021)
Effective January 9th
Governor Mark Gordon media release
CHEYENNE, WYOMING – Governor Mark Gordon has announced a return to normal operating hours for bars and restaurants, praising the response by Wyomingites that has resulted in a decline in COVID-19 hospitalizations around the state.

Effective January 9, updated health orders permit bars and restaurants to resume onsite consumption from 10 pm to 5 am. The updated orders also allow gyms to increase the number of participants in group fitness classes from 10 to 25.

"Thank you to the people of Wyoming who recognized the strain on their hospitals and health care workers and acted accordingly," Governor Gordon said. "I also want to express my gratitude to those businesses that adapted to these temporary measures. These have not been easy times for anyone. We are not out of the woods yet, but continued personal safety measures while the vaccine is being distributed will enable our state's schools and businesses to continue to remain open."

The Wyoming Department of Health will continue to evaluate metrics as the state emerges from the holiday season. Counties can still opt out of the requirements if local conditions move to safer levels in accordance with White House metrics.

On December 30, Wyoming hospitals were reporting 113 hospitalized COVID-19 patients, down from a peak of 247 on November 30. However, the state reported 223 COVID-19 deaths in December, the highest number since the pandemic began in March. Wyoming has also begun distributing the COVID-19 vaccine, utilizing a phased approach due to limited initial vaccine availability.

The updated health orders, along with additional information on Wyoming's COVID-19 vaccination plan, can be found on Wyoming's COVID-19 website: https://covid19.wyo.gov/.
---
Business Directory
Click here for
Advertising Information