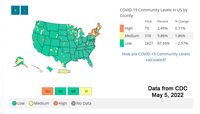 US Covid-19 map, as of May 6, 2022. Map from CDC.

Sublette County Public Health Update: May 6, 2022 (posted 5/9/2022)
Sublette County Public Health
COVID Update
Sublette County Public Health has received notification of four (4) new positive COVID-19 cases this week in Sublette County. The Wyoming Department of Health is currently issuing new case count reports on Tuesdays only. From the WDH report on Tuesday, May 3, our current numbers include 1,896 recoveries, and 27 deaths, for a total of 1,923 cases since the pandemic began.

Sublette County remains in the low community transmission level according to the CDC's website (https://www.cdc.gov/coronavirus/2019-ncov/science/community-levels.html)

Active case counts remain low across the state with Teton County having the highest number of cases at 15 and Big Horn, Hot Springs, Johnson, Niobrara, Sublette and Washakie counties having none.

COVID-19 Vaccines
As of May 2, 2022 – 3,502 people, 35.62% of our population, have been fully vaccinated in Sublette County.

Sublette County Public Health offers weekly COVID vaccine clinics for ages 5+ years. Adults ages 50+ are now eligible to get a second mRNA booster vaccine, at least 4 months after their first booster. Walk-ins are welcome on our scheduled clinic days or call 307-367-2157 to schedule an appointment. Pfizer, Peds Pfizer, and Moderna are offered at our weekly clinics.

Tuesdays at the Public Health Office in the Marbleton Senior Center
• 1 to 3:30 pm for COVID vaccinations/boosters
• Appointments recommended. Walk-ins welcome.

Thursdays at the Public Health Office in Pinedale
• 1 to 4 pm for COVID vaccinations/boosters.
• Appointments recommended. Walk-ins welcome.

Please bring your COVID vaccine card and completed vaccine consent form with you. We ask that you wear a mask in our offices for your appointment.

COVID-19 Testing
Please see our website for information: https://www.sublettewycovid.com/testing

---
Why is there an egg shortage? (posted 5/4/2022)
Pinedale Online!
The price of eggs has increased greatly in April and May 2022, and there is a nation-wide shortage of eggs. The reasons are in part due to an avian flu that has swept across the country, compounded by supply chain issues and high poultry feed costs. The virus is highly infectious in poultry flocks, which is causing farmers to kill millions of birds, driving the prices of eggs to historic levels. The high prices are not only impacting consumers who buy eggs directly, but also businesses that regularly use large numbers of eggs. The wholesale price of eggs is reportedly nearly three times that of a year ago.

The Wyoming Game & Fish is asking the public to report any groups of dead birds. The virus has been detected in wild birds in Fremont, Big Horn, and Park counties. Many migratory birds can carry the disease but not show signs of illness. Birds confirmed infected in Wyoming include two great horned owls and several Canada geese. Wild birds can infect domestic flocks if they comingle, for instance at feeders or bird baths. People who have backyard poultry flocks are advised to keep their birds, feed and water sources inaccessible to wild birds. The public is cautioned to not touch or handle sick or dead birds, and do not allow domestic dogs and cats to touch or feed on sick or dead birds. Transmission of the avian flu virus from birds to humans is reportedly very rare, but people are cautioned to wear gloves and take protective measures when handling all birds.

---
Wyoming Vital Statistics update (posted 4/24/2022)
Wyoming Department of Health
Official records filed with Vital Statistics Services (VSS), which is part of the Wyoming Department of Health (WDH), show another sharp increase in deaths last year over what would have been expected before the COVID-19 pandemic; there were also more births, more marriages and fewer divorces among residents.

Among Wyoming residents, there were 6,572 deaths recorded in 2021, 5,986 deaths recorded in 2020 and 5,122 deaths in 2019, according to official death certificate information. Death certificates are completed by attending physicians and coroners and then filed with VSS.

"Before the pandemic, our data has shown steady, small increases in deaths for several years largely due to our state's aging population. That's something we would have reasonably expected to continue," said Guy Beaudoin, VSS deputy state registrar with WDH. "However, the dramatically increased numbers of deaths over the last two years are unprecedented in Wyoming. It's clear COVID-19 was a driving factor."

Beaudoin noted the top five causes of death in Wyoming for 2021 were cancers (1,151), heart diseases (1,113), COVID-19 (1,025), various types of accidents and adverse effects (379) and chronic obstructive pulmonary disease and related conditions (355).

"Unfortunately, Wyoming continues to have a high suicide rate," Beaudoin said. "There were small increases in the number of suicide completions in each of the last two years, but there have been other times over the last decade with significantly larger year over year jumps as well as some years with reductions."

In 2021, 189 (+7 over 2020) suicides were recorded among Wyoming residents compared to 182 in 2020 (+13 over 2019).
Previously, there were:
169 in 2019 (+22 over 2018)
147 in 2018 (-8 over 2017)
155 in 2017 (+12 over 2016)
143 in 2016 (-12 over 2015)
155 in 2015 (+36 over 2014)
119 in 2014 (-9 over 213)
128 in 2013 (-44 over 2012)
172 in 2012

Wyoming's data shows that about 72% of suicide deaths in 2021 were due to firearms, with 22% due to hanging and 4% due to poisoning.

"Deaths attributed to overdoses are another area of interest where over time we have seen increases between some years and decreases between others," Beaudoin said. "Of note, we do continue to see the percentage of overdose deaths caused by illicit drugs rather than prescription drugs as growing within our state."

In 2021, there were 95 (+5 over 2020) overdose deaths recorded among Wyoming residents compared to 90 in 2020 (+9 over 2019).
Previously, there were:
81 in 2019 (+16 over 2018)
65 in 2018 (+5 over 2017)
60 in 2017 (-34 over 2016)
94 in 2016 (-1 over 2015)
95 in 2015 (-12 over 2014)
107 in 2014 (+11 over 2013)
96 in 2013 (-3 over 2012)
99 in 2012

"Last year was the first in quite some time with an increase recorded in the number of new babies in Wyoming," Beaudoin said. "Previously, we had seen an ongoing significant downward trend over several years."

There were 6,232 births among Wyoming resident mothers in 2021 compared with 6,132 in 2020. The high over the past decade was in 2015 with 7,678 resident births.

VSS also holds marriage and divorce records. There were 4,274 marriages recorded in Wyoming last year compared to 3,986 in 2020 and 4,062 in 2019 before the pandemic.

As far as divorces, there were 2,158 finalized in 2021 compared with 2,227 divorces in 2020 and 2,253 in 2019 before the pandemic.

VSS promotes and protects the health of Wyoming residents by serving as the official custodian of all vital records in the state and by distributing health information. For more details about VSS, visit https://health.wyo.gov/admin/vitalstatistics/ online.

---
Game and Fish wildlife habitat management areas begin to open May 1 (posted 4/24/2022)
Antler collection closures end at 6AM May 1
Wyoming Game & Fish
The Wyoming Game and Fish Department has 44 wildlife habitat management areas that provide crucial habitat for big game winter ranges. These areas are opening for the season, after being closed to minimize disturbance to wintering big game animals and other wildlife, while protecting habitat from resource damage. Several WHMAs open May 1.

"Seasonal closures minimize stress-causing disturbance to wintering deer, elk and other wildlife. The closures also reduce the human and recreational impacts to the forage, which supports wintering wildlife," said Ray Bredehoft, Game and Fish habitat and access branch chief. "We appreciate the public's cooperation to help animals make it through the winter and we are excited to open up these lands for the public to enjoy."

Bredehoft also asks the public to be cautious around wildlife during the spring when elk, deer, pronghorn, moose and other wildlife begin to have their young and bears emerge from winter dens.

"For a lot of wildlife May 1 will be the first time in months they see humans, so practicing safety is very important. Pack bear spray and stay alert," Bredehoft said.

Users are reminded to stay on designated travel routes, obey all signs and camp in designated areas where required. If roads become too wet due to spring moisture, users are asked to try and avoid traveling those roads to reduce resource damage.

Antler hunters should be aware that the closure to collect shed antlers on public lands ends at 6 a.m. May 1 within the antler hunting area boundaries. Collect means to search for, locate, stockpile or possess shed antlers and horns of big game animals on public land during the closed season. A violation of this regulation carries the same penalties as many other Game and Fish violations.

More details on antler collection regulations and maps are available on the Game and Fish website.

---
Bureau of Land Management Wyoming issues notice for oil and gas lease sale (posted 4/24/2022)
Bureau of Land Management
Following an injunction from the Western District of Louisiana, today the Bureau of Land Management Wyoming State Office issued a final environmental assessment and sale notice for a June 21-22, 2022 lease sale.

Today's notice incorporates recommendations from the Department of the Interior's Report on the Federal Oil and Gas Leasing Program, as well as other reports issued by the Governmental Accountability Office and Congressional Budget Office.

The BLM is applying a first-ever increased royalty rate of 18.75% for the leases sold in the current competitive lease sales, in keeping with rates charged by states and private landowners.

The BLM Wyoming State Office will move forward with our modified proposed action, Alternative 3, as analyzed in DOI-BLM-WY-0000-2021-0003-EA, by offering 129 parcels containing about 131,771 acres of public minerals. The parcels will be offered at the online oil and gas lease sale scheduled for June 21-22, 2022; the sale can be accessed at www.energynet.com; the parcel may also be viewed on the EnergyNet website approximately 10 days after today's posting of the Notice of Competitive Lease Sale.

Additionally, today's posting of the sale notice initiates a 30-day public protest period that ends on May 18, 2022. You can submit protests on the offered parcels through the link on the sale's ePlanning site; via email to blm_wy_lease_sales@blm.gov; or by mail to Bureau of Land Management Wyoming, Fluid Minerals, 5353 Yellowstone Rd., Cheyenne, WY 82009. All protests must be submitted by 4:30 p.m. on May 18.

Links to the environmental assessment, maps, parcel lists, the notice of competitive lease sale and the proposed lease stipulations are available online at the BLM ePlanning website.

Persons who use a telecommunications device for the deaf may call the Telecommunications Relay Service at 7-1-1 to contact the above individual during normal business hours. The TRS is available 24 hours a day, seven days a week, to leave a message or question with the above individual. You will receive a reply during normal business hours.

The National Fluid Lease Sale System includes information on current and upcoming BLM lease sales.

---
Governor Gordon responds to announcement of resumption of Federal Oil and Gas lease sales (posted 4/16/2022)
Governor Mark Gordon media release
CHEYENNE, WYOMING – Wyoming Governor Mark Gordon has issued the following statement following the Biden Administration's announcement that lease sales for oil and gas drilling on federal land will resume. The Department of Interior plans to sharply reduce the acreage available for leases and charge higher royalties on oil and gas producers. The Governor's statement follows:

"The announcement of an upcoming federal oil and gas lease sale is welcome news, but long overdue. While we don't know the exact number and location of the Wyoming parcels, after 15 months without a lease sale in our state, to learn that royalty rates will be increased and available acreage significantly reduced is hardly cause for unbridled celebration. I am concerned that these changes will have a chilling effect on Wyoming companies as they prepare their bids."

---
Barrasso: Biden is making American energy more expensive & harder to produce (posted 4/16/2022)
Senator Barrasso media release
CASPER, WYOMING — Today (Friday, April 15, 2022), U.S. Senator John Barrasso (R-WY), ranking member of the Senate Committee on Energy and Natural Resources (ENR), issued the following statement on the Department of the Interior's (DOI) announcement regarding lease sales for oil and gas drilling on federal land.

"After begging American oil and natural gas companies for months to produce more, the Biden administration is still doing all it can to restrict leasing on federal lands," said Barrasso. "First it was an illegal moratorium imposed at the start of his presidency. Now it's this proposal to dramatically increase the cost of onshore leases while cutting the acres offered for lease by 80 percent. The president claims he's doing nothing to limit domestic production, but once again his administration is making American energy more expensive and harder to produce."
---
Governor brings Wyoming into lawsuit challenging border policy (posted 4/14/2022)
Wyoming Governor Mark Gordon
CHEYENNE, WYOMING – Governor Mark Gordon has announced that Wyoming is among the states joining a lawsuit filed by Arizona, Louisiana, and Missouri challenging the Biden Administration's revocation of Title 42 border control measures. These Trump-era border policies helped reduce the flow of illegal immigration at the United States-Mexico border.

Last fall Governor Gordon visited the southern border and joined 25 other governors in releasing ten policy solutions that the Biden Administration could enact immediately to address the crisis at the southern border. Among those solutions was a continuation of the Title 42 orders, an effective tool at limiting border crossings and supporting public health.

"The Biden Administration's continued failure to fulfill its Constitutional duty and secure our border impacts all Americans," Governor Gordon said. "When the federal government does not fulfill its responsibilities, states are compelled to take legal action to protect their residents from the impacts of this border crisis. Wyoming will stand by our fellow states to protect our borders."

The lawsuit "challenges an imminent, man-made, self-inflicted calamity: the abrupt elimination of the only safety valve preventing this Administration's disastrous border policies from devolving into unmitigated chaos and catastrophe."

A copy of the complaint is available here.

---
Barrasso statement on Biden Administration's new gun regulations (posted 4/11/2022)
Senator Barrasso media release
Today (Monday, April 11, 2022), U.S. Senator John Barrasso (R-Wyo.) issued the following statement after President Biden announced new executive action on guns.

"The people of Wyoming see President Biden's executive action for what it really is: an unconstitutional, backdoor gun grab. This is an attempt to distract from the real reason we're seeing crime skyrocket across the country. If Democrats are serious about combatting crime, they need to stop defunding the police and start prosecuting criminals. Attacking the constitutional rights of Americans is not the answer."

Click on this link to read President Biden's Executive Action

---
No new Sublette County COVID-19 cases in two weeks (posted 4/10/2022)
Pinedale Online!
The Wyoming Department of Health (WDH) reports no new COVID-19 cases in Sublette County during the last 14 days (March 25, 2022 to April 8, 2022). The last reported case was on March 19th 2022. Between March 1 to April 8th there were just three confirmed cases in Sublette County. The county saw an increase in cases between January to mid-February, peaking at 13 cases in one day on January 31st. Cases dropped off considerably by mid-February and have stayed at just 1 or 2 confirmed cases per week since then. Sublette County's overall population vaccination rate is 35.43%.

Teton County has also seen a big decline in cases since their big surge between December 2021 and January 2022. This surge has been attributed mostly to the omicron variant, according to the Wyoming Department of Health. The county had 29 confirmed cases in the past two weeks, 10 confirmed cases in all of April. Their high daily case counts during the alpha and delta surges of 2020 and 2021 peaked at 54 per day. Their case count during their omicron surge late December 2021 reached a high of 233 per day on January 4, 2022. They had multiple days with over 100 cases per day between late December to mid-January 2022, a 400% increase in number of cases through the pandemic attributed to the alpha/delta variants to the omicron variant of the virus. This big spike in their cases has been puzzling because they have an overall population vaccination and boosted rate of 88.83%. Their daily case numbers dropped rapidly by mid-February and have stayed at low levels through the date of this report. St. John's Medical Center in Jackson reports zero COVID-19 patients in their facility as of April 5, 2022.

Wyoming's overall case numbers have also steadily declined since the December 2021/January 2022 surge. The state reports 29 active cases in the past 14 days, as of April 8, 2022. Hospitals report 15 COVID-19 cases as of on April 5, 2022. Hospital cases peaked in mid-January in the state with 167 patients with COVID-19. Wyoming reports 27,422 breakthrough cases, people who have been fully vaccinated but still have been confirmed to have caught the virus. The state's overall vaccination rate among the general population is 45.7%.

While cases, deaths and hospitalizations have steeply declined in Wyoming in February and March 2022, most new cases, hospitalizations and deaths in 2022 have been in vaccinated individuals, according to WDH data. The last reported COVID-19 death in the state was on March 27, 2022. 85% of COVID-19 deaths in Wyoming have been in people age 60 and over. 50% of those people had underlying health conditions contributing to their health situations. To date, over the two years of the pandemic, there have been no deaths in anyone age 18 or under in Wyoming due to COVID-19. The recovery rate for the disease across Wyoming is 98.9%.

See the Wyoming Department of Health website for current COVID-19 data.
https://health.wyo.gov/publichealth/infectious-disease-epidemiology-unit/disease/novel-coronavirus/

Click on this link for more graphics.
---
Wyoming Homeowner Assistance Fund (HAF) Program to open May 2 (posted 4/10.2022)
Wyoming Department of Family Services
The Wyoming Homeowner Assistance Fund (HAF) Program officially opens for applications on May 2, 2022, to help eligible homeowners in the state who have fallen behind on mortgage payments during the COVID-19 pandemic.

The HAF Program will prioritize mortgage delinquency over other past due expenses. Other eligible expenses will include past due payments of utilities, property taxes, homeowners insurance, and homeowners association dues. The maximum amount allowed per household is $17,000, which will be paid to the vendor on behalf of the homeowner. Learn more at dfs.wyo.gov/haf.

"We highly encourage homeowners delinquent on their mortgage payments to talk to their mortgage servicer before the program opens," Department of Family Services Director Korin Schmidt said. "Homeowners should consider all options available to allow them to stay in their homes safely and long term. If you receive HAF funds first, you might not be eligible for options like having your monthly payment lowered."

If a homeowner owes more than $17,000 in arrears or cannot make payments moving forward, the HAF Program will require them to do housing education.

Homeowners can call their mortgage servicer to learn about options available for existing forbearance and/or resolving past due amounts through loss mitigation. The servicer may be able to lower monthly payments. If a homeowner receives HAF funds first, this option and other options may not be open to help the homeowner sustain the affordability of their mortgage. Additionally, the Consumer Financial Protection Bureau has resources for homeowners on its website, and housing counselors are available at no cost.

Wyoming homeowners must meet the following eligibility criteria for the HAF Program:
- Must own a property in Wyoming.
- Must currently occupy the property as the primary residence.
- Must have a total annual household income at or below 150% of the area median income.
- Must have experienced a COVID-related financial hardship after January 21, 2020 that has caused the household to become past due.
- Must be delinquent by at least one payment, including due to a forbearance period. The grant covers arrears only (no prospective or ongoing payments).

If applying for mortgage assistance, the loan must be the first lien on the property. The homeowner must not intend to sell the property within six months of receiving assistance.

Applications will be available only online. A link will be provided on the DFS website.

Applicants must be ready to scan and upload the required documents. The required documents include the most recent statements showing delinquencies and/or arrearages, identification and proof of income. Payments for delinquent mortgages and other expenses will be made directly to servicers, county treasurers, insurance, and utility companies.

If you have any questions about the program, please email to homeowner.assistance@wyo.gov.

---
Business Directory
Click here for
Advertising Information