Sandy Fire grows to 64-acres (posted 6/30/2022)
Fire burning in timber in Cliff Creek drainage
Bridger-Teton National Forest
BONDURANT, WYOMING - The Sandy Fire is burning on the Big Piney Ranger District of the Bridger-Teton National Forest. The fire was reported at 3:30pm on Tuesday, June 28, 2022. The fire is 64-acres in size and has spotted over Snag Creek.

A Type 3 incident management team has been ordered. A Type 3 incident management team is mobilized to provide command and control and assist the Forest by managing the fire suppression operations.

The fire is approximately six miles west of Bondurant, Wyoming and smoke may be visible from US 189/191. There is a crew of 20 firefighters working on this fire along with a helicopter and two engines. Additional resources have been ordered. The cause of the fire is under investigation. There are no road or trail closures associated with this fire, although visitors in the area of Sandy Marshall Creek, especially near Forest Service Trailhead 139, should use caution.

The fire danger rating is at Moderate for the Bridger-Teton National Forest.

For information on the Sandy Fire, contact the Big Piney Ranger District at 307-276-5800 or visit www.Tetonfires.com.

You can learn more about the Bridger-Teton and conditions across the Forest on our website at https://www.fs.usda.gov/btnf/ or by following us on Facebook https://www.fs.usda.gov/btnf/ or Twitter https://twitter.com/BridgerTetonNF

---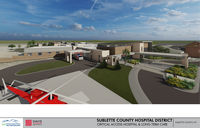 Architect rendering

Sublette County no longer the only county in Wyoming without a hospital (posted 6/28/2022)
Kari DeWitt, Sublette County Hospital District
On June 24, 2022 the Sublette County Hospital District (SCHD) received approval for a $32.2 million USDA Rural Development Community Facilities loan to fund the construction of a new Critical Access Hospital (CAH), the first of its kind in Sublette County.

Sublette County has long had the dubious distinction of being the only Wyoming county without a hospital, but in November 2020, voters chose to rectify that situation by overwhelmingly voting in a Hospital District. Healthcare is a fundamental need for Sublette County citizens and the approval of the USDA loan application is a key step in improving healthcare access across Sublette County.

Sublette County Commissioners Joel Bousman and Tom Noble note that, "Sublette County approved the formation of a Hospital District with the understanding that the Sublette County Commission would provide up to $20 million to fund a new nursing home upon completion of a merger of the Sublette Center (the current Long Term Care center) with the Hospital District, which puts healthcare services in Sublette County under one umbrella. The goal of all of this is to improve healthcare services in our county and allow our senior citizens the option to remain in the county for care. With approval of the USDA loan, we can now move in that direction."

The current long-term care facility, the Sublette Center, is 50 years old and in desperate need of updating. The new facility will attach to the hospital with a number of improvements over the existing facility, including private rooms and a memory care unit.

This joint project is the capstone of a multi-year community effort led by community members eager to see healthcare improve in Sublette County.

"The historical significance of this announcement is not lost
on us," said Tonia Hoffman, SCHD Board Chair. "We are thrilled to be a part of pulling the project together in spite of the many obstacles we faced and are grateful for the various members of the entire team of people who contributed in any way. We look forward to creating a lasting legacy of patient care in Sublette County." SCHD Board members include Hoffman, Jamison Ziegler, Kenda Tanner, Wendy Boman and David Bell.

While Sublette County currently has two clinics (one with an attached emergency room), critical healthcare services – including blood transfusions, chemotherapy and, most of all, the ability for any patient to stay overnight – have never been available.

The new CAH facility will consist of a 10-bed inpatient unit plus a pharmacy and laboratories. The building will be staffed with full-time doctors and mid-level providers, as well as a variety of professional staff in other healthcare positions. The 70,000-square-foot facility will also offer advanced imaging capabilities, including ultrasound, X-ray, CT and mammograms.

The 50-bed long-term care facility will include a 10-bed memory care unit, one of only two in western Wyoming.

"Having a Critical Access Hospital in Sublette County will greatly increase care. In the past we have been lacking in basic services," Dave Doorn, SCHD Administrator, states. "Having a CAH will be a game changer for our community."

A key piece to the project moving forward was the Sublette Center (the current LTC facility) agreeing to merge with the Sublette County Hospital District. As the Sublette Center currently operates as a nonprofit, the merger will improve pay and benefits for the Sublette Center staff. The merger will also allow both organizations to share services such as dietary, IT, infection control and housekeeping.

"Forming one healthcare entity for Sublette County is better for the community," Sublette Center Board Chairs Patty Racich and Marilyn Jensen write. "Our board believes the success of elder care lies in strengthening relationships. We hope to work towards continued improvement of healthcare for all ages of Sublette County residents and provide exceptional care for long-term care residents."

"Assuring quality healthcare for the residents was important to the support of the project," Sublette Center Administrator Dawn Walker adds. Each room in the new long-term care facility will have a bathroom and shower. Unlike the current facility where most of the rooms are doubles, requiring patients to have a roommate, most rooms in the new facility are private. Dawn Walker notes, "This will make such a difference for our residents."

This project has been a long time in the making. Medical Director Dr. David Burnett, who has practiced medicine in Sublette County for 33 years, has a framed copy of the front-page article from the Big Piney Examiner dated October 15, 1925. The headline of the article reads, "A Hospital Is Our Most Essential Need". Dr. Burnett notes, "Thanks to years of hard work by first the Sublette County Rural Health Care District board, and then the newly formed Hospital District Board, and significant community support from all towns, mayors, county commissioners, our state representatives and our citizens, Sublette County will now have a hospital. One hundred years of progress and the hard work of many have led us to this. It is a most significant development that will have great impact on our county."

After Sublette County's November 2020 election to form a Hospital District, the newly elected board focused on an opportunity in the USDA's Communities Facilities Program for rural areas. Established in the Balanced Budget Act of 1997, CAH is a designation given to eligible rural hospitals by the Centers for Medicare and Medicaid Services, essential to receiving compensation for eligible patient care. With the application's approval in June 2022, and the obligation of funding, the SCHD is ready to begin construction.

Layton Construction has been selected as the Construction Manager. Layton is a national construction firm that has completed dozens of healthcare projects. Most recently, they built the beloved Pinedale Elementary School in 2010. With USDA loan approval, Layton stands ready to start the subcontractor bidding process and groundbreaking on this historic project. Completion is expected in 2024.

Click on this link for more on the Sandy Fire.

---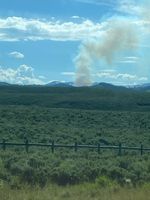 Sandy Fire

Sandy Fire discovered on the Bridger-Teton National Forest (posted 6/28/2022)
Burning six miles west of Bondurant
Bridger-Teton National Forest
BONDURANT, WYOMING — The Sandy Fire is burning on the Big Piney Ranger District of the Bridger-Teton National Forest. The fire was reported at 3:30pm Tuesday afternoon, June 28th. The fire is 15-acres in size and spotting into continuous fuels. The fire is being suppressed with support from a Type 3 helicopter, 2 engines, and firefighters from Pinedale, Kemmerer and Jackson Ranger Districts. A Type 2 hand crew has been ordered.

The fire is approximately six miles west of Bondurant, Wyoming and smoke may be visible from US-189/191. There are no road or trail closures associated with this fire, although visitors in the area of Sandy and Marshall Creeks, especially near Forest Service Trailhead 139 should use caution. The fire danger rating is at Moderate for the Bridger-Teton National Forest. The cause of the fire is under investigation.

Type 3 helicopters carry nearly 300 gallons of water in each bucket drop and are a useful tool in supporting firefighters on the ground by addressing spot fires ahead of the main fire front or hot spots within the fire area. A Type 2 hand crew is comprised of 20 firefighters trained in wildland firefighting operations.

You can learn more about the Bridger-Teton and conditions across the Forest on our website at https://www.fs.usda.gov/btnf/ or by following us on Facebook https://www.facebook.com/BridgerTetonNF or Twitter https://twitter.com/BridgerTetonNF.

---
Jackson Hole Airport reopens (posted 6/28/2022)
Construction has been completed at the Jackson Hole Airport and operations resumed on Tuesday, June 28th. The airport has been closed for over two months for runway reconstruction and terminal upgrades. Governor Gordon joined construction workers and community members for a ribbon cutting ceremony to celebrate the airport's reopening.
---
Green River Rendezvous at the Museum of the Mountain Man July 7-10, 2022 (posted 6/26/2022)
Celebrating History and Culture
A full slate of history programs are planned for the 2022 Green River Rendezvous at the Museum of the Mountain Man in Pinedale July 7-10th.

• American Mountain Men Living History Camp – The AMM will attend in full force with a living history camp and 13 hours of programs. Don't miss Campfire Stories & Songs on Saturday evening at 8pm.

• Plains Indians by Bad Hand – Bad Hand will return with more information about the lives and history of the pre-reservation Plains Indian culture. He will have programs on Friday, Saturday and Sunday.

• Native American Crafts – (Children's Programs) – Dan & Lapita Frewin will have Native American craft projects for the youngsters on Friday and Saturday.

• Rocky Mountain Fur Trade Journal Forum - All of the authors of articles in the 2022 Journal will be on hand to talk about their papers. All Forum presentations will be streamed live for remote viewers.
www.youtube.com/museumofthemountainman

Auto Tour- The Hoback Canyon in Fur Trade History, Thursday, 10am. Following the Hoback River provided travelers a way to cross between the Green and Snake Rivers. Named for John Hoback, a Kentuckian who trapped the region as early as 1810, the Hoback and its canyon are frequently mentioned in period diaries. This tour explores numerous sites along the river that played a role in early fur trade history.

6th Annual Western Art & Wine Auction, Thursday, July 7, 6:30pm
The 6th Western Art & Wine Auction will be held Thursday night to kick off rendezvous at the Museum. Those who cannot attend can still participate via absentee and call-in bids. Add to your collection or find the perfect gift - you can chose from limited edition prints, original art pieces, jewelry and even a replica beaver trap! Visit www.MMMauctions.com to download this year's art catalog, get updates, and bid in the online silent auction.

• Journal Reception & Movie Night Friday 6:30pm – We will be recognizing Journal authors on Friday evening at 6:30pm and there will be an opportunity to have the authors sign Journals. Movie night will begin at 7pm followed by a panel discussion of fur trade experts. This year's feature is "Into the Wild Frontier: Thomas Fitzpatrick" with panel discussion by historian featured in the documentary.

Through generous support of our sponsors, all rendezvous programs at the Museum are presented free of charge.Complete Rendezvous Schedule

---
ERAP Update (posted 6/26/2022)
Emergency Rental Assistance Program
Wyoming Department of Family Services
If you are eligible for the Emergency Rental Assistance Program (ERAP) and you are in need of additional services to help you stay safely in your home, please contact the community based organization for your county for more information about housing stability services. Costs related to obtaining or keeping safe housing will be considered on a case-by-case basis by the community based organizations.

ERAP funding also provides specialized services for eligible seniors, individuals with disabilities, domestic violence survivors and human trafficking survivors to support their ability to obtain and maintain safe housing.

• Seniors and individuals with disabilities: The Wyoming Department of Health's Aging Division provides these specialized services.
• Survivors of domestic violence and human trafficking: The Wyoming Coalition Against Domestic Violence and Sexual Assault provides these specialized services.

ERAP Funding Update
With rising gas and food costs, the demand for ERAP remains high. June has already surpassed May in expended funds.

Currently ERAP has issued $5.1 million in assistance payments, and it is quickly looking like June will beat April as the highest paid month. ERAP is a temporary federally funded relief program helping eligible Wyoming households struggling to make rent, internet and utility payments.

Please keep in mind that even though you may be eligible for assistance, we cannot promise funding will be available in the future. Do not wait to apply.

Since its launch in April 2021, ERAP has helped 9,364 Wyoming households with a total of $41 million in assistance. Of the rental payments, $32 million went to landlords, $5.9 million to households, $2.5 million to utilities and $5,700 for moving expenses.

Wyoming has issued 2,144 letters of intent to households who are homeless or without a current residence. Of those approved letters of intent, 552 households have obtained housing.

More Information:
• ONLINE: dfs.wyo.gov/erap
• PHONE: The call center is open 9 AM - 6 PM, Monday through Friday. The toll-free number is 1-877-WYO-ERAP (1-877-996-3727).

---
HAF Program can help struggling homeowners (posted 6/26/2022)
Wyoming Homeowners Assistance Fund
Wyoming Department of Family Services
Do you know a Wyoming homeowner who has fallen behind on mortgage payments, utility bills or other housing related costs? Many homeowners are struggling due to the rising costs of gas and food.

Eligible homeowners can receive up to $17,000 in assistance as a one-time award to pay for past due payments. The award is directly paid to a servicer or vendor on behalf of an eligible homeowner. Homeowners do not need to be delinquent on mortgage payments to receive help for past due payments of utilities, property taxes, homeowners insurance and homeowners association dues. Visit dfs.wyo.gov/haf to learn more or apply online.

The HAF Program launched on May 2 for online applications without a hitch. So far, the HAF Program has helped 299 Wyoming homeowners with $3.02 million in assistance paid.

---
BTNF selects new Forest Supervisor (posted 6/9/2022)
Bridger-Teton National Forest
Intermountain Region, Regional Forester Mary Farnsworth is pleased to announce she has selected Chad Hudson as the Forest Supervisor for the Bridger-Teton National Forest, he replaces Tricia O'Connor who is retiring at the end of June."We are excited that Chad has accepted the position to lead the Bridger-Teton National Forest, he will bring a wealth of experience to the position," said Farnsworth. "His diverse experience in recreation, range, wildlife, wildland fire and leadership will assist the Bridger-Teton National Forest continue to implement an ambitious forest management program."

Prior to his selection as Forest Supervisor Hudson was Deputy Forest Supervisor on the Uinta-Wasatch-Cache National Forest. In addition to his experience as Deputy Forest Supervisor, he has detailed as Forest Supervisor on both the Uinta-Wasatch-Cache and Bridger-Teton National Forests and as an Assistant Director and Deputy Director in the Forest Service Range Management and Vegetation Ecology staff in Washington D.C.

Earlier in Hudson's career, he worked as a District Ranger on the Idaho Panhandle National Forest and on the Bridger-Teton National Forest as both a National Environmental Protection Act coordinator and a recreation manager. He began his natural resources career serving as a Warden of Tourism on the Mgahinga Gorilla National Park in Uganda with the Peace Corps.

He earned a Bachelor of Science from Southern Illinois University.

---
Candidates file for local elected offices (posted 6/1/2022)
Pinedale Online!
Candidates file for elected offices

Below are the candidates who have filed for elected office positions in Sublette County. The 2022 Primary Election will be held on Tuesday, August 16th.

Commissioners (2 to be elected)
Republican:
Lynn Bernard, Pinedale
Mack Bradley, Marbleton
Jim Brost, Boulder
Bob Jones, Pinedale
Tyler Maxfield, Big Piney
Gary Sanders, Pinedale
Robin Schamber, Pinedale
Doug Vickrey, Daniel
Andrew Zook, Pinedale
No Democratic candidates filed

Clerk:
Republican:
Kristine Burton-Bacheller, Pinedale
Carrie Long, Pinedale
No Democratic candidates filed

Treasurer:
Republican:
Emily Paravicini, Pinedale
No Democratic candidates filed

Assessor:
Republican:
Laila Illoway, Pinedale
No Democratic candidates filed

Clerk of District Court:
Republican:
Janet Montgomery, Pinedale
No Democratic candidates filed

Coroner:
Republican:
Curt Covill, Pinedale
No Democratic candidates filed

Sheriff:
Republican:
KC Lehr, Pinedale
No Democratic candidates filed

Attorney:
Republican:
Stan Cannon, Cora
Clayton Melinkovich, Cora
No Democratic candidates filed

State Representative House District 20:
Republican:
Michael Schmid, LaBarge
Albert Sommers, Pinedale
Bill Winney, Bondurant
No Democratic candidates filed

(With redistricting, HD20 is all of Sublette County and LaBarge)
(State Senate 14 will have elections in 2024)

Election Calendar
August 1, 2022: Voter Registration closes for Primary Election
August 16, 2022: PRIMARY ELECTION Polls open 7:00 am - 7:00pm
November 8, 2022: GENERAL ELECTION Polls open 7:00am – 7:00pm
(see link below for full election calendar)

Related Links:
Wyoming 2022-2023 Election Calendar Wyoming Secretary of State
Sublette County 2022 Primary Election candidates Sublette County
Wyoming 2022 Primary Election Roster Wyoming Secretary of State

---
Business Directory
Click here for
Advertising Information