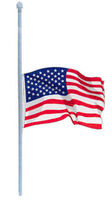 Flat Half Staff notice

Flag Half Staff notice - for victims of shooting at Fed Ex facility in Indiana (posted 4/16/2021)
Until sunset April 20th
Wyoming Governor Mark Gordon
Governor Mark Gordon, pursuant to President Joe Biden's Proclamation in honor and remembrance of the victims of the tragedy in Indianapolis, Indiana has ordered both the U.S. and State of Wyoming flags be flown at half-staff statewide until sunset April 20.

The Presidential Proclamation follows:
HONORING THE VICTIMS OF THE TRAGEDY IN INDIANAPOLIS, INDIANA
- - - - - - -
BY THE PRESIDENT OF THE UNITED STATES OF AMERICA
A PROCLAMATION
As a mark of respect for the victims of the senseless acts of violence perpetrated on April 15, 2021, in Indianapolis, Indiana, by the authority vested in me as President of the United States by the Constitution and the laws of the United States of America, I hereby order that the flag of the United States shall be flown at half-staff at the White House and upon all public buildings and grounds, at all military posts and naval stations, and on all naval vessels of the Federal Government in the District of Columbia and throughout the United States and its Territories and possessions until sunset, April 20, 2021. I also direct that the flag shall be flown at half-staff for the same length of time at all United States embassies, legations, consular offices, and other Facilities abroad, including all military facilities and naval vessels and stations.
IN WITNESS WHEREOF, I have hereunto set my hand this sixteenth day of April, in the year of our Lord two thousand twenty-one, and of the Independence of the United States of America the two hundred and forty-fifth.

JOSEPH R. BIDEN JR
_________________________________________

Editor's Note: On Thursday, April 15, a man opened fire at a FedEx facility in Indianapolis, Indiana, killing at least eight people and wounding at least five more. The gunman opened fire at the facility which is near the city's airport. He died at the scene from a self-inflicted gunshot wound.

---
COVID-19 Incident Briefing April 16, 2021 (posted 4/16/2021)
Sublette County Public Health
The Wyoming Department of Health (WDH) reported 20 new COVID-19 cases in Sublette County this week for a total of 754 cases since the pandemic began. There are currently 23 active cases in Sublette County with individuals isolating in Big Piney, Bondurant, Boulder, Daniel, and Pinedale.

Getting a COVID-19 vaccination, practicing physical distancing, wearing face masks, staying home when you are sick, and frequent hand-washing are essential to limit the spread of the virus that causes COVID-19.

Sublette County Public Health continues to accept registrations for COVID-19 Vaccine for anyone over age 18+ years of age.
• To Register--please go to Pinedale Online (www.pinedaleonline.com)
• In the top right corner, press the vaccine schedule button to go to the Sublette COVID-19 website to complete the Google Survey. If you need further assistance with registration, phone Public Health @ 307-367-2157.
• Public Health will call to schedule your appointment date & time. There is no cost for this vaccination.
• Sublette County Public Health is currently administering Moderna Vaccine. Doses are scheduled weekly for drive-thru events at the Marbleton Fairgrounds and the Mountain Man Museum.
• Janssen—Johnson & Johnson Vaccine is currently "paused" while the FDA reviews safety information next Friday, April 23rd. We are not administering any doses until further guidance is received from the Wyoming Department of Health, the CDC, and the FDA.

4/16/21—#Moderna Vaccine Doses given in Sublette County
• 1st doses= 2,052
• 2nd doses= 1,699
• Total Doses= 3,751

4/16/21--#Janssen Vaccine Doses Given In Sublette County
• Total Doses Given= 185

---
Game and Fish proposing antelope license reductions for 2021 (posted 4/16/2021)
Recent drought, spring storms take tolls on population
Wyoming Game & Fish
The Wyoming Game and Fish Department is proposing to reduce antelope license quotas for the 2021 hunting season. In many hunt areas, the proposals cut the quota due to impacts from persistent drought conditions and the record-breaking 2021 spring blizzard. The license reductions should be short-term, according to wildlife managers who believe the conservative proposals for each herd will stabilize pronghorn populations and allow them to bounce back.

Fluctuations of the number of pronghorn licenses Game and Fish offers is not uncommon, said Doug Brimeyer, Game and Fish deputy chief of wildlife. In 2019, Game and Fish increased quota by 3,400 licenses; in 2020, the number was reduced by 6,675. For the 2021 season, managers are recommending a reduction of 3,650 any-antelope licenses and 5,775 doe/fawn licenses. Reductions impact most herds in the state. Full proposals are available on the Game and fish website.

Brimeyer stressed this year's reductions are due to environmental conditions. Precipitation levels and habitat conditions are the most significant factors that affect pronghorn numbers. Over the last several years, Wyoming has experienced below average precipitation levels in the spring and summer time, when it is most crucial for greening up shrubs, forbs and grasses, the primary food sources for antelope. And, when there are dry conditions and less food is available, that means less pronghorn.

"Pronghorn population performance is tied to the availability of high-quality forage which includes seasonal use of grasses, forbs and shrubs," said Brimeyer. "That forage availability is influenced by weather patterns which have been challenging for pronghorn the last two years."

Sometimes, the timing of moisture can be too much for antelope to handle. Game and Fish spring surveys revealed elevated levels of winter mortality from the record-breaking spring storms that dumped more than 10 feet of snow in some regions.

"Everyone is familiar with the blizzard conditions in easterm Wyoming this March. It was already a crucial time for wildlife survival following winter. Pronghorn especially are not physically built to handle deep snow conditions. We saw pronghorn trapped between drifts, unable to get to the food they needed." Brimeyer said. "That weather made a direct impact on the 2021 hunting season proposals."

Brimeyer is optimistic that a conservative year of licenses will help pronghorn rebound, and quickly. The animal is incredibly resilient on a population scale, and typically has high reproductive capacity. Nearly 98% of does have twins each year, and that could amount to population increases as high as 30% by 2022 if conditions on the ground are supportive.

"If conditions are favorable, we could expect to see fawn ratios bump up," Brimeyer said. "That means we're hopeful for good spring and summer moisture to support leader growth on shrubs and native grasses."

Game and Fish will monitor populations closely over the summer, with surveys in August. By late summer, wildlife managers will know how pronghorn are faring heading into the fall.

For hunters and landowners, the proposed license reductions mean there will be less opportunities for hunters in 2021 in terms license availability.

"With the reductions, hunters will need to study the proposals and make informed decisions on where to apply," said Jennifer Doering, license section manager.

Those who do draw can expect the same high-quality experience in previous years.

"Wyoming is still home to more pronghorn than any western state. Last year, pronghorn hunters reported an 88% harvest success rate, and wardens and biologists strive to maintain a high-quality hunting experience for pronghorn hunters," Brimeyer said.

Game and Fish will present the 2021 hunting seasons and quotas for approval at the upcoming Wyoming Game and Fish Commission meeting in Jackson, April 19-22.

"If you've already applied for an antelope license, make sure you check that the season dates and the quota once finalized at the end of April," Doering said.

---
Wyoming extends statewide public health orders to April 30 (posted 4/13/2021)
Wyoming Department of Health
As the COVID 19 pandemic continues, the two remaining related statewide public health orders are being extended for two more weeks, according to the Wyoming Department of Health (WDH).

"While we continue to see stable case numbers and hospitalizations in most areas of the state, our overall progress seems to have plateaued," said Dr. Alexia Harrist, state health officer and state epidemiologist with WDH. "COVID-19 remains a threat for now, with cases growing in other states."

More than 175,000 individuals have received at least one vaccine dose so far in Wyoming when state and special federal counts are combined.

Mask use and physical distancing requirements related to educational institutions are remaining in the statewide orders. Indoor events of more than 500 people may be held at 50 percent of venue capacity with certain face mask protocols for large indoor events.

WDH recommends the continued use of face masks in indoor public places and when common-sense physical distancing cannot be maintained among people who don't live in the same household.

The updated orders, which go into effect April 16 and will remain through April 30, can be found online here.

Information about getting a COVID-19 vaccine in Wyoming can be found here.

Wyoming offers free at-home COVID-19 testing. More information can be found here.

---
Game and Fish launching moss ball take-back program (posted 4/12/2021)
Aquarium owners, your moss ball could be worth $1,200
Wyoming Game & Fish
Aquarium owners, your moss ball could be worth $1,200. The Wyoming Game and Fish Department, in collaboration with Wyoming Trout Unlimited and other sponsors, is launching a month-long moss ball take-back program to help stop the potential spread of zebra mussels. The invasive mussel species was discovered for the first time in Wyoming in March on moss balls, an aquarium plant sold in pet stores.

"Zebra mussels are a serious threat to Wyoming's waters, outdoor recreation, municipalities, agriculture, state infrastructure and tourism. That's why we are going the extra mile to encourage people to dispose of their moss balls that could have zebra mussels," said Alan Osterland, Game and Fish chief of fisheries.

All aquarium moss balls are eligible to be submitted to the program. To return a moss ball, net it out of your aquarium and put it in a closed, plastic bag or container. Moss balls can be dropped off to one of the 10 take-back locations across Wyoming.

Johnson County Emergency Management, 26 N. DeSmet, Buffalo
Game and Fish Sheridan Regional Office, 700 Valley View Dr., Sheridan
Game and Fish Cody Regional Office, 2820 Highway 120, Cody
Game and Fish Jackson Regional Office, 420 N. Cache St., Jackson
Game and Fish Pinedale Regional Office, 432 E. Mill St., Pinedale
Game and Fish Green River Regional Office, 351 Astle Ave. Green River
Game and Fish Lander Regional Office, 260 Buena Vista Dr., Lander
Game and Fish Casper Regional Office, 3030 Energy Ln., Casper
Game and Fish Laramie Regional Office, 1212 S. Adams St., Laramie
Game and Fish Headquarters, 5400 Bishop Blvd., Cheyenne

Anyone who returns a moss ball can scan a QR code at the drop-off site to enter into a raffle to win $1,200. The raffle closes May 15.

"Every moss ball returned helps prevent the potential spread of zebra mussels," said Josh Leonard, Game and Fish aquatic invasive species coordinator. "Just because you don't see a mussel, doesn't mean its tiny offspring are not there. That's why disposing of all moss balls is vital, as well as the water they've been in."

Leonard recommends aquarists dispose of any aquarium water that came in contact with a moss ball by boiling and then pouring outside away from any natural waters or on a house plant after cooling. Do not pour down drains. Full directions are available on the Game and Fish website. Moss balls remain under a quarantine order from the Wyoming Department of Agriculture.

"Please do not buy more moss balls," Leonard said. "Game and Fish is still working to contain the threat of zebra mussels in Wyoming, and a major key to protecting our state is the public's help."

The moss ball take-back program is supported by Wyoming Trout Unlimited, the WYldlife Fund, Wyoming Game Wardens Association, Wyoming County Commissioners Association, Greater Yellowstone Coalition, Wyoming Chapter of The Nature Conservancy, Wyoming Wildlife Federation and Muley Fanatic Foundation.

---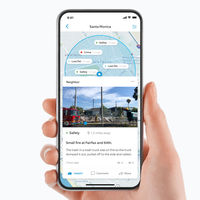 Neighbors by Ring

SCSO joins Neighbors by Ring (posted 4/11/2021)
Real-time crime and safety alerts from your neighbors and public safety agencies
Sublette County Sheriff's Office
The Sublette County Sheriff's Office (SCSO) has become the first Law Enforcement agency in Wyoming to join Neighbors by Ring. This app enables users in our community to share and discuss crime and safety issues specific to your neighborhood (up to 5-mile radius of your home). It also integrates with any RING device you may have to allow users, if they choose, to share critical surveillance video and pictures with our agency including safety concerns and or crimes. Users can also share information with fellow residents regarding: crime, safety, unexpected activity, lost pets, and neighborly moments. The Neighbors app is free and having a Ring device is not required to use the service.

The SCSO will use this new feature to connect with residents in a new way as part of our effort to reach all audiences in our community. We may also request helpful information from residents and their Ring devices (if they chose to share) to assist in protecting our communities.

Key Neighbors Features
- Stay Informed: Millions of residents in communities across the U.S. have joined Neighbors and use it to receive real-time, hyper-local safety updates from fellow neighbors and the public safety agencies that serve them.
- Share Safety Updates: Share safety-related updates with your community by creating a new post or commenting on existing posts in your local Neighbors feed.
- Customize Your Experience: Select your neighborhood area of interest and adjust your settings to see only the types of updates you wish to receive and how often you would like to receive them.
- Helpful Safety Services: In some neighborhoods, public safety agencies use Neighbors to connect with residents and share hyper-local safety updates in the communities they serve. Visit Ring's Active Agency Map to see if your local public safety agency is on Neighbors.
- User Privacy & Control: When using Neighbors, police and other public safety agencies can only view what residents have posted publicly to Neighbors or what they have shared in response to a video request. Police and other public safety agencies do not have access to users' Ring devices, live streams or personal information when using Neighbors.

How to Join Neighbors For Residents:
Download the Neighbors App for free on iOS, Android and FireOS devices. You do not need to own a Ring device or any home security system in order to participate on Neighbors.

https://apps.apple.com/us/app/neighbors-by-ring/id1218902777
https://play.google.com/store/apps/details?id=com.ring.neighborhoods&hl=en_US

Other helpful links for Neighbors:
https://ring.com/neighbors
https://support.ring.com/hc/en-us/articles/360035402811-Active-Law-Enforcement-Ma

For more information contact:
SUBLETTE COUNTY SHERIFF'S OFFICE
Sheriff K.C. Lehr
P.O. Box 701
35 ½ S. Tyler Ave.
Pinedale, WY 82941
Pinedale Office: (307) 367-4378
Pinedale Fax: (307) 367-4360
Marbleton Office: (307) 276-5448
Marbleton Fax (307) 276-5446

---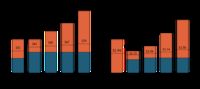 Expectation of future energy prices. Source: Federal Reserve Bank of Kansas City

1Q Oil & Gas activity report (posted 4/10/2021)
2021 US production expected to remain flat with single digit to low double-digit growth in 2022
The Federal Reserve Bank of Kansas City posted the results of their 2021 first quarter energy survey. It indicates that Tenth District energy activity continued to increase moderately from levels one year ago, and that expectations are for it to continue to increase.

This quarter firms were asked what oil and natural gas prices were needed for drilling to remain profitable on average across the fields in which they are active. The average oil price needed was $53 per barrel, with a range of $35 to $80. This average was higher than prices needed to remain profitable in Q3 2020, but still lower than prices for the past several years. The average natural gas price needed was $2.94 per million Btu, with responses ranging from $0.75 to $5.00.

Firms were again asked what they expected oil and natural gas prices to be in six months, one year, two years, and five years. Overall, expected oil and natural gas prices were higher than previous price expectations in 2020. The average expected WTI prices were $62, $65, $67, and $70 per barrel, respectively. The average expected Henry Hub natural gas prices were $2.72, $2.94, $3.14, and $3.50 per million Btu, respectively.

Firms were also asked about the crude oil supply gap. Around 42% of firms indicated there would be a supply gap beyond 2021, with 37% of firms reporting no gap would exist after this year.

Selected Energy Comments
"Full time employment is way down, will continue to be down, and will be replaced with more contract/part time workers."

"We anticipate 2021 US production to remain flat with single digit to low double-digit growth in 2022. Policy and fuel switching concerns are generally over-estimated in light of the practical and physical realities of the energy mix. Oil and gas will become cleaner and continue to secure its role as the primary fuel source for several decades to come."

"A tremendous amount of uncertainty will exist on both the demand side and politically during the next 12 to 24 months. Conquering Covid-19 and returning to normal market demand will be the first step. US policy change will then provide the next tailwind or headwind depending upon direction and balance."

"Production in the US was expected to move consistently upward. That is over. Now the question is how quickly it will fall and stay below 10mmbd."

"It appears that US shale producers are less likely to immediately respond with increased drilling/completion rates when oil price increases provide them with increased cashflow."

"Capital markets are demanding E&P companies to generate cash flow in excess of their capital investment, or in other words generate free cash flow. With the upward price movement public E&Ps so far have not raised capital investment."

"The years of over-spending by shale drillers will limit the survivors' opportunities to fund drilling programs. The oil markets will become more dependent on the actions of OPEC producers as they regain market share. This will become more obvious once investors realize many of the horizontal plays have been over-drilled and billions were wasted on wells that did not need to be drilled."

"We have lost many employees that left when the price fell apart last spring. It has been difficult to hire appropriately skilled labor."

"Investor sentiment has changed from growth to value. A more cautious approach to growth will be the focus for the next 12 to 24 months as demand recovery occurs. Demand will drive decisions long-term."

Click on this link to read the full report and see all the charts and graphs: Tenth District Energy Activity Continued to Increase Moderately April 9, 2021

---
Emergency Rental Assistance Program will be available soon (posted 4/9/2021)
The U.S. Treasury has provided the State with funds to help cover rent and utility costs for those individuals and families that are struggling financially due to the COVID – 19 pandemic. The Emergency Rental Assistance Program (ERAP) may help with:
- Rent
- Maintaining safe housing and avoiding evictions
- Utility bills

The program is designed to help people in need to apply for assistance and payments will be made directly to the utility on behalf of the customer.

Applications are not yet available for the program. Anyone interested can go to this link for more information and sign up for updates including when applications can begin to be submitted.

Homeowner assistance is also on the way.

---
Grand Teton Park roads open to motorized travel May 1 (posted 4/7/2021)
Face masks required when can't physical distance
Grand Teton National Park
MOOSE, WYOMING—Enjoying the park and getting outside via non-motorized travel on the Teton Park Road between the Taggart Lake Trailhead and Signal Mountain Lodge is an incredible spring experience for many. Park visitors are reminded to recreate responsibly, especially during the on-going COVID-19 pandemic, as they enjoy the outdoor opportunity.

The 14-mile section of the Teton Park Road is currently open to non-motorized travel through Friday, April 30, including walking, bicycling and rollerblading. The road will open to public motor vehicle traffic on Saturday, May 1.

Recent recreational use on the Teton Park Road has been very busy. Park staff anticipated a busy spring season on the road and implemented several changes. These changes include increased parking access between the Taggart Lake Trailhead and Cottonwood Picnic Area during peak use, a staffed mobile information trailer, and additional portable restrooms. There will also be increased signage to encourage speed reduction for everyone's safety.

The mobile information trailer and National Park Service volunteers providing visitor information are supported through generous donations from the Grand Teton National Park Foundation.

Visitors enjoying the Teton Park Road are encouraged to be good stewards of the park and reminded:
• Masks are required when physical distancing cannot be maintained.
• Water is not available at the trailhead or along the road. Be self-sufficient with water, snacks and bicycle/skate repairs.
• Pack it in, pack it out. There are limited trash receptacles at both ends of the road. Do not put trash in the portable toilets.
• Vault toilets are available at Taggart Lake Trailhead and Cottonwood Picnic Area, with portable toilets located along the road between Cottonwood and North Jenny Lake Junction, and restroom facilities at Signal Mountain Lodge.
• Dogs are permitted on the Teton Park Road. Dog owners are required to use a leash no longer than six feet in length and are required to clean up after their dogs. Waste disposal bag stations are located at each end of the road and bags should be deposited into appropriate trash receptacles and not left along the road.
• Vehicles should slow down and use caution in the area.
• Be respectful of other visitors enjoying the area, be thoughtful of how music may affect others.
• Visit the mobile informational trailer located at the Taggart Trailhead. Park staff will be available during high-use times to provide orientation, wayfinding, and safety information.
• Consider beginning at the Signal Mountain end of the road as it is less busy, and offers ample parking, restroom facilities, water filling station and self-pay fuel pumps at Signal Mountain Lodge. Please respect the Signal Mountain Lodge area as most facilities are not open to the public at this time.
• Visit Recreate Responsibly to learn additional tips on how to be good stewards of National Park Service lands and facilities, and other public lands and outdoor spaces.

Recreationalists on the Teton Park Road should use caution, as there may be snow and ice on some sections of the road creating slick conditions and be alert for park vehicles that periodically travel the road for administrative purpose. Road crews may be clearing auxiliary roads and wayside areas, and visitors are cautioned to stay away from rotary plows and other heavy equipment.

---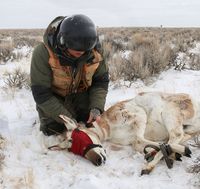 WGFD

Pronghorn collared to supplement migration data (posted 3/30/2021)
To monitor seasonal movements of Sublette herd
Wyoming Game & Fish
PINEDALE, WYOMING - This winter a Game and Fish-contracted wildlife capture crew deployed 75 GPS collars on doe pronghorn in the Sublette herd, which covers much of southwest Wyoming north of Interstate-80. This was in addition to 19 collars that were deployed last winter in an effort to fill in 'holes' in an existing dataset.

The Sublette pronghorn herd is among the Cowboy State's largest, currently numbering some 35,000 animals with a herd population objective of 48,000. In multiple studies between 2004 and 2017, nearly 600 individual pronghorn from the Sublette herd were fitted with GPS satellite tracking collars, bringing to light one of the longest intact big game migration corridors in North America. It was discovered that some pronghorn in the Sublette herd seasonally move nearly 200 miles between summer ranges in Grand Teton National Park and winter ranges north of Rock Springs.

With the large number of animals that have been collared over the years, the dataset for the Sublette herd is very robust. However, wildlife managers and researchers realized there were still important portions of the herd where no pronghorn had been collared.

These newly-collared animals will provide the fine-scale location data needed to not only delineate migration routes, but also reveal important stopover areas where animals stock up on nutrients along the way. The data will also inform managers on where to locate local conservation measures such as fence modifications and improved highway wildlife crossings.

The Department is currently reviewing this large dataset and following the steps outlined in the Governor's Executive Order 2020-1 to evaluate the Sublette pronghorn herd's seasonal movements for potential identification or designation as a migration corridor.

---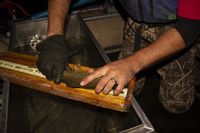 Pinedale Fish Biologist Darren Rhea measures a brown trout from a night survey on the Green River. WGFD

Green River trout estimates break records (posted 3/30/2021)
Wyoming Game & Fish
PINEDALE, WYOMING - The year 2020 is one many of us will remember. The year will certainly be remembered for many things, but will it be remembered as the "glory days" of fishing on the upper Green River in Wyoming? Recent assessments of the Green River trout fishery by Wyoming Game and Fish Department biologists in Pinedale indicate the trout population is at or near an all-time high.

Every year, biologists monitor the status of the fishery by completing an electrofishing assessment within a designated reach of the river. Darren Rhea, a Fisheries Biologist in Pinedale, directs all of the work conducted on the Green River. "We maintain a fairly rigorous monitoring strategy for the Green River," said Rhea. "It's an extremely valuable resource in the region and supports a lot of angler use."

"It's important that we keep a close eye on the fishery to ensure that it is not being over-utilized, or impacted from other factors," he continued. In the upper Green River (above Fontenelle Reservoir), six different reaches are monitored on a three-year rotation, with two reaches monitored each year to maintain a robust dataset going back several decades.

The process can be fairly complex. Large rafts and drift boats, specifically designed to carry generators and other specialized sampling equipment, will carry a crew of 2-3 people down the river producing an electrical field in the water, which allows for the effective capture of adult trout. The process is repeated over a period of 3-4 days to generate an estimate of the total number of fish in the river based on a mathematical model that uses the number of captured and re-captured fish over the course of the sampling event. The resulting population estimate, along with size-structure and species composition, provides managers with empirical data to evaluate the current status of the fish population and compare to previous years to monitor trends or long-term changes.

The effort in 2020 focused on two areas of the river, including one reach of the river near the Daniel Fish Hatchery and Forty-Rod Creek, and another below the Five-Mile Bridge area near Big Piney. Both areas have been sampled regularly for a period of 25+ years, and provide a good baseline for monitoring changes over time.

Work conducted within the "Forty-Rod" reach in September, 2020, generated an estimate of trout greater than any estimate ever obtained within this section of the river. A total of 719 trout/mile were estimated to inhabit the river with brown trout accounting for over 80% of the population. Rainbow trout made up the majority of the remaining population. This was the first time in over 20 years that the number of trout in the Green River exceeded 700/mile in this section.

Historical data, dating back 30+ years, indicates that more trout used to inhabit similar areas of the Green, though most of them were small rainbow trout (< 9 inches) that were the result of widespread stocking which has since been discontinued. Wild trout now make up the vast majority of fish in the river and their numbers have never been higher.

This section of the river continues to be popular among anglers and supports some of the highest angler-use in the region. Recent monitoring data indicates that fishing pressure, especially boat-angler pressure, has been increasing on the Upper Green. "It's encouraging to see such a robust population of wild trout persisting within this section of the river," says Rhea, "especially considering all of the angling use the river supports right now."

One reassuring phenomenon Rhea has witnessed over the course of his career is a strong shift in voluntary catch-and-release angling on the Green and other popular river fisheries. "During the summers of 2019 and 2020, we interviewed over 300 anglers fishing the Green River and not a single angler reported harvesting a trout, despite catching and releasing hundreds of fish."

Similarly, the portion of the river sampled near Big Piney smashed historic records. Trout numbers were estimated at a fairly pedestrian 560/mile. "We have seen estimates of trout numbers higher in this reach," says Rhea, "but we have never seen a biomass estimate (the total number of pounds of fish) anywhere near what we recorded in 2020." Biomass estimates account for the total pounds of fish in the water. Despite similar numbers of fish in the river compared to previous years, greater biomass estimates indicate that the trout population is comprised of much larger individuals than years past.

By all accounts, 2020 may well have been the "glory days" of fishing on the Green River. Unfortunately, Rhea doesn't expect the phenomenon to persist. "2020 was among the most ideal conditions for sampling trout in the Green River. Lower than average flows added to our capture efficiency and contributed to very precise estimates." However, persistent drought conditions and low flows do not bode well for fish populations in the future.

Lower than average discharge means less over-winter habitat and reduced survival for many fish in the river. "I suspect we will see a drop in overall fish numbers in 2021, and without significant snowfall during the winter, we may see dramatic impacts that will last for a period of years." Despite the current circumstances and short-term prospects of the river fishery, Rhea says he is largely encouraged by the outcome from the 2020 sampling effort. "It indicates, that overall, the river is healthy and resilient to annual changes in climate and flow."

"For close to 20 years, I have witnessed the ups and downs in the river fishery as a result of dry and wet periods, but if we continue to care for our water and land, and make the best use of our resources, I am certain the Green River fishery will persist for many generations to enjoy."

---
Antler hunting season begins May 1 (posted 3/23/2021)
Wyoming Game & Fish
Antler collection on Wyoming state lands will also open at 6 a.m. on May 1 in those areas where the antler regulation applies. More details on antler collection regulations and maps are available on the Game and Fish website.

Recreationists are also reminded to be bear aware while in the field. It is recommended to hike in a group and make noise as you travel so bears can hear you, especially in thick cover or near streams. Learn to recognize areas of heavy bear use by knowing how to identify tracks, scat and diggings, and if you smell a carcass, avoid it. Flocks of magpies or ravens often indicate a nearby potential food source for bears. Remember, when bears scavenge large animals they often cover what they can't eat with brush or dirt and may stay nearby for several days to defend it from other bears.

Commercially available bear spray is effective for stopping aggressive bears. Use bear spray only as a deterrent and as a last resort to avoiding a physical encounter. Carry bear spray in a readily accessible manner and make sure the spray is EPA approved.

---
Business Directory
Click here for
Advertising Information