WYO Governor signs Executive Order allowing alcohol sales with pick-up food orders (posted 3/31/2020)
Governor Mark Gordon media release
CHEYENNE, WYOMING, March 31, 2020 – Wyoming Governor Mark Gordon has signed an Executive Order (EO) permitting restaurants and bars and grills with a Wyoming liquor license to sell malt beverages and wine with take-out and curbside food orders. The expanded privileges, effective immediately, will help businesses supplement sales during the COVID-19 pandemic.

"The social distancing measures we have implemented to slow the spread of COVID-19 have been extremely challenging for the restaurant industry," Governor Gordon. "This Executive Order provides an opportunity for an additional source of revenue for these businesses."

The EO limits sales and includes several requirements for businesses who intend to sell alcohol. Conditions include restricting alcohol sales to 49% or less of the total pre-tax amount of the order and notifying local law enforcement of the intent to sell off-premise coupled with a menu and price. Alcohol is restricted to malt beverages and wine in an original, sealed container. A full listing of conditions is detailed in the Executive Order, which is attached and can be found on the Governor's website and the state's COVID-19 website.

The order expires on April 17, matching the recently-extended public health orders issued by the Wyoming Department of Health.

---
Jackson repeals 'Stay-at-Home' Order (posted 3/31/2020)
A new county-wide Order in effect through April 17, 2020
Pinedale Online!
On Tuesday, March 31st, the Jackson Town Council voted to repeal the emergency 'Stay-at-Home' Order they passed four days ago, on Saturday, March 28th. The repeal came after the Teton County Health District Officer issued a broader county-wide Public Health Order on Monday, March 30th that mandates that Teton County residents not gather, publicly or privately, with anyone outside of their immediate household.

Click on this link to read more on the story about the repeal of the stay-at-home order: Town repeals emergency 'stay-at-home' order in favor of county order by Nick Sulzer, buckrail.com, March 31, 2020

Click on this link to read Teton County's March 30, 2020 Public Health Order: New Public Health Order Issued www.tetoncountywy.gov, March 31, 2020

Below is the text of the new Health Order.
______________________________________

Posted on www.tetoncountywy.gov on March 31, 2020
https://www.tetoncountywy.gov/CivicAlerts.aspx?AID=1052

New Public Health Order Issued
Teton County
On March 30th, 2020, Travis Riddell, MD, Teton Health District Officer, issued Countywide Public Health Order #20-4 requiring all people within Teton County, Wyoming, including the City of Jackson, Wyoming to limit gatherings to only individuals of the same household. Alexia Harrist, MD, PhD, the Wyoming State Health Officer, authorized and directed the Teton Health District Officer to issue the Countywide Public Health Order #20-4.

Dr. Riddell stated, "I am pleased that we have been able to enact another incremental step to slow the spread of COVID-19 in our community. However, the individual decisions each of us make every day collectively remain our single most powerful tool in controlling the virus."

The Wyoming Statutes explicitly grant the power to issue public health orders to medical professionals, rather than elected officials. The Wyoming State Health Officer, a medical doctor, authorizes and directs the Teton District Health Officer, also a medical doctor, to issue public health orders. Teton County and the Town of Jackson have formed the Teton Health District which encompasses Teton County, Wyoming, and includes the City of Jackson. The Teton Health District has a Board of Health, that appoints the District Health Officer.

The Countywide Public Health Order #20-4 is now in effect and will remain valid through April 17, 2020.

Public Health Order #20-4 orders that:
· All Residents of Teton County, Wyoming, including the City of Jackson, Wyoming shall limit gatherings to only individuals who are living in the same household.

There are 6 circumstances in which a person may leave their home:

1. Performing tasks essential to their health and safety, or for the health and safety of their household members or pets, including, be example and without limitation, obtaining medical supplies or medication or visiting a health care professional.

2. Care for a family member or pet in another household.

3. Obtain necessary supplies for self or household members (including, by example and without limitation, groceries, food, liquor, sporting goods, and products necessary to maintain the safety, sanitation, and essential operation of a residence).

4. Deliver necessary supplies (including, by example and without limitation, groceries, food, liquor, sporting goods, and products necessary to maintain for safety, sanitation, and essential operation of a residence.

5. Engage in outdoor activity, so long as six (6) feet is maintained between any person not in the same household.

6. Travel to and work at a place of employment, if the work cannot be done remotely from home.

Countywide Order #20-4 also defines physical distancing requirements as:
Maintain at least six (6) feet distance from other individuals, wash hands with soap and water for at least twenty seconds as frequently as possible, or use hand sanitizer, cover coughs or sneezes (into the sleeve or elbow, not hands), and regularly clean high touch surfaces. Do not shake hands.

Penalty/Violation
Any person or legal entity that violates any public health order shall be subject to criminal prosecution under Wyoming Statutes §35-1-105 and/or 35-1-106. Failure or refusal to obey a public health order issued by the State Health Officer and/or the Teton District Health Officer may result in a criminal prosecution of a high misdemeanor ($1000.00 fine or by imprisonment for not more than one (1) year or both).

Previous Countywide Public Health Orders
The previous Countywide Public Health Orders issued by the Teton Health District Officer have either expired or been revoked by the issuance of subsequent orders.

Countywide Public Health Order #20-1A (gatherings over 250 persons) and #20-1B (gatherings over 50 people) have been revoked through a subsequent Statewide Order (Statewide Order #2 Forbidding Gatherings over 10 Persons).

Countywide Public Health Order #20-2 (Closure Order) expired on March 31, 2020. Statewide Order #1 on Closures is still in effect.

Countywide Public Health Order #20-3 (Stay at Home Order for those over 65 and High-Risk Medical Conditions) has been revoked through the issuance of Countywide Public Health Order #20-4 (Stay at Home Order for All).

The only valid Countywide Public Health Order presently in effect is Countywide Public Health Order #20-4 (Countywide Stay at Home for All Order) and the 3 Statewide Orders are in full effect.

---
Monday COVID-19 updates for Sublette County and Wyoming (posted 3/30/2020)
There were two video updates today, Monday, March 30th, about the COVID-19 situation, in Sublette County and across Wyoming.

The Sublette County Sheriff's Office hosted an update with Sublette County Public Health Officer Dr. Fitzsimmons, and Sublette County Public Health Nurse Supervisor Janna Lee, and Sublette COVID Team Public Information Officer Sgt. Travis Bingham. The update can be found on the Sublette County Sheriff's Office Facebook page here. It was also broadcast live on KPIN 101.1 FM Radio.

At the same time, Wyoming Governor Mark Gordon also held a live video update session and press conference which lasted about an hour. With him were Dr. Alexia Harrist, Wyoming State Health Officer, and Dr. David Wheeler, a clinical neurophysiologist in Casper, Wyoming. The video of the press conference can be found here on YouTube March 30, 2020 Governor's COVID-19 Update

Highlights of Sublette County update:
Dr. Fitzsimmons, Sublette County Public Health Officer:
- Please don't stigmatize people who do get the virus. It is wrong to assume that the people who get sick are the ones who brought it into the county. Please be kind. Others will likely get it, and you could be the next one.
- Grocery Shopping: We need to do what we can to practice social distancing in the grocery stores. Ridley's has posted signs and is being proactive to encourage social distancing. Please limit the number of people who go into the store for shopping who don't need to be there. Please try to go on fewer trips, for example once a week and get what you need rather than a little shopping every couple of days.
- Health officials do not believe this pandemic can be stopped. All we can do is hope to slow it down so we don't overwhelm our local health care providers. Everyone needs to be very careful in what they do and where they go. Please do not go out if you are sick or someone in your family is sick.
- Facemasks: In general, are of limited utility, but better than nothing. Can't count on them as guarantees to keep you from getting sick.
- Surrounding hospitals are taking our patients, even ones with COVID-19. All air services are operating and available to Sublette County as normal.
- There is a question about using ibuprofen with coronavirus and making it worse? The science is not clear on that yet. Recommend not using until more is known.

Janna Lee, Sublette County Public Health Nurse Manager:
Sublette County had our first positive COVID-19 case confirmed yesterday. She is self-isolating and Public Health is contacting her close contacts. They are doing everything they can to make sure her needs are being met. Please be kind to those who test positive. It is not their fault they contract this very contagious disease. The positive test numbers will probably increase.

Sgt. Travis Bingham, Public Information Officer for the Sublette County COVID Group:
- There have been some false posts showing up on Facebook. One claiming to be Sublette County news said we had 10 COVID cases in the county. This is not true. Stick to reliable sources to get your news information and updates about the coronavirus situation. The Volunteer Hotline is open during the week, 307-209-4037 or email sublettecovidvolunteers@gmail.com

Highlights of Governor Gordon's COVID Update & Press Conference:
- They are considering if Wyoming will extend our health guidelines from April 17th to April 30th like President Trump did yesterday.
- The State has received two shipments of Personal Protective Equipment from the National Strategic Stockpile and it is being distributed around the state to places needed most. The University of Wyoming and other groups have started to 3-D print protective masks and shields.
- Emphasize social distancing and staying at home. If sick, stay at home and away from others in your household as much as possible. Clean high touch surfaces. Wash your hands. Only have one person from the household go out to get supplies, and limit frequency of going out as much as possible and getting only essential supplies.
- The Wyoming Medical Society is encouraging Wyoming physicians to stop in-person clinic visits and to instead to do telemedicine as much as possible. Also recommend canceling all elective procedures which is wasting personal protective equipment that needs to be preserved for the -expected surge in patients to come.
- Today the Governor signed an Executive Order that allows bars and restaurants to sell alcohol with take-out and curbside pickup orders, if they were already allowed to do so.
- Working on Layoff Aversion Grants to help impacted businesses keep employees employed.
- The Wyoming Public Service Commission gave every utility the ability to temporarily suspend disconnect notices and waive late fees for customers. Practically every utility in the state has done so. If you can, you should pay your bill.
- Approved for more than 4,000 state employees to work via tele-work.
- Recommend that businesses that are still open take care to pace the customers who come in their stores so don't have large crowds gather.

The Governor several times emphasized the critical nature of citizens taking personal responsibility in this matter. "Every person that can should be staying at home, not walking around stores, or at family meetings or group outings. The existing orders we have are designed so that you take that responsibility. Change your public behavior and protect all of our health."

The Governor gave a shout-out to the Wyoming Department of Health, Wyoming Department of Transportation, and Homeland Security people for their efforts in getting supplies out into the field where can be of most use.

At this time, they are not issuing a state-wide Shelter-in-Place order. If the State does issue one, it will not have multiple exemptions.

We can expect it to take 3 to 6 weeks to "flatten the curve" and then additional multi-weeks for numbers to taper off. We cannot relax social distancing standards over the next six weeks and probably over the next couple of months.

Thank you to everyone, and especially all the doctors, first responders, and neighboring states for helping Wyoming. We're all in this together.
---
Sweetwater County has 2nd COVID-19 positive (posted 3/30/2020)
First patient recovering
Sweetwater County COVID-19 Emergency Operations Center
Sweetwater County COVID-19 Emergency Operations Center
ROCK SPRINGS, WYOMING, March 30, 2020 — Sweetwater County healthcare agencies were notified Monday, March 30, 2020, by a private medical laboratory that Sweetwater County has its second case of COVID-19.

The lab has confirmed an adult male in his 20s, living in Green River, has tested positive for COVID-19. The patient is in good condition and is now self-isolating at home.

Sweetwater County's first patient, a male in his 40s, remains in good condition. His quarantine ended March 27, and he remains in self-isolation. His close contacts will be quarantined until April 10.

"The community can expect increases in COVID-19," said Dr. Jean Stachon, Sweetwater County Health Officer. "This is the tip of an iceberg. It's out there in numbers that can double every two to three days. This is the time for all of us to collectively act to stop the spread."

"The best thing you can do is to stay home and isolate yourself if you're not feeling well," said Kim Lionberger, Director of Sweetwater County Public Health.

"This is serious," said Kim White, Sweetwater Memorial Incident Commander. "We're concerned about our hospital being overwhelmed with patients and reaching a point where we may not be able to take care of those in need. Help us by staying more than 6 feet away from those you are not housed with. Social distancing is 'physical distancing.'"

Advice from Sweetwater County health care agencies:
Staying home, self-isolating and social distancing doesn't mean stop moving. Find ways to get some steps in – work and play in your yard, go for a walk in the county's wide, open spaces. Movement will help you avoid a pulmonary embolism, or blood clot. Clots can break off and go through your heart to your lungs. --- - Stay active.
- Social distancing is important. Work from home. Make use of Skype, Facetime, email, and text to stay in touch with friends and loved ones.
- If you have a temperature of 100 or greater or a cough, call your provider or call the MHSC COVID-19 Nurse Triage Line at 307-522-8523 to discuss COVID-19 symptoms.
- Stop the spread. Don't touch your T-zone – eyes, nose and mouth. Cover your cough –cough and sneeze into your sleeve or a tissue, NOT in your hands.

More health and community updates can be found at:
sweetwatermemorial.com
sweetwater311.org
covid19.wyo.gov
cdc.gov

---
Highlights of March 29 White House Press Briefing (posted 3/30/2020)
Health Guidelines extended to April 30th to slow the spread of COVID-19
Pinedale Online!
Click on this link to read the full remarks by President Trump, Vice President Pence, and Members of the Coronavirus Task Force in the Press Briefing in the Rose Garden at the White House on Sunday, March 29, 2020. March 29 White House Press Briefing

Highlights:
- The modeling put together by Dr. Birx and Dr. Fauci and our other top healthcare experts demonstrate that the mitigation measures we are putting in place may significantly reduce the number of new infections and, ultimately, the number of fatalities. Your selfless, inspiring, and valiant efforts are saving countless lives. You're making the difference. The modeling estimates that the peak in death rate is likely to hit in two weeks. The peak, the highest point of death rates is likely to hit in two weeks. Therefore, the next two weeks, it's very important that everyone strongly follow the guidelines. Therefore, we will be extending our guidelines to April 30th to slow the spread. On Tuesday, we will be finalizing these plans and providing a summary of our findings, supporting data, and strategy to the American people. We can expect that, by June 1st, we will be well on our way to recovery. Take heart and confidence in the fact that we have the best medical minds in the world tackling this disease. We have the best science, the best researchers, and the best talent anywhere working night and day to protect your family and loved ones and to overcome this pandemic.

- We have to really do a great job for another couple of weeks. We had the greatest economy in the history of the world three weeks ago, and now we've said, "Please don't work anymore." We're actually paying people not to work. Dr. Fauci and Dr. Birx gave us a number, that 2.2 million people would have died if we didn't do what we're doing. Now we're looking at numbers that are going to be much lower than that.

- On Friday, the FDA authorized a new test developed by Abbott Labs that delivers test results in as little as five minutes. Normally, the approval process from the FDA would take 10 months or longer, but this was done in four weeks. Abbott has stated that they will begin delivering 50,000 tests each day, starting this week.

- The United States is doing more testing than any other country anywhere in the world. It's one of the reasons that we have more cases than other countries, because we're doing more testing. It's also one of the reasons that we're just about the lowest in terms of mortality rate, because we've been doing more testing. So we have bigger numbers to look at. The deployment of rapid testing will vastly accelerate our ability to monitor, track, contain, and ultimately defeat the virus. It will also allow us to test doctors, nurses, and other healthcare workers immediately and enable us to act quickly and aggressively to shut down the spread of the virus in critical facilities like hospitals and nursing homes.

- The Army Corps of Engineers, along with FEMA, built 2,900 beds' worth of hospital in the Javits Center in New York in less than four days. It's a complex, top-of-the-line hospital. Now they're moving to other locations throughout the country where they already have people building hospitals.

- 1,100 patients in New York are being tested with hydroxychloroquine along with the Z-Pak, which is azithromycin. It's very early yet, started two days ago. Will see what happens.

- The FDA is allowing the emergency use of a blood-related therapy called convalescent plasma as an experimental treatment for seriously ill patients. This treatment involves taking blood plasma from patients who have already recovered from the virus, meaning, their plasma is rich in antibodies against the virus, and transfusing it into six patients to boost their immune system. Early results are good, but we will see. Approvals for that came very quickly.

- We're also looking at an approval for the sterilization of masks so they can be used a second, third, fourth time. A company in Ohio is in the final process of getting approval for the sterilization of masks, some which might be able to be sterilized up to 20 times. They are working on getting a fast approval for the sterilization of masks.

- Still working to try to find a vaccine.

- Vaccines are an answer, but also looking into something therapeutically to care for the people that are already sick. This is a blood-related therapy.

- A facility in North Carolina is now manufacturing an additional 40 to 50 million masks per month to get into the U.S. healthcare system.

- FEMA is working with private companies to launch Project Airbridge to expedite the movement of critical supplies from other countries to the United States. The first flight arrived at JFK Airport, New York, this morning, filled with 80 tons of personal protective equipment, including 130,000 N95 respirators, 1.8 million face masks and gowns, 10.3 million gloves, and many other things. FEMA has scheduled 19 additional flights and is adding more daily. We hope to have about 50 flights. We're going to have up at 51 flights with these massive planes from the different companies.

- UPS is one of the companies helping with the distribution effort. Their Big Brown army, 495,000 UPSers across the country, are bringing in the supplies from around the world as fast as they can to serve the communities that need them most.

- The USNS Comfort departed from New York three weeks ahead of schedule, fully loaded with 12 operating rooms, 1,000 hospital beds, and hundreds of the best doctors, nurses, and medical professionals anywhere in the United States.

- Two of the country's largest health insurers, Humana and Cigna, are announcing that they will waive co-pays, coinsurance and deductibles for the coronavirus treatments to help ease the financial burden on American families during this pandemic.

- I've directed my staff to use any and all authority available to give restaurants, bars, clubs incentives to stay open. We're looking into the restoring of the deductibility of meals and entertainment costs for corporations. We're going to go to deductibility so that companies can send people to restaurants. I think it'll have a tremendous impact and maybe keep them open. By restoring the deductibility of meals and entertainment costs for corporations, they can send people to restaurants and take a deduction on it.

- We have reviewed 12 different models. All of the flu models predicted anywhere between 1.6 and 2.2 million fatalities, if we didn't mitigate. Some of them predicted half of the United States would get infected and have that level of mortality.

- The financial relief bill signed on Friday provides historic relief for American workers and small businesses, and it includes $350 billion in job restoration and retention with loan forgiveness available for businesses that continue paying workers. Three hundred billion dollars in direct cash payments are being sent to every American citizen earning less than $99,000 per year; $3,400 for the typical family of four. Approximately $250 billion in expanded unemployment benefits. Under this plan, the average worker who has lost his or her job will receive 100 percent of their salary for up to four full months. The bill provides for these unemployment checks to be delivered through the existing state unemployment systems, not us.

- Regarding rents, as the first of the month is three days away. What should people be doing for the first of the month? People are going to be getting money. The President hopes landlords are going to take it easy. A lot of people that are owed money are going to take it easy. They don't, sort of, have a choice. A lot of concessions are being made that wouldn't have even been thought of three weeks ago.

- The President said the money from these relief loans to private companies will come back. The government will also take warrants, meaning, the government will take pieces of the company for the taxpayers of our nation.

- We truly do believe that while there are challenges in the weeks ahead, there is hope that as every American continues to put these guidelines into practice, as every single one of us continues to do our part, that we'll get through this.
---
Governor Gordon decides against 'Shelter in Place' Order (posted 3/30/2020)
Do the right thing: Stay home whenever possible
In a statement released Sunday morning, March 29, Wyoming Governor Mark Gordon said that he has decided against issuing a statewide shelter in place order. Governor Gordon said "You already know how important it is to take responsibility for your actions."

Here is the Governor's full statement:
"Over the past couple of weeks our lives have changed dramatically and in historic ways. Several months ago, coronavirus was a disease affecting people somewhere else in the world. Since then our economy has been brought to a standstill, more than 100,000 have been infected to date and thousands of Americans have died. It is more than the flu. It infects young and old. It kills people. It spreads silently and aggressively, and we don't have adequate supplies to combat it or sufficient tests to detect it."

"COVID-19 has swept through our country and made its inevitable way to Wyoming. Every person in Wyoming will be impacted by this virus. Some directly by the illness itself, others by what is happening elsewhere in the country to control its spread – through closing businesses and closing schools, changing the way services are provided, and in the most extreme cases, locking down communities."

"People have changed too: toilet paper, hand sanitizer, and other necessary supplies have been in short supply as folks have panicked and tried to stock up. Unprecedented millions have sought unemployment. And Congress, which could never seem to agree on anything, nearly unanimously agreed to inject trillions directly into our economy. These are historic times."

"Wyoming is not immune. As governor, I like other governors around the country, have taken extraordinary steps aimed at protecting the health of Wyoming citizens. I have not put these orders in place casually. I have considered each order carefully, weighing their health benefits carefully and their economic impacts fully. All have been absolutely necessary, recommended by Wyoming's state epidemiologist Dr. Alexia Harrist, and supported by Wyoming's medical community. Every order has been designed to slow the spread – flatten the curve – of this exceptionally contagious virus. I have acted to save lives – your lives."

"The real challenge we face now as a country, and especially in Wyoming, is how we can limit the number of people who will be infected by this virus and thereby reduce the number of those who will require hospitalization. For our rural state, this is particularly important. We simply don't have enough health care workers or hospital beds should Wyoming experience the same surge in infections other states have. Nothing suggests Wyoming can avoid that same circumstance except perhaps our faith in Wyoming people. I believe Wyoming people don't need to wait for an order to know the right thing to do. It is up to each of you to stem the tide of this terrible pandemic."

"The actions you take over the coming days could not be more important. If you stay home whenever possible and limit contact with other people, wash your hands thoroughly for at least 20 seconds regularly, and never leave home when you are sick, we can make a difference. You see every person with COVID-19 will infect at a minimum four others whether they cough, sneeze, yawn or just breathe. The virus lasts for a long time on metal surfaces like doorknobs and handles. It is invisible. Many are infected without knowing or showing the symptoms."

"Our best hope is to limit the number of people potentially infected by limiting the number of people anyone can infect. You can make that happen. Be diligent in social distancing (maintain a distance of 6 feet between yourself and others), practice good hygiene and exercise common sense. We can do this!"

"We extended the orders on social distancing and closures for two more weeks — until April 17 — because we had to. We need more time to fight the virus and for additional tests to become available. We must protect our front-line medical workers and our health care system. We need them to be ready to deal with the onslaught of our neighbors and friends who will get sick. Together we must make sure those needing care, regardless of why, will be able to get it when the crunch comes."

"So steadfast is my faith in you, the Wyoming people, to do the right thing, that I have not issued a statewide "shelter in place" order. You already know how important it is to take responsibility for your actions. Do the right thing, do it the right way and do it right away! We can beat this virus, we can protect our people, save our health care system from collapse, help business to survive and rebound after this crisis is over, help our workers and reemerge a stronger Wyoming."

"Be smart Wyoming! Stay home. Stay diligent. Defend our home."
---
Oregon ok's self-serve gas amidst COVID-19 fear and dwindling workforce (posted 3/28/2020)
Oregon is one of only two states in the US that bans self-service gasoline. New Jersey is the other. In most places in Oregon, except for some very rural areas, an attendant must pump your gas for you. As the COVID-19 pandemic unfolds, a number of service stations in Oregon have had to close either because their attendants are sick or are afraid to report to work for fear of the person-to-person and hand-to-hand contact required with each service transaction. In certain places where there are no attendants, customers can't get gas.

On Saturday, March 28th, Oregon's State Fire Marshal suspended the state's ban on self-service fueling, an order that will be in place through at least April 11. Customers are cautioned that there won't be any assurance that fueling equipment will be sanitized after each use.

Click on the link below to read more on this story:
Self-service gas OK'd throughout Oregon By Les Zaitz, Albany Democrat Herald, March 28, 2020

---
Jackson, Wyoming issues Stay at Home order (posted 3/28/2020)
Update March 29, 2020: Teton County's Health Officer has issued a recommendation that is similar to the Town's Order to stay at home. While this is only a recommendation, it is strongly urged.
Click here for details buckrail.com

March 28, 2020: On Saturday, March 28th, the Jackson Town Council voted to approve an emergency "Shelter-in-Place" Order. Emergency Ordinance 1249 requires that all individuals currently within the Town of Jackson stay at home and leave their homes or residences only for Essential Activities. The order also has provisions for closing non-essential businesses, and lists the kinds of businesses excluded from the Order and still allowed to operate under the health restrictions.

The Order has a provision that requires any town resident who travels outside of Wyoming, and any visitors that visit Jackson from outside the town, also must limit their movement and self-quarantine for 14 days, and if they have been sick, allowed to integrate into the community only after they have returned to normal health for at least three days. (This is just a brief summary, click on the links below to get full details of the new Order.)

Click on this link to read the new ordinance and get more details: Town Council Approves Emergency Stay-At-Home Ordinance 1249 March 28, 2020

Click on this link to go to the Town of Jackson website for additional clarification of their emergency actions for the COVID-19 health emergency:
www.jacksonwy.gov/ Town of Jackson, Wyoming

---
Message from the Sublette COVID-19 Response Group (posted 3/28/2020)
Sublette County has 1st positive coronavirus case
COVID-19 Response Group
March 28, 2020 - The COVID-19 Response Group wants to update the public on our first positive COVID-19 case in Sublette County. This morning, Sublette Public Health was notified by the Wyoming Department of Health Lab of our first positive case in Sublette County. We understand this can be concerning for our residents but there is no reason to panic. We would like to continue to stress the importance of social distancing and to stay home, if at all possible. This positive case just makes it that much more important for citizens to follow current US Coronavirus Guidelines (listed below).

The first COVID-19 positive case identified in Sublette County is a 59-year adult female in the Pinedale area. She was appropriately tested based on clinical symptoms (fever, cough, shortness of breath) with other potential exposure risks. This client has been self-isolating, as instructed, since she became symptomatic and was tested. Wyoming Department of Health and the State Epidemiologist are continuing to follow-up with the patient to learn more about the patient's exposure risk and to identify and communicate with anyone who may have been in close contact with the patient. Known contacts will be monitored for symptoms and tested if needed.

This serves as a reminder that we need to follow the State Orders issued by our WDH State Health Officer, Dr. Alexia Harrist. Please be diligent in following guidelines from the State and CDC to help reduce the risk to our Sublette County Residents and "Flatten the curve" of spread.

Current US Coronavirus Guidelines
1. Social distancing strategies
• Avoid gatherings and cancel events for groups of more than 10 people.
• Increase physical space between yourself and other people (>6 feet, if possible).
• Avoid eating or drinking at bars, restaurants, and food courts—use drive-thru, pick-up, or delivery options. (BARS Closed already, some local restaurants offering curbside or delivery)
• Work from home whenever possible or stagger schedules to reduce risk.
• If you are a person with a serious underlying health condition (like diabetes, heart disease, or chronic lung disease), stay home and away from other people.

2. Take steps to protect others:
• Stay home if you are sick, except to get medical care.
• Keep your children home if they are sick—do not send them to school or daycare.
• If someone in your household has tested positive for coronavirus, keep the entire household at home. Instructions will be given to you by Public Health or your medical provider.
• Avoid discretionary travel, shopping trips, and social visits.
• Do not visit nursing homes or retirement or long-term care facilities unless to provide critical assistance.

3. Practice good hygiene strategies:
• Wash your hands, especially after touching any frequently used item or surface. Wash hands for at least 20 seconds lathering all hand surfaces.
• Avoid touching your face.
• Sneeze or cough into a tissue, or the inside of your elbow.
• Disinfect frequently used items and surfaces as much as possible.

We also want to add per HIPPA regulation we cannot share the identity of the patient and would ask the public to understand if you were the one testing positive would you want others to know your identity? Again, we are asking the community to help us in practicing these measures to protect themselves and our community members. We will get through this as a County together and we will update you when we have more information. The Sublette County COVID-19 Response Team will work to keep you updated as we have more information.

Click on this link to view this message on the SCSO Facebook page.

Click on this link to hear the audio recording of this message. (mp3 file)

For updated coronavirus (COVID-19)information, visit the State of Wyoming's COVID-19 page here.

Wyoming small businesses are now eligible to apply for up to $2 million per company in federal economic disaster loans through the U.S. Small Business Administration (SBA). More information can be found here

Related Links:
Sublette County COVID19 Response Group
Sublette County Public Health - Facebook page
Sublette County Emergency Management - Facebook page
Sublette County Rural Health Care District - Facebook page
Sublette County Sheriff's Office Facebook page
---
Statewide Public Health Orders Extended Through April 17 (posted 3/28/2020)
Wyoming Governor Mark Gordon's office
March 27, 2020 - Governor Mark Gordon and State Health Officer Dr. Alexia Harrist have extended the three existing statewide health orders through April 17 to slow community transmission of coronavirus disease 2019 (COVID-19) and protect lives.

Current orders closing public places including schools, prohibiting gatherings of 10 people or more in a single room or confined space (including outdoors) and closing bars, restaurants, coffee shops and some personal services businesses will continue through April 17. Food establishments can continue to provide take out and delivery services.

"I have extended these orders in consultation with Dr. Harrist," Governor Gordon said. "Because we've seen cases identified in additional counties and growth in the case numbers, it's clear how important it is for us to take sustained action. I understand the ongoing strain these measures are having on businesses, workers and Wyoming communities. But it is imperative that our citizens respond to this public health crisis by staying home whenever possible and practicing proper social distancing when they must go out. This is how we can save lives and protect people's health."

Harrist emphasized the extension of the current orders is necessary because it takes time for social distancing measures to effectively slow the spread of COVID-19 and to monitor the impacts of those measures on the outbreak in Wyoming.

"The best tool we have to reduce the potential burden on our healthcare system and save lives is for all of us to limit our contact with other people as much as possible," Harrist said. "Of course it is most important for people who are ill to stay home unless they need medical attention."

The Governor is in continuous communication with Wyoming Department of Health officials and is prepared to issue updated guidance– including further statewide orders– should conditions warrant.

Statewide Public Health Order Closing Bars, Restaurants, Theaters, Gymnasiums, Child Care Facilities, K-12 Schools, Colleges, Universities, and Trade Schools Statewide through April 17

Statewide Public Health Order forbidding gatherings of 10 people or more through April 17

Statewide Public Health Order Closing Non-Essential Personal Services through April 17

Additional COVID-19 information for Wyoming

Related Links:
Wyoming Department of Health
Wyoming Governor's Office

---
Sublette County has first confirmed positive COVID-19 patient (posted 3/28/2020)
Sublette County Sheriff's Office
PINEDALE, WYOMING – March 28th, 2020 - This morning, March 28, the Wyoming Department of Health confirmed Sublette County's first positive case of COVID-19. The patient, a female in her fifties, has been contacted by public health officials and remains in her home in isolation with mild symptoms.

Wyoming Department of Health staff and Sublette County Health Officer Doctor Brendan Fitsimmons has notified the patient. Sublette County Public health will continue contact with the patient to review isolation requirements, discharge teaching information from the local County Health Officer, as well as connect the patient with needed services.

As we move forward through this pandemic as a community, we cannot stress enough the importance of social distancing and attempts to remain home if at all possible. This truly is the best way to help flatten the curve of spread in to others in our community.

---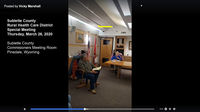 Board member Bill Johnson made the motion to apply for the $23 million USDA loan for the new Critical Access Hospital for Sublette County.

Sublette County Rural Health Care District Board votes to apply for $23 million loan for Critical Access Hospital (posted 3/26/2020)
Approves MOU with Sublette Center
Pinedale Online!
On Thursday, March 26th, the Sublette County Rural Health Care District held a Special Board Meeting in the County Commissioners Room of the Sublette County Courthouse in Pinedale. Due to social distancing restrictions because of the COVID-19 pandemic, the meeting was live streamed on the Sublette County Rural Health Care District Facebook page. Topics on the agenda were the Sublette Center MOU and the SCRHCD HSA Policy.

The Board made two significant decisions:
- The first motion was to approve the Memorandum of Understanding (MOU) with the Sublette Center. That motion passed unanimously.
- The second motion was to apply for a $23 million USDA loan for construction on a new hospital for Sublette County, with the loan application paperwork sent in by no later than their self-imposed deadline of April 3, 2020. That motion passed unanimously.

The board said that they had assurances that if voters approve a new Hospital District in November, the loan could be signed over to the new HD. The board hopes that now that these two decisions have been made, donors will start to come in to help towards the costs of building the new Critical Access Hospital. Also, the loan application will need to show that the Board has some working arrangement with another medical facility to help manage the new hospital. The details of that arrangement are still to be worked out as the Board solicits Requests of Interest from area medical service providers.

The meeting was broadcast on Facebook Live and the recording can be found on this Facebook page (under Vicky Marshall's post). The meeting was short and sweet, lasting just a little over 11 minutes.


---
Layoff Aversion Grants available to Wyoming businesses (posted 3/27/2020)
Wyoming Governor Mark Gordon
CHEYENNE, WYOMING – Governor Mark Gordon announced today (Friday, March 27, 2020) that the Wyoming Department of Workforce Services (DWS) and the Wyoming Workforce Development Council (WWDC) are offering $300,000 in grants to support businesses in order to avert or shorten layoffs during the COVID-19 pandemic in Wyoming.

"I am working tirelessly to find and deploy tools to strengthen Wyoming businesses during these challenging times," said Governor Mark Gordon. "Wyoming's Layoff Aversion grants provide some relief to businesses while keeping employees working."

DWS and its 20 Workforce Centers will assist businesses with grant applications to support these important layoff aversion strategies for Wyoming's economy. The application can be found here.

More information about options available to businesses can be found here.

"Wyomingites are creative and resilient, but sometimes we need a little financial assistance to get through the hard times," said DWS Director Robin Sessions Cooley. "I expect we will see employers come up with very innovative solutions through the Layoff Aversion grants."

The grants will be available to all eligible Wyoming businesses in good standing with Unemployment Insurance and Worker's Compensation. Businesses can apply for up to $5,000 to support layoff aversion strategies that can keep their businesses open -- and employees working -- or shorten the duration of a layoff.

"Wyoming employers are the backbone of our great state, and we want to help employers continue to operate in this unprecedented time," said WWDC Chairman Jim Engel. "We encourage employers to identify innovative ways to continue doing business while observing social distancing and other guidelines."

Layoff Aversion grant funding may be used on a reimbursement basis as a result of the emergency declaration of March 13, 2020 for:
· Costs associated with frequent deep cleaning/sanitization services to help prevent potential exposure to COVID-19 when companies have to remain open
· Purchase of software or computer applications so employees can work from home/remotely in order to support social distancing and limit potential exposure and spread of COVID-19
· Funding to purchase necessary equipment needed to make social distancing possible
· Related costs to add additional shifts so companies can continue to operate
· Purchase of laptops and related expenses so employees can telework

Funding is intended to support Wyoming's economy and vitality during the COVID-19 crisis. Funding will be paid out by DWS, as the fiscal agent. Grant funding should be reasonable and necessary for implementing layoff aversion strategies to assist Wyoming businesses.

---
WYDOT urges customers to use alternative methods of conducting Driver Services business (posted 3/26/2020)
90-Day Grace Period for expired Driver Licenses
Wyoming Department of Transportation
To increase social distancing in support of the state's efforts to reduce the spread of COVID-19, the Wyoming Department of Transportation (WYDOT) urges the public to take advantage of the Executive Order Governor Mark Gordon issued allowing for a 90-day grace period for expired driver licenses and identification cards and not visit the Driver Services Offices for those and several related services during the outbreak.

"While we remain open for business, we are asking the public to maximize the use of email, phone and online methods to conduct business at the agency's Driver Services offices so we can promote social distancing to protect the public and our employees," said WYDOT Director K. Luke Reiner.

As a reminder, the following services are available through these alternate methods.
• Online:
o Customers can download several driver forms online. They will need to email or mail the forms for processing. See below for email addresses and links to forms.
• Email:
o Customers can email and submit driver forms for services such as: driving records, record review, hearing requests, probationary license issuance (on a limited basis), mail-in renewals, DOT medical certificate submission, requests for temporary licenses, disabled placard issuance, renewal and/or replacement.
o See below for email addresses and links to forms.
• Phone:
o Customers can call if they have general questions or to conduct other business by phone such as reinstatement fees/requirements, CDL skills tests scheduling and requests for temporary licenses.
o Phone numbers and other contact information for local Driver Services offices can be found on WYDOT's website.
o Or customers can reach the main Driver Services office in Cheyenne at: 307-777-4800.

The Governor's Executive Order (2020-4), issued March 24, provides a 90-day grace period to those whose driver licenses and ID cards expire between March 15, 2020 through June 1, 2020. It also suspends non-commercial driving tests for 90 days and requires commercial tests to continue with the possibility of additional health-screening questions being asked.

"If your license is due for renewal, you've now got an extra 90 days and we would recommend you use our remote services instead of visiting in person," said Misty Dobson, Driver Services program manager. "If you do opt to come visit, we do ask that you limit the number of people you bring with you as we are following the 10-person guidance in order to help enforce social distancing."

Commercial driver license tests are still being conducted by appointment only. Commercial drivers requiring an exam should call WYDOT's offices and employees will work to expedite the process.

"At this time, commercial drivers are more important than ever before," said Reiner. "Our state and nation need those critical supplies and drivers are needed to deliver them."

Because road testing for non-commercial licenses is suspended for 90 days, a 90-day extension of learner's permits will be offered. Current rules and regulations allow for the issuance of new licenses to those who have taken and passed a certified driver education class. Residents who meet this criteria can contact their local Driver Services Office to inquire about immediate options. The goal of Driver Services is to provide services in a safe and socially distanced manner.

Motorists whose licenses have expired will be able to download a letter later today from WYDOT's website that they can carry with them to show law enforcement or Transportation Service Administration (TSA) regarding the grace period. TSA has also issued guidance that these documents will be accepted at all of their locations and for all of their requirements.

WYDOT will assess the situation on April 20, 2020 to make a determination if testing can resume on a full or limited basis, the Executive Order stated.

For additional information, please visit the following websites:
• Driver Services Forms and Applications
• Number of customers allowed at one time per location
• Phone numbers and other contact information for local Driver Services offices
• Executive Order (EO) 2020-4

To contact Driver Services by email, choose from the following addresses:
• Driving Records - dot-dscomp@wyo.gov
• Record Review - dot-dscomp@wyo.gov
• Hearing Requests - dot-dscomp@wyo.gov
• Probationary License Issuance (on a limited basis) - dot-dscomp@wyo.gov
• Mail In Renewals - renewals@wyo.gov
• DOT Medical Certificate submission - cdl@wyo.gov
• Requests for Temporary Licenses - renewals@wyo.gov
• Disabled Placard Issuance, Renewal and/or Replacement - dot-dscomp@wyo.gov
• For general Driver Services question, go to WYDOT's Contact Us page and select Driver License Issues.

Source: http://www.dot.state.wy.us/news/wydot-urges-customers-to-use-alternative-methods-of-conducting-driver WYDOT, March 25, 2020

---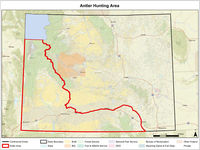 New antler/horn collection area. Map courtesy Wyoming Game & Fish.

New shed antler and horn collection rules in place (posted 3/25/2020)
New boundaries and season opening time
Wyoming Game & Fish
New regulations on shed antler and horn collection are now in effect. The updated regulation expands the seasonal closure area to include expanded critical wintering habitat and enact a new opening time of 12 noon on public lands. The annual closure is to protect wintering big game. The new regulation and map of the boundaries is available online. The 2020 shed season opens May 1 at 12 noon.

Since 2009, Wyoming has prohibited the collection of shed antlers and horns on public land, such as U.S. Forest Service and Bureau of Land Management lands and Wyoming Game and Fish Commission owned or administered lands west of the Continental Divide, excluding the Great Divide Basin, from Jan. 1 through April 30 of each year.

Collect means to search for, locate, stockpile or possess shed antlers and horns of big game animals on public land or attempt to search for, locate, stockpile or possess shed antlers and horns of big game animals on public land during the closed season. A violation of this regulation carries the same penalties as many other Game and Fish violations.

"In the winter, big game animals such as mule deer and elk use most of their energy just to survive," said Rick King, chief game warden. "Limiting disturbance during this critical time of the year may help them hold on to more of their valuable reserves."

In 2019, new legislation granted the Game and Fish Commission the authority to regulate shed gathering in expanded areas across the state.

"Extending the closed areas in southeast Wyoming will benefit mule deer on critical winter ranges in the Sheep Mountain and Platte Valley herds," King said. "The Game and Fish Department has established mule deer initiatives for the Platte Valley and Sheep Mountain mule deer herds to address concerns with these mule deer populations. A lot of people recreate on winter ranges in these areas, and this new regulation can make a difference in reducing disturbance during a crucial time for mule deer and other big game animals."

Any antlers or horns found in Wyoming that are attached to the skull need to be tagged with an Interstate Game Tag by a Wyoming Game and Fish law enforcement officer. Individuals need to contact a game warden prior to removing the head from the field. There is an $8 fee for the tag.

Game and Fish has closure information specific to the Laramie, Green River, Pinedale and Jackson regions online or by contacting those offices. To report shed antler or horn collection violations, call the STOP Poaching Hotline at 1-877-943-3847 (1-877-WGFD-TIP) or text keyword WGFD and message to TIP411 (847-411). Violations may also be reported online at the Game and Fish website.

---
SBA COVID-19 Disaster Loan Program for Small Businesses (posted 3/24/2020)
The U.S. Small Business Administration (SBA) is offering Disaster Loan Assistance for small businesses during the COVID-19 pandemic. The loans provide working capital to help small businesses, small agricultural cooperatives, small businesses engaged in aquaculture, and most private, non-profit organizations of all sizes meet their ordinary and necessary financial obligations that cannot be met as a direct result of the disaster. These loans are intended to assist through the disaster recovery period. The loans require collateral and applicants must show the ability to repay the loan. Interest rates are fixed for the life of the loan, with a maximum of 3.75%. Loan terms are up to maximum of 30 years. Other criteria apply. The loan application filing deadline is December 21, 2020.

Click on this link for more information and access to loan forms: SBA Coronavirus (COVID-19): Small Business Guidance & Loan Resources
---
Business Directory
Click here for
Advertising Information