CWD-positive Mule Deer found near Pinedale (posted 1/17/2020)
WY Game & Fish discourages feeding of wildlife
Wyoming Game & Fish
PINEDALE, WYOMING - A buck mule deer recently tested positive for Chronic Wasting Disease (CWD) in a residential area near Pinedale and was likely associated with the local town deer population. This is the second confirmed case of CWD in mule deer within deer hunt area 139, as a doe mule deer found dead near the airport in February 2017 also tested positive.

The Wyoming Game and Fish Department reminds residents to avoid feeding wildlife. While feeding deer and other wildlife during winter might seem like a good idea, feeding can cause serious problems for these animals.

Increases spread of diseases and parasites. Feeding wildlife can artificially congregate groups of deer and other species at feeding sites, creating conditions ripe for the spread of diseases and parasites. For example, once CWD is in the wildlife population, feeding can act to increase concentrations of prions, the infectious agent, in the environment. Prions remain in the soil for decades, forming disease "hot spots" which put deer, elk or moose returning to those locations at risk. Once infected, animals do not recover.

Promotes starvation and can bring about numerous conflict situations. Big game animals, such as deer and moose will readily eat hay or other feeds when offered, but the micro-organisms in their stomachs that aid in digestion are specialized to break down vegetation the animal would naturally consume during winter months, primarily woody plants. This means it takes a lot longer to digest other foods and is why these animals can often starve to death despite having a stomach full of hay, birdseed, fruit, grain or pellets. Feeding wildlife can also lead to a higher risk of damage to private property, vehicle collisions, presence of predators and dangerous human-wildlife encounters.

Wyoming residents who feed wildlife during winter certainly have good intentions, but it is important to remember the unintended consequences and resist the urge to try to "help" wildlife by feeding them.

Game and Fish asks the public to report any deer, elk or moose that appear to be sick or not acting in a normal manner by contacting your local game warden, wildlife biologist or Game and Fish office immediately.

Please visit the Game and Fish website for more information on chronic wasting disease transmission and regulations on the transportation and disposal of carcasses.

To report an animal that may be sick, contact the Pinedale Wyoming Game and Fish Department office at 1-800-452-9107 or 307-367-4353.
____________________________

Editor's note: There is no known transmission of CWD to humans or other animals, including pets or livestock. Centers for Disease Control and Prevention (CDC)

---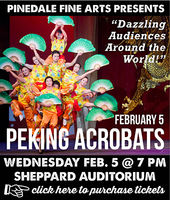 February 5, 2020 in Pinedale

Peking Acrobats to perform in Pinedale Feb. 5 (posted 1/16/2020)
PFAC
THE PEKING ACROBATS® will perform in Pinedale on Wednesday, February 5th at 7:00PM in the Sheppard Auditorium. The event is a presentation of the Pinedale Fine Arts Council.

For the last thirty-two years, THE PEKING ACROBATS® have redefined audience perceptions of Chinese acrobatics. They perform daring maneuvers atop a precarious pagoda of chairs and display their technical prowess at such arts as trick-cycling, precision tumbling, juggling, somersaulting, and gymnastics. They push the limits of human ability, defying gravity with amazing displays of contortion, flexibility, and control. THE PEKING ACROBATS are accompanied by live musicians who skillfully play traditional Chinese instruments; the time-honored Chinese music coalesces with high-tech special effects and awe-inspiring acrobatic feats, creating an exuberant entertainment event with the festive pageantry of a Chinese Carnival.

THE PEKING ACROBATS set the world record for the Human Chair Stack on FOX Network's Guinness Book Primetime television show in 1999: they balanced six people precariously atop six chairs twenty one feet up in the air without safety lines, astounding audiences with their bravery and dexterity. THE PEKING ACROBATS have also made their way onto the silver screen - company members were featured in Steven Soderbergh's hit film Ocean's Eleven playing alongside Julia Roberts, Brad Pitt and George Clooney.

THE PEKING ACROBATS are part of a time-honored Chinese tradition, rooted in centuries of Chinese history and folk art. Tradition demands that each generation of acrobats add its own improvements and embellishments; because of this, high honor is conferred upon those skilled enough to become acrobats.

Tickets are for sale at Pine Coffee Supply, The Cowboy Shop, Office Outlets, The Big Piney Library and at the door the night of the performance.

Ticket prices are $20 adults / $7 students / $2 extra at the door.

WE EXPECT THIS SHOW TO SELL OUT SOON. Don't wait. Be sure and get a ticket if you want to come. Kids under 5 are allowed in without a ticket if they sit on a lap. If you would like them to have a seat of their own - please buy them a $7 ticket.

Buy Tickets Online Here

---
Game and Fish Commission condemns Grand Teton National Park's plan to aerial gun Mountain Goats (posted 1/16/2020)
Wyoming Game & Fish
The Wyoming Game and Fish Commission condemned the National Park Service's planned use of aerial gunning to remove mountain goats in Grand Teton National Park (GTNP) at their Jan. 15 meeting.

"While we recognize Grand Teton National Park's efforts to address the expansion of mountain goats in native bighorn sheep ranges, the department has been consistent in voicing our concerns about the use of aerial lethal removal," said Brian Nesvik, Game and Fish director. "We have communicated several times, in multiple ways, as recently as today, our recommendation to use skilled volunteer hunters to achieve their objectives to reduce mountain goat populations."

The GTNP Mountain Goat Management Plan outlined a variety of methods to address the expansion of mountain goats in the Teton Range. Those mountain goats pose a risk of disease transmission to the core native Targhee bighorn sheep herd.

"This decision to use aerial gunning flies in the face of all Wyoming values with how we approach wildlife management," said Game and Fish Commissioner Mike Schmid.

The commission's resolution calls for the National Park Service to immediately cancel plans to kill the goats through aerial gunning and instead implement a plan allowing the goats to be removed by skilled volunteers. The resolution passed unanimously with the commissioners opting for a rare roll call vote to clearly articulate and memorialize their message.

"Leaving carcasses to rot, where there is no utilization of that resource, rather than allow sportsman to go out with park supervision and training to harvest an animal - like is done with elk - I can't understand that decision," said Game and Fish Commissioner Pat Crank.

In addition the Commission's resolution, Director Brian Nesvik also sent a letter to the acting superintendent of Grand Teton National Park urging him to reconsider their intent to use aerial gunning to remove mountain goats.

---
2019 visitation to Yellowstone Park at lowest level since 2014 (posted 1/15/2020)
National Park Service – Yellowstone National Park
In 2019, visitation to Yellowstone National Park was at the lowest level it has been since 2014. The park recorded over 4 million visits, a 2.3 percent decrease from 2018 and a 5.6 percent decrease from the record-breaking year in 2016.

Recreation Visits by Year

2019 – 4,020,287
2018 – 4,114,999
2017 – 4,116,525
2016 – 4,257,177
2015 – 4,097,710
2014 – 3,513,486

More data on park visitation, including how we calculate these numbers, is available on the NPS Stats website.


---
Encana receives Securityholder approval for reorganization (posted 1/14/2020)
Company receives securityholder approval to be rebranded as Ovintiv and become domiciled in the United States
Encana media release
CALGARY, CANADA, Jan. 14, 2020 /PRNewswire/ - Encana Corporation (NYSE, TSX: ECA) today announced that its securityholders voted in support of the reorganization resolution, in order to: (i) establish the company's corporate domicile in the U.S.; (ii) rebrand under the name Ovintiv Inc. ("Ovintiv"); and (iii) complete a consolidation and share exchange for effectively one share of common stock of Ovintiv for every five common shares of Encana. The approval was made at its Special Meeting of Securityholders (the "Meeting") held earlier today.

"We are extremely pleased with the vote of confidence from our shareholders today. With 90% of our securityholders voting "FOR" the resolution, there is clearly support for our efforts to expose Ovintiv to the deeper pools of capital in the U.S.—capturing the value we know exists within our equity," said CEO Doug Suttles. "We will continue to focus on innovation and efficiencies throughout our operations, delivering the financial and operational performance our shareholders expect."

Detailed voting results for the Meeting are available under Encana's profile on SEDAR at www.sedar.com and on the Securities and Exchange Commission ("SEC") website at www.sec.gov. Completion of the reorganization is still subject to other conditions to closing, including final approval of the plan of arrangement by the Court of Queen's Bench of Alberta. Further information regarding the reorganization is provided in Encana's proxy statement/management information circular and prospectus dated December 11, 2019 in respect of the Meeting.

ADVISORY REGARDING FORWARD-LOOKING STATEMENTS – This news release contains forward-looking statements or information (collectively, "FLS") within the meaning of applicable securities legislation, including Section 27A of the Securities Act of 1933, as amended, and Section 21E of the Securities Exchange Act of 1934, as amended. FLS include: anticipated completion of the reorganization and benefits of the transaction. FLS involve assumptions, risks and uncertainties that may cause such statements not to occur or results to differ materially. These assumptions include: the ability to receive, in a timely manner and on satisfactory terms, stock exchange and court approvals and expectations based on views of historical trends. Risks and uncertainties include: ability to achieve anticipated benefits of the reorganization; satisfaction of conditions; risks relating to the new company following the reorganization; impact of changes in credit rating and access to liquidity, risks that the description of the transactions in external communications may not properly reflect the underlying legal and tax principles of the reorganization; and other risks and uncertainties as described in Encana's December 11, 2019 information circular and prospectus, Annual Report on Form 10-K and Quarterly Report on Form 10-Q and as described from time to time in Encana's other periodic filings as filed on SEDAR and EDGAR. Although Encana believes such FLS are reasonable, there can be no assurance they will prove to be correct. The above assumptions, risks and uncertainties are not exhaustive. FLS are made as of the date hereof and, except as required by law, Encana undertakes no obligation to update or revise any FLS.

---
Historic photos sought for 'Olde Tyme Pinedale' display (posted 1/11/2020)
The Pinedale Library is planning a community exhibit coming in February titled "Olde Tyme Pinedale." They are asking the public's help in finding pictures. They are looking for:

• Pre-1995 (at least 25 year old) photos capturing life in Pinedale.
• People shots are preferred, not scenic.
• Funny photos are a plus, and photos featuring people still with us are a plus.
• Photos sized 8"x10" or larger are preferred.
• Photos do not have to be framed.

Please bring submissions to the Pinedale Library's front desk by Monday, January 27th. Have name, phone number and caption attached to each. Please note they may not be able to display every photo that is submitted.

---
Wolves roaming Colorado (posted 1/11/2020)
Cat Urbigkit, Pinedale Online!
Joshua Carney of the Craig Daily Press followed up on a report of an elk killed by wolves in northern Colorado's Irish Canyon in early January. According to Carney (article linked below), the dead bull elk was indeed confirmed as a wolf kill. And it's one of several confirmed reports that wolves are already in Colorado – as that state's residents prepare to vote on a wolf reintroduction program this fall.

After Carney's article was published, news finally filtered out about two wolves that were videotaped in the area back in October by elk hunters. To watch the video, check out the Denver Post link below.

Related Links:
Elk Kill - Craig Daily Press
Video & photos of kill - Denver post
Wolf Watch - by Pinedale Online!

---
BLM Pinedale Field Office proposes invasive vegetative management (posted 1/10/2020)
Public comments accepted until Jan. 27, 2020
Bureau of Land Management
The Bureau of Land Management (BLM) Pinedale Field Office (PFO) is beginning a public scoping comment period to address invasive vegetation management within its administrative boundary. The purpose of the proposed project is to reduce the establishment and spread of invasive vegetative species by allowing treatments on a landscape scale and providing specific management direction for treating invasive vegetative species within Wilderness Study Areas (WSA).

Preparation of an Environmental Assessment (EA) is planned using previous direction from Environmental Impact Statements and EAs to more specifically address lands managed by PFO. This EA will also analyze the potential effects of vegetation treatments within the Lake Mountain and Scab Creek WSAs.

The BLM is beginning a two-week public scoping period on Jan. 13, 2020 to solicit input on the issues, impacts, and potential alternatives which could be addressed in the Environmental Assessment documents. The scoping period will end Jan. 27, 2020. Comments about the proposed project can be emailed to blm_wy_pinedale_wymail@blm.gov or mailed to:
BLM Pinedale Field Office
Attn: Liz Dailey, Project Lead
PO Box 768
Pinedale, WY 82941

Please be advised that when you include your address, phone number, email address or other personal information in your comments, your entire comment, including your personal information, may be publicly available at any time. While you may request that we withhold your personal information from public review, we cannot guarantee we will be able to do so. For more information, contact Liz Dailey at (307) 367-5300.

---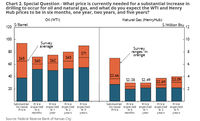 Graphic courtesy Federal Reserve Bank of Kansas City.

Fourth Quarter Energy Survey (posted 1/10/2020)
Drilling activity not expected to pick up in the near term
The Federal Reserve Bank of Kansas City released the fourth quarter Energy Survey on Friday, Jan. 10, 2020. According to Chad Wilkerson, Oklahoma City Branch executive and economist at the Federal Reserve Bank of Kansas City, the survey revealed that Tenth District energy activity dropped further and expectations for future activity continued to decline.

"District energy activity continued to decrease through Q4 2019 and most firms do not expect drilling activity to pick up in the near-term," said Wilkerson. "However, slightly more firms expect their cash flow to be higher next year than expect it to be lower."

The Kansas City Fed's quarterly Tenth District Energy Survey provides information on current and expected activity among energy firms in the Tenth District. The survey monitors oil and gas-related firms located and/or headquartered in the Tenth District, with results based on total firm activity. Survey results reveal changes in several indicators of energy activity, including drilling, capital spending, and employment. Firms also indicate projections for oil and gas prices. All results are diffusion indexes – the percentage of firms indicating increases minus the percentage of firms indicating decreases. Results from current and past surveys and release dates for future surveys can be found at https://www.kansascityfed.org/research/indicatorsdata/energy.

The Federal Reserve Bank of Kansas City serves the Tenth Federal Reserve District, encompassing the western third of Missouri; all of Kansas, Colorado, Nebraska, Oklahoma and Wyoming; and the northern half of New Mexico. As part of the nation's central bank, the Bank participates in setting national monetary policy, supervising and regulating numerous commercial banks and bank holding companies, and providing financial services to depository institutions. More information is available online at www.kansascityfed.org.

Click on this link to read the energy report from January 10, 2020.

Highlights (JANUARY 10, 2020):
Fourth quarter energy survey results revealed Tenth District energy activity dropped further and expectations for future activity continued to decline. Firms reported that oil prices needed to be on average $65 per barrel for substantial increases in drilling to occur, down slightly from six months ago but higher than both current prices and prices expected over the next year.

This quarter firms were asked what oil and natural gas prices were needed on average for a substantial increase in drilling to occur (in alternate quarters they are asked what price they need to be profitable on average across the fields in which they are active). The average oil price needed was $65 per barrel, with a range of $38 to $94. This average was below the price reported in the second quarter of 2019, but up slightly from the fourth quarter of 2018. The average natural gas price needed was $3.66 per million Btu, with responses ranging from $2.75 to $7.00.

Tenth District energy activity dropped further in the fourth quarter of 2019, as indicated by firms contacted between December 16th and December 31st, 2019. The drilling and business activity index fell from -23 to -48, indicating a continued, significant decrease in activity following a slight expansion earlier in 2019. However, the revenues index improved slightly, the wages and benefits index remained positive, and the employment index was flat. The supplier delivery time, profits, employee hours, and access to credit indexes all declined.

Firms were again asked what they expected oil and natural gas prices to be in six months, one year, two years, and five years. Expected oil prices were slightly higher than Q3 2019, but similar to Q1 2019 price expectations. The average expected WTI prices were $60, $62, $65, and $71 per barrel, respectively. Expectations for natural gas prices decreased from last quarter. The average expected Henry Hub natural gas prices were $2.38, $2.49, $2.69, and $3.09 per million Btu, respectively.

Firms were also asked about their cash flow expectations for 2020 compared to 2019 (Chart 3). Nearly 37 percent of surveyed firms indicated they anticipate higher cash flow for 2020 compared to 2019, while 33 percent expect it will be down, and 30 percent expect no material change.

Finally, respondents were asked in what quarter they expect the U.S. rig count to begin rising again (Chart 4). Over 20 percent predicted an uptick in rig counts in Q2 2020 and 25 percent expected the U.S. rig count to increase in Q3 2020. However, over 33 percent reported they do not believe the rig count will increase in 2020 and listed timeframes extending into 2021 or later.

---
JIO, PAPO Boards of Directors meetings scheduled for January 23 in Cheyenne (posted 1/10/2020)
Bureau of Land Management
The Jonah Interagency Office (JIO) and Pinedale Anticline Project Office (PAPO) Boards of Directors are scheduled to meet in Cheyenne, Wyoming on Thursday, January 23, 2020. Both meetings are open to the public and will be held in the Trout Room at the Wyoming Game and Fish Department Office, 5400 Bishop Blvd.

The PAPO Board meeting will be 8:30-10 a.m. The JIO Board will meet immediately afterward and is expected to conclude by 11:30 a.m.

Each board will review proposed budgets for 2020, receive updates on JIO/PAPO website maintenance, and progress on active projects. The Board will make funding decisions necessary for wildlife monitoring and will discuss the future of both JIO and PAPO.

Agendas for the JIO and PAPO Board meetings can be found at www.wy.blm.gov/jio-papo/whatsgoingon.htm.

Additional information on the JIO/PAPO is available at www.wy.blm.gov/jio-papo.

For more information, please contact Kellie Roadifer at (307) 367-5309 or kroadife@blm.gov.

---
Sublette County Assessor resigns (posted 1/8/2020)
Sublette County Assessor Jeness Saxton submitted a Letter of Resignations to the Sublette County Commissioners during their regular board meeting on Tuesday, January 7th. She said she loved her job, but after 22 years it is time to move on to other things. Her last day will be February 29, 2020. She said she gave careful consideration to the office workload and election office filing dates in selecting her last day. The family plans to stay in Pinedale, she said, "We love Pinedale." All of the Commissioners praised her highly for her service to the County all these years. Sublette County Commission Chairman Dr. David Burnett said it was with great sadness that he accepted her Letter of Resignation. The Commissioners, and those in attendance in the audience, gave her a standing ovation.

Saxton has already contacted the Chairman of the Republican Party to let them know of the opening of this elected position. The party will have 15 days to have a meeting and notify the public of the vacancy to get names of people interested in applying to fill the position. They will select three names and submit those to the Commissioners, who will then have 5 days to make a selection of one of the three.

---
Two men sentenced to ten days in jail for thermal trespass violations (posted 1/8/2020)
National Park Service – Yellowstone National Park
Two men were sentenced for trespassing on the cone of Old Faithful Geyser, a closed thermal area in Yellowstone National Park. Eric Schefflin, 20, of Lakewood, Colorado, and Ryan Goetz, 25, of Woodstock, New York, appeared in court on December 5, 2019, before U.S. Magistrate Judge Mark Carman at the Yellowstone Justice Center in Mammoth Hot Springs, Wyoming.

Schefflin and Goetz pleaded guilty to the violation of thermal trespass. On September 10, 2019, at about 8:30 p.m., employees and visitors witnessed two individuals walking on the cone of Old Faithful Geyser and reported it to park dispatch. A ranger contacted and cited Schefflin and Goetz.

Sentencing for each included:
• 10 days of incarceration
• $540 in restitution
• Five years of unsupervised probation
• Five year ban from Yellowstone National Park

"Visitors must realize that walking on thermal features is dangerous, damages the resource, and illegal. Law enforcement officers take this violation seriously. Yellowstone National Park also appreciates the court for recognizing the impact thermal trespass can have on these amazing features," said Chief Ranger Sarah Davis.

The ground in hydrothermal areas is fragile and thin, and there is scalding water just below the surface. Visitors must always remain on boardwalks and exercise extreme caution around thermal features. Learn more about safety in thermal areas at go.nps.gov/yellsafety.

Related Links:
www.nps.gov/yell Yellowstone National Park
www.nps.gov/yell

---
Ice fishing derby on Fremont Lake March 7 & 8, 2020 (posted 12/31/19)
Hosted by the Pinedale Lions Club
The Pinedale Lions Club will be hosting the 2020 Big Fish Winter Derby on Fremont Lake on Saturday and Sunday, March 7 & 8, 2020.

The two-day fishing event will feature over $7,000 in cash and prizes. There is a $1,000 Grand Prize for the largest fish turned in each day. The tournament pays four places each day as well as $100 for the biggest fish each hour and $200 for the biggest rainbow and brown brought in each day. Entry fee is $40.

There will be a youth division for anglers under 14 years of age. Youth participants must be fishing with a licensed adult participant. Entries in the free Youth division are not eligible for prizes in the Big Fish division, but youths are welcome to enter the main tournament instead.

Online pre-registration will be available via the Pinedale Lions Club Facebook page. In-person pre- registration will take place at Rendezvous Meadows Club House in Pinedale on Friday, March 6 from 6:00 – 9:00pm and at the lake after 6am each morning. ALL participants MUST check in at Lakeside Lodge before fishing to receive a derby ticket. No pets or passenger vehicles will be allowed on the ice. Parking is always a challenge, so carpooling is strongly encouraged.

This event is based out of Lakeside Lodge, four miles north of Pinedale and is operating under a special use permit with the Bridger-Teton National Forest, Pinedale Ranger District.

Related Links:
Pinedale Lions Club
Pinedale Lions Club Facebook page – find special hotel rates and more
www.lakesidelodge.com Lakeside Lodge, on Fremont Lake, Pinedale, Wyoming
www.VisitPinedale.org Pinedale area lodging and visitor information

---
Business Directory
Click here for
Advertising Information