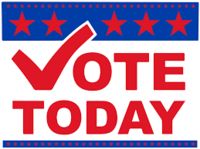 Vote August 21st - Primary Election day

Where to vote in Sublette County (posted 8/20/18)
Polls open 7AM to 7PM
Precincts 1-1, 1-3: Wrangler Gym, 665 N Tyler Ave, Pinedale, Wyoming
Precinct 1-4: Boulder Community Center, 210 Adams Ave, Boulder, Wyoming
Precincts 2-1, 2-2: SW Sublette County Pioneers Senior Center, 429 E 2nd St, Marbleton, Wyoming
Precincts 4-1, 4- Daniel Schoolhouse, 18 School House Lane, Daniel, Wyoming
Precinct 5-1: Bondurant Elementary School, 14224 US 191/189, Bondurant, Wyoming

Voter registration will be permitted at the polls on primary election day. A form of government issued photo identification will be required. Note that the Cora precinct this year WILL NOT be voting at the Kendall Valley Fire House for this election - they will vote with the Daniel precinct people at the Daniel schoolhouse. Sublette County Clerk's office also open 7AM to 7PM.

Local election results will be posted on this website and broadcast live on KPIN 101.1FM radio after the polls close on Tuesday.

---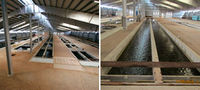 The Daniel Fish Hatchery is 100 years old!

Celebrating 100 Years for the Daniel Fish Hatchery (posted 8/19/18)
Dawn Ballou, Pinedale Online!
The Wyoming Game & Fish Department hosted a celebration on Saturday, August 18th in honor of the 100th Anniversary of the Daniel Fish Hatchery. The public was invited to take tours of the hatchery, and there were display stations with historical photos and information on the history of the hatchery and raising fish.

The event was co-hosted with the Sublette County Historic Preservation Board (CLG) and the Upper Green River Chapter of Trout Unlimited. Visitors enjoyed a BBQ lunch with hamburgers, Dutch oven beans and cobblers, potato salad, and ice cream. Everyone was invited to get a ticket for a door prize raffle with many great items donated by people in the community. Prizes included gift certificates, lodging packages, hats, dinners, cookouts, PAC tickets, and many more great items donated by members of the community.

Many relatives of past employees, and members of the Pape and Boroff families who were significant in the history of the Hatchery, came to the event making it a kind of giant family reunion gathering as well.

The Daniel Fish Hatchery is located northwest of Daniel next to 40 Rod Creek.

Click on this link for a virtual tour of the Daniel Fish Hatchery. (YouTube)

Click on this link for more pictures from the open house: Celebrating 100 Years for the Daniel Fish Hatchery

Related Links:
Daniel Fish Hatchery Wyoming Game & Fish

---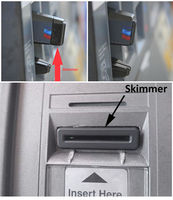 Credit card skimmers. Photos courtesy Sweetwater County Sheriff's Office.

Card skimmer theft advisory (posted 8/17/18)
Sweetwater Scam Alert
SWEETWATER COUNTY, WYOMING - August 17, 2018: Sweetwater County Sheriff Mike Lowell and Sweetwater Scam Alert issued a warning Friday about card skimmer rip-offs.

Card skimmers are small devices - actually tiny computers - concealed by criminals inside payment slots were people routinely swipe their credit or debit cards, including ATM machines, gas pumps, and payment machines at stores. The skimmer reads your card number, which can then be utilized later to create counterfeit cards or used online.

The skimmers store the information for the thieves to retrieve later; some skimmers are so sophisticated that they transmit the stolen information wirelessly, saving thieves the risk of returning to physically recover the skimmer.

Lowell described a number of things people can do to protect themselves from card skimmer theft:

- At a gas pump, closely examine the card reader itself. If it looks different than the card readers at other pumps, be very suspicious.

- Try to wiggle the card reader before putting your card in. If it moves, report it to the store and use another pump.

- If you use a debit card at a gas pump, consider running it as a credit card instead. That way you avoid entering your PIN. (Using this approach, your PIN is safe and the money isn't immediately deducted from your bank account. Criminals sometimes install tiny pinhole cameras in the keypad area to record PIN entries.)

- Don't accept "help" from strangers standing conveniently nearby. If you get an offer of help from someone at an ATM, refuse the offer and leave. (The most common line thieves use is that they, too, were having trouble with the machine and you need only enter your PIN again to solve the problem.)

If your credit or debit card has been compromised, report it immediately to your bank or the institution that issued it. While federal law limits your degree of liability if your credit or debit card is stolen, your liability may rely directly on how swiftly you reported the theft.

"Card skimmers are nothing new, but it's always good to stay alert for them," Lowell said.

---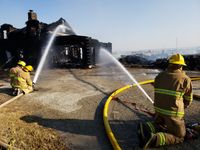 Firefighters work to extinguish a fire that destroyed a home and several other buildings on Pole Creek Road on August 15th.

Family home, buildings and two haystacks lost in fire (posted 8/16/18)
Sublette County Unified Fire
Sublette County Unified Fire (SCUF) responded to the report of a structure fire belonging to the Moulton Family on Fayette Pole Creek Road in Pinedale yesterday (Wednesday, August 15, 2018). Fire units arrived on scene to three fully involved structures and two separate hay stacks that were on fire. There were no injuries and although there were some spot fires in the adjacent hay meadow there was no extension to neighboring properties.

The cause of the fire is still under investigation.

The response included approximately 46 personnel from Unified Fire, Sublette County Sherriff's Office, Sublette County operated water trucks, Red Cross, Sublette County EMS, Wyoming Highway Patrol and BTNF E671 Fire Engine and crew.

Due to the wind-driven conditions of the fire (gusts between 20 and 30 MPH and sustained winds of 15 MPH as recorded from the NWS during the time of the fire), SCUF fire apparatus and personnel set up in defensive positions to contain the fire to protect adjacent properties. Fayette Pole Creek Road was also closed to thru traffic for a brief time while crews worked the fire.

SCUF would like to extend their gratitude to Subway in Pinedale for also preparing and donating 45 box meals for all the responders on the scene on such a short order.

Click on the links below for more pictures.

Related Links:
Family home, buildings and two haystacks lost in fire August 16, 2018
Fire on Pole Creek Road August 15, 2018

---



49th Annual Sailing Regatta on Fremont Lake. Photo by Rita Donham, Wyoming Aerophoto.

49th Annual Sailing Regatta on Fremont Lake (posted 8/15/18)
The Pinedale Sailboat Club held the 49th annual Sailing Regatta on Fremont Lake on Saturday and Sunday, August 11th and 12th. The event is always held the second weekend in August. Eighteen total teams participated in the sailing event.

The Regatta started in the late 1960's as the "Little America's Cup," named after the original sponsor, Holding's Little America Hotels. The club later renamed it the Fremont Lake Sailing Regatta to avoid legal issues with the more well-known version by that name. The story goes that there were people with big money and expensive boats who were annoyed that Pinedale's little annual race in the mountains of Wyoming was getting higher Google ranking than their multi-billion dollar event.

According to long-time sailing enthusiast Jason Essington, "Most sailors in the western states have come to know that the second weekend of August is the annual pilgrimage to Fremont Lake near Pinedale Wyoming to fellowship with other nautical types, commiserate about the trials of a 3 month sailing season, tell sailing lies, and occasionally sail their craft in a circle on one of the most spectacular sailing venues in the country … All in an effort to gain a coveted Regatta Burgee (triangle shaped flag) that can only be had by placing in the top 3 places in this event (or alternately by finishing all races and still managing to come in dead last)."

Saturday provided teams with what they affectionately call "Regatta Wind", which is to say the races were an all-out drift with teams working their very hardest to will their craft around the (shortened) course in the 90 minutes allotted for a race. The craft at the back of the fleet were cheering the teams at the front of the fleet hoping that the lead boat would complete the course in 90 minutes which would provide the following boats an additional 30 minutes of "grace" to finish.

With 90F degree temperatures and near zero wind, these are some of the harshest conditions to race in. Any movement made on the boat, or any small adjustment of the sail away from perfect trim threatens to bring the craft to a dead stop, which then allows any wake or wave on the water to force the boat off its desired heading, causing the need to travel even further to complete the race. The complete attention of the crew must be focused on maintaining every little bit of boat speed they can muster which renders them unable to properly hydrate or reapply sunscreen at appropriate intervals. According to Jason Essington, "Saturday's conditions were truly brutal. Crazy Tom Haigh described Saturday's Yacht racing as, 'Like watching grass grow, only a lot more expensive.'"

Sunday arrived with a light breeze that gave the boats more maneuverability and made the pre-start (the 5 minutes before the race where boats compete for the most desired position on the starting line) more interesting, the racing more fun for the teams, and more exciting for the spectators. The second race had enough wind to allow the spectators to see what happens when sailing crews or craft make errors. There were a couple of unintentional gybes causing a boat to perform a pirouette-like maneuver, another boat had their Genoa sail take off up the forestay due to an improperly placed tack line. And another crew got "greedy" and decided to douse their spinnaker after the gybe mark and found themselves performing a series of broaches (capsizes). This little maneuver causes the safety boat to head in their general direction with haste, while the spectators collectively hold their breath, and the crew themselves suppress their terror while scrambling to drop the spinnaker in any way possible. A single broach is usually enough for the average sailing team, but these overachievers performed the maneuver 5 consecutive times. All-in-all a much more exciting day than Saturday.

Lakeside Lodge serves as the host for the Fremont Lake Sailing Regatta. Green River Gear provided the Burgees and safety boat. April Gibson provided most of the sides for the barbecue. Jed Duke served as cook for the burgers and dogs for everyone.

Click on this link for the series standing. (PDF)

Thank you to Jason Essington for his contribution to this story. Photos courtesy Rita Donham, www.wyomingaerophoto.com.

Click on this link for more photos: 49th Annual Sailing Regatta on Fremont Lake

---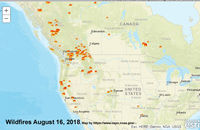 Wildfire activity as of August 18, 2018. Graphic courtesy NOAA.gov.

Smoky skies (posted 8/16/18)
Dozens of wildfires are burning across western North America sending plumes of smoke across much of the United States. This has caused unhealthy air quality in parts of the West and Midwest, as well as red sunrises and sunsets. The major wildfire outbreak across portions of the western U.S. and western Canada continued to produce massive amounts of smoke with an extremely large area of varying-density smoke, which basically covered all of the southern half of Canada and a good portion of the U.S.

Click on this link for more on this story: Smoky skies

Related Links:
Inciweb Current wildfire activity
NIFC National Interagency Fire Center
NRCC Northern Rockies Coordination Center
www.tetonfires.com Interagency Fire Center/Bridger-Teton National Forest
www.trapperspoint.com Trappers Point Wildlife Overpass webcam

---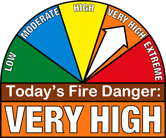 Fire Danger is VERY HIGH

Fire Danger increases to VERY HIGH in western Wyoming (posted 8/14/18)
No fire restrictions at this time
Teton Interagency Fire
WESTERN WYOMING - The fire danger rating for Grand Teton National Park, Bridger-Teton National Forest and Teton Interagency Dispatch Area has increased to very high. Conditions in the area are drying quickly and a fire may start easily, spread quickly and burn intensely. There are no fire restrictions at this time, but everyone is asked to practice heightened fire safety at all times.

Fire managers use a variety of factors to determine fire danger ratings including the moisture content of grasses, shrubs and trees, projected weather conditions (including temperatures and possible wind events), and the ability of fire to spread after ignition.

Recent hot temperatures, low humidity and lack of measurable precipitation have combined to increase the potential for fire activity across the Teton Interagency fire area.

The national fire preparedness is at the highest level. This means that firefighting resources are responding to numerous incidents across the western United States. Many Teton Interagency fire-fighting resources are available for initial response in the local area, and some resources are supporting large fires in other areas.

Teton Interagency fire personnel have extinguished almost 50 unattended or abandoned campfires this summer. Abandoned campfires can quickly escalate into wildfires, and it is extremely important that all campfires are completely extinguished and cold to the touch before campers leave their site. Visitors should never leave a fire unattended and can be held liable for suppression costs if their campfire becomes a wildfire.

Operators of unmanned aircraft systems (UAS) are reminded that flying drones near a wildfire is prohibited, and illegal. Drones can shut down fire-fighting operations which may put firefighters, residents and property at risk. Aerial resources recently had to be stopped on a wildlife fire in Idaho due to a near-miss midair collision.

Visit the Teton Interagency Fire web site at tetonfires.com to learn more about fire safety and what fire regulations may be in place. To report a fire or smoke in the immediate area, call the Teton Interagency Fire Dispatch Center at 307-739-3630.

---
Fisheries restoration work planned for Dollar Lake (posted 8/14/18)
Dollar Lake north of Pinedale has become 99% white suckers
Wyoming Game & Fish
PINEDALE, WYOMING - Pinedale fisheries managers are planning to restore the sport fish population in Dollar Lake, which is adjacent to the Green River, approximately 35 miles north of Pinedale. The restoration will involve the chemical treatment of the lake, which is planned for the week of August 20-24. The lake will be closed to fishing or any other water-related recreation during that period.

The non-native and invasive white sucker has a history of taking over many fish populations by out-competing other fish. Pinedale fish biologists first discovered white suckers in Dollar Lake in 2007. Since then, white sucker numbers have grown exponentially to where they now account for 99% of the fish population in the lake.

The best means of dealing with sucker populations like the one in Dollar Lake is to completely eradicate them. This involves the application of a fish toxicant, such as rotenone, that will remove all of the fish in a water body. Rotenone has been successfully used by fish managers for decades to remove undesirable fish species in many places. While rotenone is toxic to fish, it is not harmful to humans or other wildlife. Fish that have died from the treatment will not be available for collection.

Once the white sucker population has been removed, the lake will be restocked this fall with catchable rainbow trout that will likely flourish in the competitor-free environment. Tiger trout, a brown trout – brook trout hybrid, will also be introduced into the lake following the removal effort. Tiger trout are known to prey on other fish and will be used to prevent the future establishment of another white sucker population. Rainbow trout that are stocked in Dollar Lake would be too large for most tiger trout to eat.

Given the popularity of suckers as a live baitfish in other parts of the state, it is suspected that the white suckers may have been introduced into Dollar Lake by illegal bait fisherman. Anglers are reminded that the dumping of bait buckets or the intentional translocation of fish is strictly prohibited in Wyoming for this reason.

For more information please contact the Pinedale Regional Office at 307-367-4353.
---




Pinedale Online Job Board

Looking for job? We have lots of openings here! (posted 8/6//18)
Pinedale Online Job Board
Pinedale Online!
We have more than 50 job openings listed on our Job Board right now. If you are serious about wanting/needing a job, there are many opportunities here in the Pinedale, Wyoming area.

Local employers are looking for CDL Drivers, Gas Field Laborers, Nurses, CNAs, LPNS, Cooks, Delivery Drivers, Cooks and Kitchen Help, Teachers, Cashiers, Golf Course Utility Workers, Wranglers/Guides, Tire Technicians, Retail Help, Sports Coaches, Waitresses, Hotel Help, Cleaning Staff, Carpenters, more….

Click on this link for the latest job opening list: http://www.pinedaleonline.com/jobboard

Here are openings as of Monday, August 6, 2018:

Front Desk Agents Pinedale Hampton Inn & Suites, Pinedale, Wyoming
Laborers Professional Rig Services, Inc, Pinedale, Wyoming
CDL Drivers Professional Rig Services, Pinedale, Wyoming
Gas Field Laborer B K Zerks, Daniel, Sublette County area
Shop-Hand Enviremedial Services, Inc., Pinedale, Wyoming and abroad
C.N.A's Sublette Center, Pinedale, Wyoming
Special Education Paraprofessional (Math) - High School Sublette County School District #1, Pinedale, Wyoming
Head Nurse Sublette Center, Pinedale, Wyoming
Cleaning Service – BEEP Sublette BOCES, Pinedale, Wyoming
Full-Time LPN, MA, or CNA Sublette County Rural Health Care District, Sublette County, Wyoming
CDL Driver, Class B, Full & Part-time All American Fuel, Pinedale and surrounding area
High School Art Teacher Sublette County School District #1, Pinedale, Wyoming
Cook Old Stones Smokehouse & Country Pizza, Pinedale, Wyoming
Delivery Driver Oldstones Smokehouse & Country Pizza, Pinedale, Wyoming
Waitresses Oldstones Smokehouse & Country Pizza, Pinedale, Wyoming
Wrangler/Guide Big Sandy Lodge, Big Sandy Opening
Class A CDL Driver Taylor Construction, Inc, Pinedale, Wyoming
Kitchen Help Rendezvous Pointe, Pinedale, Wyoming
Cashier/Cook The Station, Sand Draw, Boulder, Wyoming
Elementary Title I Paraprofessional (One Year Only) Sublette County School District #1, Pinedale, Wyoming
Special Education Paraprofessional - Elementary School Sublette County School District #1, Pinedale, Wyoming
Golf Course Utility Workers Wapika Ranch, Pinedale, Wyoming
Seasonal Order Assemblers/Packers Coral & Tusk, Pinedale, Wyoming
Store Cashier Boulder Store, Boulder, Wyoming
Weekend Cook Rendezvous Pointe, Pinedale, Wyoming
Preschool Inclusion Provider Children's Learning Center, Big Piney, Wyoming
Yard Hand Pinedale Lumber, Pinedale, Wyoming
Full-time Registered Nurse Sublette County Rural Health Care District, Sublette County, Wyoming
Camp Jack/Packers Bald Mountain Outfitters, Pinedale, Wyoming
Part-time Driver Rendezvous Pointe Senior Citizen Center, Pinedale, Wyoming
Cook Sublette Center, Pinedale, Wyoming
Lube Tech/Tire Tech Auto Doc, Pinedale, Wyoming
Store Manager All American Fuels, LaBarge, Wyoming
Class A CDL Driver Black Mountain Rental, Pinedale, Wyoming
High School Assistant Boys Basketball Coach Sublette County School District #1, Pinedale, Wyoming
High School Head Alpine Ski Coach Sublette County School District 1, Pinedale, Wyoming
Professional Cleaner Rider Cleaning Professionals, LLC, Pinedale, Wyoming
Waitress Boulder Grill, Boulder, Wyoming
Store Assistant Manager – All American Big Piney All American Fuel, Big Piney, Wyoming
Part-Time Summer Drivers All American Fuels, Pinedale, Wyoming
Service Technician Black Mountain Rentals, Pinedale, Wyoming
Part-Time Breakfast Attendant, Part-Time Housekeeper, Full-Time Housekeeping Supervisor, Full-Time Front Desk Supervisor High Country Suites, Pinedale, Wyoming
Full-time Medical Technologist or MLT Sublette County Rural Health Care District, Pinedale, Wyoming
Part-time Bottlers, Tasting Room Sales, Distiller Trainee Cowboy Country Distilling, Pinedale, Wyoming
Experienced Carpenter Bruin Builders, LLC., Pinedale, Wyoming
Laborers Wind River Cabin Company, Pinedale and surrounding area
Servers/Bartenders Boundaries Restaurant - Boulder Lake Lodge, Next to Boulder Lake
Experienced Carpenters Wind River Cabin Company, Pinedale, Wyoming
Deli & Cashier Staff Obo's Market & Deli, Pinedale and Marbleton, Wyoming
Camp Cook, Camp Jack/Packers Bald Mountain Outfitters, Pinedale, Wyoming
Part-Time Counter Help Moosely Mailboxes, Pinedale, Wyoming
Team Member M&M Transfer, Pinedale, Wyoming

Related Links:
www.visitpinedale.org Pinedale visitor information
Housing availabilities Pinedale Online classified ads

---
USFS extends Sage Grouse EIS comment period (posted 8/5/18)
Public Comment Period on Notice of Intent to Prepare an Environmental Impact Statement extended to August 15, 2018
Bridger-Teton National Forest
On August 1, 2018, the Forest Service extended the public comment on a Supplemental Notice of Intent (NOI) in the Federal Register to prepare an Environmental Impact Statement which would amend the Forest Service land management plans regarding greater sage-grouse. The comment period is extended by 14 days and will now end August 15, 2018. The extension is in response to requests for additional time from various state agencies and partners because of an overlap of the Forest Service comment period with the comment period for the Bureau of Land Management's Draft Environmental Impact Statements on sage-grouse management.

The Forest Service is proposing to amend, with ongoing input and collaboration from affected states, the land management plans that were amended in 2015 regarding greater sage-grouse conservation in the states of Colorado, Idaho, Nevada, Wyoming, and Utah. There is no proposal to alter plans in Montana.

The purpose of proposed changes is to improve the clarity, efficiency, and implementation of greater sage-grouse plans, including better alignment with Bureau of Land Management and state plans, in order to benefit greater sage-grouse conservation on the landscape scale. The agency will use lessons learned from new science, scoping and implementing during the last three years to make revised plans more efficient. Proposed actions are intended to improve sage-grouse conservation and although some management areas, such as Sagebrush Focal Areas may change in name designation, limits to development and other protections will remain.

Commenters are encouraged to comment on the textual edits that are being considered. After reviewing comments to the corrected NOI, the Forest Service plans to continue the planning process for amending plans on units in Colorado, Idaho, Nevada, Wyoming, and Utah, with multi-regional draft and final Environmental Impact Statements. Plan amendments should be finalized in the summer of 2019.

To read and comment on the Supplemental NOI, please visit: https://www.gpo.gov/fdsys/pkg/FR-2018- 08-01/pdf/2018-16556.pdf
---
Public comment sought on Snow King upgrade EIS (posted 8/5/18)
Comments due by Sept. 4, 2018
Bridger-Teton National Forest
Public comment is needed on the issues and alternatives also known as the scope of the Environmental Impact Statement (EIS).

Ski areas on National Forest System Land should provide a diverse array of recreational activities including year-round opportunities. Snow King's proposal includes projects such as a new ski school/teaching center on the ridgeline west of the Snow King summit, new ski terrain totaling about 97.5 acres (groomed runs and teaching terrain), upgrading the existing Summit lift to a gondola, and upgrading and installation of facilities. A few of the buildings included in the proposal are a summit restaurant/guest services building and ski patrol facility, a temporary ski patrol building at the top of Cougar lift, an observatory and planetarium at the summit, a wedding venue west of the summit building, and a year-round yurt camp at the southern point of the permit area. Also included in the analysis will be the front-side mountain bike trails and a back-side mountain bike zone, hiking trails and a zip line, among other proposed improvements.

Ski area permits require a Master Development Plan (MDP) to provide a long-term framework for development of the ski area. The current MDP proposes an assortment of summer and winter recreational opportunities and chairlift modifications. It reflects environmental patterns and changes, variations in industrial technology, and trends in mountain resort recreation. It is operationally efficient for the Ski Area and the proposed uses are allowed by the Ski Area Recreational Opportunity Enhancement Act of 2011. Each individual project in this proposal that Snow King made to the Bridger-Teton is consistent with their MDP and is now going through an extensive Forest Service review process and site-specific analysis through this EIS prior to moving forward. This scoping period is the opportunity for the public to comment.

Anyone with comments on the proposal is asked to submit them in writing or electronically by September 4, 2018. While comments will be accepted any time during the process, to establish standing for objection eligibility, comments must be received during this designated opportunity to comment which in this case is 32 calendar days (due to the weekend and a holiday) following the August 3, 2018 publication of notice for the request for comment in the Casper Star-Tribune (newspaper of record).

Please address comments as attention:
Snow King Mountain Resort On-mountain Improvements Project
Mary Moore, District Ranger
PO Box 1689
Jackson, WY 83001

The office business hours for those submitting hand-delivered comments are 8:00 am to 4:30 pm Monday through Friday, excluding holidays. Electronic comments must be submitted to: comments-intermtn-bridger-teton-jackson@fs.fed.us. An objection period, if required, will follow the regulation found in §218.7. For objection eligibility (§218.5), only those who have submitted timely, specific written comments during any designated opportunity for public comment may file an objection. Please state "Snow King Mountain Resort On-mountain Improvements" in the subject line when providing electronic comments.

Additional information on the Snow King Mountain Resort On-mountain Improvements Project is also available on the webpage: http://www.fs.usda.gov/project/?project=54201.

If you would like more information or have questions relating to this proposal, please contact District Ranger Mary Moore at 307-739-5500 or marymoore@fs.fed.us.

---
3 grizzly bears relocated from north of Pinedale (posted 7/31/18)
Wyoming Game & Fish
To reduce the potential for future conflicts, the Wyoming Game and Fish Department caught and relocated three yearling grizzly bears July 25, 2018.

The bears were relocated due to their association with cattle depredations on a U.S. Forest Service grazing allotment north of Pinedale, WY. In cooperation with the Bridger Teton National Forest, the bears were relocated to the Blackrock drainage approximately 20 miles east of Moran Junction. The release site is located in currently occupied grizzly bear habitat.

Grizzly bear relocation is a management tool afforded to large carnivore biologists to minimize conflicts between humans and grizzly bears and is critical to the management of the population. When other options are exhausted or unattainable, Game and Fish will attempt to capture the bear. Once the animal is captured, all circumstances are taken into account when determining if the individual should be relocated or removed from the population. If relocation is warranted, the selection of a relocation site is determined taking into consideration the age, sex, and type of conflict the bear was involved in as well as potential human activity in the vicinity of the relocation site. Consultation with the appropriate personnel and agencies occurs to minimize the chance of future conflicts and maximize the survival potential of the relocated grizzly bear. Bears that are deemed an immediate threat to human safety are not released back into the wild.

Bears are relocated in accordance with state and federal law and regulation. Game and Fish continues to stress the importance of the public's responsibility in bear management and the importance of keeping all attractants (food items, garbage, horse feed, bird seed, and others) unavailable to bears. Reducing attractants available to bears reduces human-bear conflicts. For more information on grizzly bear management and reducing the potential for conflicts please visit the Bear Wise Wyoming page: https://wgfd.wyo.gov/Wildlife-in-Wyoming/More-Wildlife/Large-Carnivore/Grizzly-Bear-Management/Bear-Wise-Wyoming
---
Wyomingites asked to report dead sage grouse during West Nile virus season (posted 7/31/18)
Wyoming Game & Fish
All Wyomingites, especially landowners, are again being asked to assist in the management of the state's sage grouse populations this summer by immediately reporting dead sage grouse to the Wyoming Game and Fish Department so they can be tested for West Nile virus.

Past research has shown sage grouse have low resistance to the disease, which is usually fatal to the birds. Evidence of West Nile virus has been reported in northeast Wyoming and in surrounding states, including a sage grouse in North Dakota.

Tom Christiansen, the Wyoming Game and Fish Department's sage grouse program coordinator, said that while there is no sign yet of an outbreak of the virus, this year's precipitation and warm weather has created conditions favorable for mosquitoes, which can carry the virus.

"Warm nighttime temperatures are thought to enhance the ability of the West Nile virus to multiply in the gut of the mosquito. If conditions are warm between now and the end of August, we could see the virus show up this year," Christiansen said.

---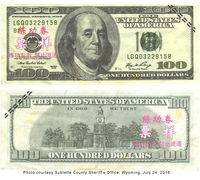 The Sublette County Sheriff's Office is warning locals about a fake $100 bill that was turned in on July 24th. Photos courtesy SCSO.

SCSO warns of counterfeit $100 bill in Sublette County (posted 7/25/18)
The Sublette County Sheriff's Office is alerting locals to the appearance of a counterfeit $100 bill that was turned in on Tuesday (July 24, 2018).

"Be careful when exchanging money. This type of fake bill has been circulating all across the US lately and has found its way to Sublette County!" The fake currency has pink Chinese markings on both sides.

Related Links:
SCSO Facebook page Sublette County Sheriff's Office
'Suspects' contact police over counterfeit $100 bills with pink markings NBC12.com, May 9, 2018

---
Beware telephone Social Security number scam (posted 7/25/18)
Sweetwater County Sheriff's Office
ROCK SPRINGS - A telephone Social Security number scam is being reported in Sweetwater County.

Sweetwater County Sheriff Mike Lowell said that swindlers posing as officials of the Social Security Administration are calling and leave messages if no one answers the phone.

The bogus officials say that their intended victims' Social Security numbers have been used in illegal activity and instruct that the person call one of two numbers as soon as possible. The message goes on to relate that if the return call is not made, the person's Social Security number will be "cancelled" and their bank account seized.

"These calls are a criminal swindle," Lowell said. "If you call back, you will be asked for, among other things, your actual Social Security number and other personal and financial information."

Officials emphasize that Social Security will not make calls like these or send you an email asking for personal information, such as your Social Security number, date of birth, or other private information. If someone claiming to be from Social Security does call or email you requesting information, do not respond to the message. Instead, contact your local Social Security office or call their toll-free number at 1-800-772-1213.

The Federal Bureau of Investigation's website at http://www.fbi.gov/scams-safety features a great deal of information on scams and swindles of all sorts.

---
WG&F releases report on mule deer management in Wyoming (posted 7/25/18)
Recommends maintaining existing system of deer management, license issuance and hunting season strategies
The Wyoming Game & Fish Department (WG&F) released a report on July 23, 2018 on recommended strategies for managing mule deer hunting in Wyoming. The report has information and recommendations by the Mule Deer Working Group (MDWG) and Resident Region Committee (RCC). The document is an update of An Evaluation of Management Issues Affecting the Quality of Hunting in Wyoming's Mule Deer Herds: Final Report and Strategy Recommendations –11/6/06."

The heart of this report is a review of the WGFD's current deer management framework and a detailed evaluation of alternative strategies the groups considered to potentially improve mule deer management and hunting quality in general hunt areas.

"After thorough review and analysis, the consensus of the report committee and our preferred course of action is to maintain the existing system of deer management, license issuance, and hunting season strategies in Wyoming. The current system provides a range of limited quota and non-limited quota (general) hunting opportunities, and addresses the diverse preferences and expectations of our constituency," the report states.

Nine other strategies are identified for consideration as possible alternatives to the existing season and license structure. Advantages and disadvantages of each are summarized.

The report is available on the WYFD website at https://wgfd.wyo.gov/WGFD/media/content/PDF/Habitat/Mule%20Deer%20Initiative/Mule-Deer-Mgmt-Options_07-23-18_FINAL.pdf.

---
Business Directory
Click here for
Advertising Information