Sublette County Hospital District continues construction on Critical Access Hospital (posted 10/3/2023)
Expected to be completed by March 2025
Sublette County Hospital District
The Sublette County Hospital District is pleased to report that construction continues both on the Critical Access Hospital and the attached Skilled Nursing Facility. Representatives from USDA Rural Development were in town September 12th to review the progress to date. Glenn Pauley, Wyoming State Director of USDA Rural Development notes: "Rural Development staff across the nation have been working with the Sublette County Hospital District since the project's inception to ensure it stays on track. We are pleased with the construction completed so far, and look forward to the day Sublette County residents can rely on a critical access hospital for their medical needs."

Nathan Pitman, Project Manager for Layton Construction, writes, "Now that the high energy compaction of the site has concluded, Layton, Teletractors and several other trades are hard at work laying out and digging the foundations of the new building footprint. Over the next 30 days Teletractors will dig all the footings and foundations for both the Critical Access Hospital and Long-Term Care Facility. Meanwhile, the concrete subcontractor will begin tying and installing rebar reinforcements and pouring the concrete footing foundations and stem walls." Once this process is complete, he notes, "Teletractors will backfill the entire building footprint to allow for Mechanical, Electrical and Plumbing trades to begin install of the under-slab utilities. While these items are in work, the structural steel subcontractor is also in the process of manufacturing the structural steel package in preparation for standing the steel structure in the near future."

The project remains on schedule. "We are working hard behind the scenes to keep all of the USDA paperwork current," notes SCHD Administrator Dave Doorn. "Layton's team and Karl Lueschow, our owner's representative, are doing a great job of managing the project."

Sublette Center Administrator Dawn Walker notes, "We are grateful to have such an experienced team helping make this vision a reality. The Center is excited to see so many local businesses involved in the project. It really is a community effort." Construction is expected to be complete in March 2025.

To learn more about the project, please visit www.sublettehospitaldistrict.org/future-plans

---
Dry Piney wildlife crossing project complete (posted 10/3/2023)
Wyoming Game & Fish
LA BARGE, WYOMING — The Dry Piney Wildlife Crossing Project, led by the Wyoming Game and Fish Department and the Wyoming Department of Transportation, is now complete and big game animals are actively using the underpasses. The project includes nine underpasses and 17 miles of 8-foot tall fencing on both sides of U.S. Highway 189 to encourage big game, primarily mule deer and pronghorn, to use the underpasses and avoid wildlife-vehicle collisions.

The media is invited to join WYDOT and Game and Fish for a ribbon-cutting ceremony at 10 a.m. Oct. 12. A virtual option will also be provided.

This section highway has one of the highest wildlife-vehicle collision rates in Wyoming. It goes through the Wyoming Range, which serves as crucial winter range for one of the largest mule deer herds in the west. WYDOT numbers show from 2018-20 an average of 68 animal carcasses are picked up by maintenance crews.

The total project cost was $15.1 million, supported by the federal BUILD grant, Wyoming Game and Fish Commission and Wyoming Transportation Commission. Other supporters include the public, Sublette County, conservation organizations, private donors and landowners.

Underpasses are a proven asset in reducing wildlife-vehicle collisions, increasing motorist safety and preserving wildlife resources. Seven underpasses and 8-foot-high fencing along a 13.5-mile stretch of Wyoming Highway 30 west of Kemmerer resulted in an 81% reduction in deer-vehicle collisions after three years. Another project on U.S. Highway 191 near Pinedale with underpasses, fencing and two overpasses eliminated pronghorn collisions after three years, and mule deer collisions dropped by 79%.

Wyoming has identified 240 projects statewide to reduce wildlife-vehicle collisions. An online map depicting high-collision sections of roads across Wyoming can be found on the Game and Fish website.

---
Nationwide Emergency Alert Test October 4th (posted 10/2/2023)
Test alerts will be broadcast to radio, TV and cell phones
Federal Emergency Management Agency
WASHINGTON – The Federal Emergency Management Agency (FEMA), in coordination with the Federal Communications Commission (FCC), will conduct a nationwide test of the Emergency Alert System (EAS) and Wireless Emergency Alerts (WEA) this fall.The national test will consist of two portions, testing WEA and EAS capabilities. Both tests are scheduled to begin at approximately 2:20 p.m. ET on Wednesday, October 4 (12:20PM Mountain Time).

The WEA portion of the test will be directed to all consumer cell phones. This will be the third nationwide test, but the second test to all cellular devices. The test message will display in either English or in Spanish, depending on the language settings of the wireless handset.

The EAS portion of the test will be sent to radios and televisions. This will be the seventh nationwide EAS test.FEMA and the FCC are coordinating with EAS participants, wireless providers, emergency managers and other stakeholders in preparation for this national test to minimize confusion and to maximize the public safety value of the test.

The purpose of the Oct. 4 test is to ensure that the systems continue to be effective means of warning the public about emergencies, particularly those on the national level. In case the Oct. 4 test is postponed due to widespread severe weather or other significant events, the back-up testing date is Oct. 11.

The WEA portion of the test will be initiated using FEMA's Integrated Public Alert and Warning System (IPAWS), a centralized internet-based system administered by FEMA that enables authorities to send authenticated emergency messages to the public through multiple communications networks. The WEA test will be administered via a code sent to cell phones.

This year the EAS message will be disseminated as a Common Alerting Protocol (CAP) message via the Integrated Public Alert and Warning System-Open Platform for Emergency Networks (IPAWS-OPEN).

All wireless phones should receive the message only once. The following can be expected from the nationwide WEA test:
 Beginning at approximately 2:20 p.m. ET, cell towers will broadcast the test for approximately 30 minutes. During this time, WEA-compatible wireless phones that are switched on, within range of an active cell tower, and whose wireless provider participates in WEA, should be capable of receiving the test message.
 For consumers, the message that appears on their phones will read: "THIS IS A TEST of the National Wireless Emergency Alert System. No action is needed."
 Phones with the main menu set to Spanish will display: "ESTA ES UNA PRUEBA del Sistema Nacional de Alerta de Emergencia. No se necesita acción."

WEA alerts are created and sent by authorized federal, state, local, tribal and territorial government agencies through IPAWS to participating wireless providers, which deliver the alerts to compatible handsets in geo-targeted areas. To help ensure that these alerts are accessible to the entire public, including people with disabilities, the alerts are accompanied by a unique tone and vibration.

Important information about the EAS test:
 The EAS portion of the test is scheduled to last approximately one minute and will be conducted with the participation of radio and television broadcasters, cable systems, satellite radio and television providers and wireline video providers.
 The test message will be similar to the regular monthly EAS test messages with which the public is familiar. It will state: "This is a nationwide test of the Emergency Alert System, issued by the Federal Emergency Management Agency, covering the United States from 14:20 to 14:50 hours ET. This is only a test. No action is required by the public

---
Governor Gordon calls for complete withdrawal of BLM's Rock Springs RMP Draft (posted 10/1/2023)
Wyoming Governor Mark Gordon
CHEYENNE, WYOMING – Wyoming Governor Gordon has sent a letter to Bureau of Land Management (BLM) Director Tracy Stone-Manning requesting the BLM withdraw its Rock Springs Draft Resource Management Plan (RMP) with its conservation-dominated Preferred Alternative. The draft RMP covers 3.6 million acres managed by the BLM's Rock Springs Field Office. The Governor is requesting the BLM withdraw the plan and resubmit a new preferred alternative that is based on cooperation with impacted communities.

According to the BLM, its preferred alternative is the "most restrictive" out of the four proposed alternatives. The Governor said the draft represents a troubling and dramatic shift in the agency's approach to the cooperative development of these management plans.

"Wyoming and local cooperators have worked long and hard to lead, build, and maintain partnerships for effective and responsible land management policies," Governor Gordon stated. "Over a decade's worth of contributions from local stakeholders, cooperators, counties, and state agencies are either falling on deaf ears or disingenuously being thrown by the wayside with this decision."

Governor Gordon added that the BLM's Preferred Alternative ignored the wishes of local communities in favor of a politically driven proposal that is destructive for cooperative federalism.

"The BLM's RMP and Preferred Alternative threaten to eliminate all the hard work accomplished by bulldozing over state executive orders, stakeholder engagement, and interagency agreements. Simply put, existing and future partnerships are in jeopardy. A federal fiat won't run efficiently or well over such a bumpy road," Governor Gordon wrote.

Read Governor Gordon's full letter here. The public comment period for the BLM Rock Springs Field Office RMP is currently open through November 16, 2023. The draft RMP and information on how to comment can be found on the following link: https://eplanning.blm.gov/eplanning-ui/project/13853/510

Related Links:
Cat Urbigkit: BLM is Tired of Misinformation About Rock Springs Plan, But The Plan Itself Is Misinformation By Cat Urbigkit, Cowboy State Daily, Sept. 28, 2023

---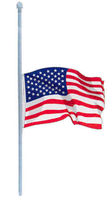 President Biden orders flags be flown at Half Staff (posted 9/29/2023)
In memory of US Senator Diane Feinstein from California
Wyoming Governor Mark Gordon
CHEYENNE, WYOMING - In accordance with a proclamation by the President of the United States, Governor Mark Gordon has ordered both the United States and Wyoming flags to fly at half-staff immediately until the day of interment in honor and memory of Senator Diane Feinstein. An updated flag notification will be sent out once a date has been confirmed.

The Presidential Proclamation follows:
Senator Dianne Feinstein was a pioneering American and a true trailblazer. In San Francisco, she showed enormous poise and courage in the wake of tragedy, and became a powerful voice for American values. In the United States Senate, she turned passion into purpose, and led the fight to ban assault weapons, also making her mark on everything from national security to the environment to protecting civil liberties. Senator Feinstein was a role model for so many Americans and she had an immense impact on younger female leaders for whom she generously opened doors. She was a historic figure, and our country will benefit from her legacy for generations.

As a mark of respect for the memory of Senator Dianne Feinstein, by the authority vested in me as President of the United States by the Constitution and the laws of the United States of America, I hereby order that the flag of the United States shall be flown at half-staff at the White House and upon all public buildings and grounds, at all military posts and naval stations, and on all naval vessels of the Federal Government in the District of Columbia and throughout the United States and its Territories and possessions until sunset, on the day of interment. I also direct that the flag shall be flown at half-staff for the same length of time at all United States embassies, legations, consular offices, and other facilities abroad, including all military facilities and naval vessels and stations.

IN WITNESS WHEREOF, I have hereunto set my hand this twenty-ninth day of September, in the year of our Lord two thousand twenty-three, and of the Independence of the United States of America the two hundred and forty-eighth.

JOSEPH R. BIDEN JR
___________________________

Editor's note: Dianne Goldman Berman Feinstein was an American politician who served as a Democratic United States senator from California from 1992 until her death in 2023. She served as mayor of San Francisco from 1978 to 1988. She passed away at age 90 on September 29, 2023. She was the oldest sitting U.S. senator.

---
Prescribed burns planned for Fall on Big Piney Ranger District (posted 9/18/2023)
Bridger-Teton National Forest
BIG PINEY, WYOMING — The Big Piney Ranger District of the Bridger Teton National Forest anticipates initiating the next phase of the Monument Ridge Vegetation and Recreation Management Project ("the project") later this Fall. The project area is located on the Big Piney Ranger District of the Bridger-Teton National Forest near the town of Bondurant in Sublette County. The habitat/fuels treatment area is situated within the Wildland Urban Interface (WUI): Monument Ridge borders the western edge of the treatment area, and the residential area along the Hoback River borders the eastern edge.

The project, proposed by the Sublette County Collaborative, is multifaceted: it encompasses fuels reduction actions within the wildland urban interface, wildlife habitat enhancement activities, and safety and access improvements for recreation. These activities will improve forest health, promote wildlife populations for elk, mule deer, and sage grouse, and provide sustainable recreation opportunities well into the future.

A prescribed fire is scheduled the first week of October 2023 on 2,150-acres north of the Monument Ridge Lookout and Hoback Guard Station. The Forest Service prepared this area in 2020 by felling trees and allowing the fuels to cure during the intervening time, preparing an adequate fuel bed for the planned prescribed fire.

The Forest Service will implement the prescribed fire with weather and climate conditions to meet prescribed fire objectives. The prescribed fire objectives are to treat the area in a mosaic pattern producing mixed severity results. These results create a complex mix of patches of different severity ranging from unburned patches to low severity patches where only ground fuels burn to high severity patches where canopy and ground fuels burn. These activities will enhance habitat by increasing forage (i.e., grass, forbs, and shrubs) and will stimulate aspen growth in areas where stands have declined due to the lack of wildfire disturbance. During operations, smoke may be visible from Jackson, Pinedale, and Big Piney: aerial resources will implement ignitions for a period of 3-5 days, with smoke expected for 1-2 days after ignitions.

For more information call Big Piney Ranger District (307) 267-3375 or see https://gacc.nifc.gov/gbcc/dispatch/wy-tdc/home/information/prescribed-fires

You can learn more about the Bridger-Teton and upcoming projects and proposals by following us on Facebook, www.facebook.com/BridgerTetonNF or Twitter X www.twitter.com/BridgerTetonNF.

---
Prescribed burns planned for Fall on Kemmerer Ranger District (posted 9/18/2023)
Bridger-Teton National Forest
KEMMERER, WYOMING—The Kemmerer Ranger District of the Bridger Teton National Forest is planning multiple prescribed burns throughout this fall. These could begin as early as late September and burns may be implemented at any time until Late November. Smoke impacts should remain minimal due to the short duration of the burns and remote location.

• September 19 - October 1, 2023, as part of the Labarge Vegetation Restoration Project, 477 acres are planned to be treated with prescribed fire through implementation of the Packsaddle prescribed burn. The Packsaddle prescribed burn is in the LaBarge drainage between Forest Road 10138 and Forest Road 10128.
• October 1 – 15, 2023, as part of the Hams Fork vegetation Project, 68 acres are planned to be treated with prescribed fire through implementation of the Nugent prescribed burn. The Nugent prescribed burn is a 68-acre unit located in the vicinity of Turnip Ridge.
• October 1– 15, 2023, as part of the Hams Fork vegetation Project, 200 acres may be treated with prescribed fire through implementation of the Hams Fork Unit 6 and Unit 8 prescribe burn. The Hams Fork Unit 6 and Unit 8 prescribe burn is located near Green Knoll and are within the Hams Fork vegetation Project.
• Late October until late November 2023, Kelly Guard station piles, approximately 20 acres.

The LaBarge Vegetation Restoration Project is 52,573 acres targeted to promote biological diversity in tree and plant species. Currently it is dominated by homogeneous older conifer and sagebrush. By increasing the diversity of species this will provide abundant forage and habitat for wildlife as well as minimizing the risk of future severe wildfires. 2,217 acres have been identified for future prescribed fire operations to be conducted over multiple years and broken into smaller units.

The Hams Fork Vegetation Project area is a multi-unit area covering approximately 74,267-acres. The goal is to develop a diverse mix of vegetation, reduce fuel loading to help minimize the intensity of future wildland fires, and stimulate the regeneration of aspen stands by reducing conifer encroachment. This will be accomplished through a variety of methods to include, timber sales, prescribed fire, pile burning, and mechanical treatments.

Prescribed fires are managed under a precise set of parameters know as a "prescriptions" which include overall project objectives, temperature, wind speed and direction, relative humidity, current and expected forecast, and fuel conditions, as well as available firefighting resources, and time of season. Before burning, fire managers ensure that all the parameters are within their prescribed fire plan so the operations can be conducted safely, and objectives can be met. Fire management personnel will utilize both ground and aviation resources to safely conduct these prescribed fire operations. Smoke impacts from these operations will be minimal due to the smaller size of the units, remote location, and short duration of each burn. Fire managers will be coordinating with Wyoming air quality and will monitor weather conditions closely in the days prior to, and during the prescribe fire ignitions. Firefighters will continue to work in the area several days after ignitions to patrol and manage for public safety. Local notifications will take place as well as social media postings alerting the public when these burns will be implemented.

---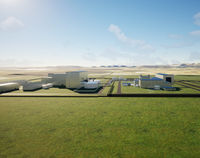 TerraPower purchases land in Kemmerer for Natrium Reactor Demonstration Project (posted 8/31/2023)
TerraPower media release
BELLEVUE, WASHINGTON – August 16, 2023 – TerraPower announced today the purchase of land in Kemmerer, Wyoming where the NatriumTM[1] Reactor Demonstration Project will be built.

"This milestone purchase marks another step towards providing clean, reliable power to the grid and good-paying jobs in Wyoming," said Chris Levesque, President and CEO of TerraPower. "We have a great relationship with the community in Kemmerer, and we will continue working closely with local stakeholders and statewide officials as this project moves forward." The land was previously owned by PacifiCorp.

Wyoming and Kemmerer have a long and rich history of energy production; the Natrium technology is an advanced nuclear reactor and energy storage system and will be the first commercial reactor to be operated in the state. Sited near a retiring coal facility, the Natrium demonstration plant is the only coal-to-nuclear project under development in the world and will provide new jobs in western Wyoming for decades to come. The project is expected to have a peak workforce of 1,600 construction jobs and 250 full-time employees will be needed to support day-to-day operations when the plant comes online.

"In addition to the benefit of clean power and future jobs created, the City of Kemmerer has experienced many positive impacts since being chosen as the site of the first TerraPower Natrium advanced nuclear reactor," said City of Kemmerer Administrator Brian Muir. "The community is optimistic about our economic future. We've already seen increased residential and commercial real estate development."

The land purchase marks another milestone for the Natrium project. Earlier this month, TerraPower announced the first round of contracts for suppliers supporting the development of the Natrium reactor, strengthening the advanced nuclear supply chain throughout North America. In July, TerraPower announced an MOU with Centrus Energy Corp. to significantly expand their collaboration to ensure the Natrium demonstration reactor has access to high-assay, low-enriched uranium (HALEU) to meet the project's 2030 operation date.

The Natrium reactor demonstration project is a public-private partnership, and part of the U.S. Department of Energy's Advanced Reactor Demonstration Program (ARDP). The demonstration plant will validate the design, construction, and operational features of the Natrium technology. The project features a 345MW sodium-cooled fast reactor with a molten salt-based energy storage system.

The storage technology can boost the system's output to 500MW of power when needed, which is equivalent to the energy required to power around 400,000 homes. The energy storage capability allows the plant to integrate seamlessly with renewable resources.

About TerraPower
TerraPower is a leading nuclear innovation company that strives to improve the world through nuclear energy and science. Since it was founded by Bill Gates and a group of like-minded visionaries, TerraPower has emerged as an incubator and developer of ideas and technologies that offer energy independence, environmental sustainability, medical advancement and other cutting-edge opportunities. It accepts and tackles some of the world's most difficult challenges. Behind each of its innovations and programs, TerraPower actively works to bring together the strengths and experiences of the world's public and private sectors to answer pressing global needs. Learn more at terrapower.com.

Source: https://www.terrapower.com/terrapower-purchases-land-in-kemmerer-wyoming-for-natrium-reactor-demonstration-project/

---
Business Directory
Click here for
Advertising Information