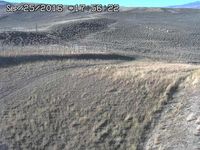 Pronghorn (antelope) herd moving south just before crossing the Trapper's Point Wildlife Overpass.

Wildlife Watching – Pronghorn are on the move again (posted 9/27/16)
Dawn Ballou, Pinedale Online!
For those who enjoy watching the local area wildlife, here's a heads up that pronghorn (antelope) are on the move again and moving across the Trapper's Point wildlife overpass in greater numbers now. Movement activity has picked up the past two weeks after being very slow during May through August. Pronghorn can regularly be seen moving across the overpass fairly frequently now, typically groups coming several times an hour. Herds can move through very quickly, sometimes taking just a couple minutes to go from horizon to horizon when they are on the move.

In the fall, most herds are moving south, but an occasional herd moves north across the overpass and terrain. Very few deer cross on the overpass. Of course, the timing of herds moving through is completely unpredictable, so keep checking back to catch a herd crossing. Watch carefully for a shimmy of white moving dots in the distance to see herds approaching.

The Trapper's Point Wildlife Overpass webcam is positioned on the wildlife overpass over US 191 near the Cora junction about five miles west of Pinedale. It does continuous video monitoring of the views and does a patrol every three minutes looking several directions and taking still photos. Webcam administrators monitor the camera view and at times may go in and manually control the camera to follow herd movements as they approach and see paths they take to leave the Trapper's Point area. The web camera has pan, zoom and tilt capabilities.

In late September, cattle herds are also beginning their drift migration south from their summer pastures in the Upper Green. Some cattle move down on their own and other herds are pushed by cowboys on horseback and taken through the wildlife underpass just west of the overpass on US 191. Cattle collect in the sorting grounds just south of the wildlife overpass. The wildlife overpass is fenced to keep cattle from using it, however antelope can easily slip through the gates and fence.

The webcam also takes a snapshot of the Trapper's Point historical marker just southwest of the wildlife overpass. That marker tells the story of the early 1800s fur trappers that came to the Upper Green River Valley and overlooks the location of several of the Green River Rendezvous gatherings that were held in the Green River Valley at the confluence of Horse Creek and the Green River just west of Trapper's Point.

We've posted video clips of some of the animal crossings for both the current fall southern movement, which picked up in mid-September, and the latter part of the spring northern movement in April when Pinedale Online became the new administrators of the camera.

The wildlife webcam was original installed in 2012 by the Wildlife Conservation Society when the wildlife overpass was built. The webcam was part of a grant for their Path of the Pronghorn wildlife interpretive project, which included putting in a new highway interpretive pullout on US 191 about a mile east of the overpass, which was dedicated in April, 2016.

The Trapper's Point Wildlife Overpass webcam can be found at www.trapperspoint.com. It may take up to a minute for the camera to first load on your computer. It uses satellite and cell phone technology to connect, thank you for your patience! When viewing, if your screen turns black after a bit, just move your mouse a little over the picture to reconnect to the cam. The software detects non-activity from your mouse and will disconnect you to save bandwidth from idle viewers. See the Video Archive page on the website for many more video clips of interesting views this year from the webcam.

Click here for more pictures: Wildlife Watching – Pronghorn are on the move again
______________________________________

Pinedale Online welcomes sponsors for the Trapper's Point Wildlife Overpass webcam. Sponsorship logos are $100/month which helps pay for the monthly cost of operating the camera so the data collection and video monitoring can continue. This information is extremely useful for wildlife biologists researching the seasonal movement patterns of antelope and deer as they migrate through the Trapper's Point bottleneck area. For more information email support@pinedaleonline.com or call/text 307-360-7689 (anytime ok).

---
Legal battle over Wyoming's wolves (posted 9/26/16)
Cat Urbigkit, Pinedale Online!
The legal battle over management of wolves in Wyoming continues, with environmentalists arguing wolves should remain under federal protection, while state and federal officials maintain that it's time for wolves to be subject to state management.

A federal appeals court heard oral arguments last week on a lower court's decision overturning the delisting of wolves. A decision on the case isn't expected for several months.

Meanwhile, wolves in Wyoming remain under federal protection pursuant to the Endangered Species Act.

Check out the links below for more information.

Related Links:
Court arguments focus on buffer zone - WyoFile
Wolf Watch - by Cat Urbigkit, Pinedale Online!

---
Jackson wolf problems (posted 9/26/16)
Cat Urbigkit, Pinedale Online!
The Walton Ranch has problems with the Pinnacle Peak wolf pack, which dens on the National Elk Refuge, but has taken up residence and is killing cattle on the ranch's private property. There are at least 11 wolves in the pack, which is responsible for repeated cattle depredations. Jackson Hole News & Guide reporter Mike Koshmrl paid a visit to the ranch.

Learn the details at the links below.
Related Links:
Wolves living near pasture - Jackson Hole News & Guide
Growing wolf conflict - Jackson Hole News & Guide
Wolf Watch - by Cat Urbigkit, Pinedale Online!

---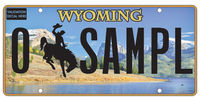 New 2017 Wyoming specialty plates will feature Green River Lakes and Squaretop Mountain. Photo courtesy WYDOT.

WYDOT gears up for new specialty plate background (posted 9/24/16)
2017 plate will feature Green River Lakes and Squaretop Mountain
Wyoming Department of Transportation
The Wyoming Department of Transportation is temporarily putting a hold on new specialty and prestige plate applications from Sept. 24 through Oct. 1 to prepare for plates that will feature a new background.

Starting in 2017, the new plate design featuring the Lower Green River Lake and Squaretop Mountain will be on the state's 12 specialty plates, the prestige plates and the standard plates motorists receive at the county when registering their vehicles.

WYDOT will stop accepting applications for the specialty and prestige plates featuring the Tetons on Sept. 24. WYDOT will then begin processing and accepting all new applications it has for specialty and prestige plates on Oct. 1.

Per Wyoming law, license plate designs change every eight years with the new design needing to be readily distinguishable from the previous design. All designs are required to have the bucking horse logo.

"The specialty plate fee is paid each time the plate is redesigned," said Debbie Lopez, manager of Motor Vehicle Services, adding that the fee is in addition to the annual vehicle fee paid at the county.

For instance, if someone applies for a new specialty or prestige plate that has the Tetons before Sept. 24, they will need to pay the fee again in 2017 to get the new plate design.

Drivers who want a specialty plate will complete the application at WYDOT and will pay the fee for that particular specialty plate. The Disabled Veteran plate is the only one not affected. Veterans who request a Disabled Veteran plate can continue to do so because this plate is free to the requester, but they must be a disabled veteran.

"We also contact our specialty plate customers within three to six months of their plate's expiration to remind them to reorder their specialty plate," said Shannon DeGrazio, of WYDOT's Motor Vehicle Services program. "All current specialty plate customers who reorder in 2017 will have the option of keeping their existing plate combinations."

Although motorists will be able to start applying for specialty plates in October, they won't be able to put the new plate on until their current registration expires unless they pay in advance at the county for the extra months of registration.

Besides a new look, the prestige plates will now have a maximum of five letters or combination of five letters, numbers and spaces. In previous years, the maximum was four.

To view the guidelines for the prestige plates or to learn more about the specialty plates, visit WYDOT's website at www.dot.state.wy.us.

---
Senator Enzi accepting nominees to military academies (posted 9/24/16)
Senator Enzi media release
Washington, D.C. – U.S. Senator Mike Enzi, R-Wyoming, is accepting applications for nominations to the U.S. military service academies for the 2017 school year. Every year, Enzi gives Wyoming youth considering military careers the opportunity to apply for nomination to the Air Force Academy, the Merchant Marine Academy, the Military Academy at West Point and the Naval Academy.

"Military service academies provide outstanding opportunities to our nation's youth through education and training. Attending one of these academies is a great way for our young men and women to serve our country, develop leadership skills and begin a career in military service," Enzi said. "I encourage anyone who is interested to apply."

For every vacancy available at each academy, Enzi is allowed to nominate 10 students. Nominations are based on an evaluation of leadership, extracurricular activities, SAT/ACT test scores and letters of recommendation. Based on the applicant's interview with Enzi's selection committee, applicants are recommended to Enzi for final approval. Following Enzi's nomination, final appointments will be made by each academy.

All applicants for service academies require a Congressional nomination. Applications for a nomination are due to Enzi's Cheyenne office by November 10th. Address: 2120 Capitol Ave. Ste. 2007 Cheyenne, WY 82007

Applicants will be interviewed in Senator Enzi's Casper office on December 3rd and final nominees will be announced in late December.

The application, procedures and specific applicant criteria are available at enzi.senate.gov in "Academy Nominations" under the "Students" tab. For additional application information, contact Martha Wilson at (307) 772-2477 or Martha_Wilson@enzi.senate.gov.

---
Crisis Text Line available in Wyoming (posted 9/24/16)
Wyoming Department of Health
A newly available statewide Crisis Text Line will provide anonymous, continuous crisis support to Wyoming residents who may be in crisis and at risk of suicide.

Promoted by the Wyoming Department of Health, Grace For 2 Brothers Foundation, and the Prevention Management Organization, Crisis Text Line enables anyone with a mobile phone with SMS capability to access free support by texting WYO to 741-741.

"Many of our Wyoming neighbors who struggle sometimes with depression, bullying, substance abuse, relationship problems and suicidal thoughts feel they have no one to turn to," said Rhianna Brand, director of operations for Grace For 2 Brothers Foundation, a Cheyenne-based nonprofit focused on suicide prevention.

Brand noted that text messages offer a discreet, familiar and accessible form of communication available to most people.

Mikki Munson, community prevention specialist with the Prevention Management Organization, said the text line's trained specialists with extensive training in crisis intervention provide emotional support to anyone in crisis, as well as safety planning and referrals.

"This partnership with the Crisis Text Line will connect someone in crisis to a counselor in their most critical time of need," Munson said. Munson also noted the anonymous data collected by the Crisis Text Line will help Wyoming work to improve prevention efforts and mental health resources.

---
Fall pile burning planned on the Bridger-Teton (posted 9/24/16)
Slash and wood debris piles from summer forest projects
Bridger-Teton National Forest
With the onset of colder temperatures and wetter conditions fast approaching in the Bridger-Teton National Forest, Teton Interagency Fire crews will begin igniting piles of slash and wood debris created from fuels reduction projects, commercial timber sales, and fencing projects in the Big Piney and Pinedale Ranger Districts as early as September 26, 2016.

Piles to be ignited on the Pinedale Ranger District are located in the White Pine Ski Area on Skyline Drive, Sylvan Bay Summer Home Area, Fremont Lake Road, Fremont dump site, Boulder Lake Road, New Fork Lake campground and Boy Scout administrative site, and Elkhart Park. The Big Piney Ranger District piles are located on Bare Pass, Nylander, Kleinstick. This list is not comprehensive and additional areas with piles may be targeted for burning. Smoke will be visible in the vicinity of burning slash piles.

The material to be burned is the result of both timber sales and hazardous fuels reduction projects. These projects were implemented to provide greater defensible space and to lower the wildfire risk to homes and private property in the wildland urban interface. The fuel reduction projects have also created more open areas that will help moderate fire behavior during a wildfire increasing firefighter and public safety.

Slash piles are created by thinning and removing lower limbs from trees, as well as removing dead wood and brush from the forest floor. Firefighters place the slash in tepee-shaped piles and leave them to cure before burning them. Typically, piles are burned the year after they are created.

Teton Interagency Fire crews plan on burning the piles during or after significant moisture to decrease the risk of fire creeping away from ignited piles and to minimize heat produced by piles and effects to trees remaining in fuels treatment areas. Ignitions will cease early in the afternoon each day to allow piles and fuels to burn down prior to evening inversions and reduce smoke impacts to the area. All piles will be monitored until they are declared out.

For more information on prescribed fire, fuels reduction projects and defensible space, visit www.tetonfires.com or call the Pinedale Ranger District at 307-367-4326.
---
WPLI Field Trip Oct. 14 (posted 9/21/16)
Of Lake Mountain Wilderness Study Area
Wyoming Public Lands Initiative
The Wyoming Public Lands Initiative Sublette County Advisory Committee will conduct a field trip to the Lake Mountain Wilderness Study Area on October 14, 2016. Members of the public and stakeholders with an interest in the Lake Mountain Wilderness Study Area are invited to attend.

The Advisory Committee will meet members of the public at Obo's Market in Marbleton/Big Piney at 9:00 AM on October 14, 2016. Transportation will not be provided.

The Lake Mountain Wilderness Study Area is in the south west portion of Sublette County, north of La Barge Creek County Road 23-138. Four wheel drive vehicles are advised for members of the public accompanying the Advisory Committee on the field trip.

On November 2, 2016 the Advisory Committee will hold a regularly scheduled meeting at the Marbleton Town Hall from 1:00 – 5:00 PM. After the regularly scheduled meeting on November 2, 2016 the Advisory Committee will hold a Town Hall meeting to discuss the field trip to the Lake Mountain Wilderness Study Area. The November 2, 1026 Town Hall meeting is scheduled for 5:30 – 7:00 PM in the Marbleton Town Hall. Members of the public and interested stakeholders are invited to attend both the regularly scheduled meeting of the Advisory Committee and Town Hall meeting.

Questions regarding the October 14, 2016 field trip or November 2, 2016 meetings should be directed to Bart Myers at (307) 367-4375 or bart.myers@sublettewyo.com.

---
WYDOT will study nighttime speed limit reduction (posted 9/20/16)
Wyoming Department of Transportation
WYDOT will begin the first of a few studies on the effectiveness of nighttime speed limit reductions on wildlife vehicle collisions in parts of Western Wyoming.

Wyoming continues to struggle with wildlife collisions every year on local highways and byways. Wildlife-vehicle collisions pose a serious problem to society with regard to human safety, wildlife mortality, habitat connectivity, and financial costs. In Wyoming, an average of 2,228 wildlife vehicle collisions were reported over the last three years, accounting for 15 percent of all reported collisions. These collisions often result in significant damage to vehicles, injure their occupants and are almost always lethal to the animal.

Mule deer account for more than 85 percent of all wildlife-vehicle collisions in Wyoming. WYDOT's estimated costs per reported collision are $11,600 in injury and property damage costs and $4,000 in the unclaimed restitution value for each deer that is killed. Taken together, deer-vehicle collisions alone total approximately $24-29 million per year in Wyoming in injury and damage costs and an additional $20-23 million per year in wildlife costs (not including the potentially much higher number of actual lost deer since not all carcasses are retrieved).

In an effort to seek a cost-effective solution to combat these wildlife collisions, WYDOT is investigating the use of nighttime speed limit reductions. WYDOT will be conducting studies on specific stretches of state highways that have been statistically noted for their higher rate of wildlife vehicle collisions with deer.

"Ensuring a highway is safe involves mitigating, to the extent practical, hazards that exist within the right-of-way; in many areas of the state, this includes the presence of wildlife. Additionally, WYDOT recognizes the value of wildlife to the State of Wyoming both from a monetary and a resource perspective," District Engineer Keith Compton said.

The Wyoming Department of Transportation's Programming Research Advisory Committee has approved funding to study the effectiveness of nighttime speed limits on several stretches of highway in Western Wyoming. The first of these sections will be a 15-mile stretch of US 191 just south of Boulder to Pinedale.

"WYDOT plans to use the results of this study to help guide decisions on implementation of night time speeds in the future. We are looking at areas in which wildlife migration is evident as well as core winter range areas. The study should help us to know if the speed reduction is a viable alternative and in which situations it is most effective," Compton said.

Other areas will follow, including:

US 189 from La Barge to Big Piney, 23 miles

US 189 South near Lazeart Junction, 16 miles

US 30 from Kemmerer heading West, 10 miles

US 30 near Cokeville, 3 miles

US 191/189 near Warren Bridge, North of Daniel Junction, 7 miles

US 89 North of Evanston, 10 miles

Researchers will be taking into account seasonal migration patterns, driver behaviors and driver compliance with speeds. The study will take place over a period of three years, beginning this fall with the segment south of Pinedale.

"WYDOT is committed to doing this study correctly so that the results show the level to which the treatment was successful. The benefit here is that, if shown to be effective, this will be another tool in our toolbox to use to decrease wildlife-vehicle collisions and improve overall safety for the driver and animal," Compton said.

WYDOT is performing a similar study on WYO 390 near Jackson. That study will be finalized next spring.

WYDOT urges motorists to be conscientious of wildlife, obey all traffic signs and speed regulations and take extra precautions at night, being careful not to out-drive your head lights. For more information on road construction, closures and weather conditions, please visit http://www.wyoroad.info.

---
Fire restrictions lifted (posted 9/16/16)
Fire Danger lowered to Moderate
Teton Interagency Fire
Due to cooler temperatures and shorter days, Teton Interagency Fire Officials are lifting fire restrictions in on the Bridger-Teton National Forest and in Grand Teton National Park. Teton, Lincoln, and Sublette County remains in fire restrictions.

Although fire officials are reducing the fire danger rating to moderate and lifting fire restrictions on federal lands, significant moisture is still needed to reduce the potential for new starts and to limit ignitions from becoming larger fires. Warm dry weather is creating late season opportunities for recreationalists, while also prolonging the fire season.

Moderate fire danger means that fires can start from most accidental causes, but the number of fire starts is usually low. If a fire does start in an open, dry grassland, it will burn and spread quickly on windy days. Lower elevation grass and brush fuels are still volatile, prompting the decision for the counties to remain in fire restrictions.

"Campfires are a welcome addition during cool fall nights, but abandoned campfires can quickly escape as the day warms and afternoon winds develop," said Andy Norman, Fuels Specialist for the Bridger-Teton National Forest.

As a reminder, the following are year-round wildfire prevention restrictions are in place on all U.S. Forest and National Park Service lands in Wyoming:
• Abandoning or failing to fully extinguish a campfire;
• Discharging or using any fireworks;
• Discharging a firearm using incendiary or tracer ammunition.
• Burning, igniting, or causing to burn any tire, wire, magnesium, or any other hazardous or explosive material.
• Operating any off-road vehicle on public lands unless the vehicle is equipped with a properly installed spark arrester.

Though the Teton Interagency Officials have lifted these fire restrictions, caution is still advised when camping or any other activity that involves or could involve fire. Campfires remain a concern for fire officials, who are asking the public to build campfires away from material that easily could ignite, keep the fires small and make sure they are completely out before leaving. For more information, visit www.tetonfires.com.

---
BLM High Desert District lifts fire restrictions (posted 9/16/16)
Bureau of Land Management
The Bureau of Land Management High Desert District has lifted all fire restrictions on public lands within the boundaries of Sublette, Teton, and Lincoln counties beginning September 20, 2016.

"Due to cooler temperatures and increased moisture, fire danger has decreased, allowing us to lift fire restrictions," said Frank Keeler, BLM Fire Management Officer. "But please remember as you're out camping and hunting on public lands to never leave your campfire unattended."

For more information, contact BLM Fire Management Officer, Frank Keeler, at 307-352-0256.

Please report all wildfires immediately to the Rawlins Dispatch Center at 1-800-295-9953 or to 911.

---
Bridger-Teton National Forest lifts Cliff Creek fire area closure (posted 9/13/16)
Bridger-Teton National Forest
The Bridger-Teton National Forest lifted the Emergency Area Closure for the Cliff Creek Fire today (Tuesday, Sept. 13, 2016). The fire, which has burned 33,776 acres since ignited by lightning July 17, is 97 percent contained.

While the fire is still burning, fire managers believe the recent precipitation and cooler temperatures have reduced the immediate threat of the fire growing significantly or making any runs outside of containment lines. Conditions in a burned forest change constantly. Visitors into any burned area should be aware that there is still the potential for a strong wind to cause burned trees to fall, known as falling snags. Additionally, stump holes may still be burning in the area, and rocks and fallen logs could roll down the recently burned hillsides onto trails.

Careful trip planning is important to have a safe day in the woods. Please consider weather and road conditions when planning your route. Always let someone know where you are expecting to travel and when you are expected to return. Remember there are areas that do not have cell phone coverage.

For more information, visit the Forest Website at http://www.fs.fed.us/r4/btnf, or contact the Bridger-Teton National Forest at (307) 739-5500. The Fire danger for the Forest is Very High and fire restrictions are in place.

---
WYDOT receives grant for connected vehicle program on I-80 (posted 9/12/16)
Wyoming Department of Transportation
The Wyoming Department of Transportation (WYDOT) has been awarded a grant from the U.S Department of Transportation (USDOT) to continue its innovative deployment of connected vehicle technology on the I-80 corridor.

The I-80 corridor in Wyoming is one of only three locations around the nation to participate in the Connected Vehicle Pilot Deployment Program. Interstate 80, which reaches its highest elevation at 8,640 feet, is a major corridor for east-west freight movement in the northwest part of the country. In the last year alone, I-80 has experienced more than 1,400 crashes with 13 fatalities and over 250 injury-related crashes.

Connected Vehicle Technology enables trucks and WYDOT's fleets to "talk" to each other and to "talk" to the roadside infrastructure. By enabling this connection, the pilot project will enable drivers to have 360-degree awareness of hazards and situations, including some they cannot see.

In practice, this means when trucks equipped with this technology approach slowed or stopped traffic, they can receive messages in their vehicles to give more reaction time and choices. Or if equipped vehicles pass roadside devices, drivers can receive messages alerting them to hazardous road conditions, crashes ahead, construction zone information, parking recommendations or other road and travel information. If the equipped vehicle is stranded, the vehicle can send out an emergency notification to the appropriate center for assistance. Fleet managers will have new and more accurate information to share with their truckers on I-80.

The goal is to improve the safety of the traveling public and reduce the incidents associated with adverse weather conditions frequently encountered on the corridor.

"WYDOT's connected vehicle project presents a unique opportunity," said Gregg Fredrick, WYDOT chief engineer. "Our project team, along with the private fleet partners and a multidisciplinary research team will collaborate on developing leading edge safety and mobility applications and prove the concept through real world testing along the I-80 corridor. This work will lay the foundation for much larger and exciting opportunities to enhance the safety and mobility on other rural roadways in Wyoming and throughout the United States."

WYDOT successfully completed in August the development of the concept and plan for the pilot deployment of the connected-vehicle technology. The system is planned to be integrated within WYDOT's existing Transportation Management Center (TMC), and WYDOT anticipates equipping 400 vehicles and installing close to 75 roadside units using this technology. Private fleet partner trucks will also equip their vehicles with the new technology.

WYDOT has already gained support from trucking industry leaders and safety advocates such as the Wyoming Trucking Association and the Governor's Transportation Safety Coalition. WYDOT also obtained support from several private fleet partners interested in having their own trucks participate in the pilot. Additional partners and stakeholders will continue to be included in the project.

WYDOT will be supported by a multidisciplinary team including ICF International, National Center for Atmospheric Research, McFarland Management, Trihydro, University of Wyoming and Vital Assurance. WYDOT will also be supported by the vendors who will provide the hardware and software that will be needed for the pilot.

The federal government is providing about $4.4 million for the design and deployment phase of the project, and the combined cost of all three phases is projected to be about $5.7 million.

WYDOT will continue working closely with federal partners to develop and deliver a scalable and replicable pilot that is a model for rural states to take advantage of vehicle and infrastructure connectivity.

For additional information regarding the pilot project in Wyoming, please contact Ali Ragan, WYDOT's outreach coordinator, at (307) 777-2985.

---
Business Directory
Click here for
Advertising Information