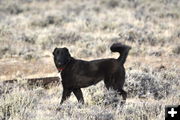 Nika

A black livestock guardian dog.


Caution to wolf hunters:
Black sheep dogs at work
by Cat Urbigkit
November 25, 2017

Hunters seeking wolves in the predator zone in the Big Sandy region are cautioned that the big black canines in the sheep pasture on Mack Flat are actually livestock guardian dogs. The dogs are in the company of traditional white sheep dogs.

Although our family (the Urbigkits) has had considerable wolf problems in the last few months, the wolves are never seen in daylight in the sheep pastures, instead retreating into the nearby mountains, including Muddy Ridge. Muddy Ridge can be accessed via Bridger-Teton National Forest roads.

Many wolf hunters have been startled to see large, dark-colored canines on the sheep range, and we urge hunters to be aware of the presence of these black, or black-and-white, sheep dogs and to leave the dogs to do their jobs.