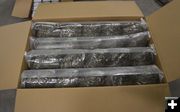 Marijuana seized

Sweetwater County deputies seized marijuana with a street value in excess of $300,000 after an I-80 traffic stop Nov. 9th.


California man arrested and $300,000 worth of marijuana seized in I-80 traffic stop near Rock Springs
by Sweetwater County Sheriff's Office
November 9, 2017

ROCK SPRINGS / GREEN RIVER, WYOMING - A Riverside, California man is in custody after county deputies recovered marijuana from his vehicle with a street value of over $300,000.

According to Sweetwater County Sheriff Mike Lowell, on Wednesday a deputy and his drug-detection-trained canine partner made a traffic stop on Interstate 80 east of Rock Springs when the deputy observed an eastbound vehicle, a blue Chevrolet Suburban, that had no visible front or rear license plates.

The driver and sole occupant of the Suburban was determined to be 36-year-old Daniel M. Hurtado. When the canine alerted to the presence of drugs in the vehicle, a preliminary search resulted in the discovery of a small amount of marijuana and Hurtado was placed under arrest.

A search warrant was obtained, and during the subsequent search of the vehicle just over 60 pounds of marijuana was found and seized.

In addition, as described in court documents, "Deputies also located 604 individual THC Vape cartridges containing a liquid substance that was labeled as 75% THC. Deputies also located 150 individual small glass containers that contained marijuana wax (Dab). [Deputies] later contacted the County Attorney's Office and informed them the vials labeled as 75% THC were marked as containing 500mg. The estimated total weight of the liquid marihuana was 302 grams."

Authorities warn that use of marijuana "concentrates" such as vape cartridges and marijuana wax are on the rise. Lowell says that parents can learn more about their use through links to the United States Drug Enforcement Administration website at www.justthinktwice.gov/facts-about-marijuana-concentrates

and

www.dea.gov/pr/multimedia-library/publications/marijuana-concentrates.pdf

Lowell said the Sweetwater County Sheriff's Office is adopting a policy of not identifying its dog handlers and their K9 partners by name in the media due to nationwide incidences of threats against law enforcement officers and their dogs who have been responsible for major drug seizures.

Hurtado had his initial appearance in Circuit Court in Green River on Thursday. He is charged with two counts of felony-grade Possession of a Controlled Substance and one count of Possession with Intent to Deliver. His bond was set at $15,000 cash or surety, and he remains in custody as of the time of this release.