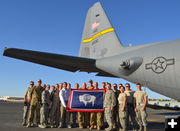 WYANG 187th Airlift Squadron

Sen. Barrasso tours aircraft in Kuwait with WYANG 187th Airlift Squadron. Photo courtesy Senator Barrasso's office.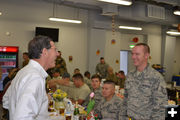 From Cheyenne

Sen. Barrasso talks with MSgt. Robert Brown of Cheyenne in Kuwait. Photo courtesy Senator Barrasso's office.


Barrasso spends Thanksgiving with Wyoming troops in Kuwait
by Senator Barrasso media release
November 23, 2017

Sharing Thanksgiving with Wyoming troops overseas is always an honor," said Wyoming Senator John Barrasso.

"There are 106 members of the Wyoming Air National Guard's 187th Airlift Squadron serving in Kuwait. They are a long way from home and it was nice to bring a little bit of Wyoming to them for the holidays. So much of our gratitude goes to these brave men and women who are doing an incredible job keeping America and our allies safe. As we take time to count our blessings this holiday season, please remember the sacrifice that our service members and their families make every day."

In addition to sharing Thanksgiving dinner with the troops, Barrasso toured workstations, aircraft and was briefed by military leaders on the status of their mission.