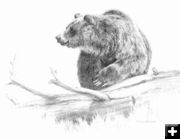 Graphic Griz

Ruth Rawhouser's drawing was voted "People's Choice".

Third Annual Sublette County Fair Lynn Thomas Memorial Art Show
August 4, 2016
The Third Annual Sublette County Fair Lynn Thomas Memorial Art Show was held at the Sublette County Fairgrounds Community Hall July 24 through July 30, 2016. A diverse exhibit of 154 paintings and sculptures was submitted by 32 local and regional artists. Visitors voted Ruth Rawhouser's drawing, "Graphic Griz" as "People's Choice".

Members of the Mixed Media Art Group hosted a "Paint Out" on Thursday, July 28, followed by a reception attended by 100 visitors.

Show judge Cristy Anspach of Boulder, an elementary school art teacher, awarded "Best of Show" to Cora (Upper Green) artist, Holland Morelli.

Art show director, Charmian McLellan, selected J. B. Bond's metal sculpture and colored pencil drawing for "Director's Choice."

The four "Purchase Awards" were:
Jay and Brianne Brower to Ann Anspach of Taylor, AZ
First Bank and Jo Crandall to Bonnie Nelson of Daniel, WY
Corey and Melanie Bennett to J. B. Bond, Daniel WY

Many thanks go to the art collectors who generously lent Lynn Thomas's paintings for display: Jonita Sommers and Albert Sommers, Gina Feltner, Susan Lehr, Mary Lynn Worl, and the Big Piney Library.

For further information regarding the art show, please contact Charmian McLellan at 307-537-5488.