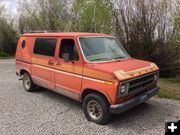 Recovered van

Did you see anyone driving this van on Sunday, June 7th or Monday, June 8th around Pinedale or on US 191 near Farson or Hwy 28 to Lander?


Stolen van recovered
by Pinedale Online!
June 11, 2014

On Monday, June 9th, a local resident realized her van had been stolen out of her driveway in Pinedale sometime during the night. The keys had been left in the ignition. The van was found later the same day by Wyoming Highway Patrol at milepost 87 between Farson and Lander. The car thief/thieves were not apprehended. Evidence was collected and the van was returned to its owner. Anyone who may have information about this theft, or possibly seeing hitchhikers along Hwy 28 about that time, is urged to report what they know to the Sublette County Sheriff's Office at 307-367-4378. Callers may remain anonymous.
_________________________________

Editor's Note: The public is urged to take note of suspicious activity in their neighborhoods. It is helpful if you can record the time of day and any descriptive information of people or vehicles. In this era of cell phones, most everyone has a camera with them built into their phones. If you can safely snap a photo of the suspicious person or vehicle, or get a license plate number, that can prove invaluable in the event the activity turns out to be related to any criminal activity.