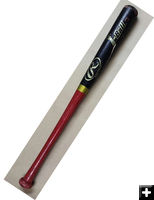 Bat used in attack

Have you seen or do you know anything about this bat? If so, please call the Sublette County Sheriff's Office at 307-367-4378. Callers may remain anonymous.


Be vigilant
Bat attacker still on the loose
by Pinedale Online!
June 14, 2014

The Sublette County Sheriff's Office held a town informational meeting in Pinedale on Thursday, June 12th to update the public on the investigation into finding the assailant in the attack on a Pinedale woman in the early morning hours of May 28th. The victim was brutally attacked with a wooden T-ball bat as she was sleeping.

The victim attended and thanked the emergency services people who arrived at the scene within minutes after she called 9-1-1 and got her medical help. She thanked the Sheriff's Office for their fast response to the scene and how they have helped her in the time since the incident. She also thanked the many people who have helped and visited in the two weeks since the attack and she is overwhelmed by their caring response and compassion. She said she has nine staples in her head, a fractured face, broken hand and nerve damage in numerous places. She emphasized this was an unprovoked violent attack and not a case of domestic violence. It was not a sexual assault. It was not a burglary. The attacker entered her home and violently attacked her while she was sleeping. She said she is very concerned for the safety of the community.

She said many people have asked how they can help and she offered these suggestions:
1. Have a heightened sense of awareness of what is going on around you.
2. Report any suspicious behavior to the Sublette County Sheriff's Office.
3. Call the Sheriff's Office if you recognize or know anything about the T-ball bat that was used in the assault.
4. Calls can be anonymous.

Sheriff Dave Lankford emphasized that the investigation is active and ongoing to catch the person responsible for this intrusion and violent assault that resulted in serious multiple injuries. The bat was sent to the Wyoming State Crime Lab where it is undergoing analysis. A $10,000 reward was authorized by the Sublette County Commissioners for information leading to the arrest and conviction of the assailant. No one has been arrested yet in this case. Detectives are investigating leads, talking with people and conducting interviews. The FBI, Department of Criminal Investigation and other law enforcement agencies are assisting with the investigation. They are in communication with other counties and states to see if the cases in Sublette County match any activity in other areas. All leads are being pursued.

Sheriff Lankford said many people have asked if this case was connected to two other assaults on local women that have happened in the past several years. "We have nothing right now as far as physical evidence to connect these cases together," he said. However common sense indicates there could be a connection and they are actively pursuing that possibility.

Sheriff Lankford said they are asking the community's help in solving this case and apprehending the person responsible. Citizens are asked to call in with any suspicions or if anyone they know has unexplained injuries that appeared around May 28th. Anyone who has suspicions or any knowledge about this attack, or the bat, or information about anything that might be related to this assault or any other activity is asked to call the Sublette County Sheriff's Office at 307-367-4378. Callers may remain anonymous.