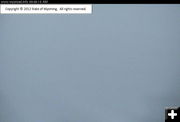 East Farson

The Wyoming Department of Transportation webcam in Farson shows the story of the dense fog reducing visibility on Saturday morning, Dec. 15th.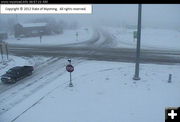 Fog in Farson

Wyoming Department of Transportation webcam at the intersection of US 191 and Hwy 28 in Farson on Saturday morning, Dec. 15th.


South Pass fog advisory
by Pinedale Online!
December 15, 2012

Saturday, Dec. 15, 8:30AM Travel Advisory for South Pass: Dense fog from South Pass to Farson this morning will hamper travel. Travelers using this route should use extreme caution due to thick fog and slick roads. Periods of light to moderate snow this morning could reduce visibility in places and cause slick road conditions, especially over mountain passes. A strong front is on the way for Sunday that will bring gusty winds and some snow accumulations across southern & central Wyoming making travel along I-80 difficult.

Both the Wyoming Department of Transportation and the National Weather Service provide a lot of frequently updated information about weather and road conditions that is very helpful to travelers. For road conditions, call 5-1-1 or go to www.wyoroad.info. For weather, go to www.weather.gov.

Click here for more weather, travel and webcam info for the Pinedale and Upper Green River Valley area.