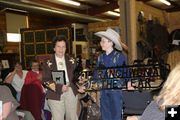 Mickey Thoman

Mickey Thoman receiving 2012 Ranch Woman of the Year with grandson, Rex Wardell, holding sign for her.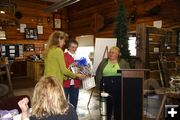 Irene Steele

Irene Steele receiving 2012 Lifetime Member award from Sandy Wright and Jonita Sommers.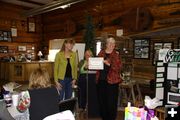 Verna Walker

Verna Walker receiving 2012 Lifetime Member award from Sandy Wright and Jonita Sommers.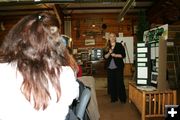 Josie Barney

Josie Barney giving her science fair project on algae for feeding cattle. Courtesy Joy Ufford at Sublette Examiner.

Cowbelles/ CattleWomen Annual Meeting
March 17, 2012
The Green River Valley Cowbelles/ CattleWomen Annual Meeting was held March 5, 2012 at the Green River Valley Museum in Big Piney.

The officers are:
Sandy Wright--President
Jonita Sommers--Vice-President
Starla Kirkwood--Secretary
Terrie Springman--Treasurer
Tawnya Miller--Historian

Nina David won the quilt.

MARY A. (MICKEY) THOMAN was nominated 2012 Ranch Woman of the Year

Verna Walker and Irene Bloom Steele were selected as a Green River Valley Cowbelles/Cattlewomen Lifetime Member 2012.

Chad Hayward was named 2012 Friend of Agriculture.
___________________________________________

MARY A. (MICKEY) THOMAN was nominated 2012 Ranch Woman of the Year

Verna Walker and Irene Bloom Steele were selected as a Green River Valley Cowbelles/Cattlewomen Lifetime Member 2012.

Chad Hayward was named 2012 Friend of Agriculture.

MARY A. (MICKEY) THOMAN
2012 Ranch Woman of the Year Nominee

Respectfully submitted by Mickey's three daughters:
Laurie Thoman, Mary E. Thoman, Kristy Wardell

A role model, a mentor, and a genuine leader, Mary A. "Mickey" Thoman is a Wyoming gal straight out of Western folklore. While life has not always been easy, agriculture is in her blood and she has faced tough elements produced by both Mother Nature and Uncle Sam. Her grit, determination, love, and commitment to her family and ranching have overshadowed everything else. She can even compare a few tales to Baxter Black's comedy adventures.

Mickey's parents, Phil and Mary (Planinsek) Ferentchak, came to this country from Austria—now the small mountain country called Slovenia. Her grandparents spent time in Big Piney and eventually ended up on the Hamsfork near Kemmerer. Her parents homesteaded on the Hamsfork in 1916 and that is where Mickey was born and raised. Her love of horses began at an early age when her Dad put her on the horse-pulled haying equipment before she was even in school. In 1948 she married William J. Thoman and raised seven children. The first three of which were raised in a sheep camp. Mickey manages the fifth generation family ranching operation, W & M Thoman Ranches, LLC, on the Green River below the Fontenelle Reservoir. She works with her five remaining children raising fine-wooled Rambouillet sheep, a uniform herd of Hereford cattle, and spirited Thoroughbred-Quarter horses. As the matriarch of the family she manages the budget, pays the bills, keeps the payroll updated for the ranch, rides during gathering, milks the cows, and still feeds bum lambs. From canning to herding sheep to moving camps, there isn't a job that she doesn't do.

The love of agriculture, a strong work ethic, and traditional values have been instilled in her children. Mickey says "the secret to raising kids is to work with them and do things together." I suppose that would include throwing cherry bombs in the willows to scare the boys out or leading skunks to their demise in the river while instructing the kids, "stay behind." Mom always said swearing was unlady-like, but some of the best learned expressions came from watching Mom pick the bucket up that the milk cow had kicked over. Teaching the children about progressive agriculture came into play when the first powered mower was purchased after the horses had a runaway that put the rake up on top of the family station wagon. Despite her petite build, the boys knew the garden hose packed the swiftest sting if they had done wrong. Of course, the ranch dogs usually sided with her in tripping the offending youth. The lack of television and a telephone until the youngest was nearly eight probably didn't hurt the family's upbringing either.

Through it all Mickey's children are devoted to agriculture as a way of life. Mary Thoman, Kristy Wardell (son Rex Wardell and husband Cody Hill), and Laurie Thoman (and daughter Taylor) live on the home ranch and help with the daily operations of the place. Her son Dick (wife Sue and 4 kids) reside on the Green River close to home and son Bob (wife Kelly and 12 children) farm in Riverton and also help with ranch duties when they can. Mickey's family has grown to include 21 grandchildren and12 great-grandchildren.

In 1957 Mickey and Bill established the Thoman Ranch School under the Green River School District as a means to keep their children on the ranch while instilling strong values, responsibility, and work ethic. It is one of the last one room schools in Wyoming.

Mickey's involvement goes beyond the ranch. She was among the 33 original founding members of the Green River Valley Cowbelles/Cattlewomen and currently pays dues. She is on the Board of Directors for the Wyoming Stockgrower's Association and is a Guardian of the Grasslands member; past delegate and charter member of the Wyoming Farm Bureau; and Lincoln and Sweetwater County Farm Bureau member and past officer. She was instrumental in organizing the Sweetwater County Cowbelle's group 27 years ago and served as president for many years. Under her leadership, the group promoted beef in supermarkets, at the fair, and hosted the Sweetwater County 4-H auction barbeque for youth and buyers. Other organizations include the American Quarter Horse Association, National Cattleman's Beef Association, the Wyoming Cattlewomen, and long-time member of the Wyoming Woolgrower's Association. She has served as an election judge for Sweetwater County for the past 27 years. Mickey and her late husband, Bill, received the Sweetwater County Ranch Couple of the Year award in 1988 and the Upper Green River Valley Cattlemen's Lifetime honorary member award in 1997.

Mickey has been an integral part of 4-H and a continuous 4-H leader for half a century with 50 years of service and dedicated leader awards. Her 4-H involvement started with the Ghost Riders Horse Club and later branched off to a lone star club called Green River Riders. She served as Horse Superintendent and horse clerk for the Sweetwater County Fair. Over the years she has led horse, beef, sheep, wool, leather craft, photography, and dog projects for her children, grandchildren and neighboring children. Members of her club have won many awards including trips to the Denver Round-up for demonstrations, won record book contests, and her daughter Kris won the overall grand champion market lamb at the National Western Stock Show in Denver, CO. Mickey firmly believes that 4-H is largely responsible for the success and ambition of her children, who continue to be involved in 4-H as leaders.

Mickey has served on the Sweetwater County 4-H Foundation Leaders Council, holding several offices as well as the 4-H horse committee. She has served on the State 4-H Leaders Council as the Southwest District Assistant Director. Her enthusiasm and willingness to serve as a key leader has never faltered and she is just as excited today about what the youth, leaders, council and foundation are doing as she was when she first started.

A former rodeo queen, Mickey held the title of "Days of'47" in 1947 in Kemmerer. Three of her four daughters also held queen titles including the title of Miss Rodeo Wyoming.

Besides battling with grizzly bears and wolves on the summer sheep range in the upper Green River, Mickey has faced flood, fire, death, and the loss of the family ranch through condemnation. In the early 1960's the ranch was flooded when the Fontenelle Dam broke. In the 1970s a careless camper started a wildfire that burned several hundred acres of trees and nearly destroyed the ranch buildings. In 1974, their daughter, Catherine, drowned in the Green River while riding her horse. In 1980, the U.S. Fish and Wildlife Service served final eviction notice on the Thoman family after the conclusion of a lengthy court battle on condemnation. At that same time, their son Bill, Jr., was killed in a tragic trucking accident leaving a widow and two young sons. In 1998, Mickey's husband of 50 years, Bill, was killed in an automobile related accident. Through feast and famine Mickey has thrived on the ranching lifestyle and says that no matter what, God can be found in the beauty of the outdoors and agriculture. She feels closest to God when she is tending His creatures.

Her moral compass has never wavered—not even when the old ewe buyer showed up one fall with a briefcase full of cash and tried to convince her to cancel her commitment to another buyer. When she contracted the lambs two summers ago and then the price went up by twenty cents, she still stood by her word and delivered every lamb promised to the buyer.

Retirement is not in her vocabulary. Round-up time ensures Mickey will be on her big black horse, Chrome, working cows or you might find her chasing sheep or doing ranch chores. She still feeds the livestock, moves sheep camps, puts tire chains on, and runs circles around most 20 year olds. Her aerobic program consists of driving bigger tractors. Even though Mickey enjoys the convenience of turning the furnace thermostat up to 80, old habits die hard and she still insists on building a fire in the old cook stove. In her 82 years, life has never been dull for Mickey Thoman as she is always excited about what is going on around her. She is living the life she loves and gets up each morning to do it all over again. With a warm smile and soft spoken words she is always eager to entertain and feed company. After an honest day's work when the crew are rubbing saddle sores, Mickey just rides off with a smile to go prepare yet another meal. When the university secretary talked to her oldest daughter about women's lib, all Mickey could imagine was that if she had one more "right" she wouldn't know what to do with it. What was that woman thinking!

______________________________

Verna Walker Green River Valley Cowbelles/Cattlewomen Lifetime Member 2012
By Darrell Walker

Verna was born and raised in Sheridan Wyoming. She graduated from Sheridan High School and the Colorado Women's College.

Verna worked at the VA Hospital in Sheridan in the Psychology Department until she married Darrell Walker on June 1, 1956.

They moved to Laramie in the fall of 1956 where Verna worked for Judge Bently for a time, eventually ending up in the Ag-Bio-Chemistry Division at University of Wyoming.
Verna and Darrell have 4 children; Jay (who works for John Deere in Iowa) born in 1957, Kathy (who works for the Bridger/Teton Ranger District and lives in Pinedale) born in 1960, Jon (owner of Walkers Agri-Service and lives in Pinedale) born in 1961 and Patrick (who is an electrical contractor in Livingston MT) born in 1972.

Verna & Darrell first came to Sublette County in 1962 for the summer months only while Darrell worked for the Agricultural Research Service. This continued until 1968 when the whole family went to (Africa) Mogadishu, Somalia on January 3, 1968 where husband Darrell did research with University of WY on an (Aid Contract) in agriculture.

While in Somalia, Verna was the American School Manager, which consisted of 34 Nationalities. In May of 1970, the family returned to Sublette County to make it their permanent home. They began by leasing the Travelute Ranch for 7 years before building a house above Daniel Junction.
Verna has been active in the Cowbelles, Farm Bureau, Bronx Home Makers, 4-H, Church, Rendezvous Point Senior Center and the Republican Party, to name a few. Verna and Darrell own the Pitchfork Fondue where beef is the featured meat on the menu!

Verna has always been a helping hand to many!
______________________________

Chad Hayward - 2012 Friend of Agriculture
This Friend of Agriculture has contributed greatly to the agriculture industry in the upper Green River Valley. He has tirelessly worked to improve and keep the grazing allotments in the upper Green River Valley and now in the Wyoming Range very productive and viable. He has always worked with and not against livestock permittees, and is always willing to lend a hand. He is easy to get along with, and never tries to boss a permittee, but still manages to get his point across. Any time work needs to be done on an allotment, he is there to do it. He will start work in the mountains at daylight and stay until dark. He is not an 8 to 5 office worker. He will ride a horse, move cows, build fence, help with monitoring, push papers and anything else that needs to be done to keep the allotment healthy, viable and productive. Whenever he calls a permittee or goes to work, he is always cheerful and easy to work around. Livestock grazing is his focus as he works tirelessly to see the allotments are in great condition through hard work and scientific monitoring. If things need to be changed with the grazing system to reach this goal, he works with the ranchers until this is achieved. As a range con and now a supervisor in the Forest Service office, he works with all aspects of our diverse society. He is an ambassador for the range resources by explaining how the cattle are not hurting and can help the land if they are managed correctly and scientifically monitored. Through his contact with other interest groups such as tourists, Game and Fish personnel, environmental interests, he is an asset to the ranching industry in the Green River Valley.

This quiet and private person has contributed to the community in several ways. He fights wild land fires through his working with the Forest Service. He has been wonderful for the Upper Green River Valley Cattle Association when fires have impacted the allotment. He continually updates the association on information about the fire. He has retrieved the cowboy's horses out of harm's way and helped get them to safety along with fighting the fire. He is a member of the Wyoming Society for Range Management and was on the managing committee for the Rocky Mountain Elk Foundation from 2002-2007. His biggest contribution to the community is through his church. He is the chairman of the building committee for the new church building and teaches the high school students Sunday school.

Growing up in what used to be called the bread basket of the world – the San Joaquin Valley of California, his parents raised him in a close-knit family environment. He would choose cutting wood with his family rather than going to ball games with friends. He was active in FFA and ever present in the high school ag welding shop where he and his brother would churn out great projects in ag shop. During high school, he and his brother worked summers at a pack station where they learned how to tie knots, get along with strange customers, work for unstable bosses and learned the satisfaction of horse packing. He would go on 50 mile trips with 12 head of mules at age 15, and never think twice. He and his brother also had a small business on the side constructing pipe and cable corrals during the school months.

The College of the Sequoias in Visalia, California is where he earned his Associates Degree and graduated from the University of Wyoming with a degree in Watershed Ecology and Rangeland Management in 1996. One of his part time jobs at the University was working on a project that evaluated lice and their movement on a cow's body in response to different treatments. Those were fond 4 am mornings for him to prepare the animals for the evaluation. He also worked on a cow/calf operation in Yoder, Wyoming in the winters after graduation and kept a seasonal Forest Service job in the summers as a range technician. He even roofed in Laramie during one winter. A full time Rangeland Technician Position was offered to him in 1999, and he was promoted to Rangeland Management Specialist in 2004. This government employee likes manual labor and preferred to build many of the fences on the allotments he administered rather than contract them out. He enjoyed his work in Pinedale immensely, but found after knowing the country so well, he was ready to tackle some new country – both topographically and professionally.

After applying, he received a promotion to a Natural Resource Specialist on the Big Piney Ranger District in November of 2009. He supervises four staff on the Kemmerer and Big Piney Ranger Districts and oversees the timber, range and special-use (non recreation) permits on both districts. While now busy doing more paperwork than ever before, he still finds time to explore the allotments and find out where the big game animals might be, just in case someone needs to know. He cares greatly for the extensive natural resources that are available to the public and knows how tremendous the resource is here in Western Wyoming.

His job experiences and excellent work ethic have shaped him as an employee. He doesn't know how to half-way do something which is a rare talent in today's age. There isn't much you can put in his path that he can't figure out a way to engineer or complete. He enjoys building houses – two in Sublette County now and he is helping his father with a remodel and his brother with his home.

Growing up as an identical twin, he experienced unique sibling rivalry. He has jumped off some pretty tall haystacks and was caught on tape with his brother playing with his father's work equipment. His brother handcuffed him to the tree in front of their childhood home and then couldn't find the key! His brother fed him sandwiches until their Dad came home, when he released the poor young man from his cuffs. It's all on tape by the way. The brothers are so close, they live within ½ mile of each other (and their folks) and when he left the Pinedale Range District, he jokingly told Doug Vickrey regarding his replacement: "Doug, you may not even notice I'm gone." That was an obvious reference to his brother taking his position in Pinedale.

Chad and Jennifer have two children: Claire, age 7 and Eli, age 4. When Claire was 3 and Albert Sommers would call the house coordinating with Chad on the many early mornings scheduled for monitoring in the Upper Green, Claire always want to talk with Albert since he was a frequent caller and she really thought she should know who was calling Daddy.

Chad Hayward has many interests which include hunting, fishing, packing, riding horses, church activities and spending time with his family. He is an accomplished outdoorsman, wonderful father and husband as well as dedicated employee.

We feel that Chad Hayward is very deserving of the honor, Friend of Agriculture.
______________________________

Irene Bloom Steele Green River Valley Cowbelles/Cattlewomen Lifetime Member 2012
By Terry Steele Quinn

Irene Bloom Steele was born in Pinedale, Feb. 23, 1935 and joined her 2 sisters, 1 brother and mother, Hazel Bloom and father, Otto Bloom.

Otto worked on several ranches in Sublette Co., and he also worked road construction and building houses, so Irene was in on a few moves until the family moved into their new house, built by Otto, in Pinedale. She attended grade and high school in Pinedale, and shortly after graduation, she married Allen (Bud) Steele, and began her job as ranch wife.

Irene and Bud raised 3 children, Allene, Terry and Mark. The family all worked on the ranch, with Irene being the chief cook and bottle washer, occasional cow milker, trailer mover, hay hand, calf wrestler, winter feeder, and generally picking up the slack that the rest of the family didn't get done.

Irene and Bud sold the ranch to Mark 1986, moved into Pinedale, where Bud made pine furniture and Irene finished and upholstered when needed.

Irene and Bud sold their house in town and moved to their new house off the Piney cutoff, where she is still living.

Irene and Terry started a long armed quilting business in 2008, and she has produced several beautiful hand-made quilts (some for her kids, grandkids and great grandkids) and sewed miles and miles of binding on quilts.

Irene still splits and packs her wood for winter heating, cares for her house, and, still, picks up the slack for whatever needs to be done. Some things just never change.

Thank you to Jonita Sommers for her contribution to this story.