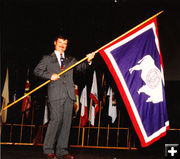 Eric Peterson

Eric Peterson holding the Wyoming flag. Photo courtesy Sublette County Extension Office.


Eric Peterson retires after 32 years of service
Natural Resource Rangeland Educator for the University of Wyoming – Party June 3rd
by Sublette County Extension Office
May 24, 2011

Eric Peterson, Natural Resource Rangeland Educator for the University of Wyoming will be retiring on June 1st. Eric has served the University and Sublette County for 32 years. Eric is an active hunter and sportsman working closely with the BLM, NRCS, Forest Service, local Cattlemen and state wide Range Departments. He has been a great colleague to cattle producers as well as friend to many in the agriculture community. He has witnessed dramatic change throughout Sublette County and Wyoming and stayed true to his roots of Agriculture. He has worked closely with Ag. Producers in conjunction with the oil and gas industry through several "booms" and has been consistent in his education for clientele through the ebb and flow of change in the State.

Alongside his Agriculture work, Eric has worked closely with many families through the years with the 4-H & Youth program, helping youth with livestock, horses, agriculture and the livestock sale for many years. His involvement with the youth of Sublette County has been inspiring to many. If you have ever attended county fair, you would see Eric with his cowboy hat on and Cheshire cat grin challenging youth to excel in the show ring with words of encouragement and mild mannered humor. At county fair, Eric has been known to make a light-hearted situation for first year showman before they step into the intimidating show ring with their animal. He has been instrumental in the saying, "encourage, not discourage" to youth. A technology "goo roo," Eric has built computer programs that have sent the Sublette County Jr. Livestock Sale to astronomical levels of instant information.

Eric earned with honors his Bachelor of Science degree in Wildlife Management from the University of Wyoming in 1979. He continued his education to receive his Masters in Adult Education in 1984 thru the University of Wyoming. Eric received the Outstanding Ag. Educator Award from the Wyoming Association of County Agriculture Agents in 2010, Outstanding Range Professional Award thru the Wyoming Stock Growers Association in 2009. National Rangeland Management Award from the United States Forest Service in 2008 and in conjunction with several colleagues received the Creative Excellence Award thru the University of Wyoming Cooperative Extension service in both 2006 and 2004. In 1990 Eric was awarded the Distinguished Service Award from the National Association of County Agriculture Agents, and in 1987 he received the Achievement Award from the National Associations of County Agriculture Agents.

Please join us in a farewell celebration June 3rd at the Sublette County Weed and Pest building from 4-6 PM. Refreshments will be served.