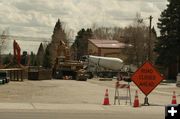 S. Fremont Ave

In front of Circuit Court and the fire station on South Fremont Ave.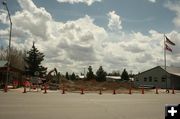 S Franklin Ave

S. Franklin Avenue is being torn up just east of the Pinedale Towh Hall. Drivers can take Lake Avenue from US 191 to get to Boyd Skinner Park, or use side streets further to the south.

Roads closed
Digging for sewer and water projects
April 21, 2010
With the coming of spring, the Town of Pinedale has crews digging up streets on the south side of Pinedale doing water and sewer line work. The maze of closed roads makes it a challenge to get to destinations in those areas for awhile, and everyone's patience is appreciated during the construction. These pictures were taken on Wednesday afternoon in Pinedale.

Photos by Dawn Ballou, Pinedale Online!