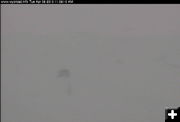 South Pass

View of WYO 28 at South Pass. This road has a No Unnecessary Travel warning posting and chain law is in effect from Farson to the Fremont County line.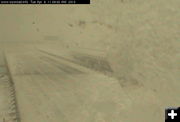 I-80 at Rock Springs

I-80 view at Rock Springs around 11:00AM on Tuesday morning, April 6th. This section of interstate is closed at the time of this image.

High Wind Warning for Sublette and Lincoln Counties
Wind gusts up to 70 miles per hour expected Tuesday
April 6, 2010
The National Weather Service in Riverton has issued a High Wind Warning which is in effect until midnight Tuesday night.

SUMMARY AND TIMING: High winds will be a threat over Lincoln and Sublette counties Tuesday and evening.

WIND: West to northeast winds of 35 to 45 mph with gusts to 70 mph are expected Tuesday and evening.

IMPACTS: Areas with fresh snowfall can expect local ground blizzard conditions with white out conditions and significant drifting snow. Strong cross winds along highways 30, 189, 191 and 28 and all other roads in Lincoln and Sublette counties will make hauling trailers extremely hazardous today and this evening. Light weight and high profile vehicles should avoid travel.

As of the time of this report (11:15AM Tuesday), US 191/189 is CLOSED between Daniel Junction through Bondurant to Hoback Junction. A No Unnecessary Travel advisory is posted for US 191 between Pinedale and Daniel and for South Pass (chain law in effect). Interstate 80 is closed from near Lyman to Rawlins.

For more road condition info call 5-1-1 in Wyoming or toll-free nationwide call 1-888-996-7623. On the web go to www.wyoroad.info

Related Links