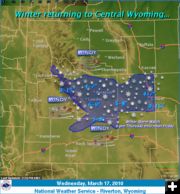 Snow on the way

Wintery weather is on the way for western and central Wyoming. National Weather Service graphic.

Winter weather to return
Snow, wind, cold Thursday and Friday
March 17, 2010
The National Weather Service advises a potentially significant weather system is to impact western and central Wyoming beginning Thursday, March 18. An area of low pressure is expected to travel south along the western border of Wyoming causing potentially widespread snowfall to develop. A cold front also associated with this system will impact much of the area by late Thursday. The storm will be accompanied by sharply colder air as a strong cold front pushes southward.

After balmy highs in the 50s and 60s the first part of the week, temperatures will fall into the 40s to lower 50s on Thursday and only in the 20s to lower 30s on Friday.

The rain will change over to snow across the north late Thursday and across the rest of central Wyoming Thursday evening, spreading into the red desert late Thursday night. Snowfall will become dominant by Thursday evening. Snow may become moderate to heavy at times across the central basins of Wyoming Thursday night and early Friday as upslope conditions develop.

The snow will be accompanied by gusty north to northeast winds of 15 to 30 mph with areas of stronger gusts, especially over South Pass and portions of northern Johnson County.

Early indications point to at least 2 to 4 inches across many areas east of the Divide with 5 to 7 inches across the upslope favored areas from Lander over to Casper. The east slope of the Wind River Mountains and Casper Mountain can expect 6 to 12 inches. The potential for even heavier snow does exist depending on the exact track and intensity of this storm system.

Ranchers should be prepared for the sudden return to cold. Wet, windy and snowy conditions Thursday into Friday. Travellers should stay abreast of the latest forecasts and any future winter weather advisories. Travel will likely become quite treacherous Thursday night as the wet roads freeze over and then get coated with fresh snow. Please be prepared for this major change back to cold and snowy conditions.

The storm system will gradually exit the area from north to south on Friday afternoon.

Related Links