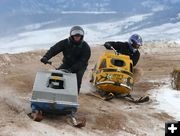 Running close

In front is #17 team of Phillip Loftus of Pinedale and Nathan Munger of Etna. The yellow sled is team #8: Mike Jackson and Bob Millican of Pinedale. Team #8 won Second Place in the 2008 One Lunger race. Pinedale Online file photo.


One Lunger 100 Snowmobile Race Feb. 20
Sweetwater Snowpokes Fun Run same day
by Pinedale Snow Explorers Snowmobile Club
February 18, 2010


The Pinedale Snow Explorers Snowmobile (PSE) Club will hold their 10th annual One Lunger 100 Snowmobile Race on Saturday, February 20th at the Sagebrush Downs oval track near Cora from about 10 am to 3 pm. The race is a fun family affair that brings young and old together. Refreshments will be available.

The One Lunger began in 2000 as a fun activity born from an interest in vintage snowmobiles. The rules require that all snowmobiles entered in the race must be 1973 vintage or older, single-cylinder snowmachines. Any engine modification is permitted and any fuel may be used. Jackshafts are prohibited.

Entries are composed of two-person teams who take turns riding the machine on the challenging course. The object and hope is that the snowmachine will be able to make it through all the laps, although many break down during the race, which is part of the challenge and fun. Pit crews stand by for mechanical repairs and fuel. The course is approximately ½ mile of twists, turns, and bumps. The back straight provides a less intense ride and is used for a much-needed rest.

The Pinedale Snow Explorers Snowmobile Club holds a variety of fun events throughout the winter months. Upcoming events include the annual Steak Fry on Sunday, February 28 at the Strawberry Safety Shelter on the CD Trail. Everyone is invited for a nominal fee, unless you are a PSE member. Please call Tiger at Big J's to ensure enough steaks!

The Sweetwater Snowpokes are hosting their annual Fun Run this Saturday. Since The Place isn't available this year, the Fun Run will be headquartered at Moose Creek Catering in Pinedale. Whether you choose to go sledding or not, you can stop by any time after 8 am to buy hands and draw cards. Alternate starting points will be the One Lunger race near Cora or the Horse Creek parking lot.

See the Pinedale Snow Explorers webpage (http://www.pinedaleonline.com/snowexplorers) for more information.

"The Pinedale Snow Explorers would like to thank the racers, pit crews, fans, members, helpers, businesses, and everyone who contributed to the success of the 10th Annual One Lunger 100 race!"