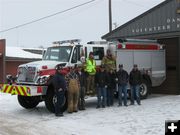 Daniel Fire Department

From left to right: T.J. Hunt County Fire Warden, Phil Kennedy, Loren Racich, Captain James Bond on truck step, Chief Ben Franklin, Barb Anderson, Jon Boroff on step behind Barb, Assitant Chief Gregg Anderson, Oakley Ingersoll far right.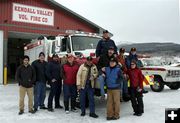 Kendall Valley

Sarting bottom left: Travis Chamberlin, Jim from Fire Max,T.J. Hunt Fire Warden, Jake Cane from Fire max, Assistant Chief Joe Sampson, Cristi Krause, Rita Donham. Second row Left to Right: Chief Festus Krause, Jamie Burgess, Shawn Piros, and on top Arthur Kolis. Photo by Derek Farr, Sublette Examiner.


Daniel, Kendall Valley get new fire engines
by Dawn Ballou, Pinedalel Online!
February 13, 2010

Daniel and Kendall Valley volunteer fire departments each got a new fire engine recently to upgrade their ability to combat wildland and structure fires in Sublette County.

The county put together a truck committee in 2008 to start the process of upgrading older vehicles in the fire departments. The two new engines arrived on January 26th.

"It was an effort to replace the two older five-tons we have," said Sublette County Fire Warden T.J. Hunt. "The old ones have high maintenance and are complicated." Kendall Valley uses an engine that is ten years old, borrowed from one of the other departments when they set up their new fire department for the Upper Green. Danielís oldest engine is about five years old.

As vehicles age, the operating cost increases. When dealing with firefighting equipment, life safety issues are an important consideration in upgrading, not just simply vehicles to transport people. It is important for fire departments to stay current with appropriate tools to do their job.

The old engines could only hold two people. The new Timberwolf wildland and urban interface pumpers can each hold five firefighters and have a "jump seats" which have firefighting equipment built into the seats, allowing firefighters to strap equipment on while on their way to a fire Ė saving precious response time. "The firefighters can jump out of the truck ready to go," Hunt said. The new engines are faster and parts are more readily available.

The trucks were custom built by the Rosenbauer Company out of Wyoming, Minnesota. Local dealer, Jack Cain of Sublette County, brokered the transaction.

Sublette County utilizes volunteers for their firefighting program. There are volunteer fire departments in Pinedale, Big Piney/Marbleton, Bondurant, Boulder, Daniel, and Kendall Valley.

The county responds to more wildland fires than structure fires, as a general rule. The new trucks have a turret on the front bumper that can be controlled from inside the cab. "Two people can run these trucks," Hunt said.

The new engines have "pump and roll capability, allowing firefighters to utilize the high pressure pumps to better combat brush and grass fires. Nozzles located underneath the truck can spray a line of foam as the truck rolls. "The firefighters can stay in the truck and drive around the fire to put in a wet line and not have to get out of the truck," Hunt said. This feature allows for quicker action putting in a line around the fire. "It is much safer for our volunteer firefighters," Hunt said, because they donít have to get out of the truck and be exposed to the elements and the fire.

The trucks cost about $300,000 each and were under budget.