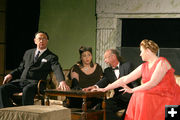 Opening Night

It isn't too late to purchase a ticket to see Blithe Spirit performed by The Pinedale Community Theatre. Tickets can be purchased at the Pinedale Town Hall. Don't miss this chance to enjoy dinner and tons of laughs.

Blithe Spirit play Feb. 18-21
Pinedale Community Theatre performance
February 16, 2010
Pinedale Community Theatre's improbably farce Blithe Spirit by Noel Coward opens Thursday, February 18th. Tickets are going fast. There will be Dinner performances on Thursday, Friday and Saturday, February 18, 19 & 20 at 6:30 PM (Cost $35). There will be a Dessert Matinee on Sunday, February 21 at 2:30 PM (cost $25).

The performances will be held in the Lovatt Room at the Pinedale Sublette County Library.

Tickets on sale at Pinedale Town Hall.

Blithe Spirit Menu
Appetizer: Lemony Hummus with Cumin, served with Crudités and assorted crackers
Beverages: Red or white wine, fruit punch or decaffeinated coffee
Entrees: Beef Bourguignon with fresh green beans or Vegetarian French Ragout with fresh green beans and freshly baked French Bread.
Dessert: Chocolate cup filled with Irish crème and Fresh fruit, served with decaffeinated coffee.

Cooked for your pleasure by Kristi Hosea, Melody Hoggan, Sue Eversull and Jo Crandall.
Dessert by Bernie Gosar.