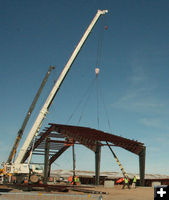 Cranes

Photo taken Friday, January 8th.

New Livestock Barn at the Sublette County Fairgrounds
January 8, 2010
Work is proceeding on the new livestock barn at the Sublette County Fairgrounds. The barn with have 170 pens for animals and arenas for showing them. It will seat about 1,000 people. The new building is situated to the north of the arena. The structure will be 54-foot-tall and cover over 80,000 square feet. The barn can be converted to use for concerts and other events, with seating for about 3,000 spectators.

Photos by Dawn Ballou, Pinedale Online!