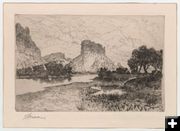 Green River

Thomas Moran's etching "Green River." Photo courtesy UW Art Museum.


UW Art Museum features two Thomas Moran exhibits
by University of Wyoming
July 29, 2009

A pair of exhibits by Thomas Moran are on display through Aug. 16 at the University of Wyoming Art Museum.

Moran, who spent much time in the Wyoming Territory during the 1870s, frequently traveled to the Green River area and completed many of his sketches and watercolors of the region's topography.

One of the exhibits, "Thomas Moran in Wyoming," features watercolor sketches, drawings and prints of Wyoming that convey the various forms of producing images for publication at the time.

The other exhibit, "Thomas Moran: Pastoral Views and Seashores," explores the etchings made of the seashore and the sea from Moran's time on Long Island and in the East Hamptons of New York.

For more information call the UW Art Museum at (307) 766-6622 or go to the Web site at www.uwyo.edu/artmuseum.

"Imagine learning from the masters" is a guiding principle of the UW Art Museum's programs. Located in the Centennial Complex at 2111 Willett Dr., the museum is open Monday through Saturday from 10 a.m.-5 p.m. Admission is free.