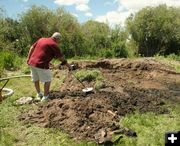 Metal Detector

Sublette County Attorney Investigator Randall Hanson runs a metal detector over an area excavated by a backhoe in the yard near the Willoughby home in Daniel.


Search Warrant - Willoughby property searched
Looking for evidence in the 1984 murder of Elizabeth Ehlers
by Pinedale Online!
July 14, 2009

Sublette County Sheriff and District Attorney's Office executed a search warrant on the Willoughby property in Daniel on Monday and Tuesday, July 13 & 14.

The property is the family home of Troy Dean Willoughby who has been charged with First Degree Murder for the 1984 shooting death of Jackson resident Elizabeth Ehlers at a turnout in Hoback Canyon.

An archaeological crew was brought to survey the Willoughby property using ground-penetrating radar and magnetometer equipment. Several locations were then excavated with a backhoe and carefully searched. According to Captain Brian Ketterhagen, "unspecified evidence" was recovered.

When asked about public concerns wondering if the archaeological crew and excavation meant they were looking for a body or a gun, Sublette County Prosecuting Attorney Lucky McMahon responded, "We brought metal detectors."

The Sheriff's Office called local media to make them aware of the search warrant execution and gave permission for media to come out to take pictures of their activity.

According to McMahon, the defendant waved his right to a speedy trial, so the case is expected to go to trial in 2010.




Related Links