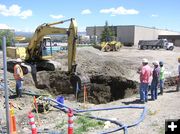 The cause

"Call Before You Dig" was contacted before the company did their digging work.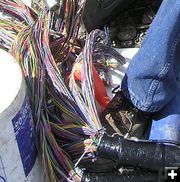 400 pair cable

A large phone cable was cut during construction work on Monday. Photo by Bob Rule, KPIN 101.1 FM Radio.


Severed Phone Cable
by Dawn Ballou, Pinedale Online!
June 29, 2009

Construction workers accidently cut through a major telephone cable Monday morning near the Wyoming Highway Department building west of Pinedale Monday morning. The construction company did "Call Before You Dig" to get buried lines located, but some unexplained misunderstanding led to the incident. Water pouring in the hole added to complicate things by submerging the line after it got severed.

According to CenturyTel spokesperson Kim Valiquette, the severed cable resulted in loss of phone, fax line and high speed internet service to hundreds of residents on the west side of Pinedale. Service was out for several hours to residents from the Industrial Park, over to near Daniel, and north to Cora and into Kendall Valley.

The outage also affected KPIN 101.1 FM radio by disrupting their live morning program broadcast. Owner Bob Rule drove out to his antenna on the top of Mt. Airy southwest of Pinedale and set up a makeshift studio next to his transmitter. He took up a small mixer, a microphone and a CD player and went live, doing "Post It and Sell" (late) broadcasting from on top of Mt. Airy.

Phone service was restored around 7:00 PM Monday evening.

Thank you to Bob Rule, KPIN 101.1 FM Radio, for his contribution to this story. Photos by Bob Rule.