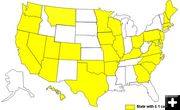 E. coli outbreak map

States where persons infected with the outbreak strain of E. coli O157:H7 live, United States, by State, March 1, 2009 to June 22, 2009. Centers for Disease Control (CDC) graphic.


E. coli outbreak linked to prepackaged Nestle Toll House refrigerated cookie dough
70 persons infected to date in outbreak (none in Wyoming)
by Centers for Disease Control and Prevention
June 25, 2009

The Centers for Disease Control and Prevention (CDC) is collaborating with public health officials in many states, the USA Food and Drug Administration (FDA) and Department of Agriculture Food Safety and Inspection Service (FSIS) to investigate an outbreak of _E. coli_ O157:H7 infections.

As of Monday, June 22, 2009, 70 persons infected with a strain of _E. coli_ O157:H7 with a particular DNA fingerprint have been reported from 30 states. Of these, 41 have been confirmed by an advanced DNA test as having the outbreak strain; the confirmatory test results are pending on the others. The number of ill persons identified in each state is as follows: Arizona (2), California (3), Colorado (5), Connecticut (1), Delaware (1), Georgia (1), Hawaii (1), Iowa (2), Illinois (5), Kentucky (3), Massachusetts (4), Maryland (2), Maine (3), Minnesota(6), Missouri (2), Montana (1), North Carolina (2), New Hampshire (2), New Jersey (1), Nevada (2), Ohio (3), Oklahoma (1), Oregon (1), Pennsylvania (2), South Carolina (1), Texas (3), Utah (2), Virginia (2), Washington (5), and Wisconsin (1).

Ill persons range in age from 2 to 65 years; however, 66 percent are less than 19 years old; 75 percent are female. 30 persons have been hospitalized, 7 developed hemolytic uremic syndrome (HUS); none have died. Reports of these infections increased above the expected baseline in May 2009 and continue into June 2009.

Investigation of the Outbreak
In an epidemiologic study, ill persons answered questions about foods consumed during the days before becoming ill and investigators compared their responses to those of persons of similar age and gender previously reported to State Health Departments with other illnesses. Preliminary results of this investigation indicate a strong association with eating raw prepackaged cookie dough. Most patients reported eating refrigerated prepackaged Nestle Toll House cookie dough products raw.

E. coli_ O157:H7 has not been previously associated with eating raw cookie dough. The CDC, the state health departments, and federal regulatory partners are working together in this ongoing investigation.

Advice to Consumers
The FDA and the CDC are warning consumers not to eat any varieties of prepackaged Nestle Toll House refrigerated cookie dough due to the risk of contamination with _E. coli_ O157:H7. If consumers have any prepackaged, refrigerated Nestle Toll House cookie dough products in their home they should throw them away. Cooking the dough is not recommended because consumers might get the bacteria on their hands and on other cooking surfaces. The recall does not include Nestle Toll House morsels, which are used as an ingredient in many home-made baked goods, or other already baked cookie products.

Individuals who have recently eaten prepackaged, refrigerated Toll House cookie dough and have experienced any of these symptoms should contact their doctor or health care provider immediately. Any such illnesses should be reported to state or local health authorities.

Consumers should be reminded they should not eat raw food products that are intended for cooking or baking before consumption. Consumers should use safe food-handling practices when preparing such products, including following package directions for cooking at proper temperatures; washing hands, surfaces, and utensils after contact with these types of products; avoiding cross contamination; and refrigerating products properly.

Advice to Retailers, Restaurateurs, and Food-service Operators
Retailers, restaurateurs, and personnel at other food-service operations should not sell or serve any Nestle Toll House prepackaged, refrigerated cookie dough products subject to the recall.