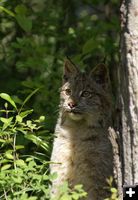 Lynx

Canada lynx like this one inhabit the Wyoming Range.


Lynx prowl Wyoming Range
by Cat Urbigkit, Pinedale Online!
November 19, 2008

The eastern front of the Wyoming Range Mountains in
Sublette County remains a stronghold for the threatened
Canada Lynx, according to a researcher tracking the species.

Nate Berg of the Endeavor Wildlife Research Foundation
gave a presentation on his Greater Yellowstone Lynx Study
to the Wyoming Game and Fish Commission at its meeting
in Jackson on Tuesday.

The snowshoe hare population in the Wyoming Range is
dense, providing an abundance of the lynx's primary prey
species, Berg said.

Berg noted that research efforts from 2004-2007
revealed 80 sets of lynx tracks in the region, which were
then analyzed and a determination made as to origin. The
tracks were left by five identified lynx, and two unidentified lynx, Berg said.

Research has also revealed that of the 218 lynx reintroduced into southwestern Colorado from 1999 through 2006, numerous lynx left that state and traveled to western Wyoming.

"The Wyoming Range is key for lynx in the Greater Yellowstone Ecosystem," Berg said.