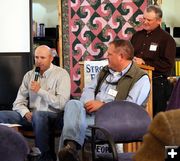 Chad Espenscheid

Local rancher Chad Espensheid (left) lobbied for projects to get water to ranch lands that already have water rights, but no facilites to get water to them. He was part of a panel with Pinedale Mayor Steve Smith (center), Ben Bracken (not pictured) and moderated by Eric Petersen (right).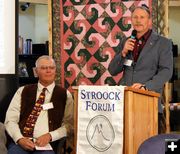 Joel Bousman

Sublette County Commissioner Joel Bousman (seated) suggested it is time to consider ammenities of our community, like natural resources and ranching landscapes, to protect them. Joel was on a panel with Larry Hicks (standing) of the Little Snake River Conservation District, and land surveyor Jack Doyle (not shown).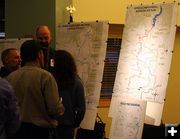 Water Storage Ideas

Audience members look at maps of proposed dam and reservoir projects in the Upper Green.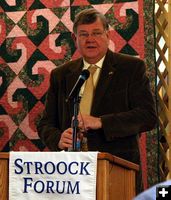 Governor Dave Freudenthal

While opening the forum, Govenor Freudenthal suggested it was a good day since he spent 15 minutes outlining many controversial issues and didn't take a position on any of them.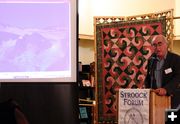 Charles Love

Geologist and Glacier expert, Western Wyoming Community College Anthropology Department


Water Management Challenges in the Upper Green
WWDC looking for water storage opportunities
by Clint Gilchrist, Pinedale Online!
November 17, 2008

A two-day forum, held last Friday and Saturday in Pinedale, explored water management on the Upper Green River.

More than 100 people took advantage of the unique opportunity that included presentations by Wyoming Governor Dave Freudenthal, State Engineer Pat Tyrrell, State Geologist Ron Surdam, State Climatologist Steve Gray, and other experts on water issues.

The Green River is one of the few rivers in Wyoming with available water that has not been allocated for use. That makes it a hot topic. There is opportunity for further development, but it is also an enticing target for downstream users who are starved for water. As part of the Colorado River system, Green River water is used in seven states (Wyoming, Colorado, Utah, New Mexico, Arizona, Nevada and California) and as far away as Mexico and southern California. This includes the major urban areas of Las Vegas, Los Angeles and Phoenix.

The water is managed by a complex set of agreements, interstate compacts, treaties and legal rulings. In short, Wyoming has rights to about 6-7% of the water in the Colorado River system.

Water Storage

Reservoirs such as Lake Powell and Lake Mead, and even Fontenelle, have been invaluable reserves to buffer water fluctuations, especially in recent years of drought.

Mike Purcell and Mike Besson, of the Wyoming Water Development Commission (WWDC), detailed the long history of potential reservoir studies on the Upper Green, starting at least in 1919. A Kendall reservoir, above Warren Bridge, has been on the table since 1938. The latest WWDC study has identified potential reservoir sites. The largest is the Upper Kendall site that would hold 340,000 acre-feet of water and cost about $400 million. Four other sites on Horse Creek, Cottonwood Creeks and Piney Creeks would range in size from 15,000 to 40,000 acre feet costing from $40 to $87 million.

However, the WWDC admits that the perfect project has not been found and these projects are unlikely to ever be done. They are now looking for smaller projects and, more importantly, end users to partner with.

Climate Change

State Climatologist Steve Gray told the audience that whether you believe climate change is caused by man-made C02; it is a serious threat and must be taken into account in water management planning. Studies predict that Wyoming will see a slight precipitation increase (0-5%) during this century. However, they also predict a temperature increase of 3-5 degrees by 2050. This will combine for less snow pack, earlier spring run off, less late season water, and ultimately more drought conditions.

The 20th century was relatively wet and the average conditions of the 21st century will be more like the worst drought of the last century. Snow pack is the primary source of Wyoming's water, meaning that 7% of Wyoming's land contributes most of Wyoming's water. The shift to more rain and less snow will mean we cannot depend on rivers being like they were. The whole west will be warmer, population will increase, and demand for water will increase. Estimates are that downstream population could increase by 10 million people in the next 50 years.

Energy Development

State Geologist Ron Surdam talked about the effects of energy development on water management. In 2005, for the first time ever, the world demand for energy exceeded the supply. Wyoming has a diverse energy supply with oil, gas and coal now providing about 10% of the United State's consumption. Wyoming is now the #1 producer of USA energy compared to all other states and countries. Wyoming is also one of the few states that has the ability to increase energy production. Oil production has stabilized at about 60 million barrels per year, but coal production is increasing currently at 450 million tons per year, and gas production is increasing faster currently at about 3 trillion cubic feet per year. This all means increased industry use of water, but also means lots of dollars for development. Wyoming has been exchanging clean coal knowledge with China in hopes of improving technology to be developed in the United States, mainly centering on C02 separation and sequestration. The state has identified the Rock Springs uplift as one of the best places to sequester C02 underground.

Groundwater

Ron Surdam indicated that the current Level I Green River basin groundwater study is progressing and a draft form will be available to the public in December, 2008. It will include a complete inventory of aquifers in three dimensions with refresh and discharge analysis from each aquifer. It will also detail the water quality and potential exchanges with surface water. All wells and springs have been mapped, including industrial use.

Glaciers

Western Wyoming Community College geologist Charles Love has been studying Wind River glaciers for more than 20 years. His research shows that Wind River glaciers are disappearing at a rate of about 2 meters in depth per year. The main reason is that they are being starved because of reduced yearly snow pack. Dead insects, especially grasshoppers trapped in the snow pack each year form dark layers. These stratified layers are visible and can be used much as tree rings to determine the life of a glacier and past climate. The grasshoppers have been radio carbon dated to identify the age of each layer. The last major glacier expansion was about 1840 and the glaciers have basically been recessing ever since. 1940 saw a 200% increase in 5-year average snow pack, and then 1943 saw a 500% increase. But by 1984, the snow pack was back to normal and we have had a snow drought since. Charles cautioned that as the glaciers recess, water is measured as instream flow, but that cannot be depended on in the future.

Civil Engineer graduate student John Bellemy presented research led by Kyle Cheesbrough on the Dinwoody Glacier in the Wind River Mountain Range. Their analysis suggests the glacier lost 48,500 acre-feet of water from 1983-2001. They also estimate that 300,000 acre feet of water was lost in forty glacier complexes from 1985-2005.

Colorado River System Management

State Engineer Pat Tyrrell explained the recent history and challenges of the multi-state management of the Colorado River system of which the Green River is the headwaters. Recent dry years have put stress on the system and forced all players, including Wyoming, to re-evaluate risks and management. The main storage on the river is Lake Powell and Lake Mead which help buffer the large year-to-year swings in natural available water. The system has not been full since 1999. Currently, the system has an average of about 9-million acre feet intake and 10-million acre feet outtake every year, so storage is dwindling.

The real wake-up call came in 2002 when Lake Powell's intake was 25% of normal, followed by 52% in 2003 and 49% in 2004. In April of 2005, the lake was at levels not seen since it was originally filled in 1969 and was within a few years of being effectively empty. A normal precipitation year in 2005 halted the crisis and both lakes are now about 50% full, but the scare made it clear the risks to the system were greater than anyone anticipated.

Tyrrell said Wyoming must become an expert on its own water in anticipation of the potential challenges to come in the future. Lower basin states (California, Nevada and Arizona) have no unallocated water sources and are spending tremendous amounts of money on conservation and water augmentation. They are looking at things like desalination of sea water, ice bergs, and transbasin piping.

Value of Water

Economist Ernie Neimi explained the value of natural resources like water have traditionally been limited to the direct income from goods and services related to the resource. But recent events, such as the effect of the endangered spotted owl on the timber industry in Oregon, have forced them to rethink those values. A 95% reduction in old growth timber available for logging was expected to devastate the Oregon economy. While it did devastate some communities and families, the Oregon economy has thrived. Economists have now attributed that to the amenity value of natural resources.

Amenity value is hard to define, but is real. To demonstrate, everyone in the room raised their hand when Neimi asked who would like a 20% raise? But everyone dropped their hands when asked who was willing to move to New York to get the raise? We each assigned at least some value to living in Wyoming that can't be directly accounted for by the job model. Neimi says successful communities are now switching from a jobs first and people will follow, to people first (quality of life) and jobs will follow philosophy.

Amenities are not exclusively natural resources, but clearly include them. Neimi indicated that commercial value for new water is $100-300 per acre-feet, new storage at $16-20 per acre-feet, irrigation at less that $25 per acre-feet, and municipal at $8-62 per acre-feet. Non-commercial value of instream flow is $86 per acre-feet, wetlands are $1000-100,000 per acre, streamside is $6 per acre per year, landscape (non-use) is $3600 per acre, and fish (non-use) $35-300 per household per year. While amenities values are not the only factor, Neimi indicated that they must be paid attention to.

Water Management on the Upper Green was part of The Stroock Forum on Wyoming Lands and People and organized by Anne MacKinnon, adjunct professor, University of Wyoming Helga Otto Haub School of Environmental and Natural Resources.

PODCASTS
Stroock forum speaker podcasts University of Wyoming

Photos by Clint Gilchrist, Pinedale Online!




Related Links