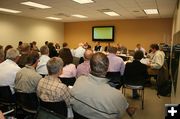 Commission Meeting

It was standing-room only at the School Facilities Commission meeting in Pinedale on Nov. 18.


SCSD#1 approved to get new elementary school
by Pinedale Online and Dari Quirk
November 19, 2008

After considerable discussion, the Wyoming School Facilities Commission approved construction of a new 570-student elementary school for Pinedale. The Commission met for an all-day meeting held at the Pinedale Aquatic Center. The room was standing-room only for the Sublette County business agenda items.

Below is a public notice released by the School District regarding the Commissionís decision.
______________________________________________

Sublette County School District #1
Pinedale, Wyoming

Public Notice:

School Facilities Commission Meeting
New Pinedale Elementary School Building Project

From Supt. Doris Woodbury:

It took all of us, but yesterday the School Facilities Commission approved the construction of a new 570 student elementary school and the remodel of the existing campus into a secondary campus. The room was packed with Pinedale people. This approval was a hard fought win for our school district. We are also on schedule with utilizing the "Design Build" method of construction. Thanks to all of you and the community for your support and contribution! Getting this passed took everyone of us working together!
______________________________________________

Other comments about the meeting
(Special thanks to Dari Quirk for these reporterís notes)

- There was discussion about the concern of over-building. Historically, some school districts in the State had the ability to build and did. This has created a "differential" between current square footage guidelines and what actual square footage is in some districts. It is expected this differential will be minimized or eliminated as facilities are replace with new ones.

- Before being able to bring a motion to the table with regard to the new elementary school for SCSD#1, the SFC needed to have a SCSD#1 Facilities Plan approved by the Commission that meets statutory requirements. While there is not a current plan incorporating the new elementary school, there is a 2005 plan that does meet statutory requirements, and this plan can be grandfathered in by the Commission. The Commission approved the 2005 facilities plan.

- With the approval of the 2005 facilities plan, the Commission approved the 570-student elementary school for SCSD#1 with the condition that a new SCSD#1 Facilities Plan be in place by the end of March 2009. There was discussion with regard to a target opening of the 2010/11 school year. The Commission ultimately approved the Sublette County request to proceed with the Design-Build approach.