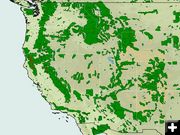 Area Wildfires - August 1 2008

Wildfires in the western United States as of Friday, August 1, 2008. Graphic courtesy of the Department of Geography, University of Maryland and MODIS Rapid Response.

Put out your @#%* campfires!
Two fires now burning due to escaped campfires
August 1, 2008
Editorial by Dawn Ballou, Editor, Pinedale Online!

There are now two fires burning on the Bridger-Teton National Forest due to escaped campfires left unattended by careless campers.

The New Fork Lakes fire, now at 3,600 acres as of this morningís report, was caused by an abandoned campfire someone left while camping on the southeast shore of New Fork Lake on Tuesday, July 29th. The new Blueberry Fire started yesterday evening between Burnt and Blueberry Lakes, about 13 miles directly east of Pinedale.

Off the record (note headline of this editorial), Forest Service officials expressed considerable frustration this morning at the number of unextinguished campfires they are still finding daily at campgrounds, dispersed areas and in the wilderness area. Forest Rangers have had to put out multiple campfires that are still smoldering that people have left unattended.

Last year, the huge Salt Lick and Horse Creek fires were both human-caused. These fires put the public and private property in danger and firefighters at extreme risk trying to suppress them.

Fire danger is currently rated Very High on the Bridger-Teton National Forest. There are fires burning in Yellowstone National Park, northeast of us near Cody, and in southwest Montana all contributing to our current smoke problem and second day of Air Health Alerts for Sublette County advising people with compromised lung functions to stay inside and restrict physical activity until the smoke clears.

Forest officials are seriously looking at implementing fire restrictions very soon, and a major factor in this decision is how careless forest users are being with their campfires while wildfires are raging around them in the area.

"These fires arenít cheap to suppress," we were told in todayís morning briefing. "The public gets mad at the Forest Service about the thick smoke. Go yell at the careless people who started the fires. Weíre doing our best to put them out."

"COLD TO THE TOUCH" is the rule. Donít just pour a cup of water on it, call it good, and leave. Pour water, stir, then stick your hand in the ashes to make sure everything is completely cold. If it is still warm at all, pour on more water, stir and repeat the process and donít leave until your campfire is completely cold to the touch. Smokers, please be extremely careful with your cigarettes. Anyone found to be responsible for causing a fire due to their negligence could be held liable for all the fire suppression costs.

The Forest Service will be stepping up their public awareness campaign regarding extinguishing campfires. If they continue to find more unextinguished campfires left unattended by careless people, expect campfire restrictions to go into effect in short order on the Bridger-Teton National Forest.
__________________________________

To comment on this, or any article on Pinedale Online, send an e-mail to support@pinedaleonline.com.