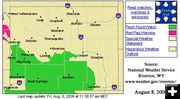 Flash Flood Watch

Flash Flood Watch for areas of southwest Wyoming on Friday, August 8, 2008. National Weather Service graphic.

Flash Flood Watch for Southwest Wyoming
National Weather Service advisory
August 8, 2008
10:35 AM, Friday, August 8, 2008: The National Weather Service has issued an urgent Flash Flood Watch for portions of Southwest Wyoming due to thunderstorms which are expected to develop today through mid-evening. These storms have the potential to produce very heavy rain and flash flooding. This Flash Flood Watch is in effect until 9:00 PM MDT this evening.

The Watch includes the cities of Big Piney, LaBarge, Farson, Kemmerer, Cokeville, Rock Springs, Jeffrey City, Green River, and Wamsutter and the areas of the Upper Green River Basin, Salt River and Wyoming Ranges, Flaming Gorge, Green Mountains and the Rattlesnake Range.

A deep layer of moisture over southern Wyoming with strong surface heating and an upper level disturbance moving across the region will generate scattered to numerous showers and thunderstorms with the potential to produce very heavy rainfall and flash flooding.

The NWS cautions drivers that portions of Interstate 80 (I-80) may become dangerous when heavy rains creates ponding on the road surface and greatly reduces visibility in the heavy rain.

According to the National Weather Service, "A Flash Flood Watch means that conditions may develop that lead to flash flooding. Flash flooding is a very dangerous situation. You should monitor later forecasts and be prepared to take action should flash flood warnings be issued."