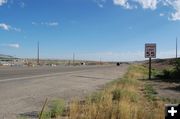 Watch your speed

Motorists are cautioned to watch for the new speed zones on US 191 just north of Rock Springs. WYDOT courtesy photo.


WYDOT warns of new speed zone on Hwy 191 in Rock Springs
by Wyoming Department of Transportation
July 25, 2008

(Rock Springs) The Wyoming Department of Transportation is advising motorists to be aware of the new posted speeds as they enter and leave city limits on US 191 north of Rock Springs after changing the speed zones recently. Outbound traffic now must delay speeding up to 55 M.P.H. until they reach the WYDOT north storage yard, where the five-lane ends.

"Inbound motorists need be aware of recent changes in the speed zone just outside of town by our north yard where the five-lane begins," said Theresa Herbin, WYDOT District Three Public Involvement Specialist.

In order to continue to provide safety with the development of the area, WYDOT has added a 45 M.P.H. speed zone that begins at the WYDOT north yard. Similarly, the 55 M.P.H. zone for outbound traffic has been shifted from near Lionkol Road to align with the new speed zone for the inbound traffic.