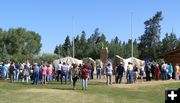 Arriving

A crowd gathered early for the 10 a.m. ceremony. A few hundred people occupied the area inside the Madison Avenue entrance to the Legion Park, where the monument has been installed.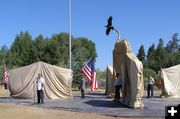 Jim Washam Introduction

The monument looked even more massive when it was veiled. Jim Washam opened the ceremony, assisted by other members of Fremont Peak VFW Post 4801 and Phillips-Edwards American Legion Post #41.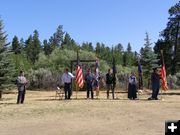 Local Color Guard

Local members of the VFW and American Legion served as a second color guard.


New Sublette County Veteransí Memorial
Unveiled at Pinedale Legion Park
by Sue Sommers
July 27, 2008

On a perfect summer day in Pinedale on Saturday, July 26, perhaps two hundred people, from babies in arms to elderly in wheelchairs, gathered to witness and honor the dedication of Sublette Countyís first veteransí memorial. Everyone present was either a veteran of the United States military, or (as indeed is true of every citizen) had some connection to one. Not a war memorial, this monument is a tribute to all Sublette County residents who have served in a branch of the military.

Jim Washam of Fremont Peak VFW Post 4801 opened the ceremony and assisted in unveiling the monument.

Speakers included County Commissioner Joel Bousman, Dave Bott, owner of the Bott Monument Company which created the monument, and Lieutenant Colonel Ron LoPorto of the Wyoming National Guard. Mr. Washam also read letters from Gov. Dave Freudenthal and Senators Cubin and Enzi. Commissioner Bousman reminded the crowd that veterans have vowed to defend our freedom with their lives. "If you are reading this dedication program in English," Bousman noted, "you can thank a veteran."

A color guard composed of members from all branches of the military then marched with precision and decorum to the twin flagpoles. As hats were removed and hands placed over hearts, the uniformed men raised the flag of the United States and the POW-MIA flag. Afterward, Mr. Washam invited everyone to come up and take a closer look at the monument. People were eager to inspect the panels and find familiar names, some going back several generations to the Spanish American War.

Large glossy black granite panels, engraved with the names of those who served, surround a central column that is topped with a bronze sculpture of two soaring eagles. There are blank panels for the names of future veterans, and for those whose names may have been missed earlier. Space is also available for more panels to be erected. Members of Fremont Peak VFW Post 4801 conducted extensive research but also discovered some veteransí names by sheer chance. There is no single or complete database of local veteransí names and so inevitably some will be added as new information comes to light.

The monument contains 68,000 pounds of granite from a quarry in China. The stone was shipped to the Bott Monument Company in Ogden, Utah for preparation and engraving.

Many elegant details add to the overall beauty of the monument. The panels are set off by attractive pediments and bases. The central columnís base bears the inscription "Honor, Service, Pride." The bronze eagle sculpture is very well done by Raymond Gibby, an artist from Utah, and is number six in a limited edition of twenty. The entire monument rests on a broad level pavement of dark cement that not only adds to its clean appearance and ease of maintenance, but also allows the disabled and elderly to navigate the monument without trouble.

Soon, the Pinedale Lions Club got their barbecue going and folks who were done visiting lined up for hamburgers and hotdogs. With plates laden, they headed for the shady picnic tables and gazebo, or stretched out under the trees.

The American Legion Park is a fitting place for a veteransí memorial for more than the obvious reasons. Pinedaleís Legion Park is a beautiful and peaceful setting that attracts locals and visitors daily with its lush grass, healthy established trees, walking path, seating areas and proximity to Pine Creek. Dave Bott remarked that while his crew was performing the installation, he noticed that many people enjoy the park. People frequently came over to the site to check progress or ask questions. It pleased him very much to think of Sublette County as a community that cares about its veterans and its history. Certainly this monument can add to the communityís pride and inform its vision of the future.

Funding for the project was provided by the Sublette County Commissioners, Pinedale Town Council, Fremont Peak VFW Post 4801, and Phillips-Edwards American Legion Post #41. The VFW extends special thanks to them, and to the Bott Monument Company of Riverton and Ogden, the Town of Pinedale Maintenance Crew, LaMere Concrete, Mary Washam, and the Pinedale Lions Club.

Photos by Sue Sommers