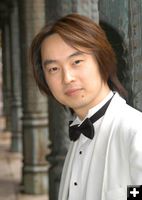 David Cho

Assistant director. PFAC courtesy photo.


Utah Symphony Returns to Pinedale Feb 8
Performance nostalgic for those who remember PFAC's very first show
by Pinedale Fine Arts Council
February 1, 2008

The Pinedale Fine Arts Council is proud to present the Utah Symphony performing live Feb. 8, 2008 at 7:30 p.m. in the Pinedale Auditorium.

Founded in 1940, the Utah Symphony has become a vital presence on the American music scene and remains one of the most engaged orchestras in the nation.

This marks a return to town for the Utah Symphony which performed in Pinedale in 1976 as PFAC's very first offering. The orchestra played for the entire community in the high school gymnasium, leaving a lasting impression on all those who were there.

"All the businesses in town closed down," remembers PFAC co-founder Arlinda McLaughlin of the 1976 performance. "All students attended the performance, along with a gym full of townspeople. We fed [the symphony] lunch and they went back to Salt Lake City the same day."

McLaughlin also remembers that fundraising for the event was done dollar by dollar, month by month.

"It was a very special day for Pinedale," McLaughlin says. "'For most people, it was their first experience with a live symphony concert. We were awed by it all."

Now, some 32 years later, the Utah Symphony returns to Pinedale this time under the wand of assistant director David Cho.

This past September, Cho won 1st Prize at the Eduardo Mata International Conducting Competition held in Mexico City, Mexico. This led to numerous guest conducting engagements in Europe and South America; most notably with the Simon Bolivar Youth Orchestra, Orquestra Sinfonica Sao Paulo, and Orquesta y Coro Madrid.

Tickets for the Feb. 8 performance are $12 for adults and $7 for students. Tickets are available at Rock Rabbit, Pony Express Photo, Office Outlets (BP and Pinedale), The Cowboy Shop, Big Piney Library and at the door the evening of the performance ($1 extra). For more information, visit PFAC online at www.pinedalefinearts.com or call 307-367-7322.

Please be early to the performance as late arrivals will not be seated until after the first piece (Beethovan's Coriloan Overture) is completed. Doors open early at 7 p.m.

The Pinedale Fine Arts Council's presentation of The Utah Symphony is supported in part by the Wyoming Arts Council, through funding from the Wyoming State Legislature and the National Endowment for the Arts, which believes a great nation deserves great art. PFAC is also supported by Sublette BOCES, the Town of Pinedale, SCSD No. 1, Sublette County Recreation Board, VSA Arts of Wyoming, Rocky Mountain Power and the Western State Arts Federation (WESTAF).




Related Links