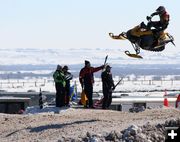 Tyler Thievin

Tyler Thievin (#443), of Scobey, Montana, has huge air as he passes the officials, who are signaling they are half-way through their race.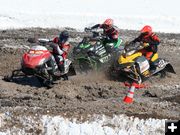 Semi-Pro Open

Stephen Edwards (987), Zach Acord (158) and Steven Winkels (112) round a turn during the Semi-Pro Open Race.


2008 Sagebrush Downs SnoCross Race
Photo Gallery
by Pinedale Online!
February 24, 2008

The 2008 Sagebrush Downs SnoCross Race was held on Saturday and Sunday, February 23-24, near Cora. This was a sanctioned Mountain West Racing race. It was sponsored by Shell Rocky Mountain Production.

The Mountain West Racing circuit is composed of members from nine states and three Canadian provinces. Wyoming competitors come from Pinedale, Jackson and Dayton. Other racers competing in the Sagebrush Downs SnoCross hailed from Washington, Colorado, Montana, Idaho and Utah.

Participants range in age from 4 to adult. Classes include:
Pro (minimum age 16)
Sport
Masters (age 40+)
Juniors ages 14-15 & 16-17
Transition 8, 9, 10 - 8-10
Semi-Pro (minimum age 14)
Expert 30+ (age 30+)
Womens (minimum age 14)
Junior Novice (ages 10-13)
120/4 Stroke (ages 4-12)

Local Sponsors:
Shell Rocky Mountain Production
NuAgain Auto Body, Graphix Xtreme, Lodge at Pinedale, Sublette County Recreation Board, Electrical Dynamics (Riverton), Dugan's, Pinedale Snow Explorers, Sublette County Joint Tourism Promotion Board, Sublette County Chamber of Commerce, Tri-County Sanitation, Bucky's Outdoors, Carl Winters, Pinedale EMS, Tip Top Search & Rescue, Rocky Mountain Bank, MN Equipment, JB's Welding, Black Horse Construction, Black Magic Construction, Matt Harber, Sublette County Road & Bridge.

Photos by Clint Gilchrist and Dawn Ballou, Pinedale Online!




Related Links