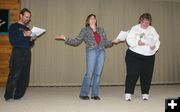 Reading Lines

Brad Mairiner, Jaquilin Nelson, and Carmen Hittle read lines during the audition.


Pinedale Dinner Theater Auditions
by Pam McCulloch
January 9, 2008

Pinedale Dinner Theater is back!

"O Promise Me" will be performed at the Community Church in Pinedale on March 5th, 7th, and 8th. Wednesday and Friday will each have a performance at 7:00PM. Saturday, March 8th there will be a 1:30 PM matinee where dessert will be served, and then a final performance at 7:00PM
that evening.

The play, which is a light-hearted comedy, will be performed by members of the community.

Open auditions were held January 8th and 9th at the Community Church.

For more information about the community theater, please contact Barbara Wise at 307-367-2275.

Photos by Pam McCulloch, Pinedale Online!