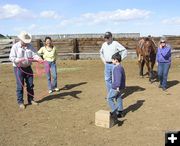 Learning to rope

Marbleton cowboy Kent Profit shows his cousin Patrick Moore and wife Yuan how to rope a steer. Cousin Toni David, and young Jackson look on.


Deadly skin cancer may be caused by a previously unknown virus
Researchers who make discovery have ties to Sublette County
by Dawn Ballou, Pinedale Online!
January 18, 2008

Last spring, Patrick Moore and his wife Yuan came to visit relatives in Big Piney, Wyoming. They visited with Pat's cousins Kent Profit and Toni David of Marbleton and stayed at Triple Peak Lodge on the family ranch on South Cottonwood Creek. They got lessons on how to rope a steer, let their son ride a horse for the first time (and fall into an icy creek), and in general enjoyed the leisurely western lifestyle that is uniquely Wyoming. It was a typical family vacation experience that we share with our visitors every summer here around Pinedale.

This week, Patrick and Yuan had a paper published a scientific journal "Science" reporting they have discovered a previously unknown virus that is strongly linked with the most aggressive form of skin cancer, Merkel cell carcinoma.

In their professional lives, Pat and Yuan are Dr. Patrick S. Moore and Dr. Yuan Chang, research scientists with the University of Pittsburgh. They are part of a team of researchers who, in 1994, discovered the human herpes virus 8 or KSHV, which causes Kaposi's sarcoma, the most common malignancy in AIDS patients. Their new work describes a human polyomavirus. While it was known that this family of viruses can cause skin cancer in animals, conclusive proof has been lacking to link it to cancer in humans.

In an article that appeared about the discovery in The New York Times on Thursday, the scientists say they need more work to prove the link, but it is being called a "smoking gun". They next hope to determine if there are any links between the virus and other diseases such as Hodgkin's and non-Hodgkin's lymphoma.

Moore is now director of the Molecular Virology Program at the University of Pittsburgh Cancer Institute. Chang and Moore have been awarded the Robert Koch Prize, the General Motors Cancer Research Foundation Charles S. Mott Prize, and the Meyenberg Cancer Research Prize.




Related Links
Virus Is Linked to a Powerful Skin Cancer - By Lawrence K. Altman, New York Times, 1/18/08
Patrick S. Moore - Wikipedia: Patrick S. Moore is an American virologist and epidemiologist who co-discovered the cause of the AIDS-related cancer Kaposi's sarcoma along with his wife, Yuan Chang.