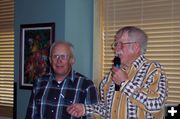 Bob Dew Perry Binning

Bob Dew (left) and Perry Binning (right) gave a presentation about the historic tie hack cabins in the Upper Green River Valley. Photo by Judi Myers.


Tie Hack Logging talk
by Dawn Ballou, Pinedale Online!
October 30, 2007

Perry Binning and Bob Dew gave a talk on Monday, October 29, about historic tie hack and lumbering in the Upper Green River Valley. Other members of the audience added in comments about things they knew or remembered about the people who lived here and worked in the tie camps.

The activity happened in the latter part of the 1800s to supply ties for the Union Pacific railroad. The ties were cut in the winter and stacked up in the river, then released to float downstream with the spring high water. The ties were floated all the way down to Green River City, approximately 150 miles to the south. Remains of some cabins, and old railroad tie decks, can still be found in the Bridger-Teton National Forest today in the Upper Green River Valley. Historical signs mark the location of one of the tie hack camps on the Green River Lakes road.

The program was funded by Sublette BOCES and Rendezvous Pointe.

Photos by Judi Myers and Dawn Ballou.