White Pine gets snow dusting

White Pine Ski Area got a dusting of snow overnight. This was the view from the lodge webcam on Saturday, October 20th. The ski area typically has enough snow to open for snow sports by Thanksgiving, late November. The ski area is between seasons at the moment, but is open for lunch daily and dinner on Friday-Sunday. Season pass tickets are on sale now.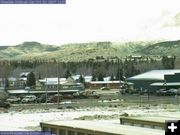 Pinedale View Oct 20

View from the Pinedale webcam on Saturday, October 20. View looking north towards northwest Pinedale. The western foothills of the Wind River Mountains are in the distance (clouds cover the high mountains). This cam is located on the Wolf Dodge building.

1-3 Inches of snow possible
Turning the corner into winter
October 20, 2007
The weather forecast for this weekend calls for rain showers changing over to snow across the western valleys and basins. Gusty winds are expected to pick up through the afternoon hours on Saturday. Snow levels will drop with the mountains getting between 3 to 6 inches and valleys possibly seeing 1 to 3 inches accumulations. Snowfall is expected to continue through Sunday morning, and then taper off by Sunday afternoon and evening.

Motorists are advised to check road condition reports and use caution when traveling. Mountain passes may be slick and have limited visibility at times. Hunters and those with outdoor activities planned should be prepared for unsettled weather, according to the National Weather Service out of Riverton.

A high pressure system will begin to move into the area on Sunday afternoon allowing showers to dissipate by the evening. Temperatures will be cooler on Sunday due to the passage of the front.

Planning ahead for snow sports: Snowmobiling & Skiing trips
For those of you who are looking ahead to the snow season, here are some timeframe generalities. Typically we get snow that sticks for good after about Halloween, the end of October. The ski area usually has enough to ski on and open on Thanksgiving weekend, late November. Snowmobiling in the high country starts early December. The best snowmobiling season typically is January, February and March. If you have plans for snow sports in our area this winter, we strongly advise making your room reservations now/ASAP when you know your dates because rooms book up. We advise against just landing in town and thinking you'll find a room, because you may be disappointed to find No Vacancy signs without an advance reservation. This is especially true for any trips scheduled near the holiday weekends, especially the week between Christmas and New Years, so our advice is book your lodging as soon as you know your trip dates.

Related Links