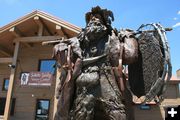 Sublette Visitor Center

The Mountain Man bronze statue was a generous gift from Lynn and Chopper Grassell in memory of their daughter, Caroline. The piece, entitled "Working the Line", is by artist Jerry McKellar.


Visitor Center Grand Opening Sunday
by Pinedale Online!
June 29, 2007

The new Sublette County Visitor Center in Pinedale is completed. The building will be the new home for the Chamber of Commerce and staff of the Sublette County Joint Tourism Promotion Board.

The Chamber will be hosting the Grand Opening on Sunday, July 1st, from 1:00 to 3:00 PM. Events include a ribbon cutting ceremony, dedication of the 8-foot tall bronze Mountain Man statue, and an appreciation ceremony for all who helped make the new building a reality. Everyone is welcome. Bottom's Up Brewery will be catering. Live music.