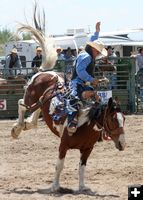 Tanner Bates

Tanner Bates from Big Piney saddle bronc riding.


Pinedale High School Rodeo
by Pinedale Online!
June 3, 2007

Pinedale High School held their annual High School Rodeo on Saturday, June 2 at the Pinedale Rodeo Grounds. Students from across the state came to compete. Events included bull riding, bareback, saddle bronc, team roping, calf roping, calf wrestling, and ladies' barrel racing, poles and goat tieing.

Participants came from Sheridan, Thermopolis, Saratoga, Cody, Mountain View, Cowley, Thayne, Lovell, Eden, Meeteesee, Kinnear, Lyman, Big Piney, Lusk, Greybull, Gillette, Douglas, Powell, Centennial, Glenrock, Lander, Wheatland, Powder River, Mills, Rozet, Casper, Riverton, Buffalo, Kaycee, Fort Collins, Teton Village, Craig, Jackson, Wilson, Moorcroft and Pinedale.

Photos by Clint Gilchrist and Dawn Ballou, Pinedale Online!