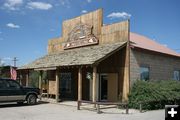 Green River Valley Museum

The Green River Valley Museum is located on Highway 189 in Big Piney. It is open during the summer season from June 15 to October 15. Tuesday through Saturdays from 12:00 noon until 4:00 PM. Admission is by donation.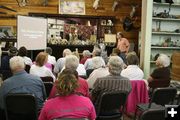 GRVM Program

A large group turned out to hear Tom Rea's presentation on the lynching of "Cattle Kate".


Green River Valley Museum opens for the season
Author Tom Rea gives opening program
by Pinedale Online!
June 24, 2007

The Green River Valley Museum in Big Piney opened for the season on June 15th. The invited Casper author, Tom Rea, to return to Big Piney and kick off their 2007 summer season with a presentation on Thursday, June 21st about "Ella Watson's Fence: The Story behind the Lynching of Cattle Kate".

In 1889, Ella Watson and James Averell were hung by a group of cattle ranchers on the Sweetwater River in Wyoming, on the east side of the Continental Divide near Independence Rock. The two were accused of cattle rustling. The story goes to the heart of the conflict of the early settlement of Wyoming and clashes between large cattle barons using the open range and settlers moving into the area, claiming land and water sources, building fences, and claiming unbranded cattle off the range. After the lynching, their story and reputations were later tarnished by the way the local and national press wrongly portrayed the two victims, in order to justify the killings and sway public opinion in favor of the large cattle ranchers.

Author Tom Rea, a freelance writer and editor living in Casper, has extensively studied the topic and gave his presentation as part of a Wyoming Humanities Council program.

The Green River Valley Museum, located on Highway 189 in Big Piney, is open Tuesday through Saturdays from 12:00 noon until 4:00 PM. There is no charge for admissions, but donations are greatly accepted.

The Museum has two main buildings with local settlement era displays. They also have two wonderful large murals in their main building, one depicting scenes of local ranching and the other an artist's interpretation of activity at the Wardell Buffalo Trap.

The Museum has added a new Kitchen display this season in their second building. It includes the county's first electric washing machine. Many of the pieces in the new display were donated by Sublette County residents. The schoolhouse building has been completed and now has desks and furnishings. There are new display pieces, a banner and plaques, from the old American Legion that used to be in Big Piney. Other exhibits have been modified, and new clothing added on display.

Photos by Dawn Ballou, Pinedale Online!