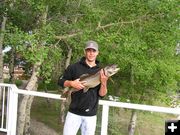 Gavin Cross

Gavin Cross won $1000 first prize for his 12.4 pound fish.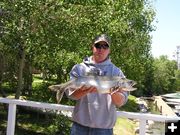 Kreston Cross

Kreston Cross won $750 for his second place fish weighing 7.6 pounds.


Father's Day Fishing Derby – 2007
Pinedale Boat Club
by Bill Boender
June 18, 2007

On Sunday the 17th, 88 hopefuls entered the Pinedale Boat Club annual fish derby. The number exceeds last year's 71 entries hoping to snag some of the $2,600 in prize money.

The first entry of the day was a 12.4 pound fish caught by Gavin Cross which turned out to be the first place winner of $1,000. Second place went to Kreston Cross with a 7.6 pound fish, winning $750.

Third and fourth places were taken by the father and son team of Norm and Dave Pape who entered almost identical 5 pound fish. These entries received prize money of $500 and $250.

Fifth place prize of $100 went to Bob Wilson for his 4.6 pound entry.

Photos by Bill Boender
Editor's Note: The Father's Day Fishing Derby was based out of Lakeside Lodge on the shore of Fremont Lake.





Related Links