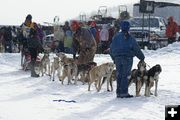 John Wood team lines up

Alaska musher John Wood's team lines up to start the Piney to Alpine stage of the race. Photo by Cat Urbigkit.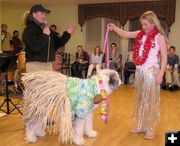 Doggie Fashion Show

Jenny Beiermann shows off her dog during the "Doggie Fashion Show" at the Meet the Musher Banquet for the Big Piney-Marbleton stage of the IPSSSDR.


Big Piney-Marbleton Stage Stop IPSSSDR
International Pedigree Stage Stop Sled Dog Race
by Pinedale Online!
January 31, 2007

The International Pedigree Stage Stop Sled Dog Race began in 1993 with the goal to introduce spectators to the sport of sled dog racing, spread the word about the need to immunize children under the age of two years old and to showcase the beautiful state of Wyoming.

In 2007, Big Piney and Marbleton joined the event to become one of the host towns and a new stage stop for the IPSSSDR, bringing the total to 11 towns participating. Other towns include Jackson, Lander, Pinedale, Alpine, Kemmerer/Diamondville, Evanston, Mountain View and Lyman, before concluding in Park City, Utah.

The race has a unique "stage stop" format, similar to the Tour De France bicycle race, with each day bringing a new contest. The best accumulated time determines the overall winner.

Twenty sled dog teams were entered in the race, coming from Wyoming, Montana, Michigan, California, Alaska, Minnesota, Utah, Colorado and Canada.

Big Piney hosted a "Meet the Musher" Banquet at the Marbleton Senior Center on Monday night with a potluck/Dutch Oven supper. Guests were asked to bring a salad or dessert to share. Later, the audience was treated to a delightful Doggie Fashion Show. Jackson band, Global Review, played live music. Commemorative t-shirts, hats and CDs were on sale.

The Big Piney-Marbleton stage took off from the Middle Piney snowmobile parking lot on Tuesday morning at 9 am with teams racing approximately 64 miles to Alpine for the next stage.

Photos by Cat Urbigkit and Dawn Ballou, Pinedale Online!