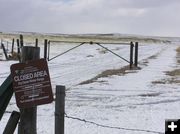 Wildlife Closure area

Antelope walk across a road behind the closed gate of one of the Mesa wildlife closure areas south of Pinedale. This picture was taken in the winter of 2005, 1/4 mile west of the southern end of Paradise Road in the Pinedale Anticline.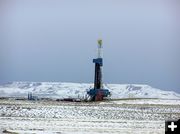 Winter drilling

Natural gas companies would like to be able to drill year-round. Companies have donated millions of dollars for wildlife research and off-site mitigation projects. Picture taken winter 2005.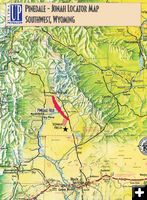 Area Map

Area map showing the location of the Pinedale Anticline and Jonah Field. Map by Ultra Petroleum.


2006-2007 BLM Wildlife Winter Range Exceptions
Allowing gas companies access to areas normally closed to protect crucial big game wintering areas
by Dawn Ballou, Pinedale Online!
November 13, 2006

(Pinedale) – There has been a lot of recent publicity and debate about the Bureau of Land Management's (BLM) decision to grant exemptions to winter range restrictions on the Mesa south of Pinedale for oil and gas drilling activity.

Wildlife biologists are concerned with recent studies that indicate poor range conditions and decreases in mule deer and antelope populations in the area, while natural gas companies are trying to get longer drilling seasons to maximize the economics of their drilling efforts and man-power utilization. Companies requesting exceptions are Ultra, Shell, Exxon, Anschutz, Chevron, EOG, Stone and BP.

Wyoming Game & Fish (WYG&F) recently sent a letter to the BLM recommending no further exceptions be granted for industry this winter. Recent vegetation studies indicate plant growth rates this past summer on the Mesa winter range are a fraction of normal, likely due to more than six years of drought that has impacted much of the West.

Of the 22 exemptions in front of the BLM for 2006-2007, 14 have already been granted. Decisions on eight have not yet been announced to the public.

One point that is being missed in some of the recent news media stories about the issue is that most of the drilling exceptions being requested and granted are for two-week or less time periods in November and December. These exceptions are tied to a specific company and to a specific drill rig location. These are not broad-brush permissions to allow all companies to go everywhere on the Mesa during the entire winter.

Of the 22 exemption requests for this winter season, 17 are 3-15 day, short-term activity requests for access to specific drill sites in November and December in order to complete wells, plug and abandon wells, install pipelines or monitor flowback.

There are five requests for longer time period exceptions. Four of those five exception requests are for well sites in the Jonah Field south of Highway 351, not in the Pinedale Anticline or on the Mesa. Only one of the five long-term exemption requests, Ultra's deep drill well, is located on the Mesa. It is on the very southern end of the Mesa within one mile of Highway 351, approximately one mile from the New Fork River, three miles west of the main Pinedale Anticline drilling activity area. That request is for access from November 10, 2006 through May 17, 2007 in order to drill the well.

According to BLM Pinedale Field Manager Dennis Stenger at the most recent meeting of the new Pinedale Anticline Working Group (PAWG) on November 6th, "The BLM typically does not give exceptions beyond the two-week exception period."

"At this time there are no new proposals for drilling throughout the winter," Stenger told the PAWG. He added that the BLM has a commitment to try to maintain the viability of wildlife herds on the Mesa.

The BLM has a web page where the 2006-2007 Wildlife Exceptions for the Pinedale Field Office are posted online. The information can be found at http://www.wy.blm.gov/pfo/wildlife/wild_2006_2007.htm.